Thai Chicken with Black Beans
This post may contain affiliate links.
This Thai Chicken with Black Beans is an exotic mix of flavors.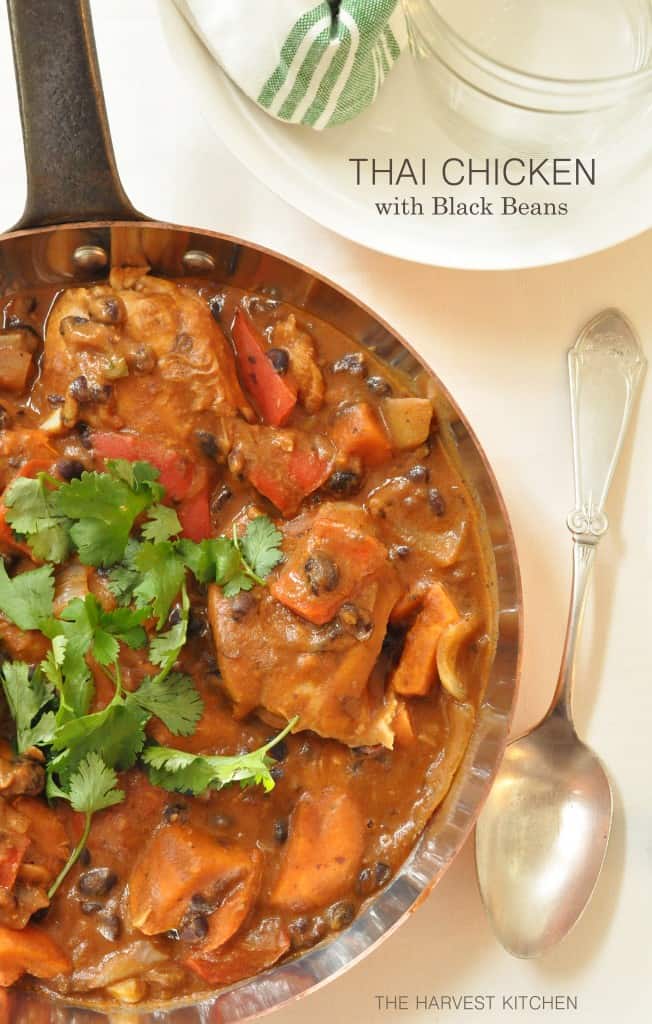 This Thai Chicken is simmered in a delicious black bean sauce. The combo of flavors is quite intoxicating – not as exotic had I added coconut milk – but the peanut butter and curry gives this dish a tantalizing flavor that makes you want to savor each and every bite.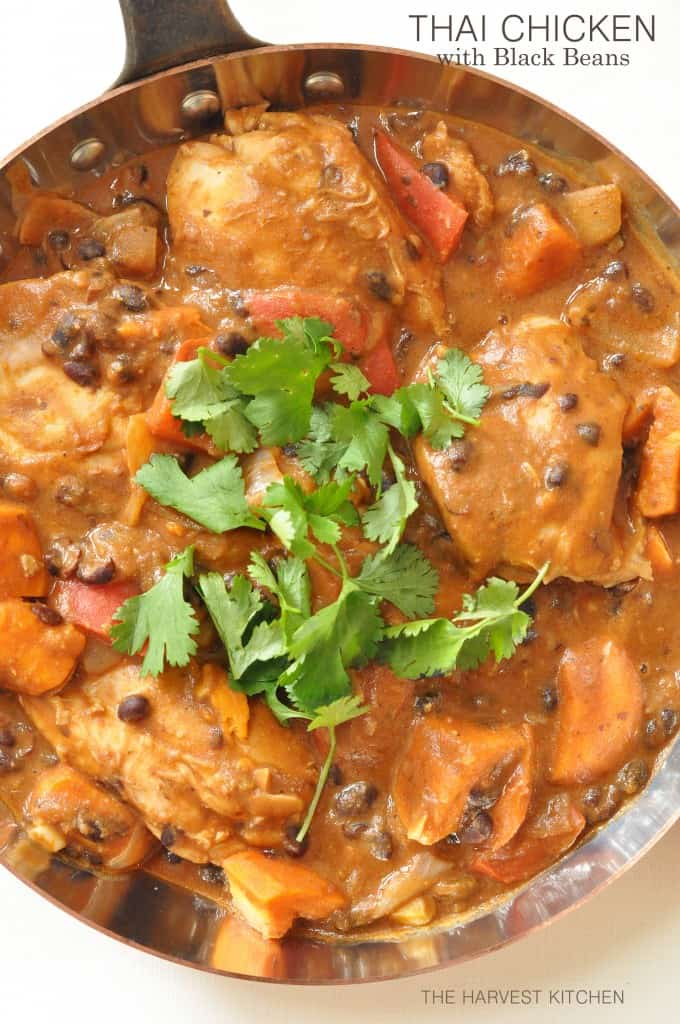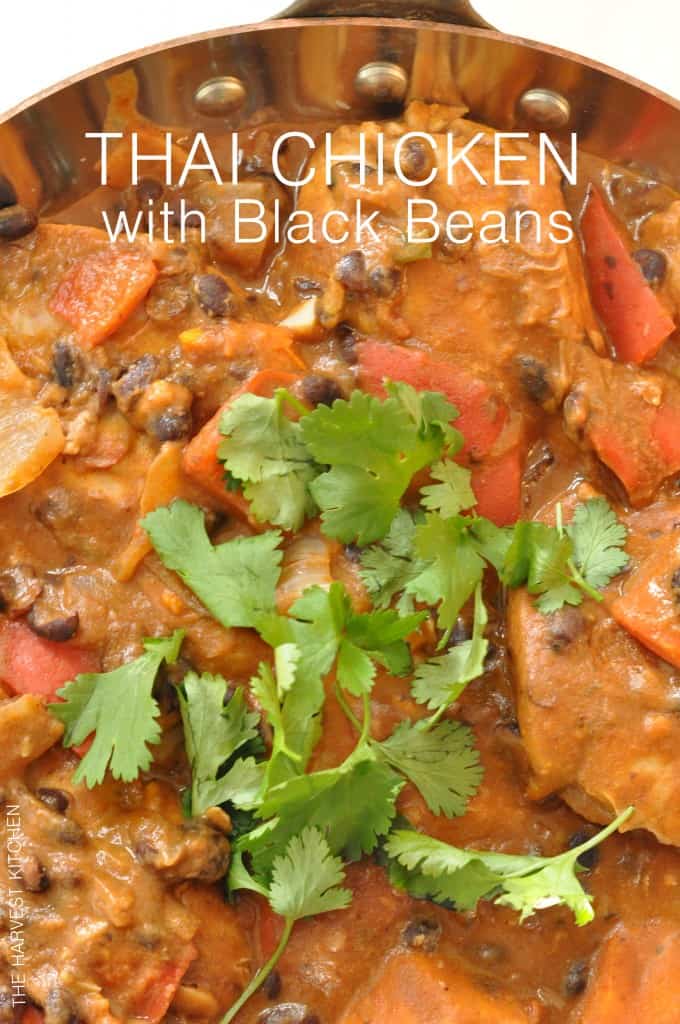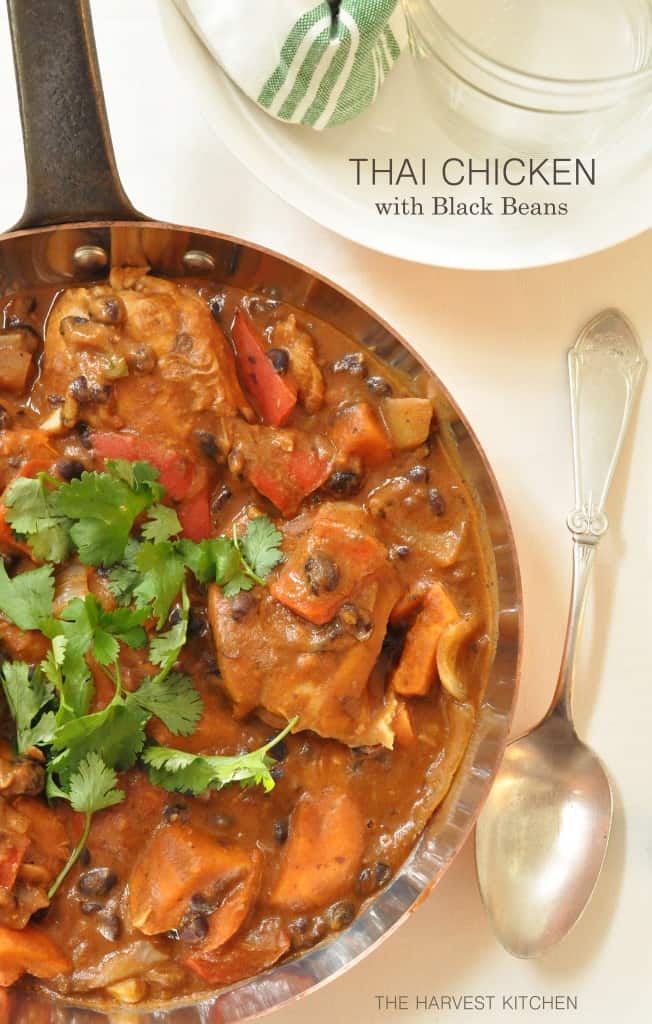 Yield: 4 servings
Thai Chicken with Black Beans
Additional Time
1 hour
30 minutes
Total Time
1 hour
30 minutes
Ingredients
2 tablespoons extra virgin olive oil
1 to 2 pounds skinless, boneless chicken thighs
1 sweet potato, peeled and cut into chunks
1 red pepper, chopped
1 small onion, peeled and chopped
1 15-ounce can black beans, rinsed and drained
4 cloves garlic, minced
1/4 cup salsa
3/4 cup chicken broth
1/4 cup natural creamy peanut butter
1 teaspoon ground cumin
1 tablespoon curry paste
fresh cilantro for garnish
Instructions
In a small bowl whisk together the chicken broth, salsa and peanut butter so it's well incorporated. Set aside.
Heat the oil in the Dutch oven (or other pan) and add the chicken. Cook for 2 minutes then turn and cook another 2 minutes on the other side. Add all of the ingredients and stir to blend. Place the lid on the Dutch oven and simmer for 60 minutes or until the tender is cooked through and the vegetables are fork tender.
Serve over fluffy rice and garnish with fresh cilantro.