Springfield Cashew Chicken
This post may contain affiliate links.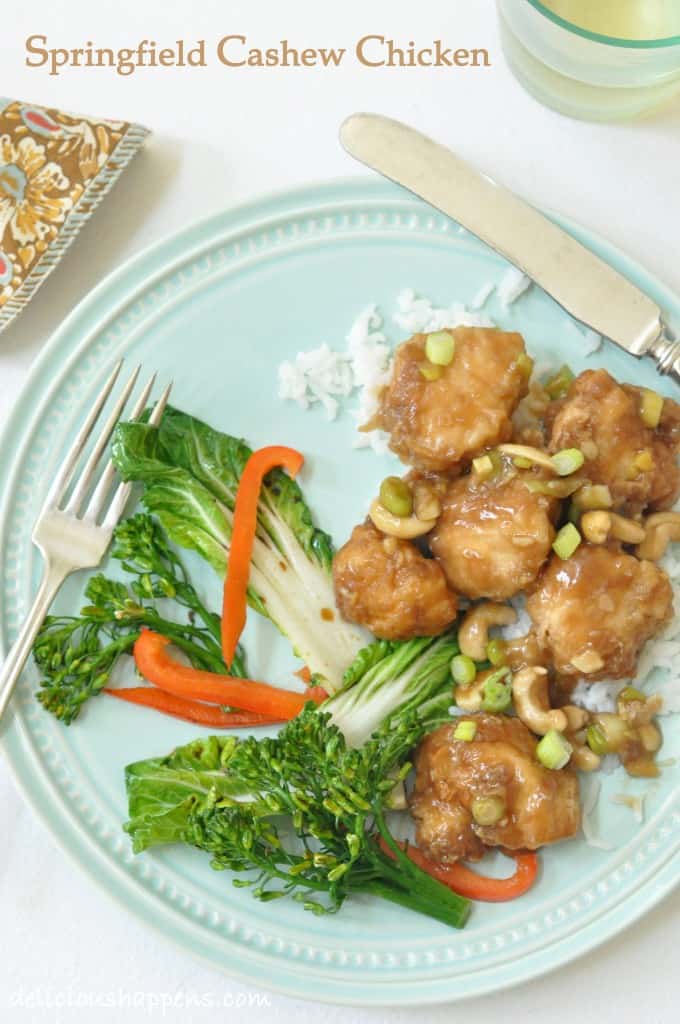 This is another really great recipe from my Cousin Allen Dean in Missouri. I have to admit…I don't make Chinese food all that often….I think I'm a tad intimidated by it. Even though there are a few steps to completing this recipe….it all came together relatively effortlessly and in pretty short-order. The result is an absolutely delicious Springfield Cashew Chicken. Cashew chicken is typically a stir fried dish…but Springfield Cashew Chicken is a deep-fried version. Deep-fried cashew chicken was apparently created by David Leong who first served this tasty dish in 1963 at the Grove Supper Club in Springfield. This famous deep-fried cashew chicken recipe was so popular that Leong opened Leong's Tea House in Springfield, Missouri where this dish became very popular in the Springfield area and is noted as the unofficial "dish of the city".
Just a little history for you….
I made 2 very slight additions to this dish. I added garlic and I added ginger. Oh …and is it ever good!! I know some folks don't care for ginger – so please feel free to omit it. But the taste with the added garlic and ginger is really incredible.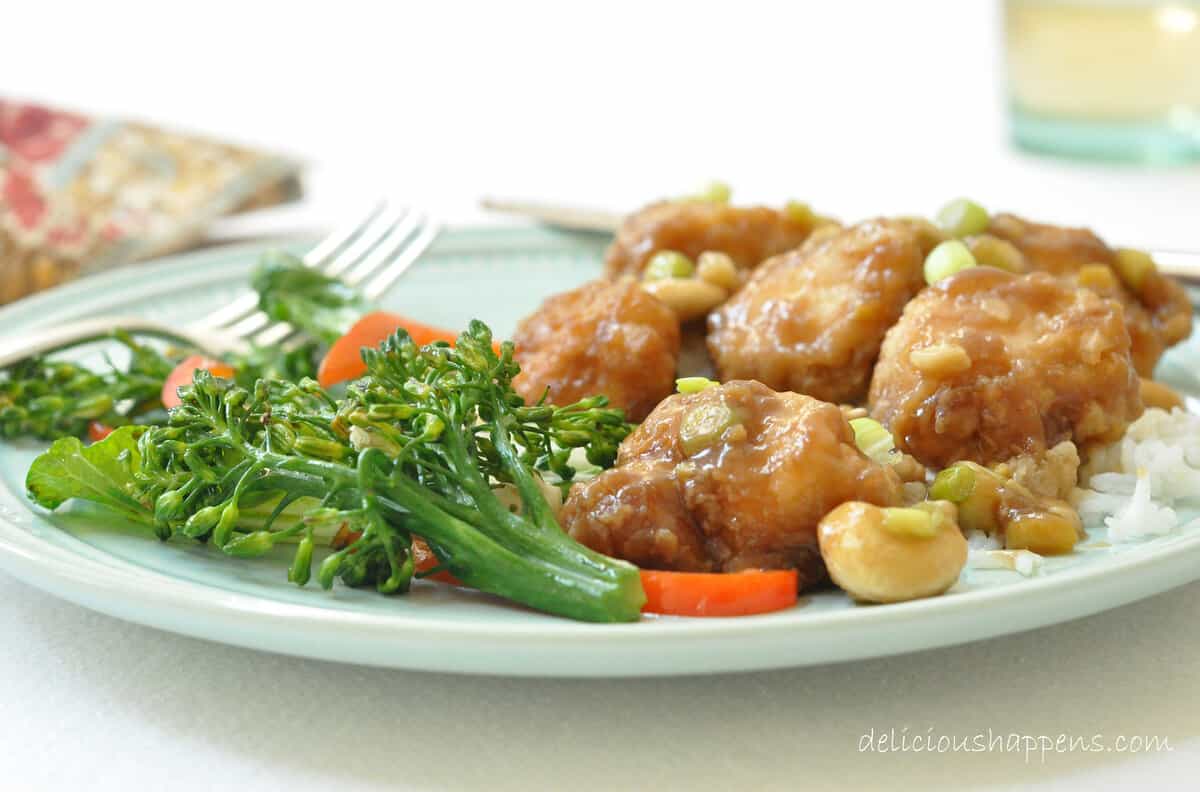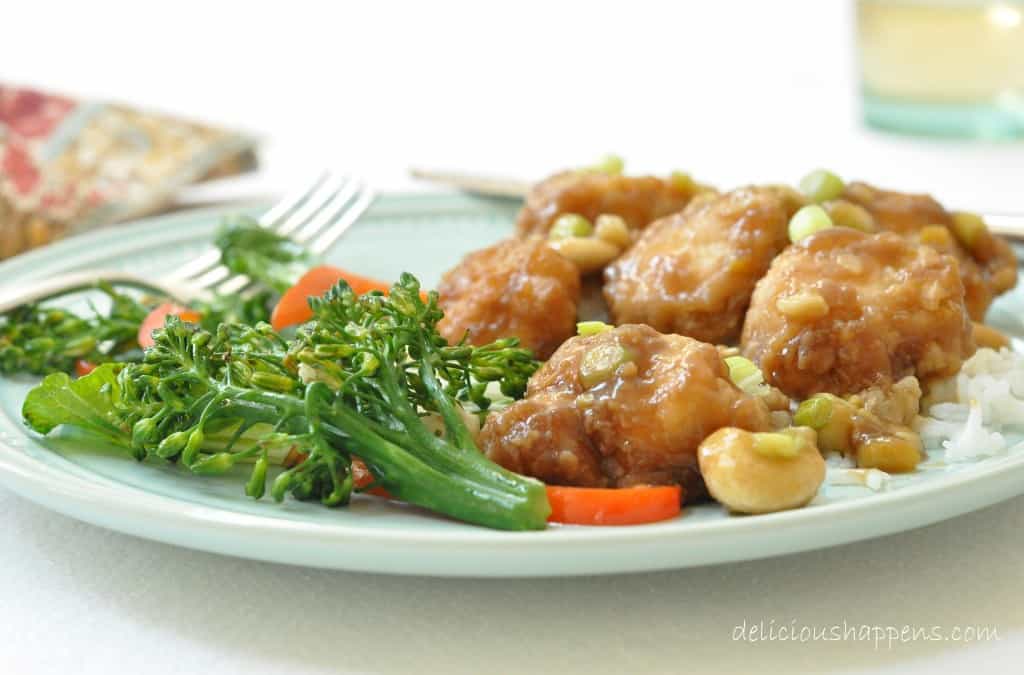 If you're like me and a little intimidated by making Chinese food….this Springfield Cashew Chicken is fairly easy to make and it's so worth making. This recipe is a keeper!!
~ Deb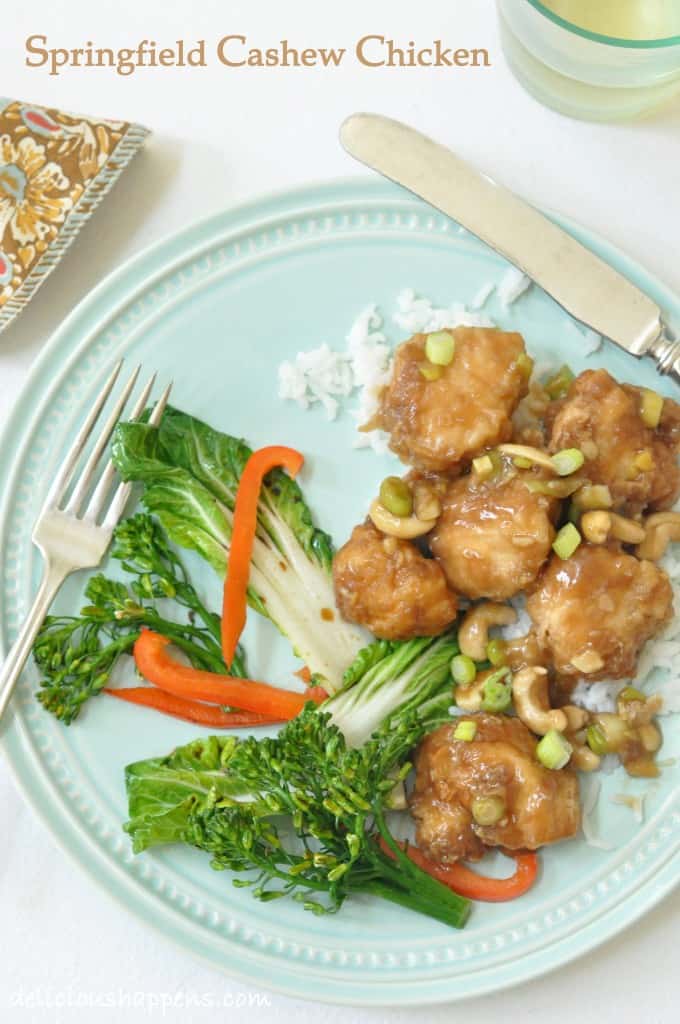 Yield: 4 servings
Springfield Cashew Chicken
Ingredients
4 chicken breasts, skinless and boneless, cut into 1-inch pieces
2 cups all-purpose flour
2 teaspoons baking soda
5 tablespoons cornstarch
3 eggs, beaten
2 cups peanut oil for frying
2 cups chicken broth
2 tablespoons oyster sauce
1 tablespoon white sugar
2 tablespoons soy sauce
1 teaspoon ground white pepper
2 tablespoons fresh garlic, minced
2 tablespoons fresh ginger, peeled and minced
2 tablespoons chopped green onion
1-1/2 cups whole (or half) cashews
Instructions
Preheat oven to 200 degrees.

Heat cashews and chopped green onions in the oven for about 4-5 minutes.In a small skillet or wok, add 2 tablespoons peanut oil and stir-fry the garlic and ginger. Remove from the pan and drain. Set aside.

Mix together the flour, baking soda and 1 tablespoon of the cornstarch in a bowl. Beat the eggs in a medium size bowl. Dip chicken pieces into flour mixture, then eggs, then flour mixture again.

Heat the remaining oil in a large skillet or wok and deep fry the coated chicken for about 2 minutes on each side. Remove from the pan and drain on paper towels.

In a medium size saucepan heat chicken broth to a boiling point. Add the oyster sauce, sugar, soy sauce and white pepper. Mix 4 tablespoons cornstarch with about 2-3 tablespoons cold water in a small bowl. Add more water if needed. Stir cornstarch mixture slowly into the broth to thicken. Stir over medium-low heat for another 3-4 minutes.

In a clean deep skillet or wok, heat the chicken, garlic and ginger over medium-low heat. Pour the sauce over the chicken mixture and add the cashews and green onions. Stir to coat well.
In a medium size saucepan heat chicken broth to a boiling point. Add the oyster sauce, sugar, soy sauce and white pepper.

Mix 4 tablespoons cornstarch with about 2-3 tablespoons cold water in a small bowl. Add more water if needed. Stir cornstarch mixture slowly into the broth to thicken.

Stir over medium-low heat for another 3-4 minutes.

In a clean deep skillet or wok, heat the chicken, garlic and ginger over medium-low heat.

Pour the sauce over the chicken mixture and add the cashews and green onions. Stir to