Roasted Banana Paletas
This post may contain affiliate links.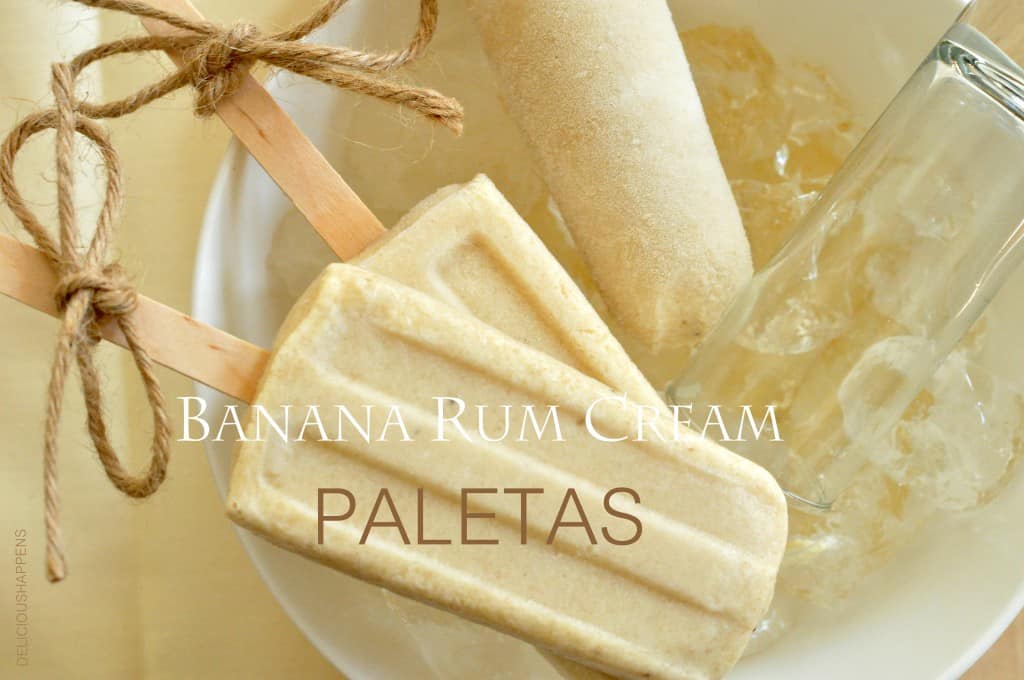 Roasted Banana Paletas made with milk, a little cream….and a spot of rum. I slightly adapted this recipe from my "Paletas" cookbook by Fany Gerson, and I'll definitely make these again and again this summer. Next time I might switch things up a bit…. I think a swirl of melted dark chocolate in the mix might be worth experimenting with.
I cut back considerably on the sugar from what was called for in the original recipe…because, really – bananas are plenty sweet on their own – especially well ripened bananas. You could probably go with a little honey instead , maple syrup – or don't add any sweetener at all. If you wanted to get crazy healthy with them – you could go Greek and use yogurt in lieu of any milk at all. Or what about layering 1/2 fudgsicle and 1/2 roasted banana-sicle? There's just so many possibilities with these roasted banana paletas!
I could see these as being a really great treat for kids (minus the rum, of course). Bananas and milk – heck have em for breakfast!
I have a friend (Jackie) and her dad is 91 years old. Fred eats a banana a day. He's on no meds, has a great sense of humor…and loves to sing the song "Bad Bad Leroy Brown". Good genes? Maaaybe. But then again, maybe it's the bananas. Moral of the story….Eat your bananas!
The recipe for these Roasted Banana Paletas (roasted banana popsicles) is definitely a keeper!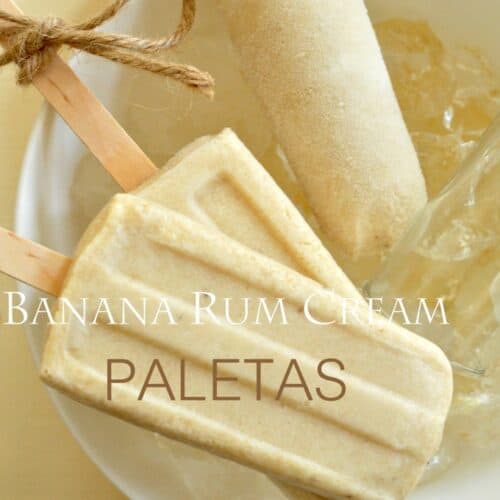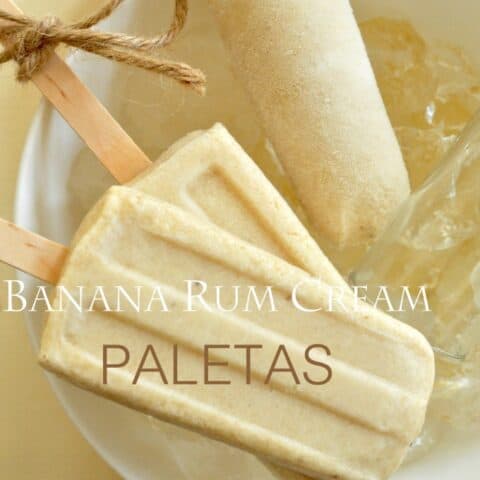 Yield: 6 servings
Roasted Banana Paletas
Ingredients
3 ripe bananas (I use Dole organic bananas)
2 tablespoons light brown sugar or pure maple syrup
1 cup coconut milk
½ cup organic heavy cream
1 teaspoon pure vanilla extract
1 teaspoon freshly squeezed lemon juice
½ teaspoon sea salt
1 tablespoon dark rum (optional)
Instructions
Preheat the oven to 400 degrees
Wrap the bananas (skin and all) individually in foil and place on a cookie sheet.
Pop them in the oven and roast for about 30 minutes or until the bananas are completely soft and cooked through.
Remove from the oven and set aside until cool enough to handle. Peel the bananas and place the fruit in a bowl and mash with a fork.
Add the brown sugar and stir until the sugar is dissolved.
Pour the banana mixture in a blender.
Add the coconut milk, cream, vanilla, lemon juice, salt and rum and blend well until smooth and creamy.
Refrigerate for about an hour or until completely chilled.
If you're using popsicle molds, divide the mixture evenly. Place the lid on top (insert the sticks) and freeze for about 4 to 5 hours or until completely frozen.
If you're using glass containers (shot glasses, etc) put the mixture in each container and freeze for about an hour to 1-1/2 hours then insert the sticks and return to the freezer until completely frozen.