Raw Chocolate Nut Bars
This post may contain affiliate links.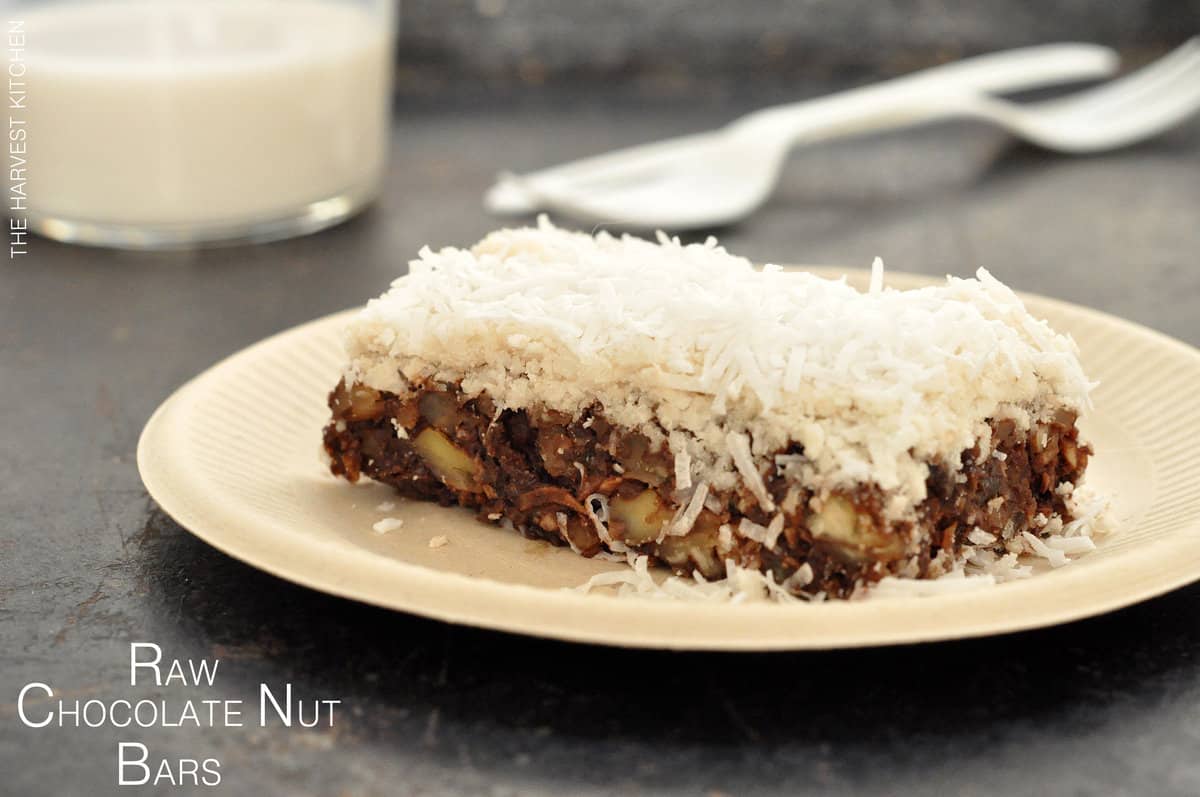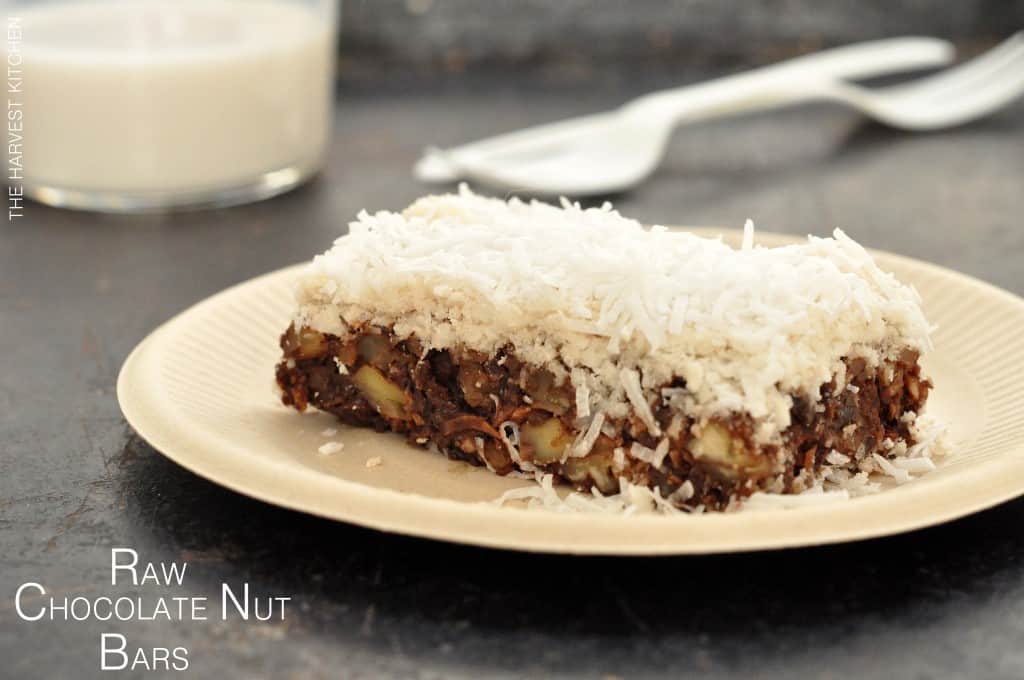 These Raw Chocolate Nut Bars are a favorite in this family of mine. My son and I don't eat a lot of sweets, mainly because sugar typically gives us headaches. But…. these Raw Chocolate Nut Bars are made with maple syrup in lieu of refined sugar, so they're only mildly sweet and I can enjoy them without experiencing the nasty side effects of consuming refined sugar.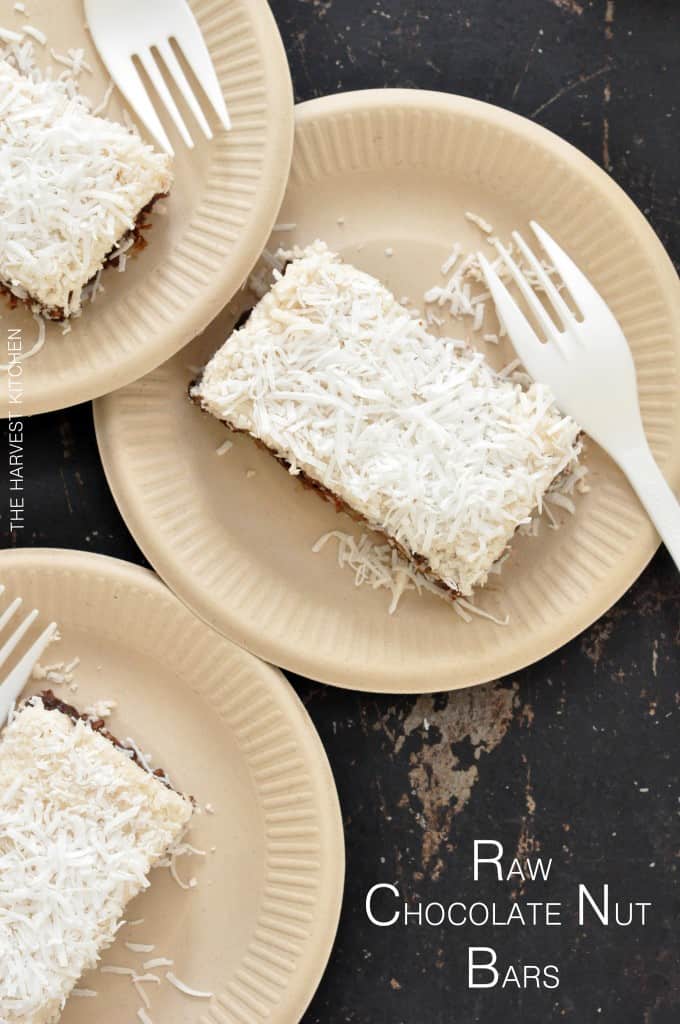 For you nut lovers – these Raw Chocolate Nut Bars are completely loaded with raw walnuts and pecans. Nuts contain enzymes that prevent them from really breaking down and becoming easily digestible. Soaking them in water before they're used in a recipe or consumed as a snack breaks down these enzymes and makes them much more easily digestible. Soaked nuts must be refrigerated and will keep in the fridge for only a couple of days, so only soak what you know you'll use. Almonds should be soaked for 6 to 8 hours, cashews and hazelnuts should soak for 2 to 4 hours and walnuts/pecans/macadamia and pistachios should be soaked for 1 to 2 hours. Make sure to drain and rinse your soaked nuts (discarding the soaking water) and if you're keeping them in the fridge for a day or two – be sure to give them a quick rinse every day to keep them fresh. Keep the nuts in a tightly sealed container in the fridge. I also really like soaked nuts because they're more delicate in both bite and flavor.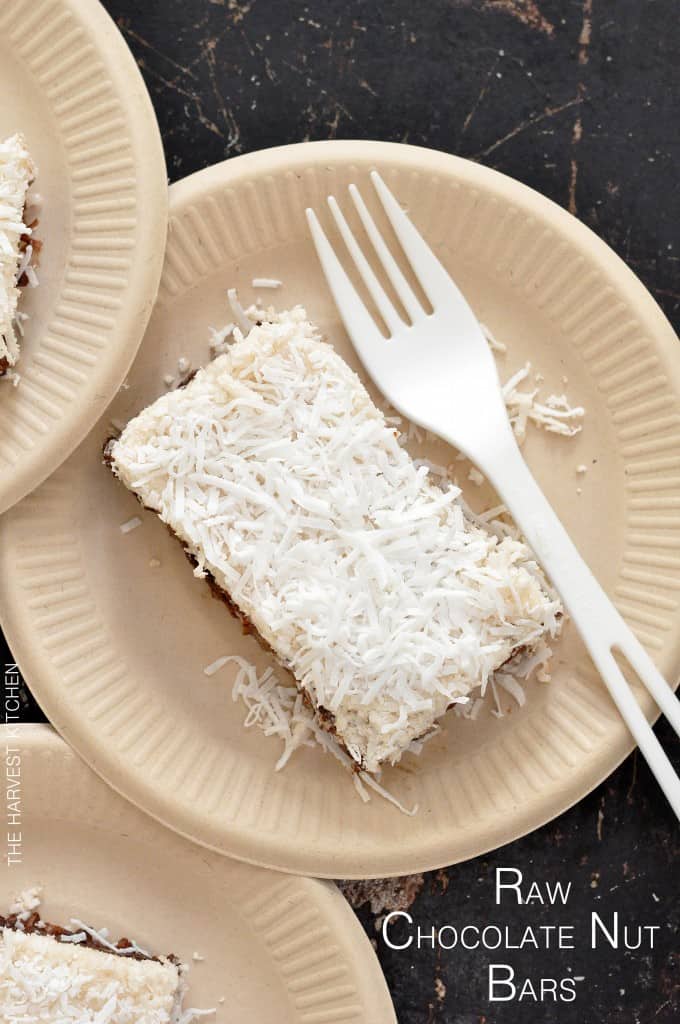 The coconut layer on top of these chocolate nut bars really takes them over the top, but if you don't feel like going to the trouble – I'd still encourage you to make the chocolate base on its own. It's that good, and it's worthy of your time and effort.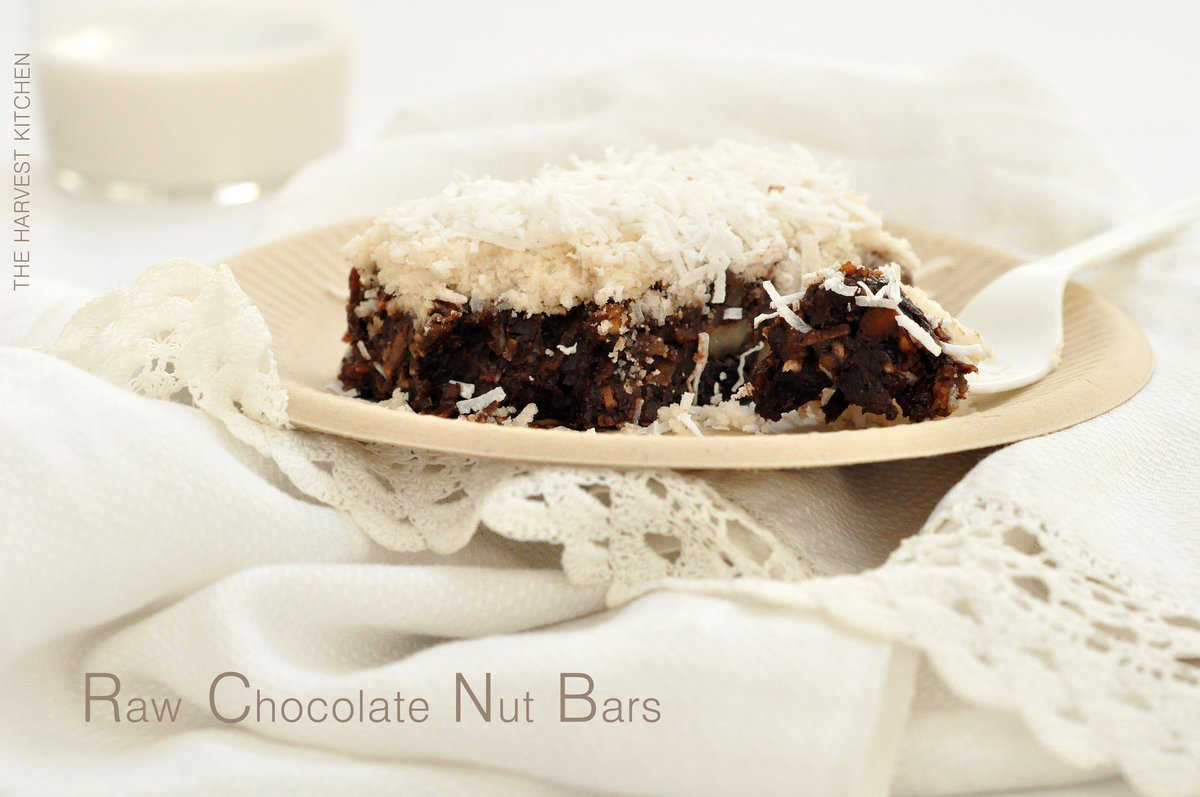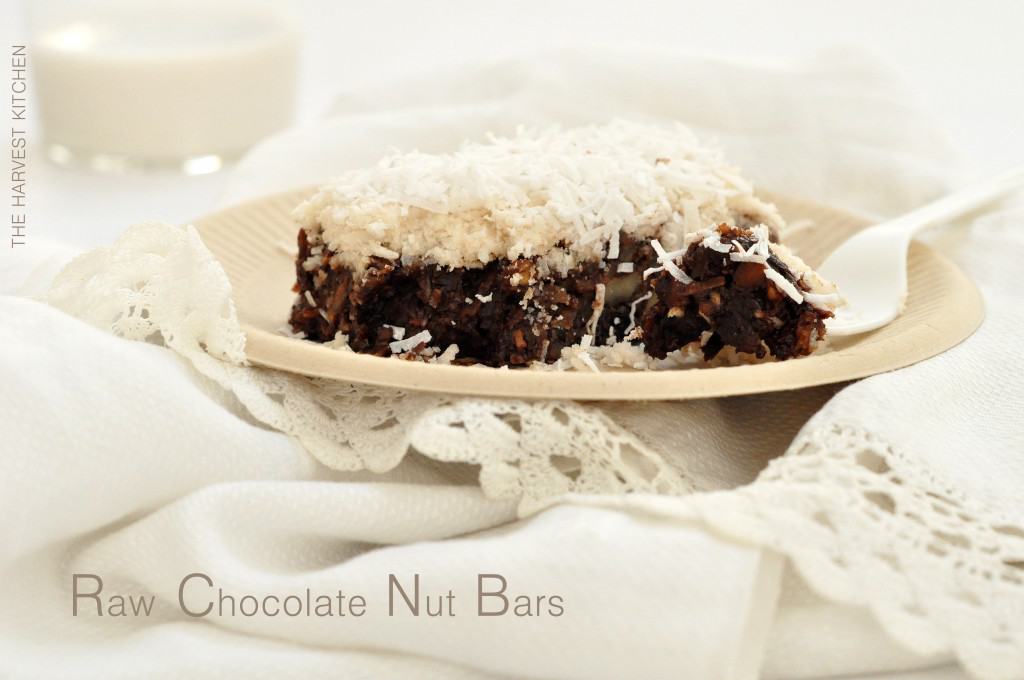 The real star of these Raw Chocolate Nut Bars is the chocolate sauce. Its silky smooth texture tastes like the best chocolate sauce you've ever had. It's sure to be the healthiest chocolate sauce you've ever had!
~ Deb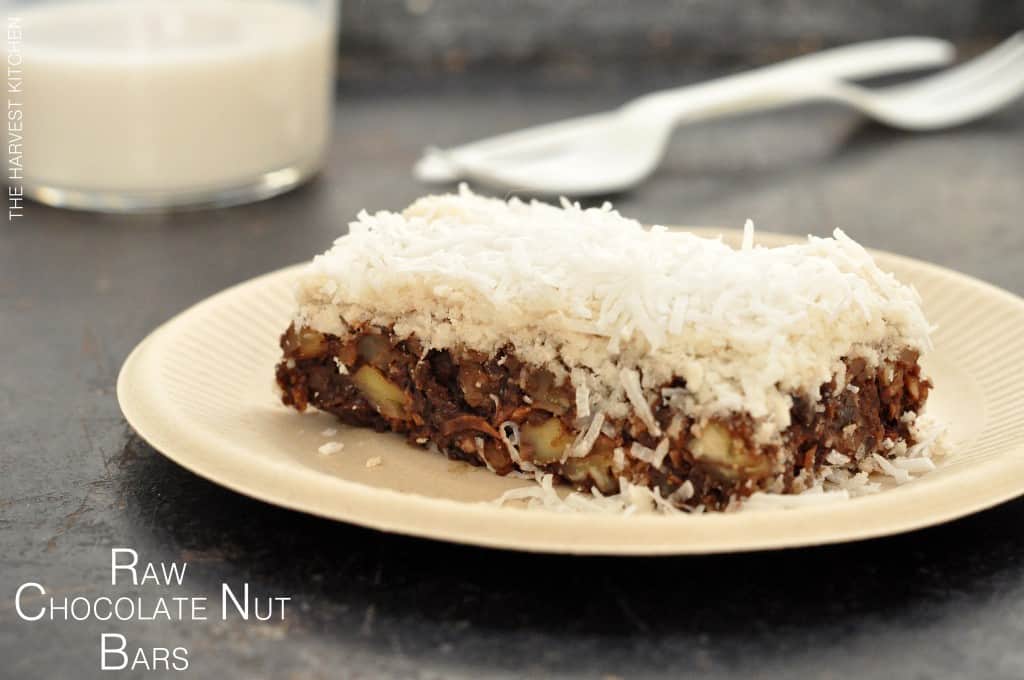 Yield: 4 dozen bars
Raw Chocolate Nut Bars
Additional Time
20 minutes
Total Time
2 hours
20 minutes
Ingredients
Chocolate Base
4 cups walnuts, soaked for 1 to 2 hours
4 cups pecans, soaked for 1 to 2 hours
1 cup Thompson raisins (black raisins)
1 cup shredded coconut
3 cups chocolate sauce
1-1/2 teaspoons kosher salt
For the Chocolate Sauce
1-1/2 cups cocoa powder
1-3/4 cups pure maple syrup
1-1/2 teaspoons pure vanilla extract
1/2 teaspoon sea salt
3 tablespoons coconut butter, melted
For the Coconut Layer
6 cups shredded coconut (divided)
1/4 cup agave nectar (you can use maple syrup)
1/4 cup water (use a little more if needed to blend more easily)
2 tablespoons vanilla extract
1/4 cup coconut butter (melted)
Instructions
For the Chocolate Base
Add the walnuts to a food processor and process just until they break into small pieces. Transfer to a large bowl.
Add the pecans to the food processor and continue to process until the nuts begin turn moist from their oils. You want the nuts broked down a bit but leaving some smaller chunkier pieces. Transfer to the bowl with the walnuts.
Toss the nuts to combine well.
Pour the chocolate sauce over the nut mixture and add the raisins, coconut, coconut oil and salt. Mix until well combined.
Transfer to a parchment lined 10-1/2 x 15" cookie sheet (medium sized baking sheet) and spread out into an even layer.
Refrigerate until chilled through and firm. It will be slightly firm but not hardened.
For the Chocolate Sauce
Combine the cocoa powder, maple syrup, vanilla extract, and salt in a blender or food processor. While the motor is running, add the melted coconut butter and continue to blend for just a minute or two or until it achieves a smooth creamy texture.
For the Coconut Layer
Blend 2 cups shredded coconut, water, agave nectar, melted coconut butter, vanilla extract and salt until smooth in texture.
Transfer to a large mixing bowl. Stir in 2 more cups of shredded coconut and blend well.
Layer evenly over the chocolate base.
Sprinkle the remaining 2 cups shredded coconut over the top.
Refrigerate the Raw Chocolate Nut Bars for at least 30 minutes or more to set.
Cut into bars any size you prefer.
Store in a tightly sealed container in the refrigerator.