Raw Brownie Bites
This post may contain affiliate links.
These Raw Brownie Bites are simple no bake energy bites made with dates, walnuts, almonds and cacao powder.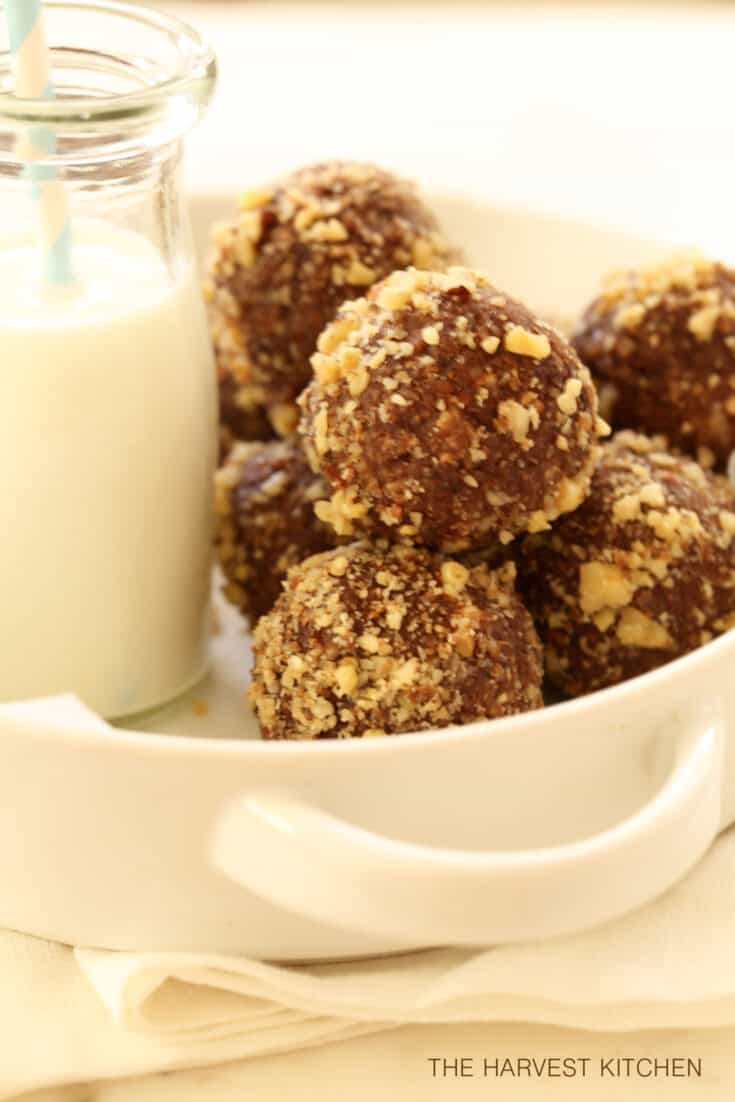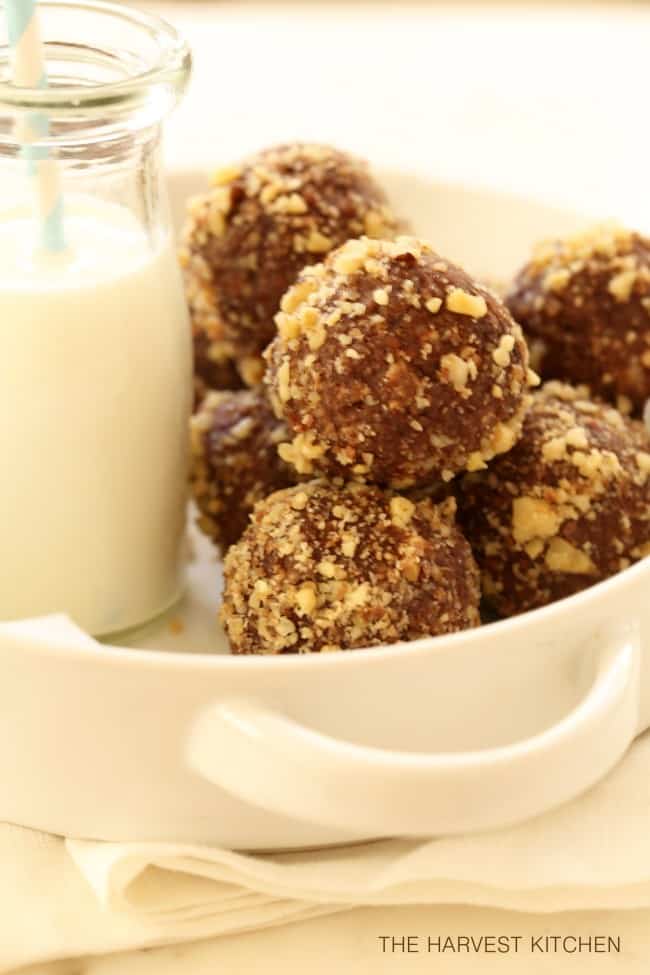 No bake energy bites make a healthy snack for a mid-afternoon pick-me-up. They'll also fix any chocolate hankerings you might have. They're made with all natural ingredients! No refined flour or sugar, so you can eat all you want!!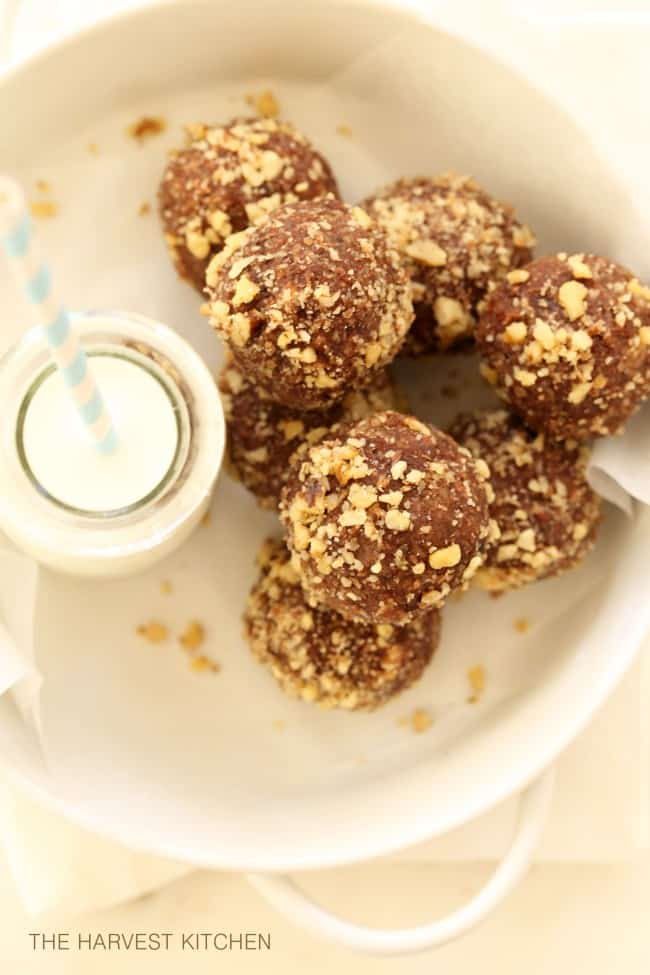 ENERGY BITES RECIPE
These healthy energy bites are made with just 6 simple ingredients.
Medjool dates
Pure vanilla extract
Cacao powder (we use cacao powder for this recipe, but you can cocoa powder instead)
Sea salt
Raw walnuts
Raw almonds
HOW TO MAKE ENERGY BITES
These energy bites come together in about 10 minutes start-to-finish.
Grind nuts. Finely ground the almonds and walnuts in a food processor and set aside.
Blend dates. Process the dates in a food processor until they become paste-like.
Add cacao. Add cacao powder, salt and vanilla extract to date mixture.
Blend nuts and date mixture. Add the chopped nuts to the date mixture and pulse to mix ingredients.
Shape into round bites. Using a small ice cream scoop – scoop the mixture and form into round bites with your hands.
Toss in nuts. Roll the brownie bites into the finely chopped nuts.
Store in refrigerator. I like to keep these chilled in the refrigerator, but it's not necessary.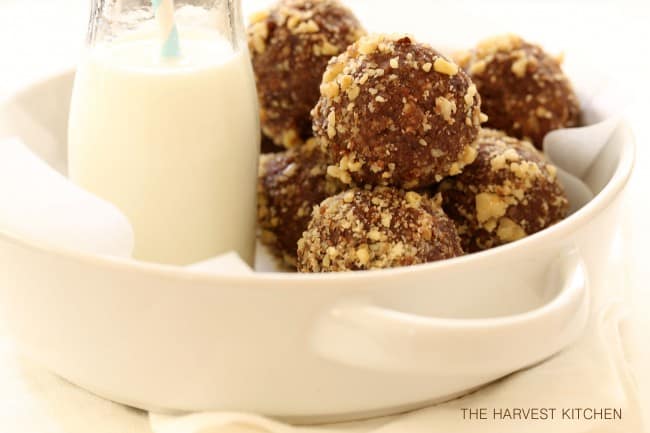 I'll throw a few of these Raw Brownie Bites into a baggie to carry in my purse so I have something to snack on while I'm on the run. They're also perfect when you're in need of a chocolate fix!!
BENEFITS OF EATING DATES
Dates are rich with fiber and antioxidants, such as flavonoids, carotenoids and phenolic acid, all of which may help reduce inflammation, protect heart health, and reduce risk of macular degeneration (1) (2) (3)
HEALTH BENEFITS OF WALNUTS
Anti-inflammatory benefits which may help reduce oxidative damage in the brain.
Consuming walnuts regularly may help reduce LDL cholesterol levels (the bad kind).
May help lower blood pressure
BENEFITS OF ALMONDS
Touted that they may help lower blood sugar levels.
May help lower blood pressure levels.
LDL cholesterol lowering benefits (the bad kind) (9)
Promotes satiating properties which aids with weight loss and healthy weight management. (10)
BENEFITS OF CACAO
Cocoa is one of the rishest sources of polyphenols and flavanols which have powerful antioxidant and anti-inflammatory properties. It's always best to purchase non-alkalized cocoa powder and dark chocolate containing more than 70% cocoa to maximize nutritional benefits.
Anti-inflammatory
Improves levels of nitric oxide in blood, which helps to relax and dilate arteries and blood vessels helping to improve blood flow (14)(15)
Helps to lower LDL cholesterol (the bad kind) (16)
CACAO POWDER VS COCOA POWDER
So what's the difference between cacao powder and cocoa powder? The only real difference between Cacao powder and cocoa powder is that cocoa is processed at a much higher temperature losing some of its nutritional value, and it may often contain added sugar and dairy. Both cacao and cocoa come from cacao plant beans. Cacao powder is made from fermented beans that haven't been roasted. The beans are processed at a lower temperature and then milled into powder Cacao is a little more bitter tasting than cocoa and it is richer in nutritional properties than cocoa. Cocoa beans are fermented and roasted and processed at a high temperature losing some of the nutritional value. Cocoa typically has a less bitter taste than cacao.
MORE HEALTHY ENERGY BITES
Originally published 12.2015 – updated 10.2020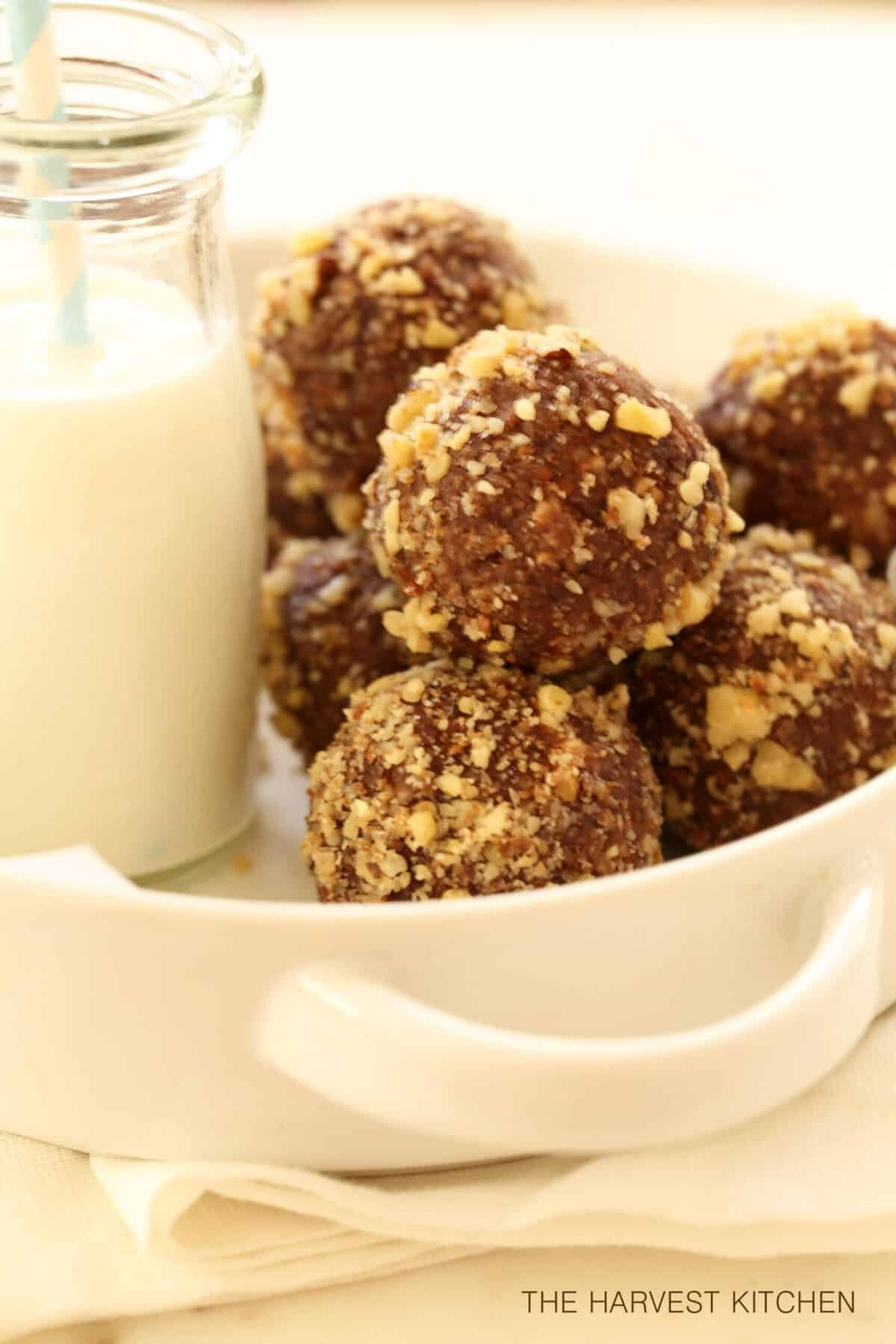 Yield: 12-15 servings
Raw Brownie Bites
These Raw Brownie Bites are simple to make no bake energy bites. They're made with dates, walnuts, almonds and cacao powder.
Ingredients
2 ½ cups medjool dates, seeds removed
1-1/2 teaspoons pure vanilla extract
1/3 cup cacao powder
1/4 teaspoon sea salt
2 cups whole walnuts, chopped  (plus 1/3 cup finely chopped walnuts to roll the bites in as a finishing touch)
1 cup raw unsalted almonds, chopped
Instructions
Add the walnuts to the food processor and pulse until the nuts are chopped up. Pour nuts into bowl, separating out 1/3 cup, and set aside.
Add the almonds to the food process and pulse until the nuts are chopped up. Pour nuts into bowl and set aside.
Add the dates to a food-processor and blend until they become paste-like.
Add the cacao, salt and vanilla extract.
Add the chopped walnuts and almonds in food processor and pulse to blend mixture.
Dump the mixture in a large bowl. Using an ice cream scoop - scoop the mixture and form into balls in your hands.
Roll the brownie bites into the reserved 1/3 cup chopped walnuts for a finished look. Optional
Nutrition Information:
Yield:
12
Serving Size:
1
Amount Per Serving:
Calories:

328
Total Fat:

18g
Saturated Fat:

2g
Trans Fat:

0g
Unsaturated Fat:

15g
Cholesterol:

0mg
Sodium:

45mg
Carbohydrates:

42g
Fiber:

6g
Sugar:

33g
Protein:

7g
theharvestkitchen.com attempts to provide accurate information, however, this nutritional information is provided as a courtesy and is an estimate only. The nutritional information provided comes from online sources and calculations.