Pineapple Banana Popsicles
This post may contain affiliate links.
These easy-to-make Pineapple Banana Popsicles are made with just four ingredients. Fresh bananas, fresh pineapple, pineapple juice and coconut milk.They're healthy, light and tropical tasting. And they make a perfect summertime treat!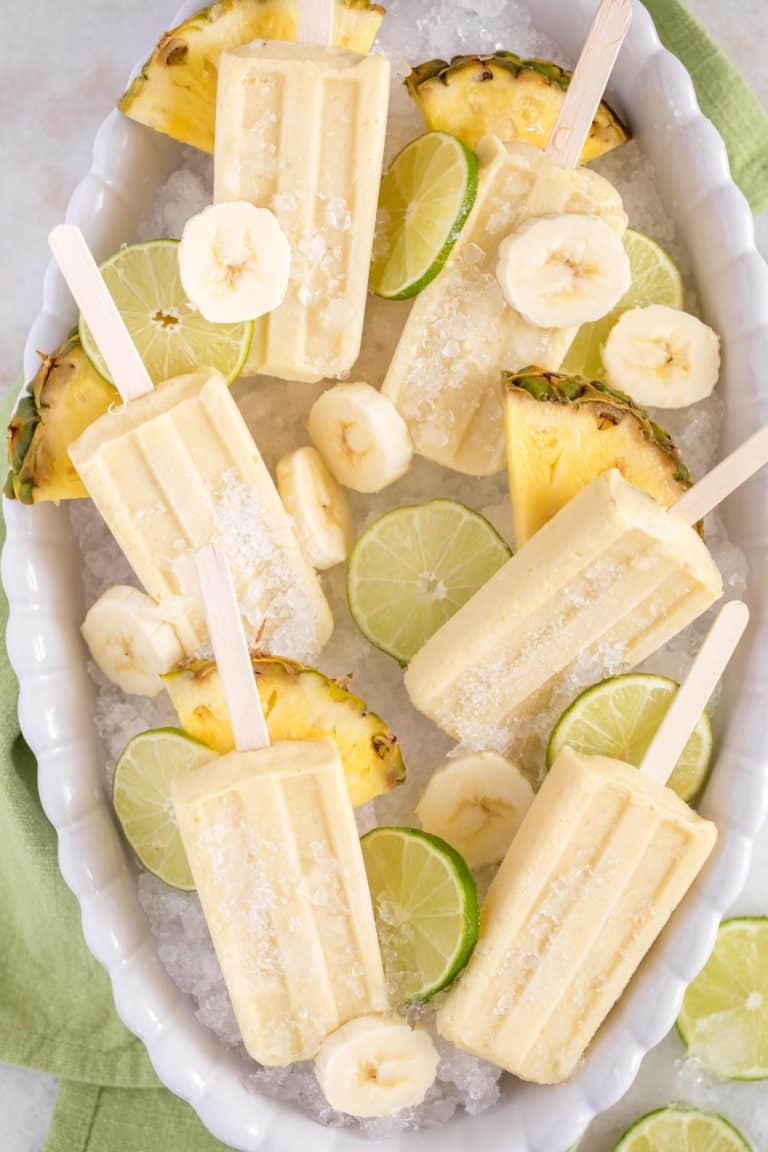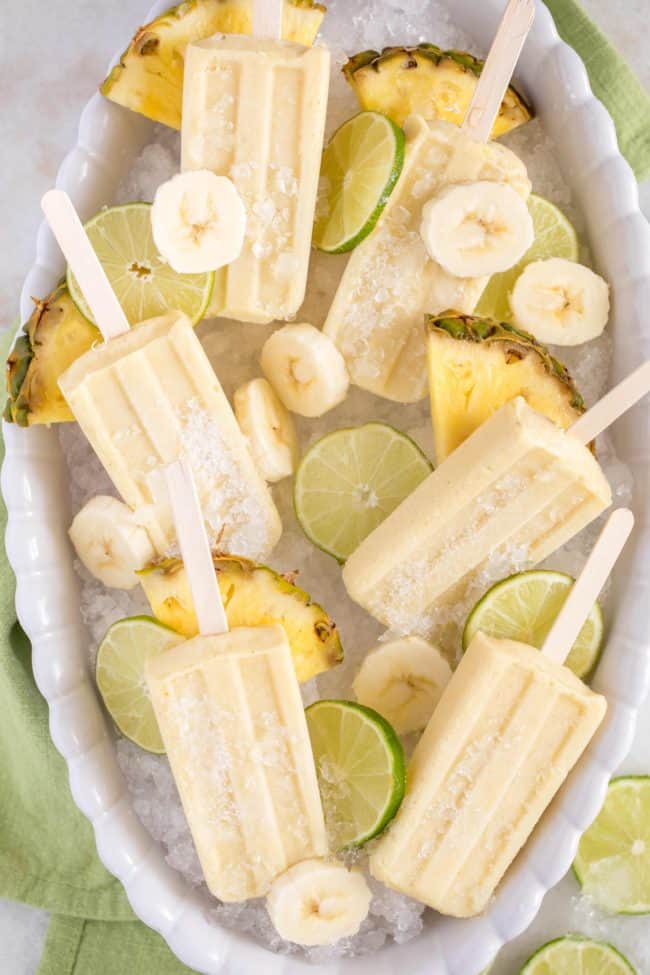 I love making homemade popsicles when the weather turns warm. These Pineapple Banana Popsicles are super easy to make and they're great to have stashed in the freezer for a quick healthy snack.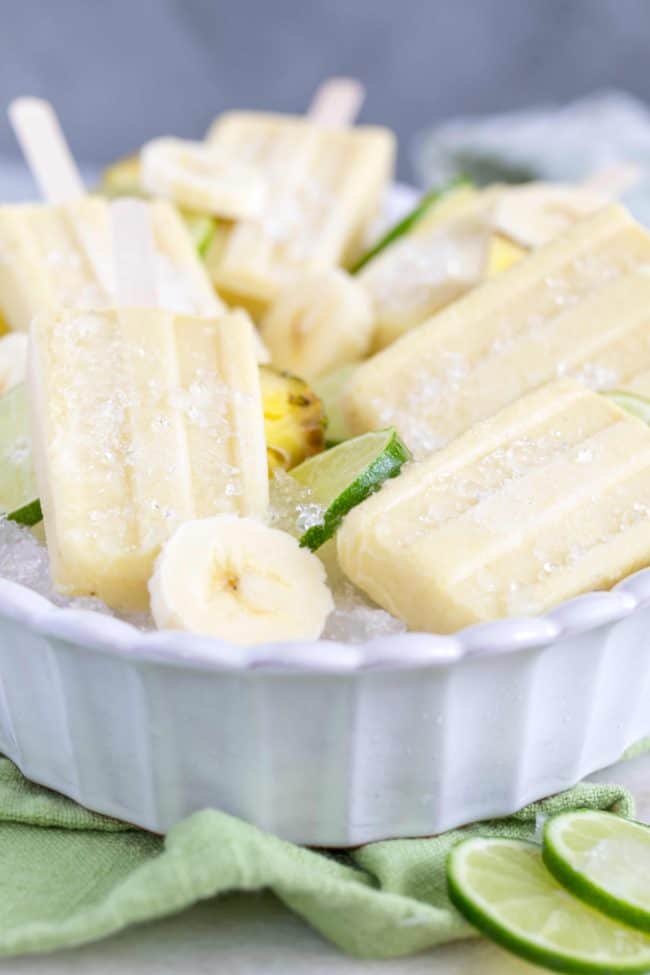 BANANA POPSICLE RECIPE
These healthy popsicles are made with fresh fruit and coconut milk and they're like having a tropical flavored coconut milk smoothie on a stick!
Bananas (fresh or frozen)
Fresh pineapple
Pineapple juice
Unsweetened coconut milk
VARIATIONS
Use almond milk instead of coconut milk or use a coconut milk/almond milk blend
HOW TO MAKE HOMEMADE POPSICLES
These fruit popsicles pull together in just about 10 minutes. Then they'll need another 4 hours in the freezer to freeze solid.
Prep Fruit: Peel and chop pineapple and banana.
Blend: Add the chopped fruit, juice and coconut milk to a blender and blend until smooth.
Popsicle Molds: Divide the mixture among the molds.
Freeze: Freeze for 30 minutes, then insert popsicles sticks and return to the freezer to freeze until solid.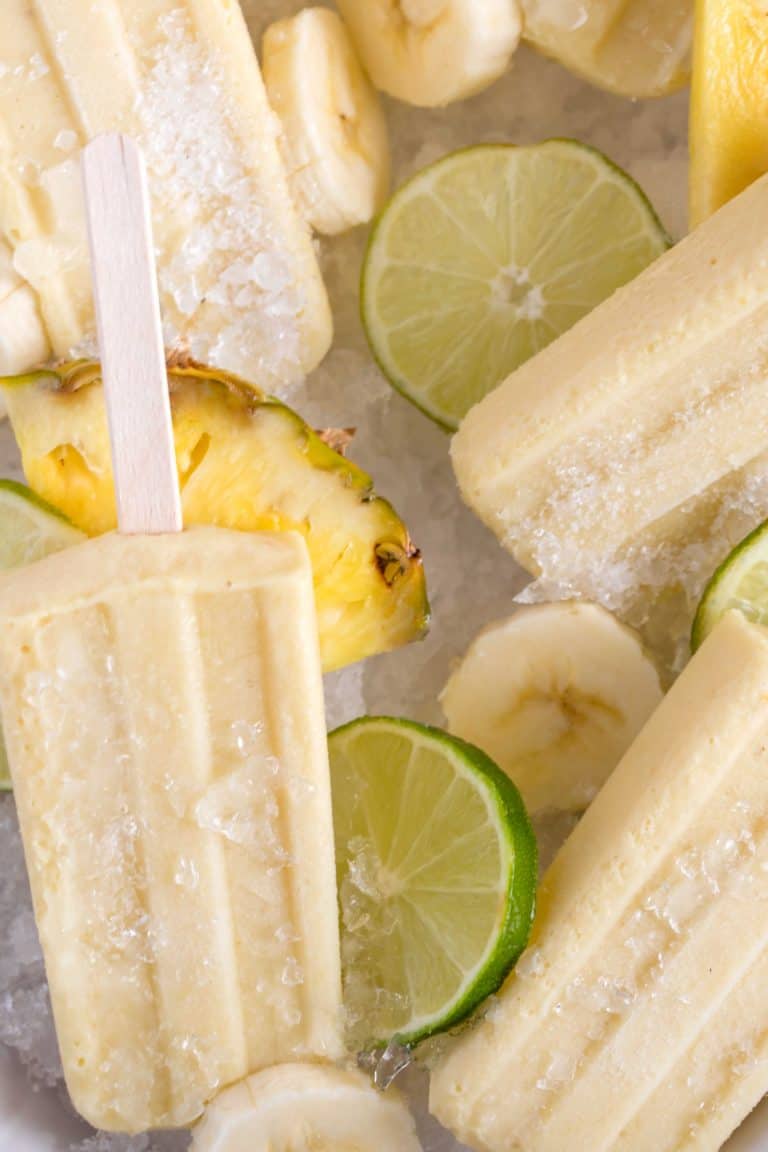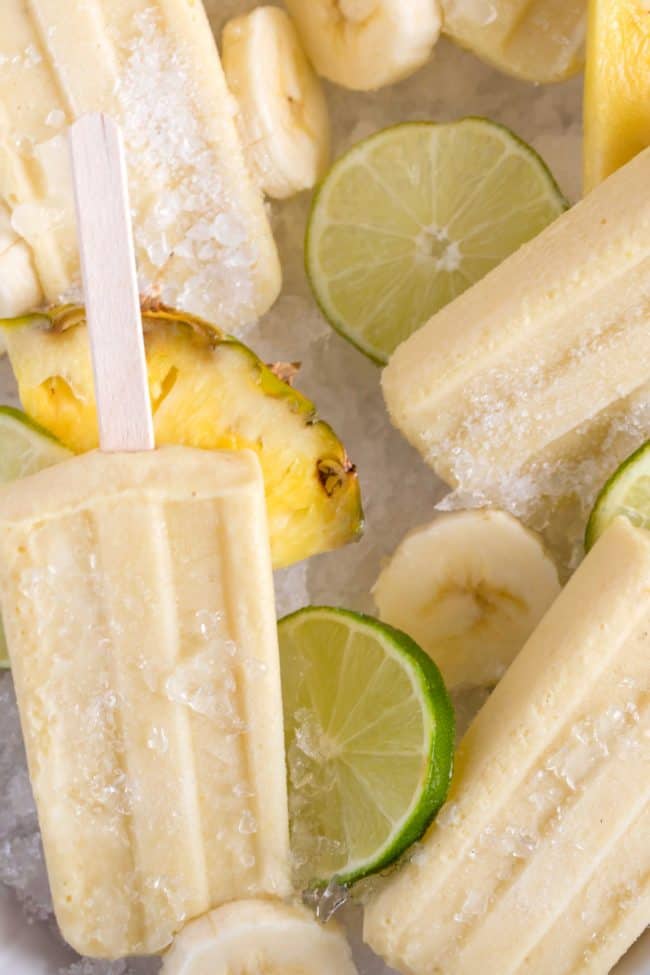 Besides tasting great, these banana popsicles are rich with antioxidants, anti-inflammatory properties, protein and fiber.
BENEFITS OF BANANA
Rich with potassium. Potassium may help manage blood pressure and helps muscles to contract. It helps to keep the heart beating regularly and may reduce the effect of sodium on blood pressure. One medium size banana provides approximately 422 milligrams of potassium.
Good source of fiber, folate and antioxidants (vitamin C). People who consume a high fiber diet may have a lower risk of heart disease and they may have lower levels of LDL cholesterol (bad cholesterol). (1)
Rich with the amino acid tryptophan, which helps regulate mood, preserves memory and boosts our ability to learn new things. (2)
PROTEIN IN BANANA
1 medium size banana contains 1.3 grams of protein.
BENEFITS OF PINEAPPLE
Rich with antioxidants (including vitamin C and flavonoids)
Anti-inflammatory properties
Rich source of bromelain (which is an enzyme that helps aid digestion and can reduce inflammation and sinus/nasal swelling)
IS COCONUT MILK DAIRY
No. Coconut milk is a tasty alternative to dairy (cows milk).
IS COCONUT MILK GOOD FOR YOU
Coconut milk is high in calories. About 93% of its calories come from fat. But it's also a rich source of vitamins and minerals with just one cup containing 552 calories, 5 grams of protein, 5 grams of fiber and 13 grams of carbs. It's also rich with vtiamin C, folate, iron, magnesium and potassium.
WAYS TO USE COCONUT MILK
You can substitute coconut milk where you might typically use cows milk.
Add it to your coffee
Blend with your morning smoothies
Add it to hot oatmeal
POPSICLE RECIPES
These are some of my favorite homemade popsicle recipes.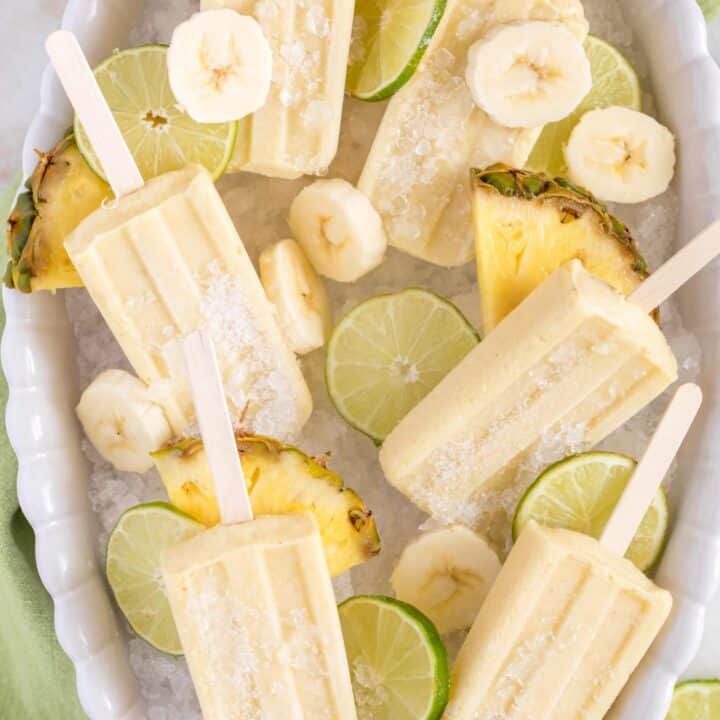 Yield: 8 Popsicles
Pineapple Banana Popsicles
Total Time
4 hours
10 minutes
These easy-to-make Pineapple Banana Popsicles are made with just four ingredients.  Fresh bananas, pineapple, pineapple juice and coconut milk.They're healthy, light and tropical tasting. And they make a perfect summertime treat!
Ingredients
2 ripe fresh or frozen bananas, sliced
1 cup fresh pineapple, peeled, cored and chopped
1 cup pineapple juice (fresh or bottled)
1 cup unsweetened coconut milk (in the refrigerated section at grocery store)
Instructions
Add chopped bananas, pineapple, pineapple juice and refrigerated coconut milk to a blender.
Blender until texture is smooth.
Divide evenly among popsicle molds.
Freeze for 30 minutes, then insert popsicle sticks.
Freeze for 4 hours or until popsicles are completely frozen.
Notes
Don't use canned coconut milk for this recipe. Save that for curry sauces.
If you don't have pineapple juice, then just blend 1 more cup of fresh pineapple until smooth.
Nutrition Information:
Yield:
8
Serving Size:
1
Amount Per Serving:
Calories:

46
Total Fat:

1g
Saturated Fat:

1g
Trans Fat:

0g
Unsaturated Fat:

0g
Cholesterol:

0mg
Sodium:

2mg
Carbohydrates:

10g
Fiber:

1g
Sugar:

7g
Protein:

0g
theharvestkitchen.com attempts to provide accurate information, however, this nutritional information is provided as a courtesy and is an estimate only. The nutritional information provided comes from online sources and calculations.