Kale Waldorf Salad
There's a Whole Foods Market close to where I work where I'll grab lunch several times a week to take back to the office. Lately they've been serving their delicious Kale Waldorf Salad….and I'm completely hooked! It's a great fall salad! I found the recipe for it on the Whole Foods Market site and I've made it several times at home already. I add a little more apple and dressing than the recipe calls for. I've also mixed the kale with Romaine to switch things up a bit. The ingredients listed below for you are as they're stated on the Whole Foods Market site ….then you can adjust things if you'd like.
One of my favorite things to look forward to every October is when Honeycrisp apples hit the markets. Honeycrisp is my favorite apple – and I absolutely love slices of Honeycrisp with slices of Havarti cheese. It makes a perfect snack and healthy little appetizer.
Enjoy this healthy and delicious Whole Foods Market Kale Waldorf Salad!! I bet you'll be hooked on it too!
~ Deb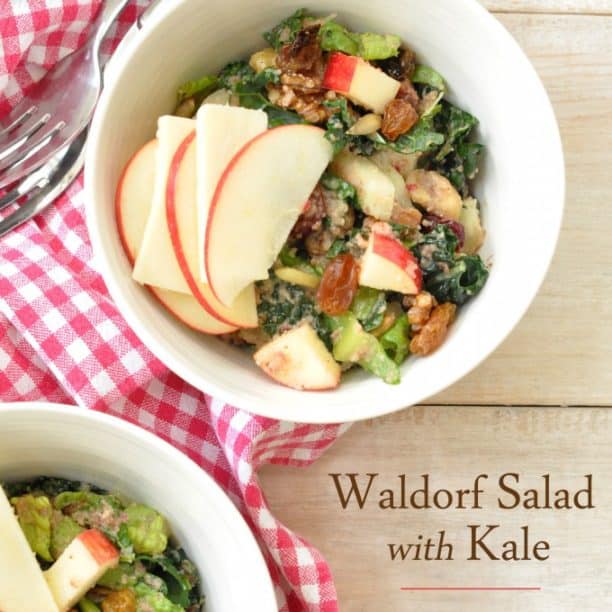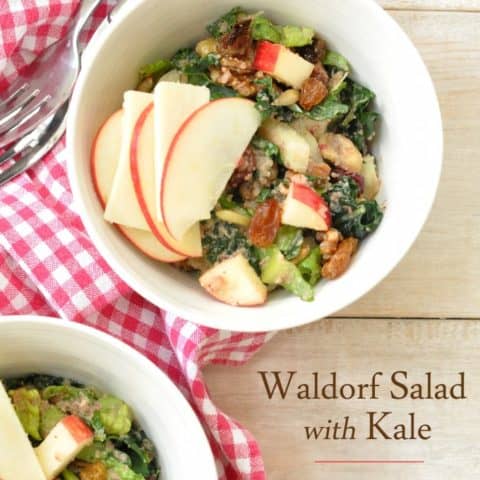 Yield: 4 servings
Kale Waldorf Salad
Ingredients
4 cups dinosaur kale, chopped
1 large Honeycrisp (or Fuji) apple, chopped
1 cup thinly sliced celery
1/2 cup walnuts (or pecans) toasted and chopped, divided
1/4 cup plus 2 tablespoons raisins, divided
2 tablespoons Dijon mustard
2 tablespoons water (or apple juice) or more if needed
1 tablespoon red wine vinegar
1/8 teaspoon sea salt
Instructions
Place the kale in a large bowl. Add half the apple to kale along with celery, 1/4 cup walnuts and 1/4 cup raisins.
Put the remaining apple in a blender.
Add the remaining 1/4 cup walnuts, the remaining 2 tablespoons raisins, mustard, water, vinegar and salt.
Purée until well combined.
The dressing will be slightly thick. Add water or a little apple juice for desired consistency.
Pour the dressing over the kale salad and toss to combine.