Italian Turkey Meatballs
This post may contain affiliate links.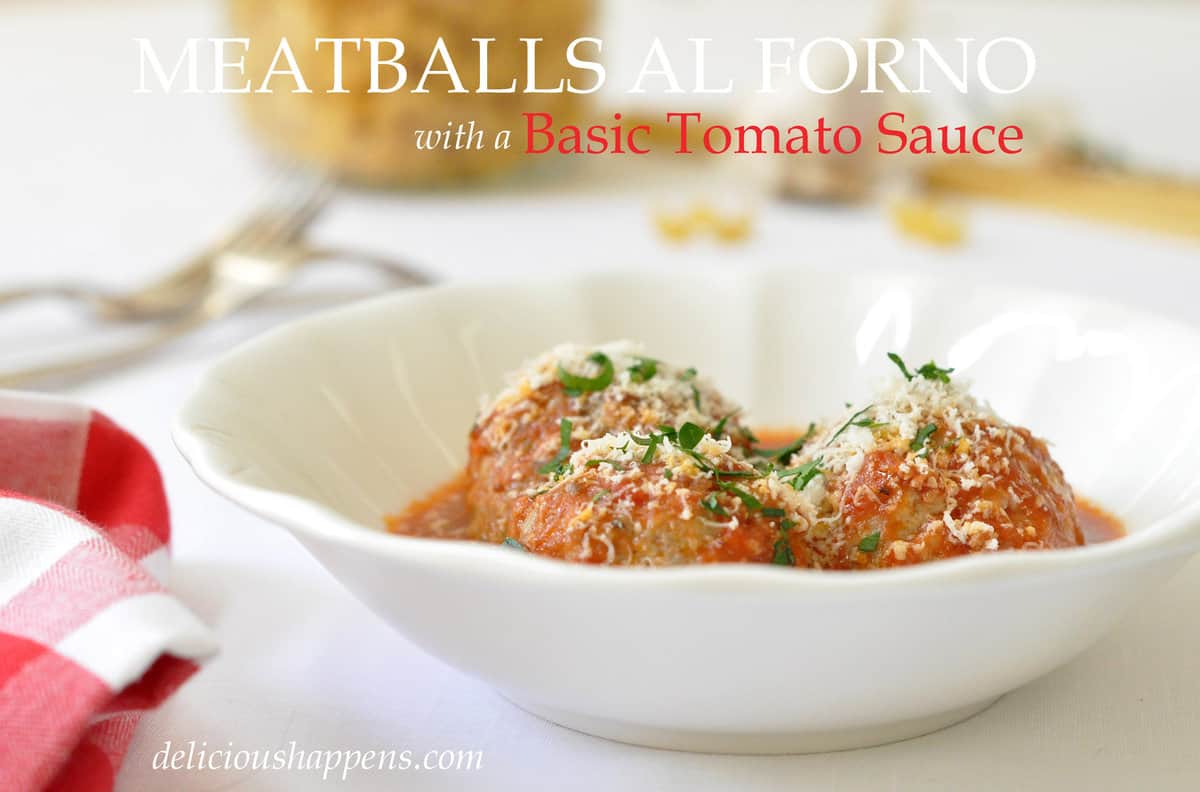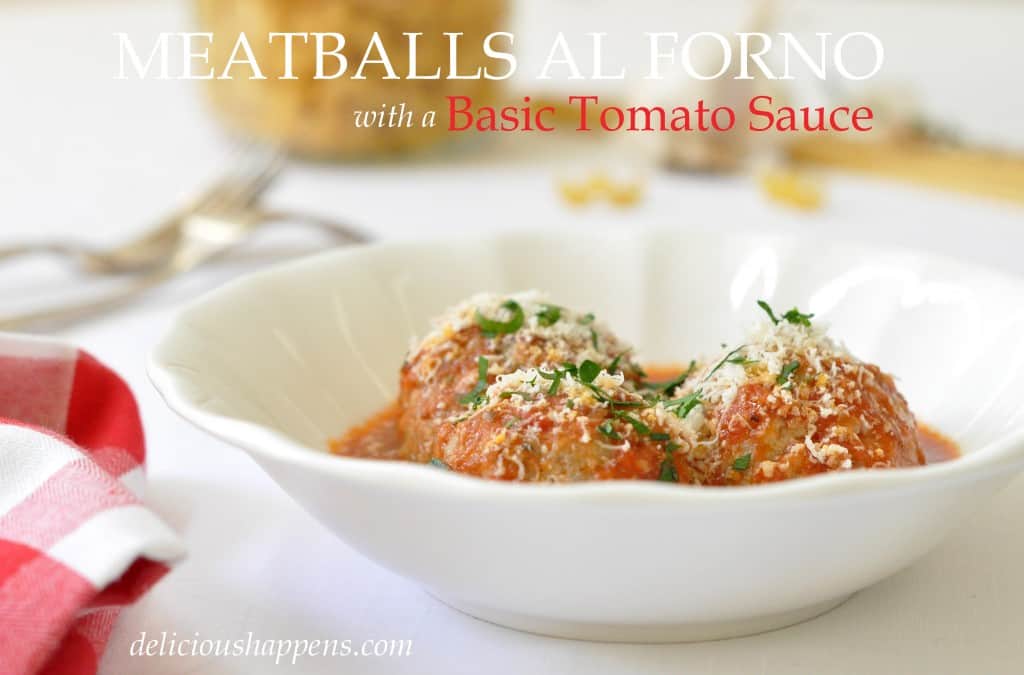 These are some seriously good meatballs!! I slightly adapted the recipe from Nancy Silverton's "The Mozza Cookbook". Nancy's recipe calls for veal, pork, and pancetta. I decided to go the healthier route and go with ground turkey. Besides, I don't do veal and I don't care much for pancetta. These honestly are the best meatballs I've ever had. Al forno basically means "from the oven". These Italian Turkey Meatballs and Basic Tomato Sauce braise in the oven for an hour, rendering them rich and full of flavor. Topped with finely grated Parmesan (or Parmigiano-Reggiano) – they're incredible! I highly recommend this recipe!!
Mozza serves their meatballs in a bowl with a side of buttered semolina toast as an antipasto. The cookbook mentions that the meatballs are the most popular antipasto at the restaurant. I love the idea of serving them with buttered toast. I'm a toast girl. I love my toast. So I especially loved the idea of serving these Italian Turkey Meatballs with toasted bread in lieu of noodles. You know how it is…whenever pasta is served for company, invariably someone ends up with a cleaning bill do to a wayward noodle, so I'm sure your guests will appreciate and thank you for the toast idea.
To make this meal complete, and in my mind….perfect, serve it with my Italian Chopped Salad (also adapted from "The Mozza Cookbook"). It's the best Italian Chopped Salad I've ever had! The vinaigrette really makes it special.
I hope you love these baked meatballs in basic tomato sauce as much as I do, whether you serve them as an antipasto appetizer or as a meal (with or without noodles). Your guests will love this dish!! Enjoy!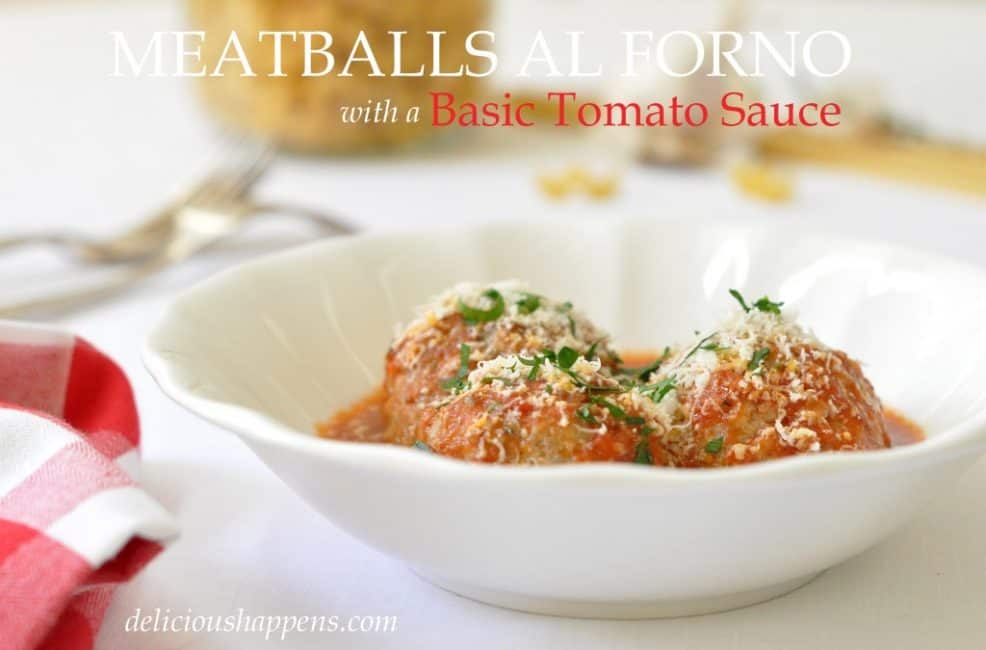 Yield: 6 - 8 servings
Meatballs Al Forno
Total Time
1 hour
10 minutes
Ingredients
3/4 cup diced crust-less day-old bread
1/4 cup whole milk
1-1/2 cups freshly grated Parmesan cheese, plus a wedge for grating to serve with
1/2 cup large yellow Spanish onion (brown onion will work), minced (about 1 cup)
2/3 cup finely chopped fresh Italian parsley leaves
2 extra-large free range eggs
4 large garlic cloves, minced
1/2 teaspoon freshly ground black pepper
2 pounds ground turkey (use dark meat)
6 ounces sweet Italian turkey sausage (about 2 links)
All-purpose flour for dredging (about 1 cup)
1/4 cup extra-virgin olive oil, plus more as needed
1 quart Basic Tomato Sauce (recipe below)
1/2 cup quart chicken stock
Tomato Sauce
1/4 cup extra-virgin olive oil
1 large Spanish onion, finely sliced (about 2 cups) (brown onions work fine)
1/2 teaspoon freshly ground black pepper, plus more to taste
4 garlic cloves, thinly sliced
1/2 medium carrot, peeled and shredded on a box grater
3 tablespoons fresh thyme leaves
1 28-ounce cans whole peeled plum tomatoes, including their juices (preferably San Marzano)
Instructions
In a small bowl, soak the day-old bread in the milk for about 5 minutes.
Combine the 1-1/2 cups Parmesan, onion, parsley, eggs, garlic, and pepper in a large bowl and stir to combine. Add the ground turkey and sausage. Squeeze the bread to press out the milk, discarding the excess milk. Add the bread to the bowl with the other ingredients. Using the tips of your fingers as if you were playing the piano, to combine the ingredients without overworking them. You'll end up with tough meatballs if you overwork them. Divide the meat into 2-ounce portions and roll each into a ball.
Pour the flour into a large bowl or a plate for dredging. Lightly dredge the meatballs in the flour, and shake off any excess. Place them on a baking sheet and cover with plastic wrap and refrigerate for a least an hour or overnight. This helps the meatballs to maintain their shape.
Adjust the oven rack to the middle position and preheat the oven to 350 degrees.
Pour the olive oil into a large Dutch oven or ovenproof skillet and add more if needed to cover the bottom of the pan to 1/4 inch deep.
Heat the oil over medium-high heat until almost smoking and slides easily in the pan (about 2-3 minutes).
Working in batches, place the meatballs in a single layer in the pan and sear them until they are lightly browned all over being gentle when turning them so they don't fall apart, about 6 minutes.
Remove the meatballs and place them on a plate. Add more oil to the pan and heat and cook the next batch in the same way.
Turn off the heat and wipe the oil and browned bits from the pan.
Return the meatballs to the pan.
Combine the Basic Tomato Sauce and chicken stock and pour over the meatballs.
The meatballs should be submerged but not drowning in the liquid. Place in the oven to braise for 1 hour.
Remove the meatballs from the oven and allow them to rest in the sauce for at least 10 minutes.
For the Tomato Sauce
Heat the olive oil in a medium saucepan over medium heat. Add the onion, and cook, stirring occasionally until tender and translucent, about 10 minutes.
Add the garlic and cook 1 to 2 minutes to soften, stirring constantly so it doesn't brown.
Add the carrot and thyme leaves and cook, stirring occasionally, until the carrot is soft, 6 - 8 minutes.
Add the tomatoes, including their juices; bring the liquid to a boil, reduce the heat, and simmer the sauce, stirring often for about 3o minutes, until the sauce has thickened slightly. Make sure the heat isn't too high, and be sure to stir the sauce often so it doesn't burn.
When the sauce is done, pass it through a food mill into a large bowl.
This sauce is great to use as a pizza sauce, and it keeps in the freezer for up to six months.
Notes
To serve - spoon a thin layer of the sauce on a serving platter or individual bowls/plates and lay the meatballs on top of the sauce - serving 3 meatballs per person. Dust with finely grated Parmesan or Parmigiano-Reggiano and serve with semolina toast on the side.