Immune Boosting Arugula Berry Salad
This post may contain affiliate links.
This Immune Boosting Arugula Berry Salad combines wild arugula with a mix of fresh sweet berries, some bits of apple and walnuts, and then it's all tossed in a deliciously light and refreshing citrus vinaigrette. This salad will tantalize your taste buds and satisfy your nutritional needs at the same time.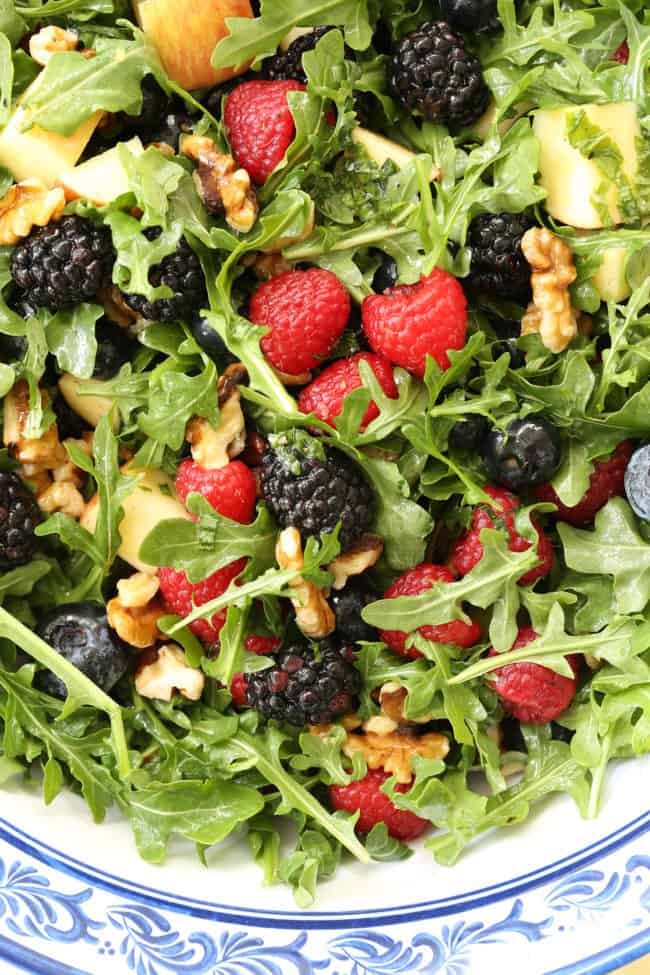 Nothing says "Summer!" like a fresh fruit salad. This Immune Boosting Arugula Berry Salad is a crowd-pleasing potluck, beach gathering, outdoor barbecue, picnic kind of salad to serve up when summertime rolls around.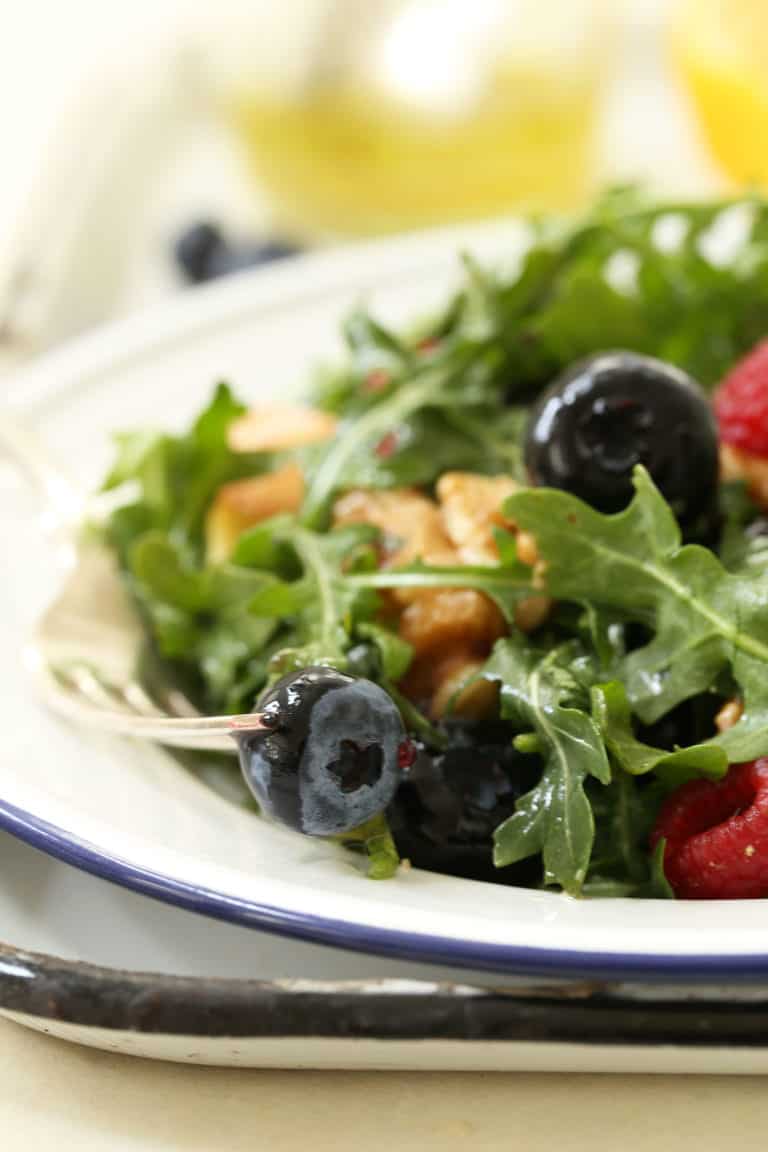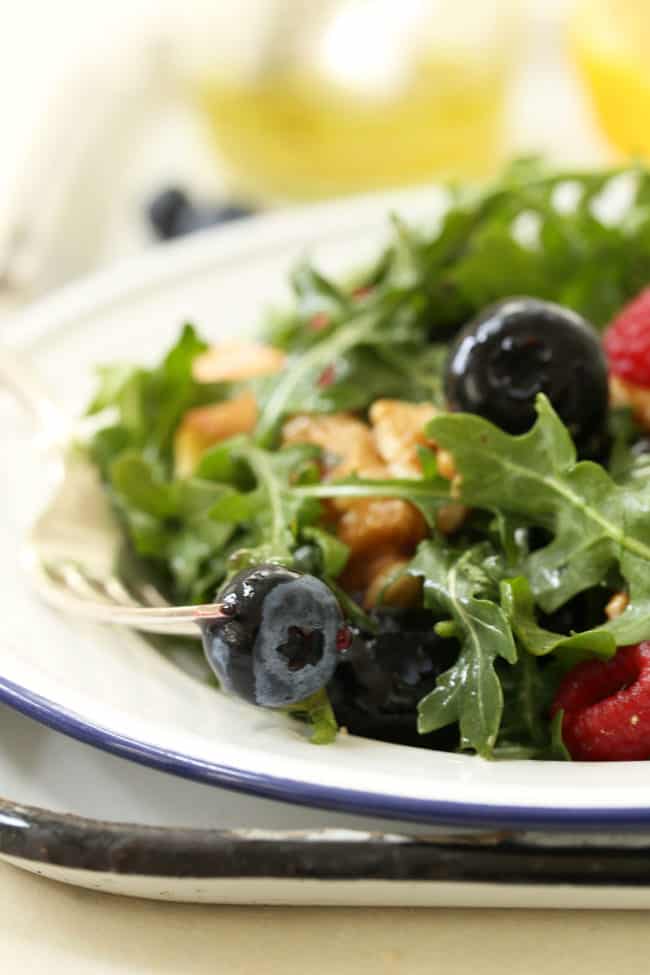 Arugula is also known as "Rocket" and it's a nutrient-dense power food. It's a cousin to broccoli, cauliflower and cabbage, which means it's armed with fiber, phytochemicals and antioxidants. The phytochemicals, antioxidants and essential minerals found in arugula help to cleanse our bodies of toxins and give a good boost to our immune system. Arugula is a good source of the B vitamins, and it's especially rich in folate. Folate is also important in helping to protect our aging brains from cognitive decline. Arugula is also rich in chlorophyll… another plus, because chlorophyll helps fight certain types of cancer, it improves the liver detox process, and it has potent anti-inflammatory properties.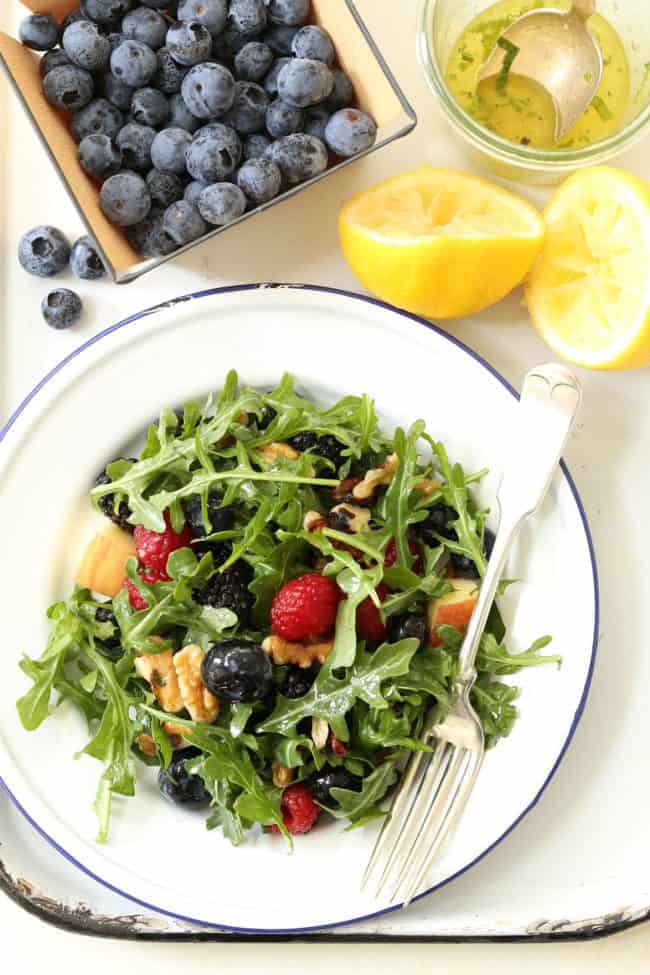 Blueberries are a powerhouse superfood containing antioxidant and anti-inflammatory compounds that help to ward off major disease like Alzheimer's, diabetes, heart disease, and some types of cancer. The compounds in blueberries also help keep our memories sharp. Blueberries are the ultimate memory food.
Raspberries are a rich source of antioxidants as well phytonutrients. These elements proficiently reinforce your immune system and help your body to fight disease.
Blackberries are loaded with vitamin C. They are an excellent source of both soluble and insoluble fiber. Blackberries are also rich in vitamins A, E, K, and B vitamins, as well as antioxidants lutein and zeaxanthin, and high levels of phenolic flavonoid phytochemicals, which help to protect against aging, inflammation, cancer, and neurological diseases.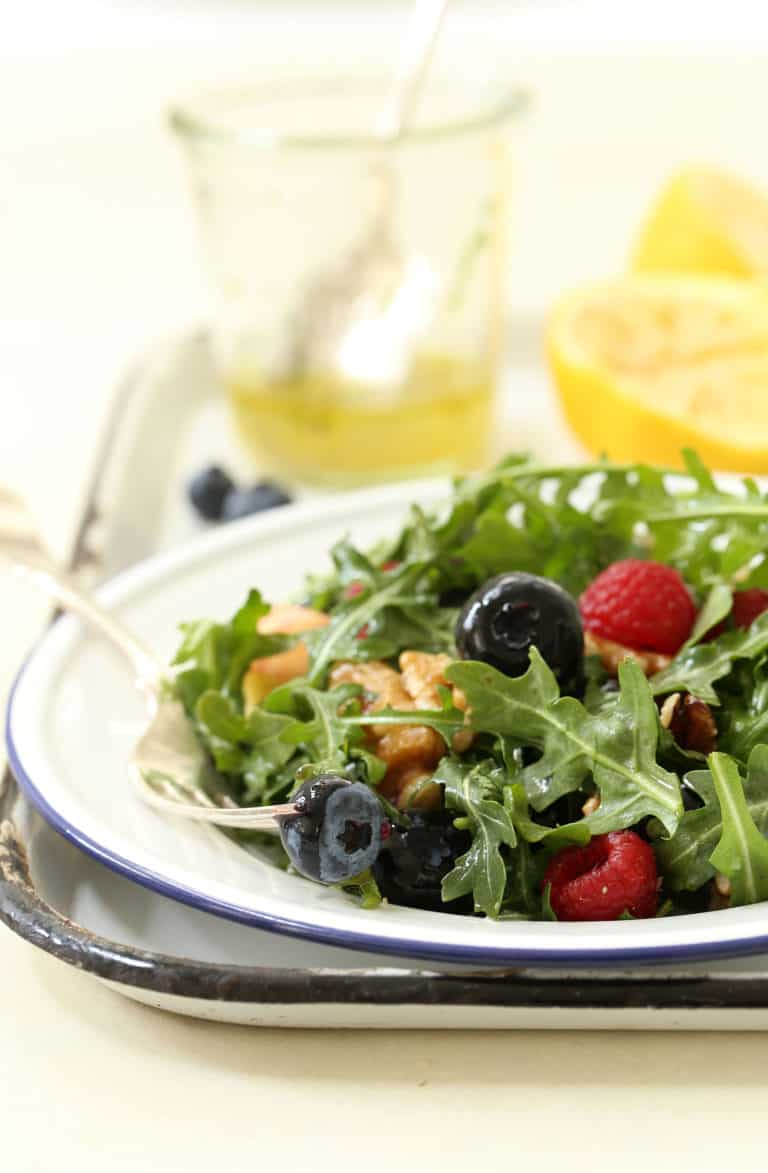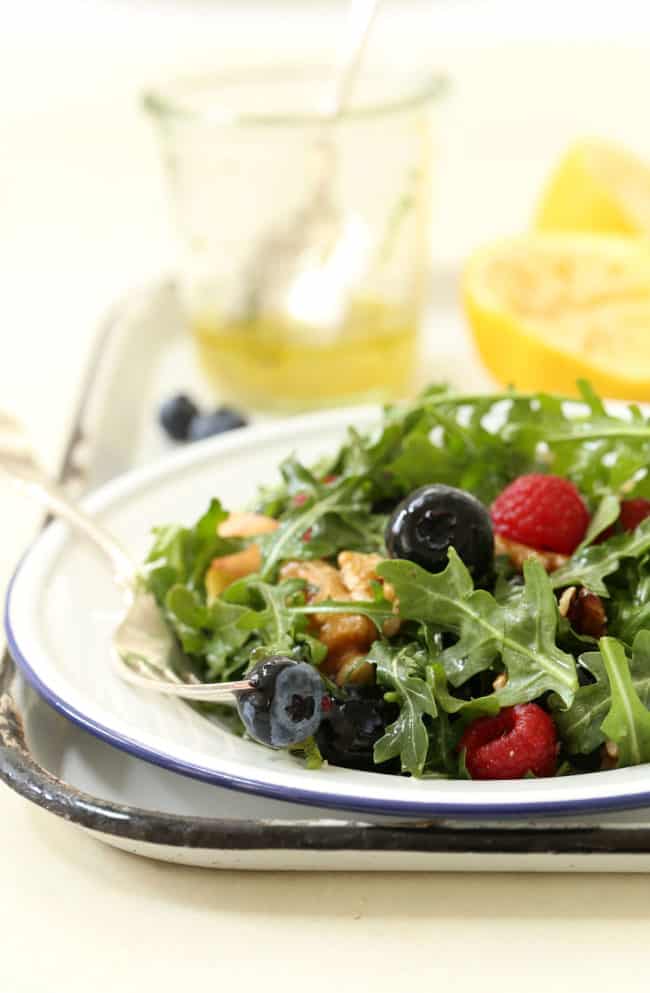 This salad is just a winner anyway you want to look at it. It's fresh, light and delicious and nutritionally dense. If you wanted to, you could use a single type of berry of this salad (say blueberries) and add some Feta cheese. But personally, I love the mix of berries, and if sweet and succulent blackberries aren't in the mix, you're definitely missing out! I also forgo the cheese, but that's just my preference. This salad is bright and colorful and screams of summer!
~ Deb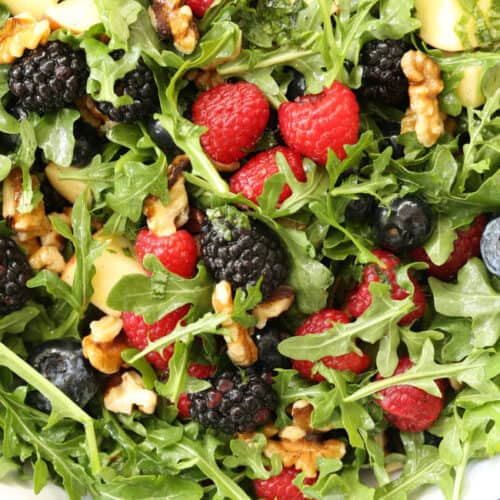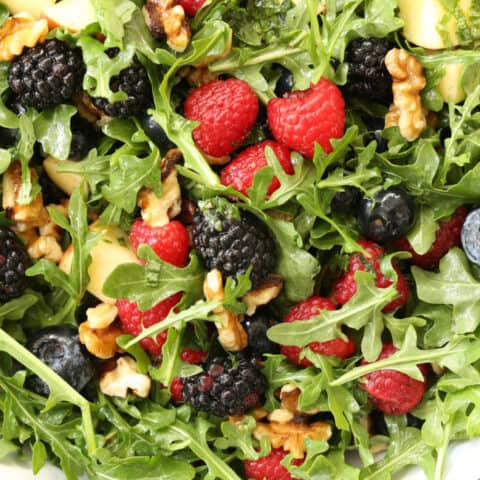 Yield: 4 servings
Immune Boosting Berry Arugula Salad
Ingredients
4 fistfuls of wild arugula (baby arugula is fine)
2 cups mixed berries (blueberries, raspberries, blackberries, strawberries)
1 large apple, cut into bite-size pieces
1/2 cup raw walnuts
1/4 cup Feta cheese (optional)
1/4 cup olive oil
2 tablespoons orange juice
1 tablespoon lemon juice
1 tablespoon clover honey
2 tablespoons fresh basil,  chopped
Sea salt and freshly ground black pepper to taste
Instructions
Very gently toss together arugula leaves with the berries, apple and walnuts (and cheese if you're adding).
Drizzle the vinaigrette around the outer edges of the mixing bowl, and gently fold in to evenly coat the salad ingredients.
For the Vinaigrette
Add all of the vinaigrette ingredients to a mason jar.
Seal the lid tightly and shake well.
Refrigerate for up to an hour before using.