Grilled Salmon with Citrus Salsa
This post may contain affiliate links.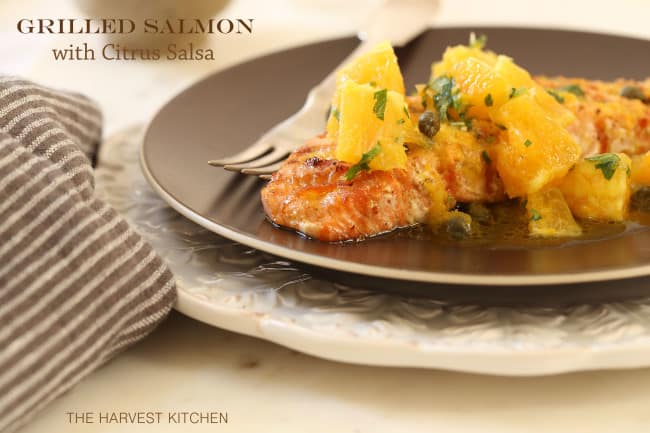 This Grilled Salmon with Citrus Salsa is a wonderfully simple, healthy and delicious recipe to pull together. The salmon is brushed with a touch of olive oil and honey which gives it a slightly glazed coating and delicate flavor. And…the bold flavor of this citrus salsa compliments the salmon nicely.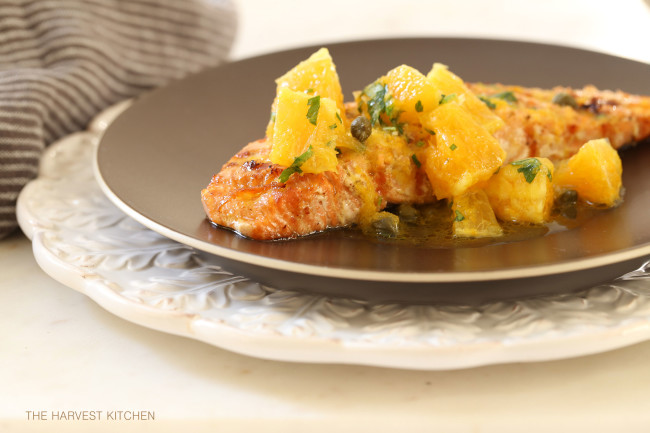 When purchasing salmon – you'll want to look for wild-caught and stay clear of the farm-raised. Wild caught salmon offers a number of health benefits, including cardio protection, improved mood and cognition, joint protection, and the omegas in salmon have been associated with decreased risk of two eye-related problems: macular degeneration and chronic dry eye.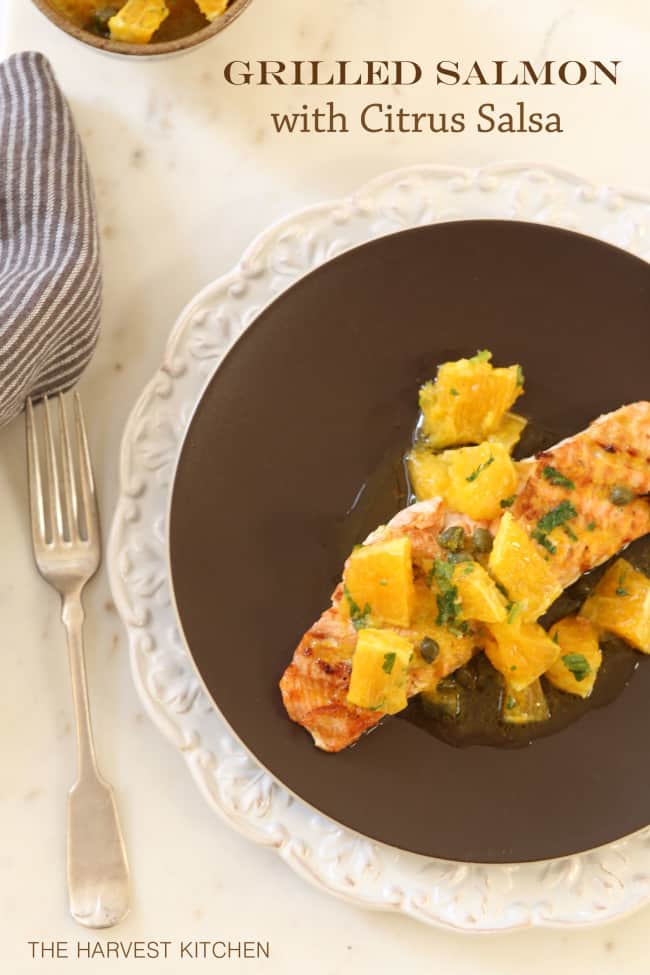 Intake of fish rich in omega-3 fat is also associated with decreased risk for several types of cancer (colorectal cancer, prostate cancer, and breast cancer). Cancer risk studies show marked benefits when omega-3 fish are consumed at least once a week. Salmon is also a good source of protein and selenium.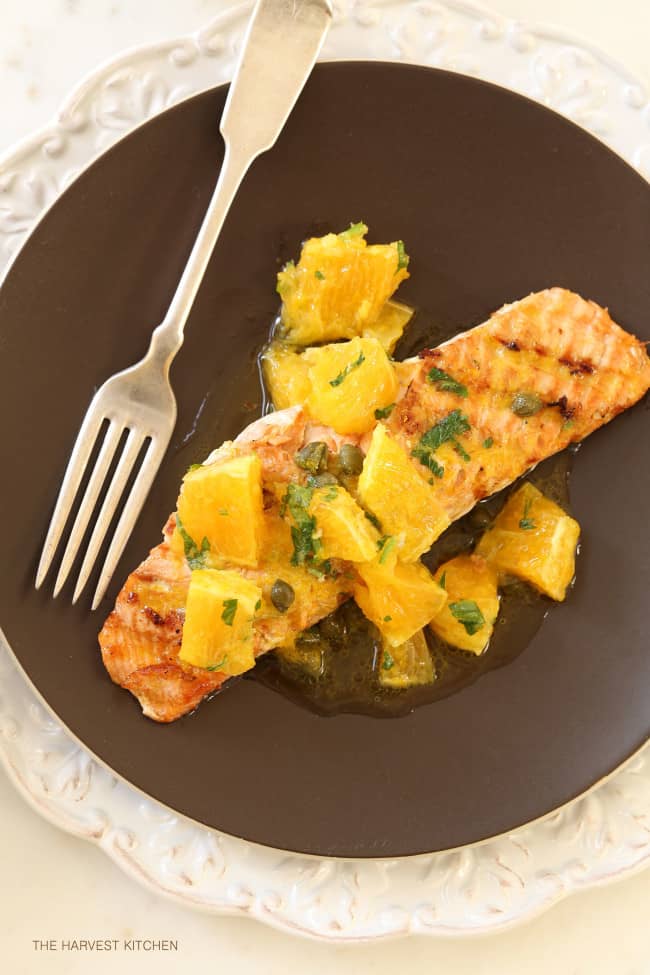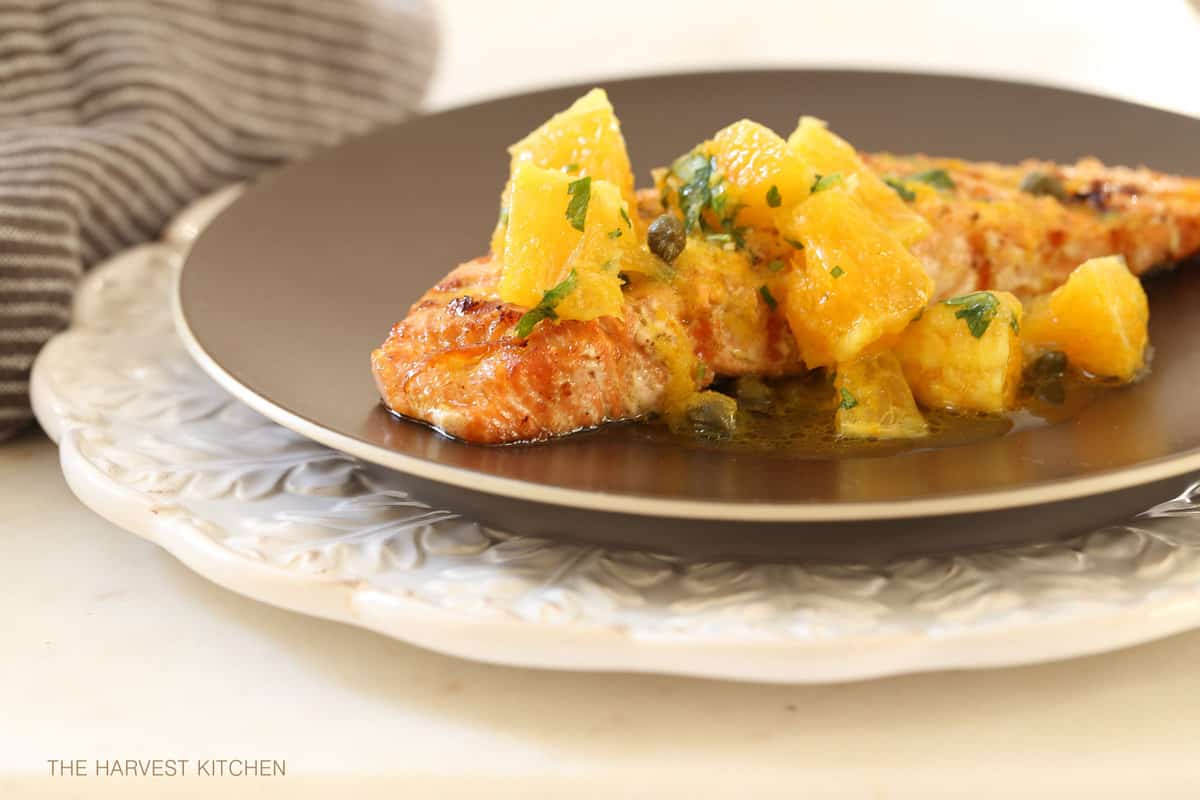 Yield: 4 servings
Grilled Salmon with Citrus Salsa
Ingredients
2 large oranges, peel discarded and flesh coarsely chopped
1-1/2 teaspoons lemon zest
3 tablespoons freshly squeezed lemon juice
1/4 cup extra virgin olive oil
1/3 cup fresh parsley, chopped
1 tablespoon capers, rinsed and drained
salt and freshly ground black pepper to taste
4 salmon filets (approximately 4 ounces each)
3 tablespoons honey clove honey
3 tablespoons extra-virgin olive oil
Instructions
For the Salsa
Mix all of the ingredients in a small bowl and toss well.
Refrigerate before use.
For the Salmon
Mix together the honey and olive oil in a small bowl.
Brush the salmon with the honey and olive oil mixture and cook for 3 to 5 minutes on each side depending on thickness.
Serve with Citrus Salsa