Grilled Lemon Herb Chicken
This post may contain affiliate links.
This Grilled Lemon Herb Chicken is juicy, tender and rich with fresh Mediterranean flavors. It's an easy nutritious meal to pull together any night of the week!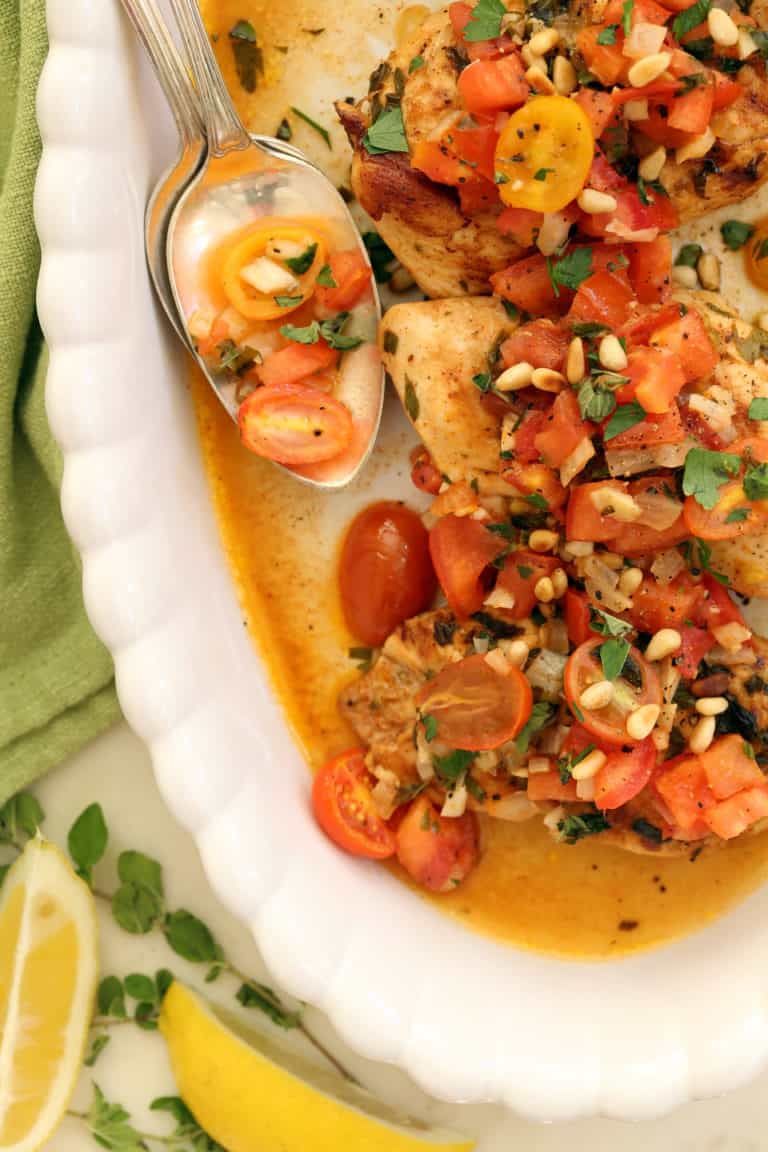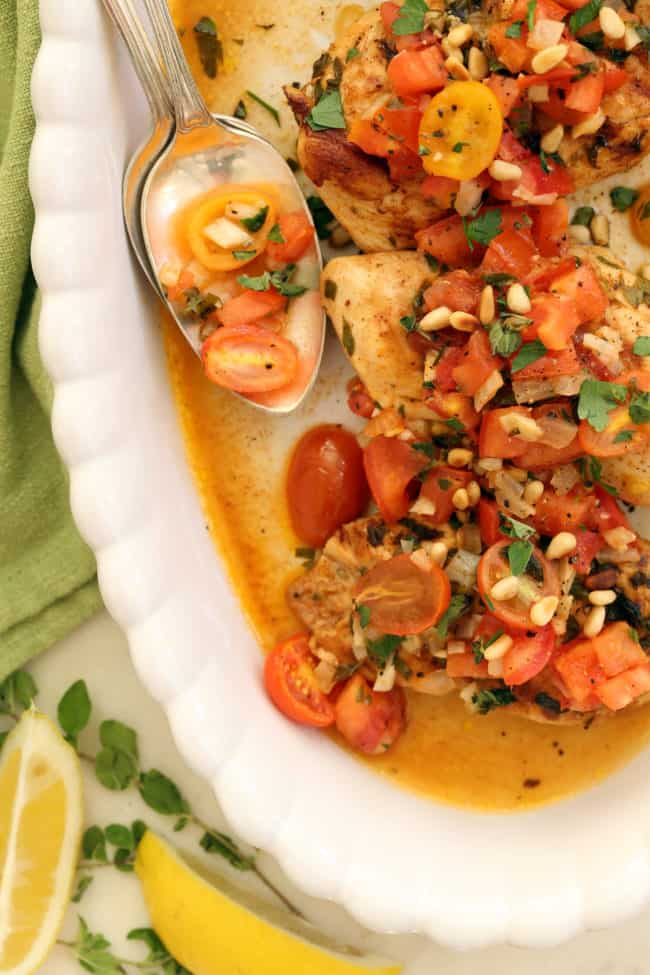 This marinated Grilled Lemon Herb Chicken is generously garnished with a luscious tomato compote made up of juicy ripe tomatoes, onion, garlic and fresh herbs. This recipe is a simple one to make and it's sure to be a hit!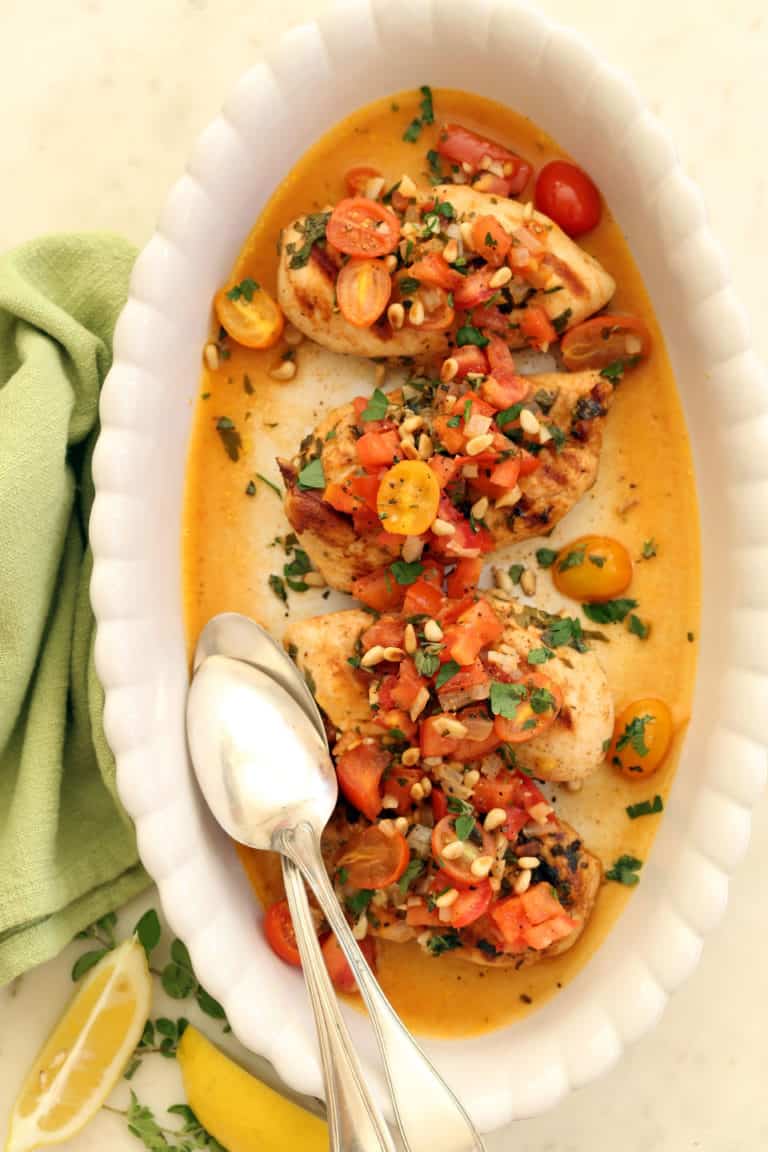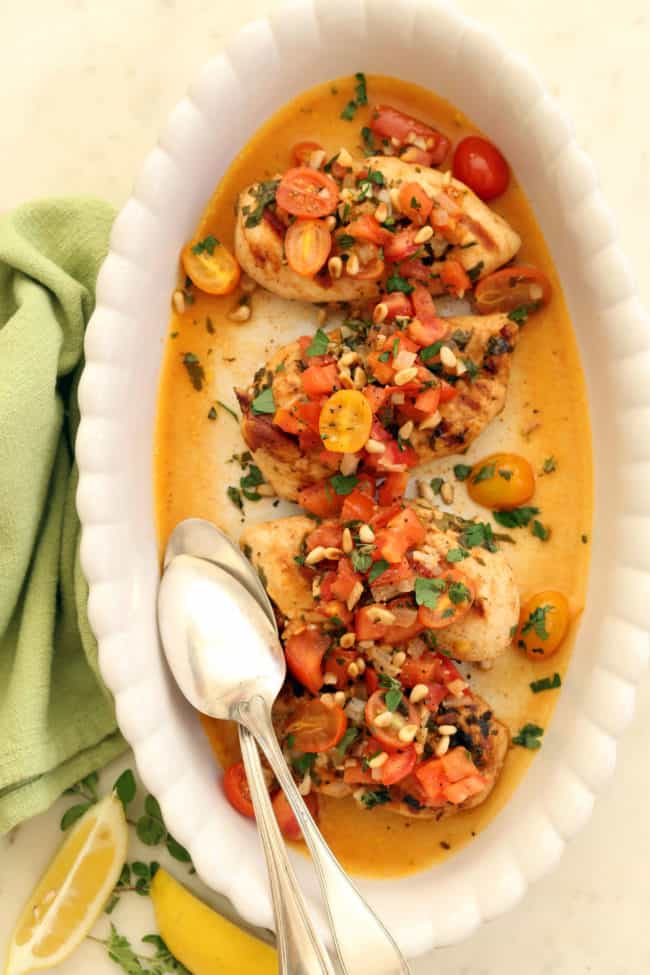 Marinating is great way to add flavor to foods. It's also an easy make ahead meal prep that you can toss together in the morning before you head off to work. Marinate the chicken before you leave the house in the morning – and it'll be ready to grill when you get home later in the day.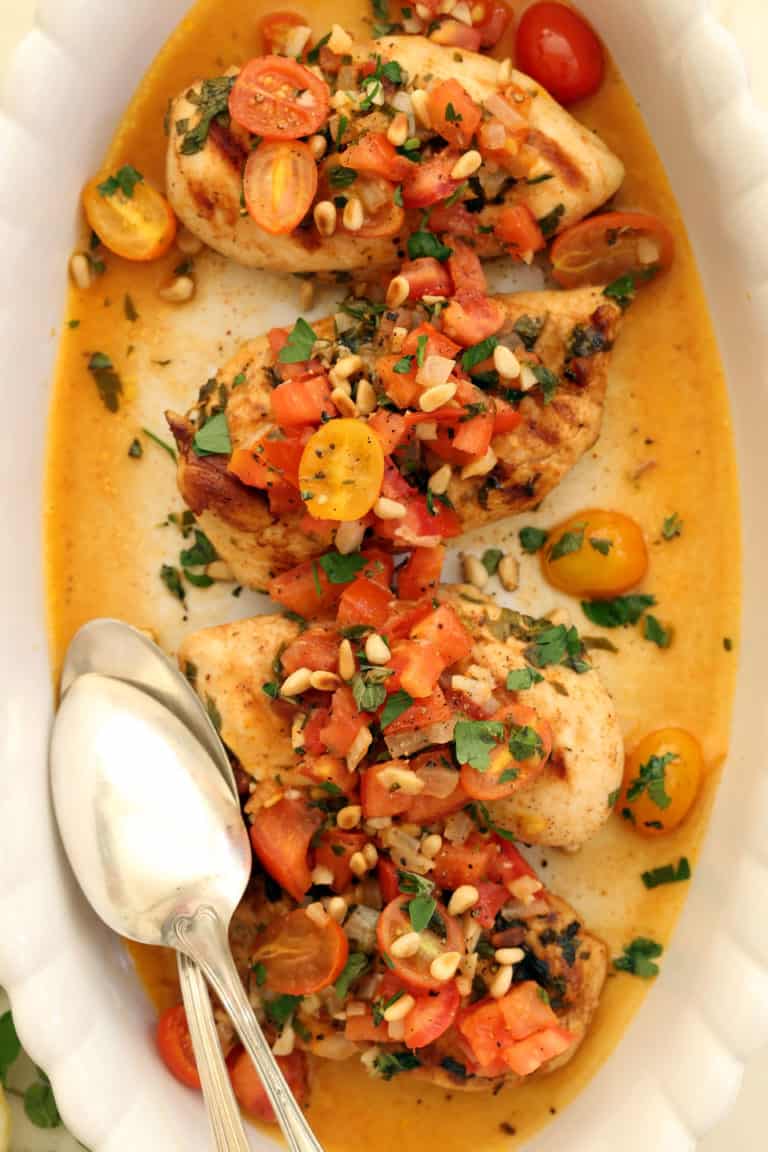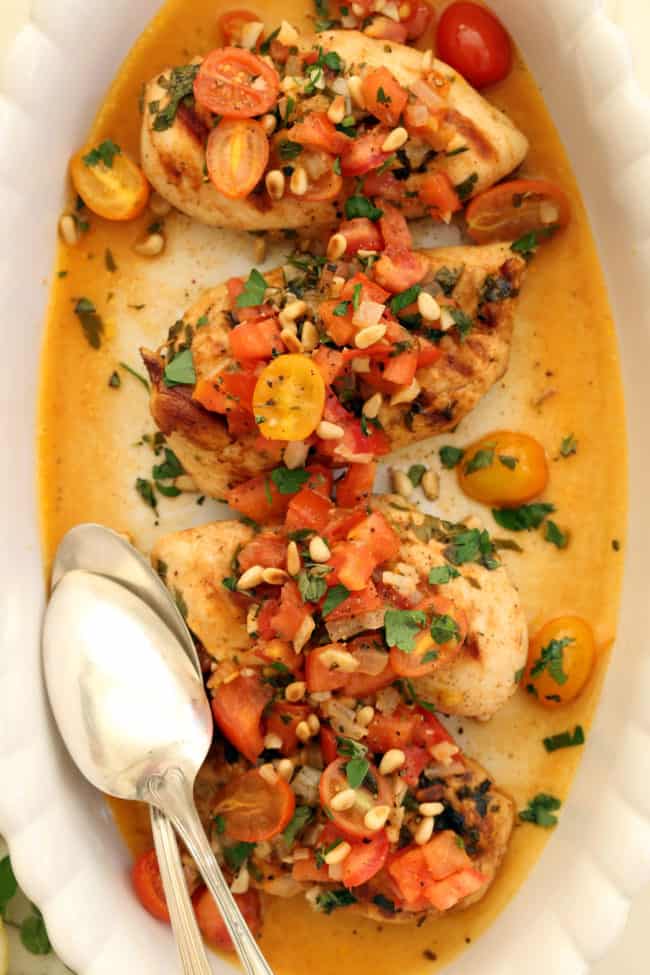 I don't like waste – so I like to heat this marinade up so it can double as a sauce. After you've removed the chicken, bring the marinade to a good boil, then reduce to a simmer and swirl in a tablespoon of butter. Remove it from the heat, and drizzle it over the chicken just before you garnish it with the tomato compote and pine nuts. It doesn't make a lot – but this extra step is worth the flavor.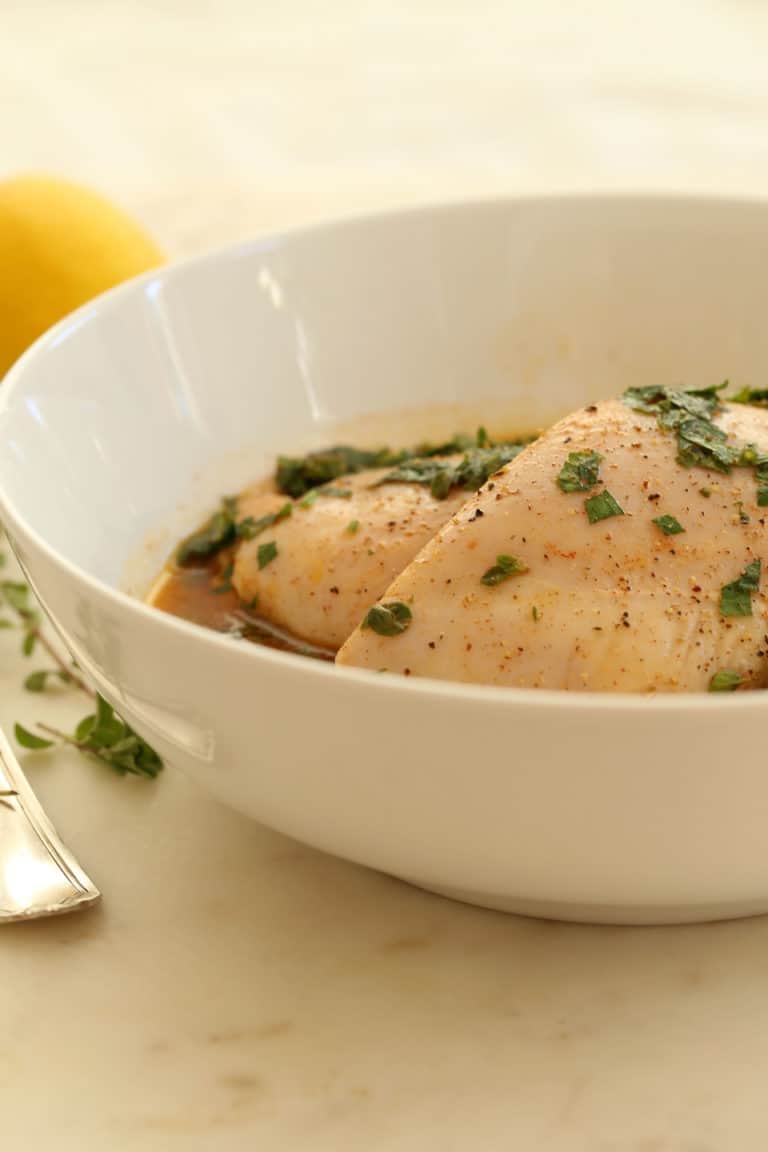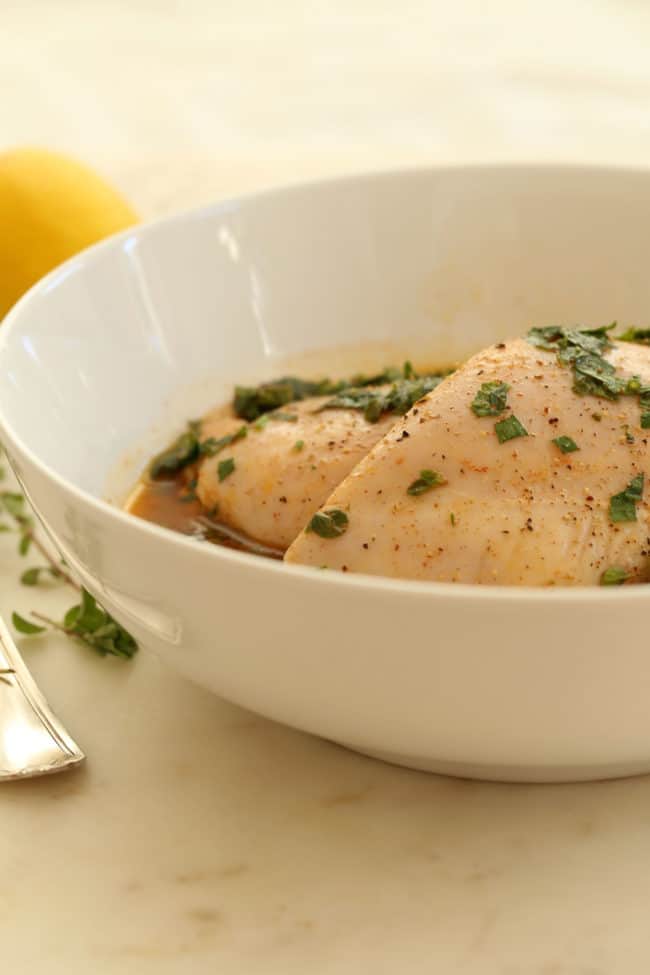 You can go with either breasts or thighs for this recipe, but if you're going with breasts – you might want to pound them just a bit so they'll cook evenly (and quickly). The chicken needs to marinate for at least 30 minutes, but it's best if you can marinate it for up to 2 hours.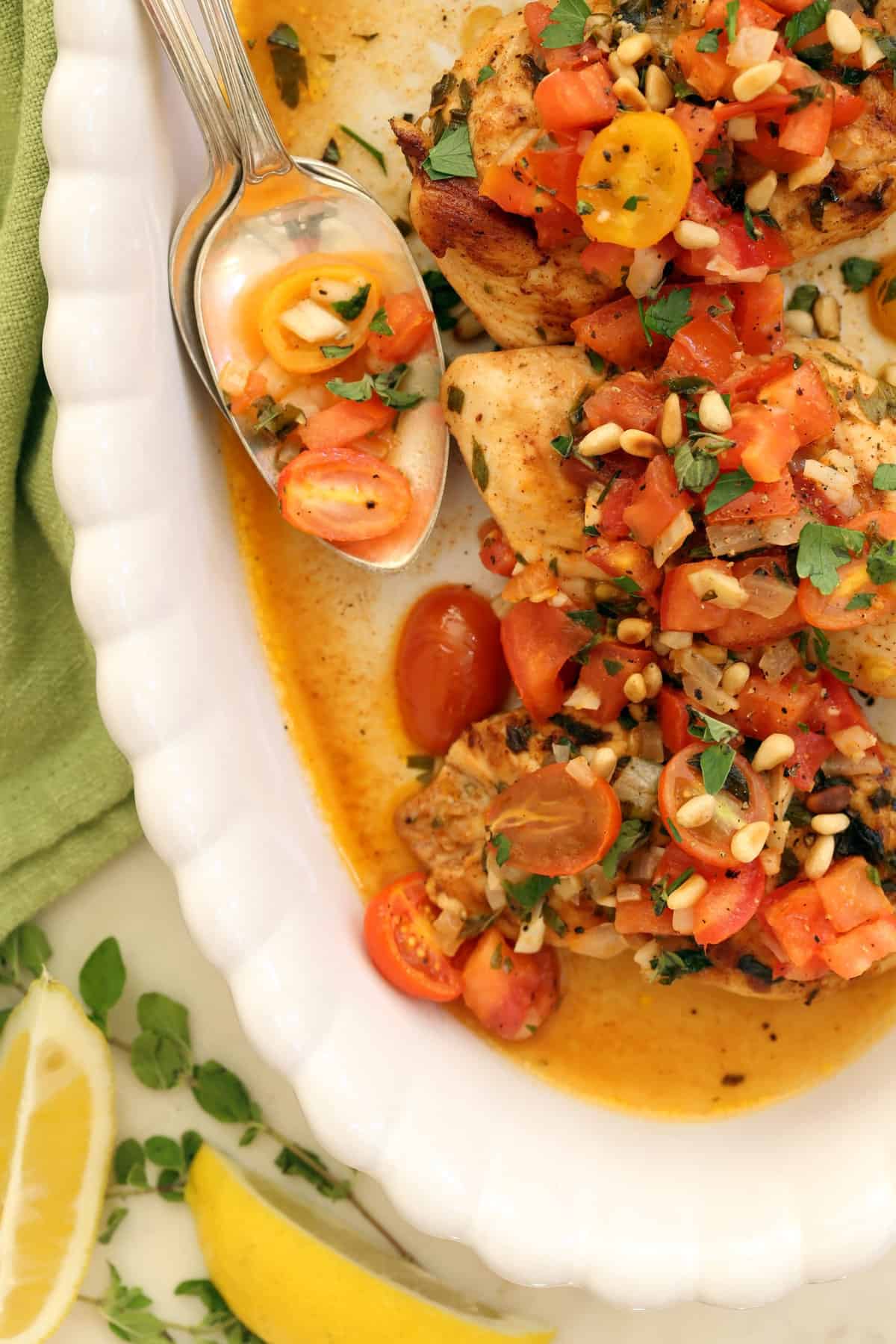 Grilled Lemon Herb Chicken
Ingredients
4 - 6 chicken breasts (boneless and skinless) - you can substitute with chicken thighs
1/4 cup fresh lemon juice
3-4 tablespoons extra virgin olive oil
2 tablespoons fresh parsley, chopped
2 tablespoons fresh oregano, chopped
1 teaspoon sea salt
1/2 teaspoon freshly ground black pepper
1/8 teaspoon cinnamon
2 - 3 tablespoons extra-virgin olive oil
2 - 3 large tomatoes, coarsely chopped
1/2 cup baby heirloom tomatoes, sliced in half (optional)
1/4 cup yellow onion, finely chopped
2 cloves garlic, finely minced
3 tablespoons fresh parsley, finely chopped
2 tablespoons fresh oregano, finely chopped
1/4 cup pine nuts, toasted
salt and freshly ground black pepper to taste
Instructions
For the Marinade
Whisk the lemon juice, olive oil, parsley, oregano, salt, pepper and cinnamon in either a large baking dish or a large ziplock plastic freezer-size bag.
Add the chicken to the dish or plastic bag. Cover or seal the chicken and refrigerate for a minimum of 30 minutes - best if allowed to marinate for about 2 hours.
Brush the grill with olive oil or cooking spray. Grill the chicken over medium-high heat for about 4 minutes on each side or until they are cooked through and no longer pink inside.
For the Tomato Compote
Heat the olive oil in a large skillet over medium-high heat.
Add the tomatoes, onion, parsley, oregano, and salt and pepper.
Saute for about 2 minutes more or until the tomatoes are heated through.
Serve
Transfer the chicken to a platter. Spoon the warm tomato compote over the chicken and garnish with the toasted pine nuts and chopped parsley and oregano.