Gluten-Free Trail Mix Cookies
These Gluten-Free Trail Mix Cookies are loaded with gluten-free oats, quinoa flour, almonds, sunflower seeds, dried coconut, dried cranberries and dark chocolate chips. These completely addictive cookies are chewy, crunchy, and have nutritional perks in every bite!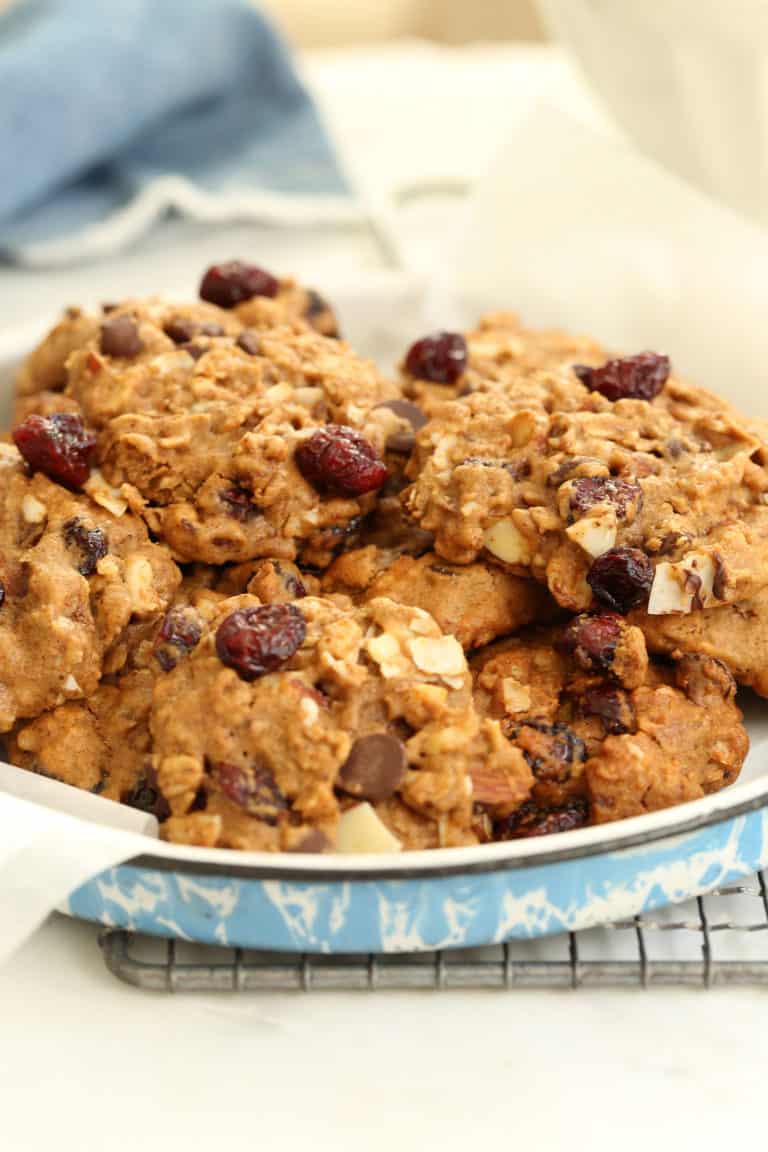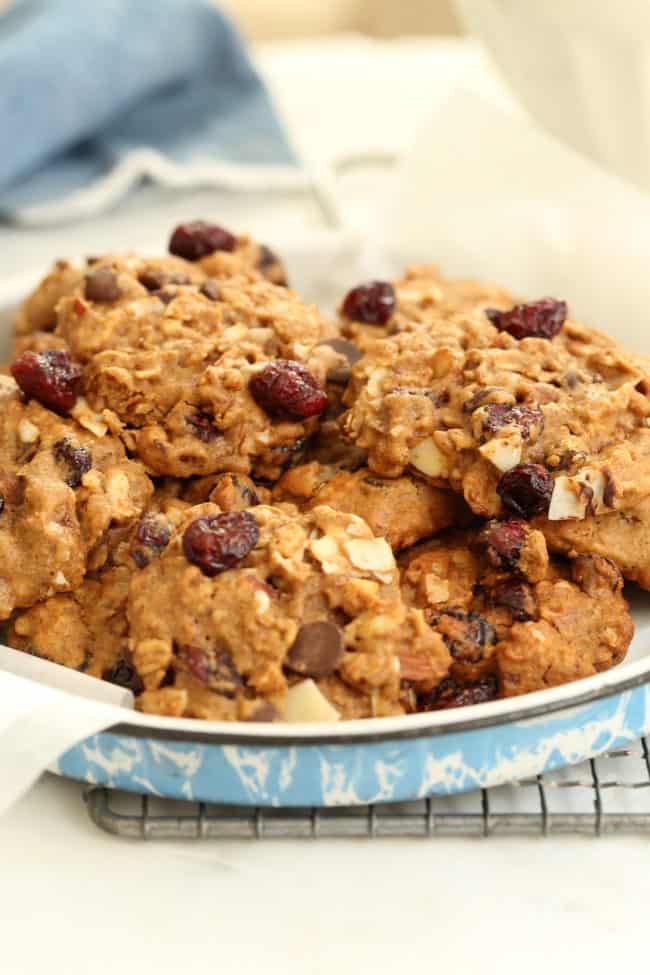 These heart-healthy Gluten-Free Trail Mix Cookies are completely irresistible. They're chewy, crunchy, loaded with flavor, and they pack a big nutritional punch. You might even be tempted to eat them for breakfast!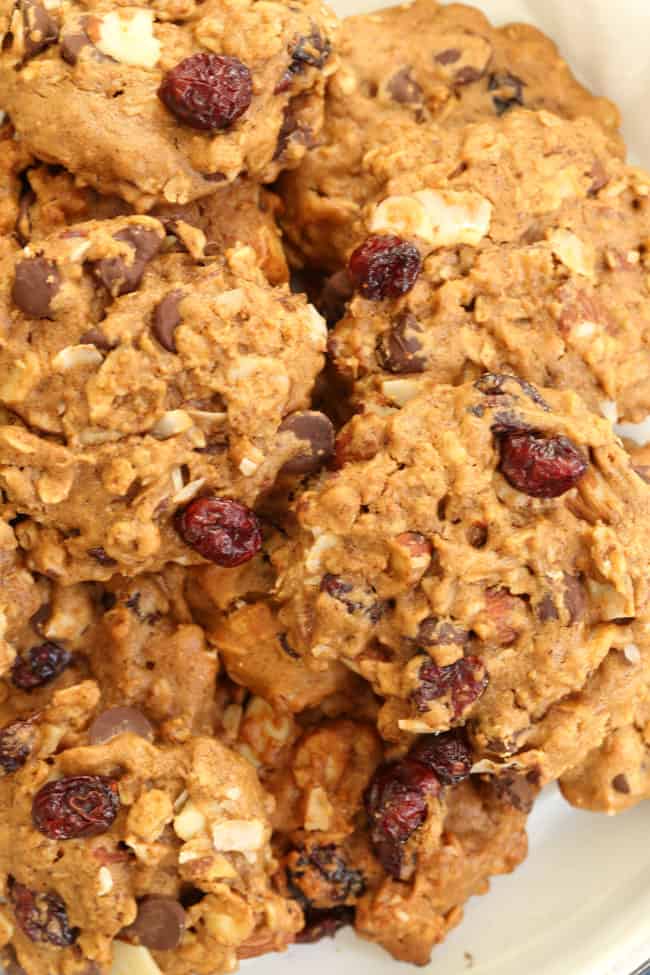 And…we're back!!! I've taken a much needed rest the past few weeks. The flu swept through the office where I work, and unfortunately, I was one of the unlucky ones who caught it. Boy, did it hit hard, and this girl was down for the count. It took awhile, but I'm feeling rested and much better now.The recipe for these amazing cookies is a versatile one. Feel free to switch things up as you like. You can easily sub in pecans, walnuts or hazel nuts in lieu of almonds, or go with raisins instead of cranberries. I love the dark chocolate chips in these cookies (a lot), but you can certainly omit them (but I don't know why anyone would). These healthy cookies are to-die-for straight from the oven when the chocolate chips are slightly melted. Is there anything better than warm cookies straight from the oven….especially if soft gooey chocolate is involved! Bliss!!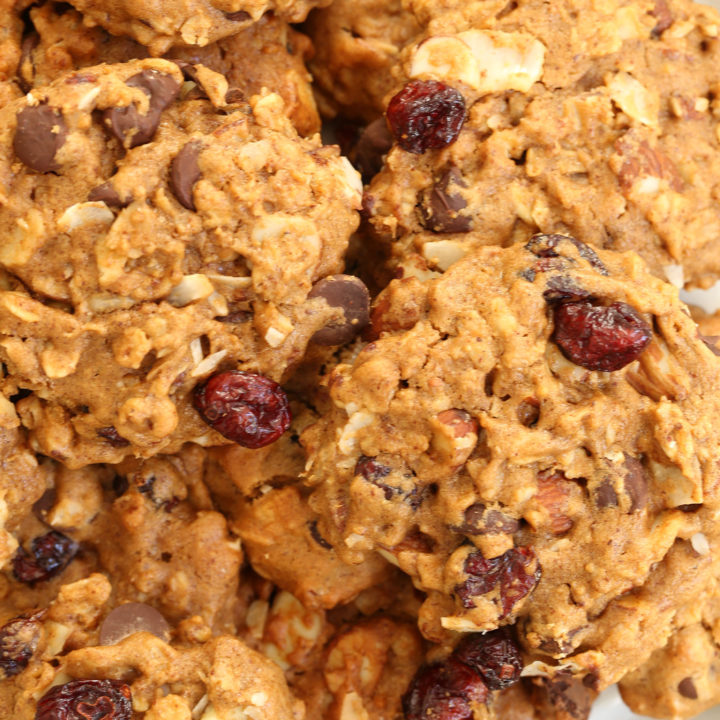 Yield: 18 cookies
Gluten-Free Trail Mix Cookies
Ingredients
1 cup gluten-free rolled oats
½ cup quinoa flour
1 teaspoon ground cinnamon
½ teaspoon baking powder
½ teaspoon baking soda
1 teaspoon salt
2 whole free-range eggs plus 1 egg yolk
¼ cup melted coconut oil
½ cup unsalted almond butter
½ cup coconut sugar
1 teaspoon pure vanilla extract
1/4 cup coconut
1/4 cup sunflower seeds
1/3 cup dried cranberries
1/2 cup almonds, chopped
1/2 cup dark chocolate chips
Instructions
Preheat oven to 350 degrees.
Line a cookie sheet with parchment paper or a Silpat. Set aside.
In a large bowl whisk together the gluten-free oats, quinoa flour flour, cinnamon, baking powder, baking soda and salt.
In a medium bowl, whisk together the eggs, coconut oil, almond butter, coconut sugar and vanilla until smooth. If the almond butter is hard, add it to the coconut oil while it's still warm from melting in a saucepan.
Add the wet mixture to the dry ingredients.
Using a wooden spoon, blend the ingredients together until well combined.
Fold in the shredded coconut, sunflower seeds, cranberries, chopped almonds and dark chocolate chips.
Scoop 2 tablespoons of cookie dough onto the prepared baking sheet.
Using a spatula or wooden spoon, lightly flatten the cookies and shape into round discs. (These cookies do not spread while baking).
Bake for 8-12 minutes or until golden brown.
Remove the cookies from the oven and cool on a wire rack.
Leave a Comment