Easy Chicken Enchiladas
This post may contain affiliate links.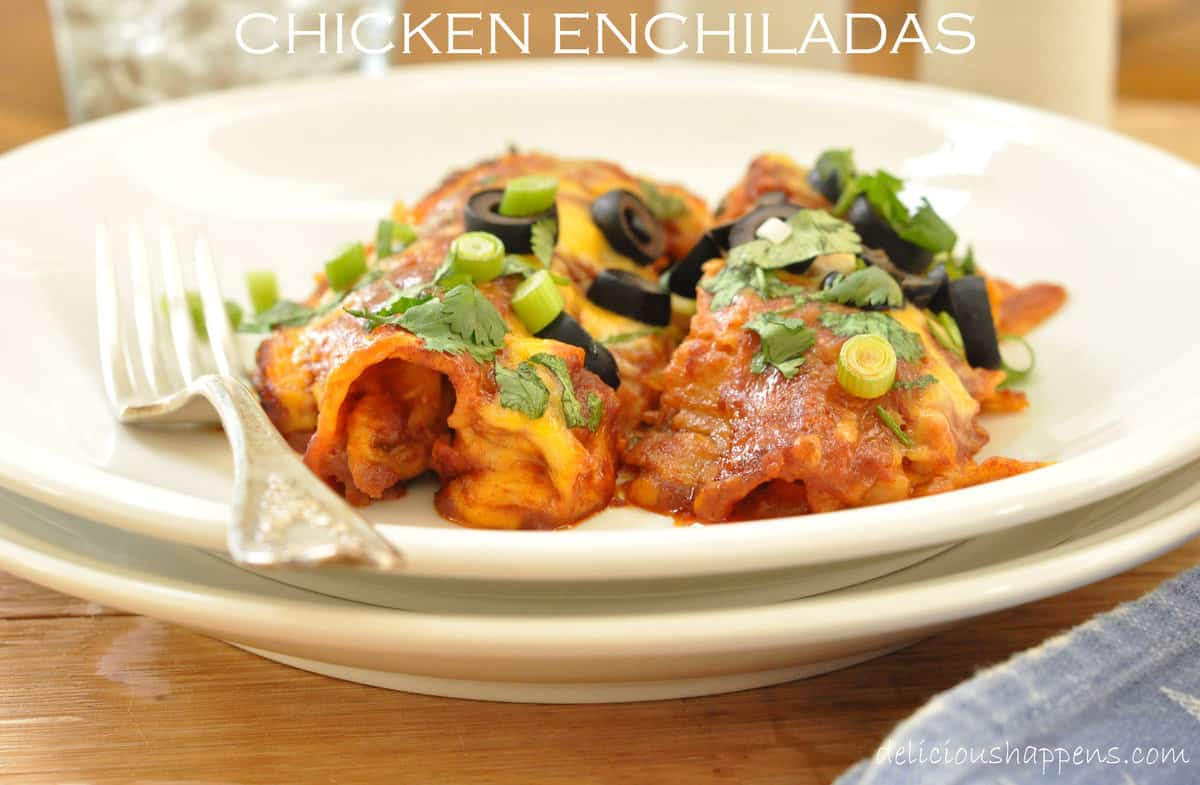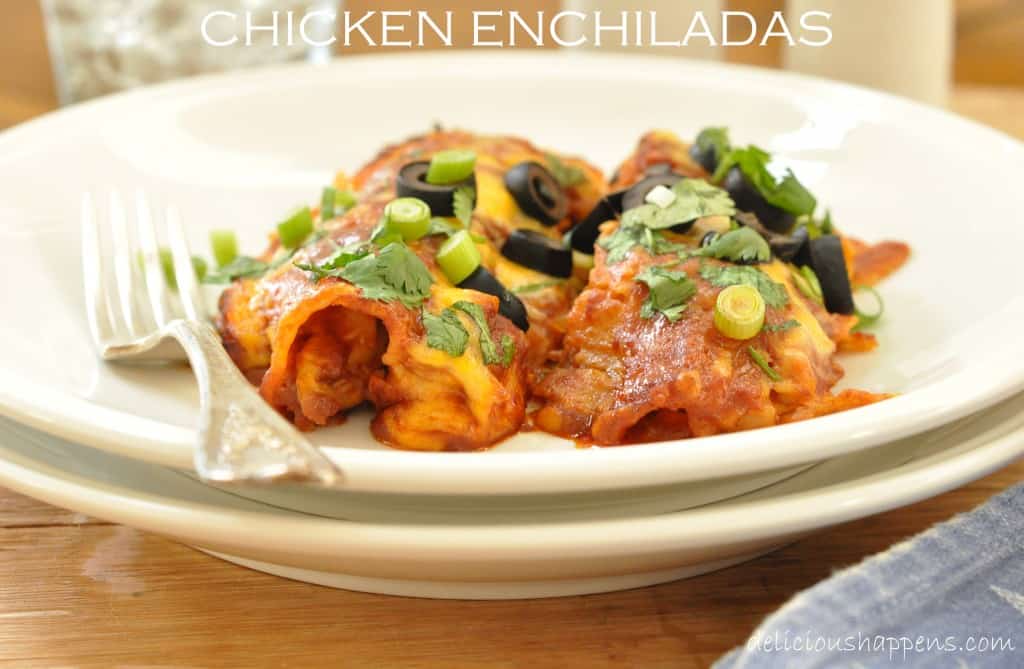 I should really have a category on the index for dishes to make with store-bought roast chicken.
It feels a little like cheating….using store-bought roast chicken.
But only a little. I'm not losing any sleep over it….and you shouldn't either.
These Easy Chicken Enchiladas with homemade enchilada sauce are super quick to make (especially when using cheater chicken)….and they are so tasty! They're Kyle's (my son) favorite! They're mine too!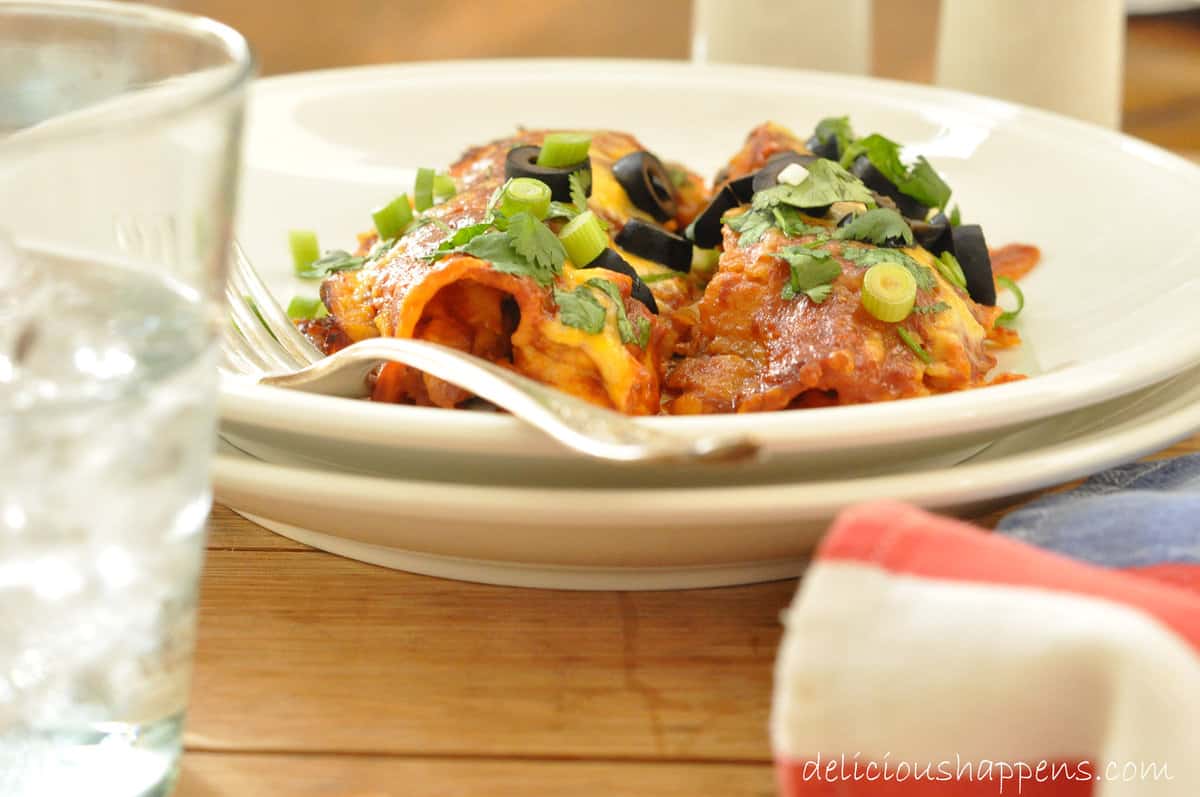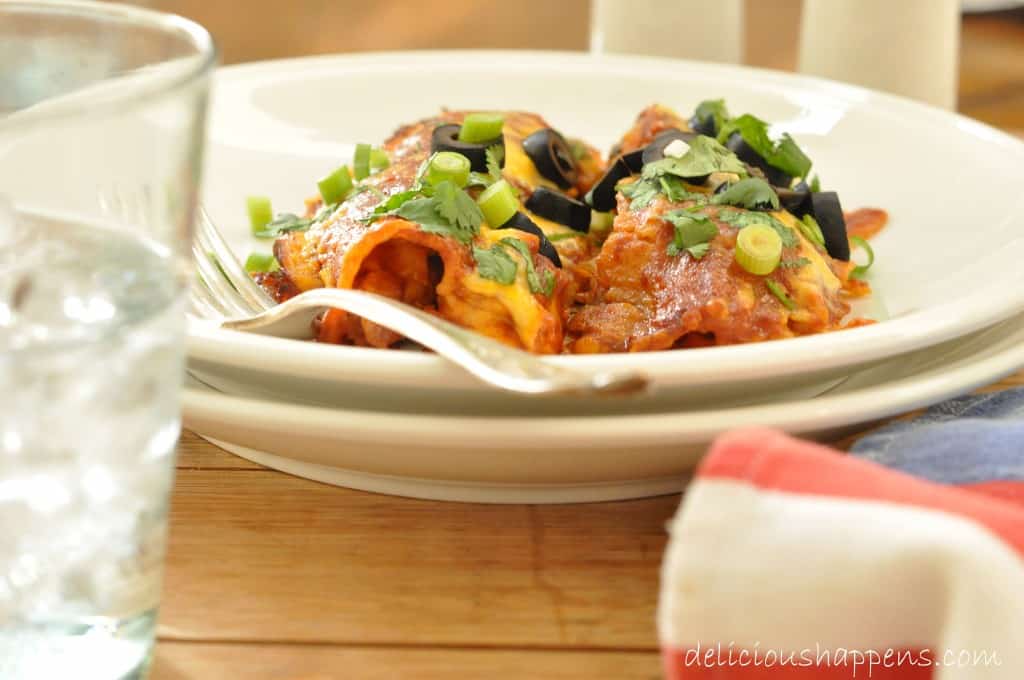 Rarely do I order enchiladas when eating out at Mexican Restaurants. Most of the time I find them a little too cheesy and weighty with sauce. The great thing about making them at home is you can customize them to your whim…adding more or less chicken, cheese, olives, onions, as you like.
Besides – these Easy Chicken Enchiladas are a really fun dish to serve when you're having company over for a casual get-together.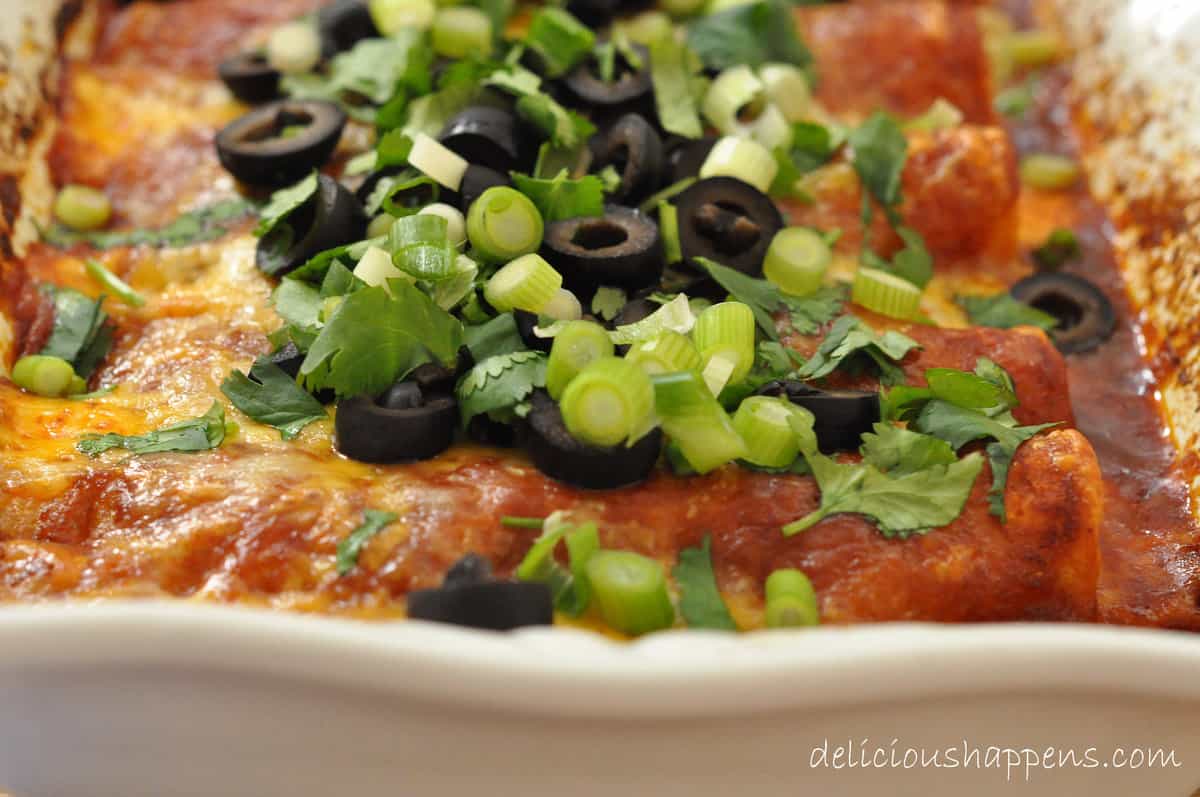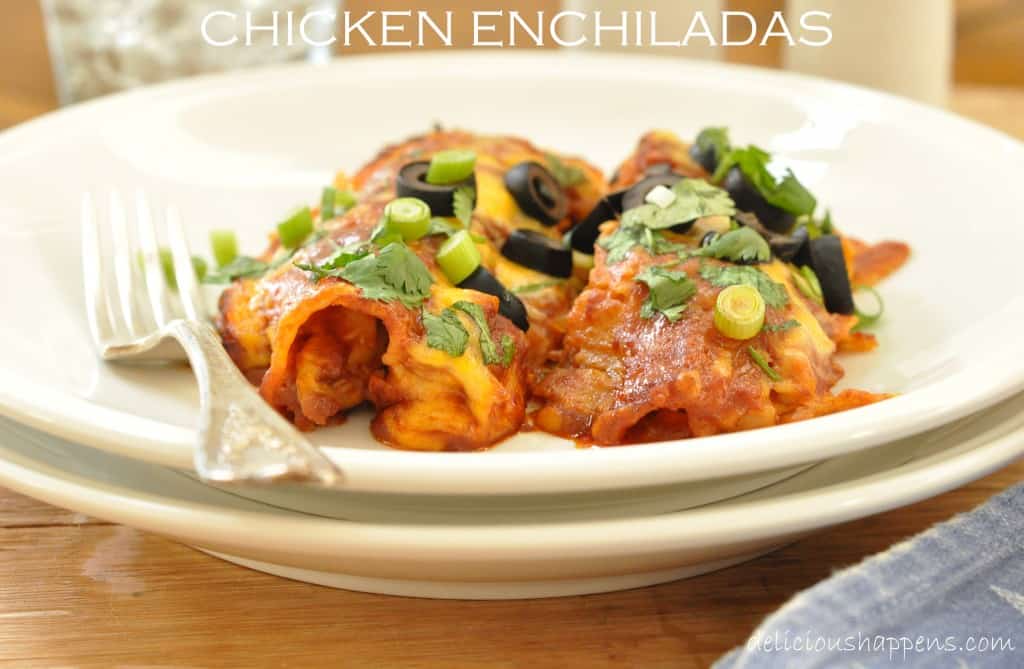 Yield: 8 - 10 servings
Easy Chicken Enchiladas
Ingredients
4 tablespoons canola oil
1 cup chopped yellow onion
3 cloves garlic, minced
1 jalapeno pepper, seeded and minced
3 Tablespoons chili powder
2 teaspoons ground cumin
1/2 teaspoon ground oregano
2 teaspoons granulated sugar
1 15-oz can tomato sauce
1 cup chicken broth
2 Roma tomatoes, seeded and chopped
1 pound skinless chicken, shredded
1-1/4 cup sharp cheddar cheese, grated
1-1/4 cup Monterey Jack cheese, grated
1/2 cup minced fresh cilantro (more for serving)
1/2 cup black olives, sliced (more for serving)
1/2 cup green onions, sliced (for serving)
12 (6-inch) soft corn tortillas
Instructions
Preheat oven to 350 degrees
Heat 2 tablespoons of the canola oil in a medium skillet. Lightly fry the tortillas for a few seconds on each side - just until soft.
Transfer the tortillas to a plate covered with paper towels to drain.
Add the remaining 2 tablespoons of the canola oil to the skillet.
Over medium high heat cook the onion, jalapeno and garlic for about 8 to 10 minutes or until soft and cooked evenly.
Stir in the chili powder, cumin, oregano and sugar.
Add the tomato sauce, chicken broth and chopped tomatoes.
Blend well and bring the sauce to a simmer. Lower the heat and cook for about 5 to 7 minutes or until the sauce has slightly thickened.
Strain the sauce transferring the onions to a large bowl and set aside.
Season the sauce with additional salt and pepper to taste. Add the shredded chicken to the onion mixture. Add 1/2 cup cheddar cheese and 1/2 cup Monterey Jack cheese, 1/2 cup black olives and 1/4 cup cilantro to the chicken and onion mixture. Toss the ingredients to combine.
Lightly oil the bottom of a 9 x 13 baking dish.
Pour 1/2 of the enchilada sauce in the bottom of the dish.
Dip each tortilla into the sauce then spoon the chicken mixture in the center and roll each tortilla up.
Place each tortilla seam-side down in the baking dish.
Using a large spoon - add the enchilada sauce over the enchiladas. Sprinkle the tops with the cheese.
Cover the baking dish with foil and bake for 15 minutes.
Remove the foil and bake for another 10 minutes for the cheese to lightly brown.
Remove from the oven and sprinkle the top of the cheese-covered enchiladas with sliced olives, green onions and cilantro.
Notes
Note: If you like your enchiladas a little crispy - bake them uncovered (before you add any cheese) at 400 degrees for about 2 to 3 minutes or until lightly brown on top.