Cottage Pie
This post may contain affiliate links.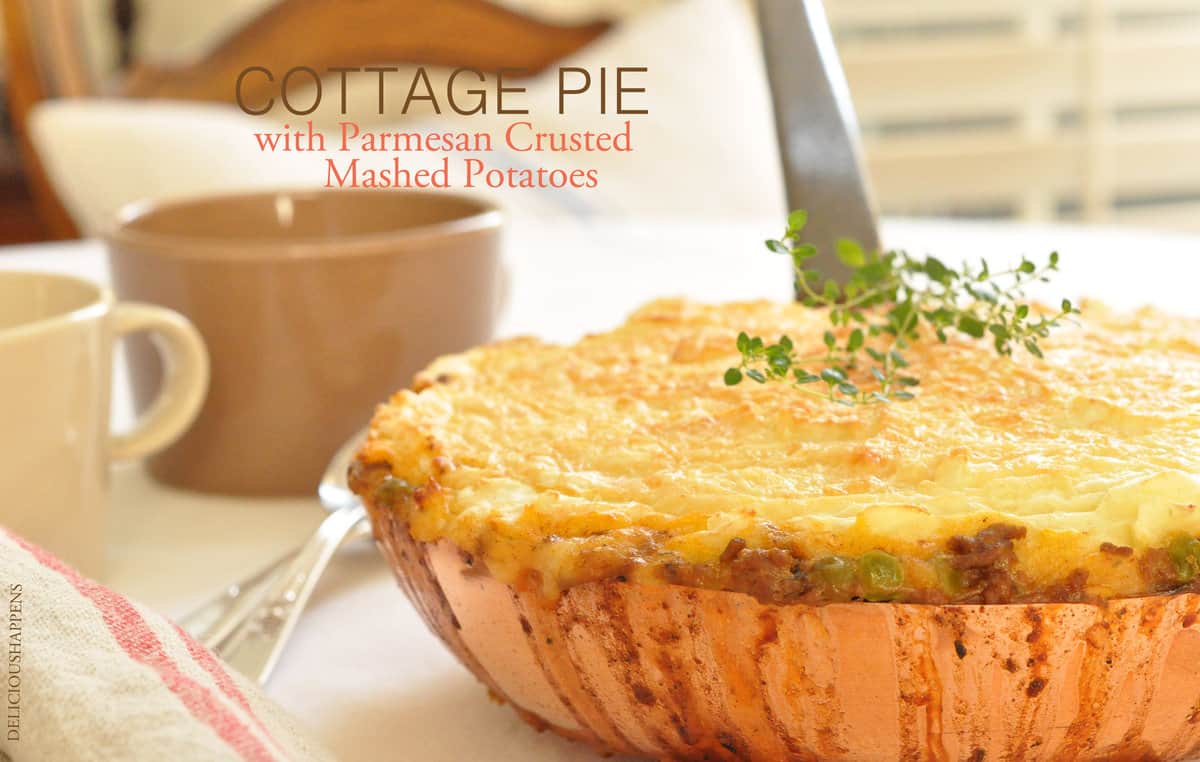 This Cottage Pie is pure comfort food and not a far departure from the well-known and appreciated Shepherd's Pie. I used ground turkey, tossed in a few Italian herbs, Marsala wine and some Parmesan cheese to make it noteworthy, but other than that – this is a pretty basic recipe. A little diced zucchini and yellow squash fits in nicely here if you have any on hand. I didn't so we're working with the ever humble peas and carrots duo.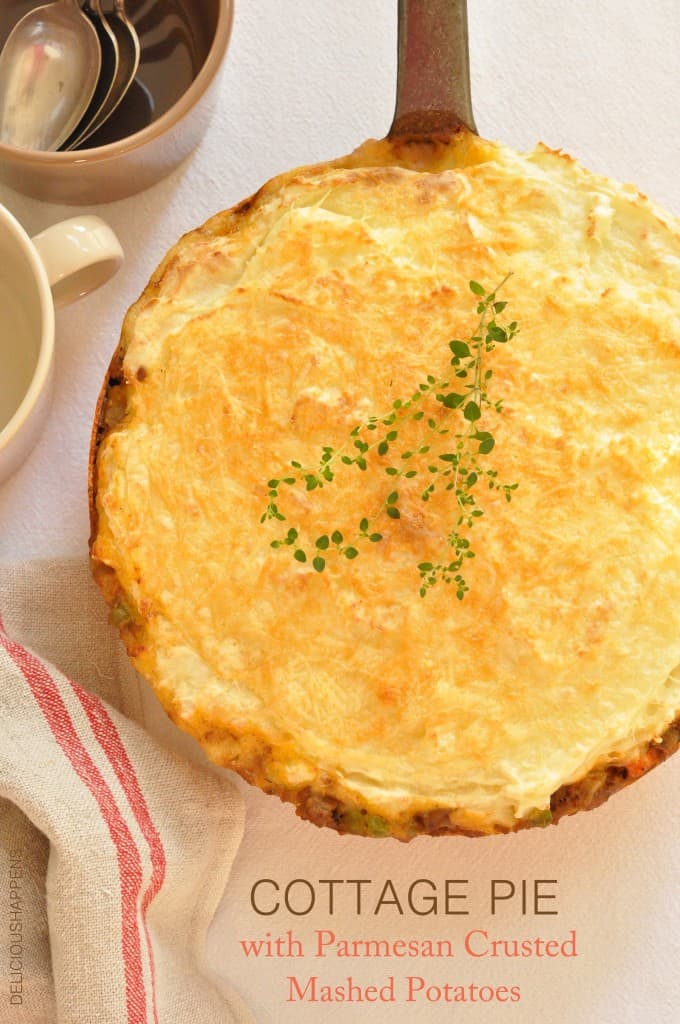 The mashed potato crust on this Cottage Pie is topped with Parmesan Cheese, but feel free to use whatever cheese you prefer. Cheddar, Jack or Fontina….not sure how mozzarella would work for you though. I like the Parmesan best – because it keeps this Cottage Pie on the lighter side.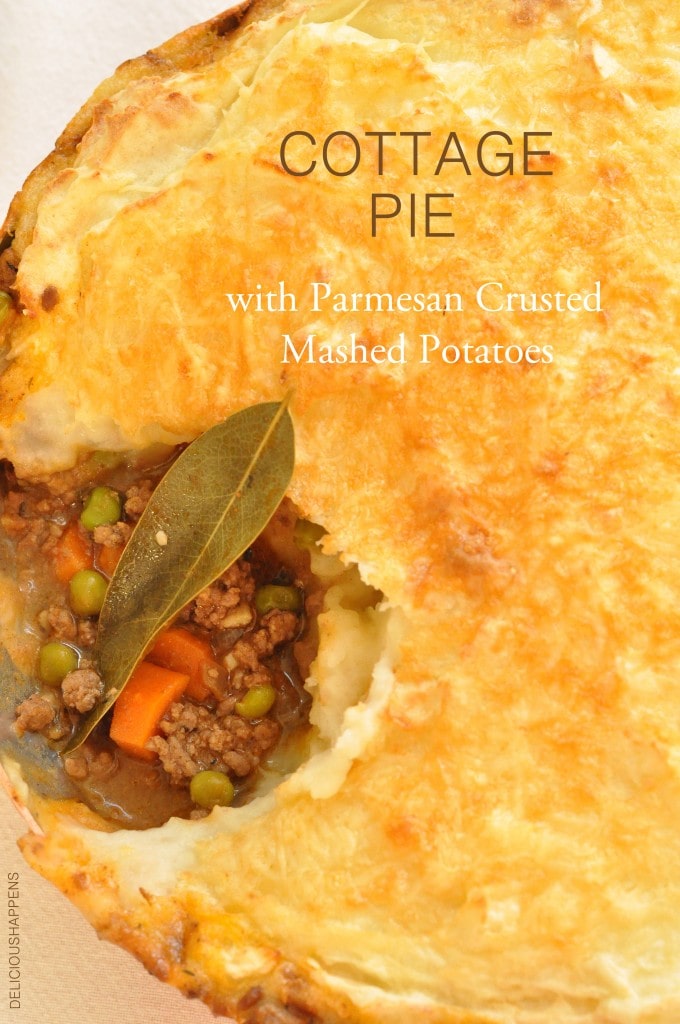 If you're wondering why I haven't been posting as much lately (and thank you to those of you who have noticed!) – I sort of lost my routine after the home remodel and I'm trying to make my way back. My dad was ill on top of it – so I was spending time there with him. And work – work has been super busy and I went on a short business trip which was really exciting stuff. And now…I'm getting ready to go through another remodel of sorts. In a couple of months, Delicious Happens will have a new look. This site will be redesigned and I'll be going back through old posts to fix the recipes so they're easier to print for you. I'm really looking forward to this!!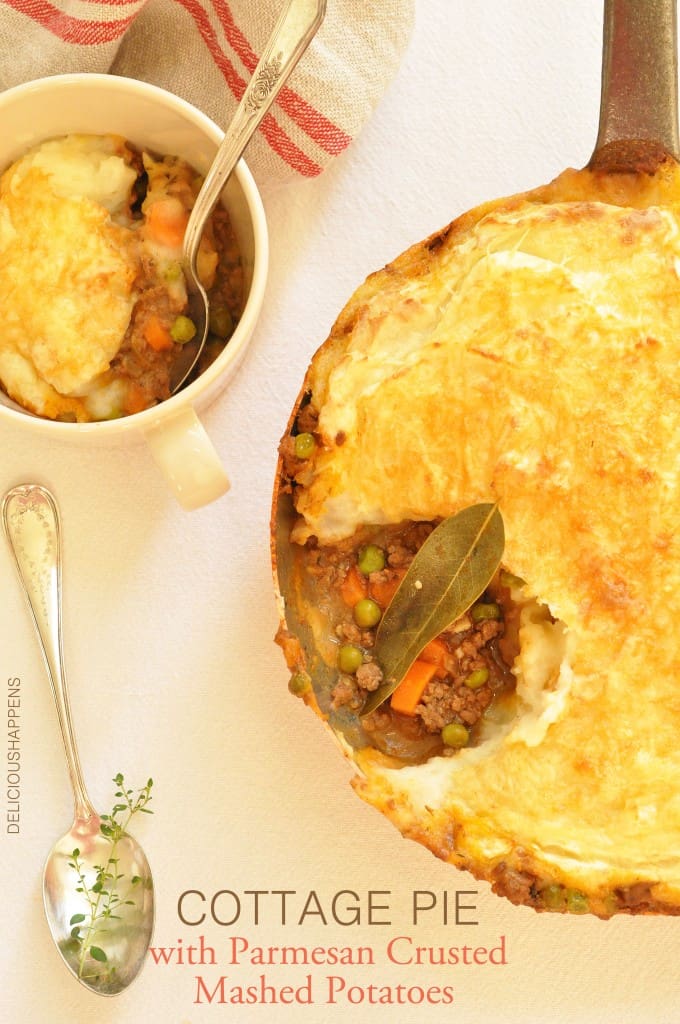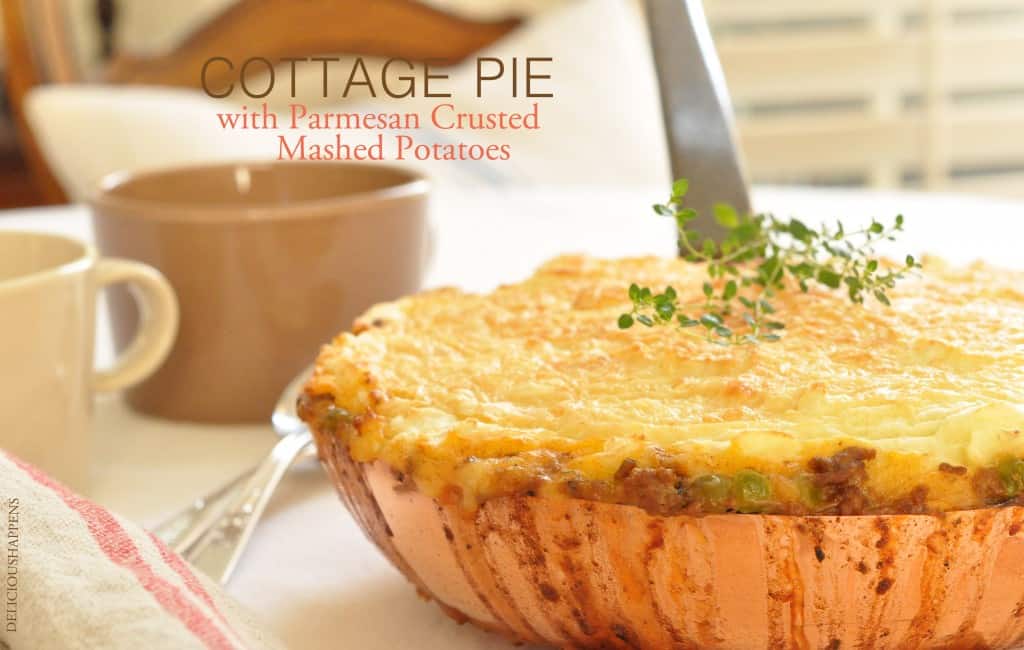 Yield: Serves 4 - 6
Cottage Pie
Ingredients
For the Stew
2 tablespoons unsalted butter
5 tablespoons extra virgin olive oil
2 pounds ground turkey or chicken meat
1-1/2 cups yellow onions, diced
10 cloves garlic, minced
1 cup carrots, diced
1 cup frozen peas
1 1-inch piece of Parmesan cheese
2 tablespoons tomato paste
3 tablespoons gluten-free all-purpose flour
1-1/2 teaspoons dried rosemary
2 teaspoons dried oregano
2 teaspoons dried basil
2 teaspoons dried thyme
1 tablespoon dried parsley
1 bay leaf
1/4 cup Marsala wine
1-3/4 cups low-sodium chicken broth or stock
For the Garlic Mashed Potatoes
2 1/2 pounds red potatoes, leave 3 or 4 of them unpeeled, quartered
2 cloves garlic, peeled and minced
1/2 teaspoon extra-virgin olive oil
2 tablespoons unsalted butter
3/4 cup whole milk
3/4 cup grated parmesan cheese
pinch of salt
freshly ground black pepper to taste
Instructions
Grease a 2 quart baking dish with a small amount of olive oil.
Heat 1 tablespoon of the butter and 1 tablespoon of the olive oil in a pan over medium high heat. Add the ground meat and cook for 10 - 12 minutes or until browned, breaking into small pieces with a wooden spoon. Transfer meat to a plate and set aside.
Add one tablespoon of butter and one tablespoon of olive oil back to the pan. Add the onion and cook for about 5 minutes or until soft and slightly caramelized. Add the garlic and cook for about 30 seconds to a minute. Add the carrots and cook for about 3 - 4 minutes or until slightly tender.
Return the ground meat to the pan.
Add the tomato paste and blend well stirring for about a minute.
Add the Marsala wine and stir for another minute.
Add the flour and stir for another minute.
Add the peas, herbs, bay leaf, stock and 1-inch piece of Parmesan cheese. Bring to a simmer and cook until the sauce is slightly thickened.
Reduce the heat so the sauce barely simmers, cover and continue to cook for about 20 minutes and the Parmesan cheese wedge has melted and has blended with the sauce.
Preheat oven to 400 degrees.
Transfer the stew to the baking dish. Spoon the mashed potatoes over the meat mixture. Smooth the top with the back of a wooden spoon. Sprinkle the 1/2 cup Parmesan cheese over the potatoes. Place the baking dish on a baking sheet and bake for about 20 minutes or until the cheese is golden brown and the sides are bubbly.
For the Garlic Mashed Potatoes
Fill a large pot with water and add the potatoes. Bring to a boil. Reduce heat and simmer for approximately 20-25 minutes or until the potatoes are tender when tested with a fork. Remove from heat and drain well.
While the potatoes are cooking, in a small saucepan add the milk, olive oil, 1 tablespoon butter, and garlic. When the milk is heated through (be careful not to scald the milk) add 1/4 cup parmesan cheese and stir until it melts. Remove from heat and set aside.
Mash the potatoes with the heated garlic milk mixture, adding the milk a little at a time for desired consistency. Add salt and freshly ground black pepper to taste.