Chicken in Creamy Sun Dried Tomato Sauce
This post may contain affiliate links.
This Chicken in Creamy Sun Dried Tomato Sauce is a quick and easy one pot chicken recipe to pull together any night of the week. The sauce for this dish is luscious and creamy and made without a single drop of cream.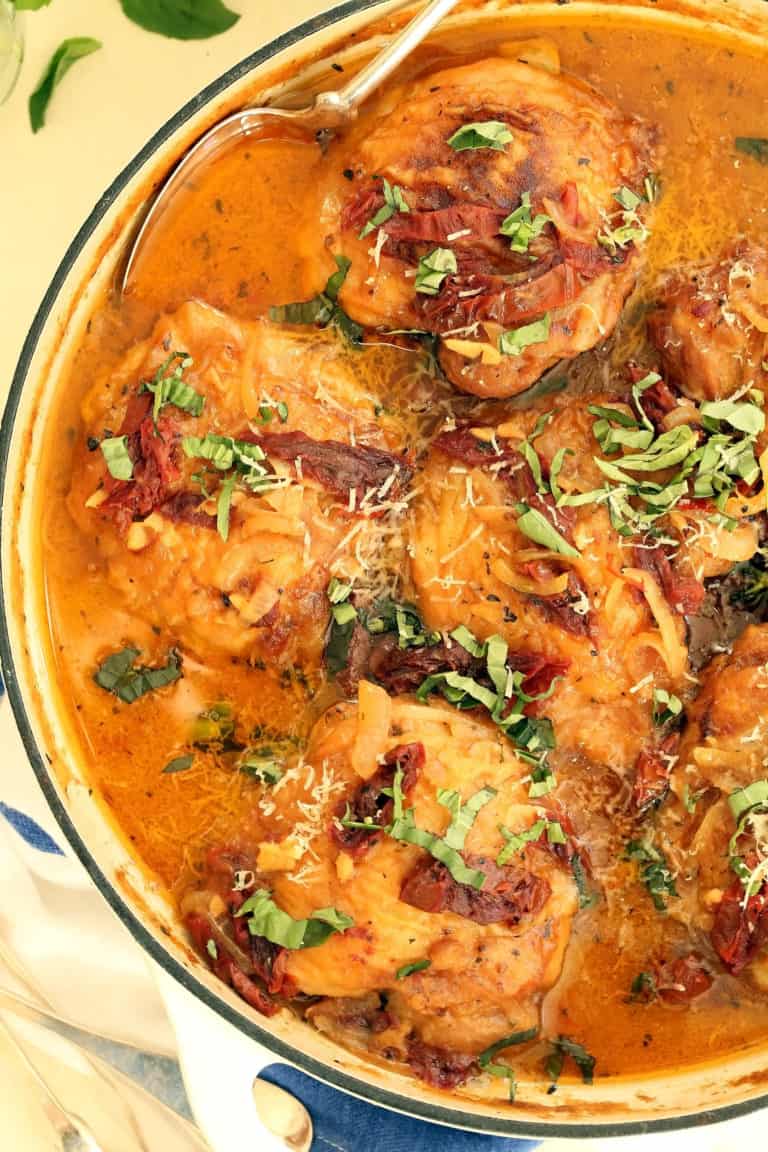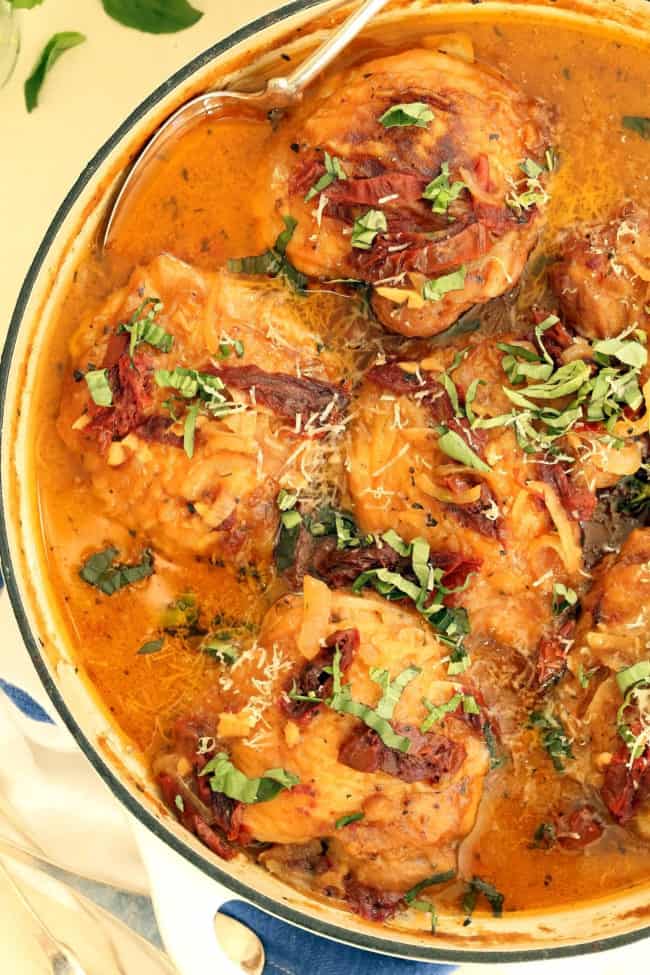 This Chicken in Creamy Sun Dried Tomato Sauce has an incredible combo of flavors. The sauce is most definitely the star of this dish.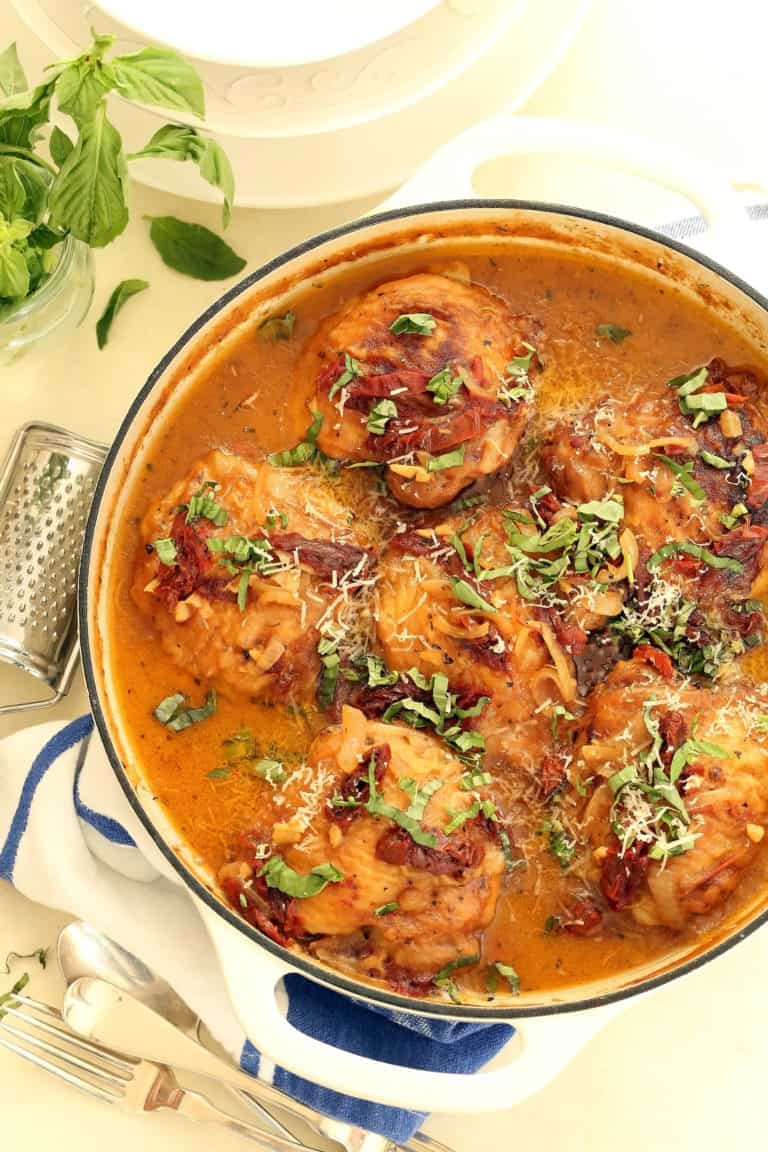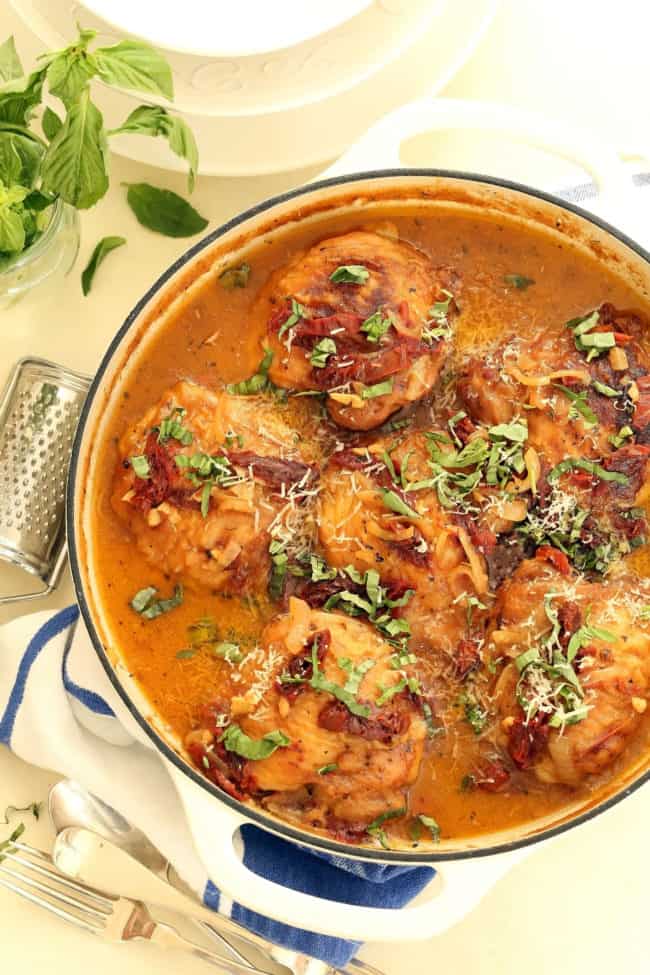 In lieu of using cream for this recipe, we're using coconut milk, then adding loads of flavor by adding some marsala wine, plenty of garlic, a pinch of Italian seasoning, lots of sun-dried tomatoes (packed in oil), and a wee bit of Parmesan cheese. With this incredible combination of flavors going on in this dish, you'll never guess the sauce is made with coconut milk and not dairy. If you're like me, you'll find yourself sampling this sauce by the spoonfuls while it simmers on the stove. It's so incredibly good!!
I had my first taste of sun dried tomatoes years ago, when I ordered a grilled chicken panini with basil and sun dried tomatoes. I was addicted to that sandwich for awhile! If you haven't tasted sun-dried tomatoes for yourself, you are in for a treat!! I personally love cooking with sun dried tomatoes packed in oil rather than the dried version. I think they're richer in flavor…but that's just my preference. But I think the dried version work better on sandwiches.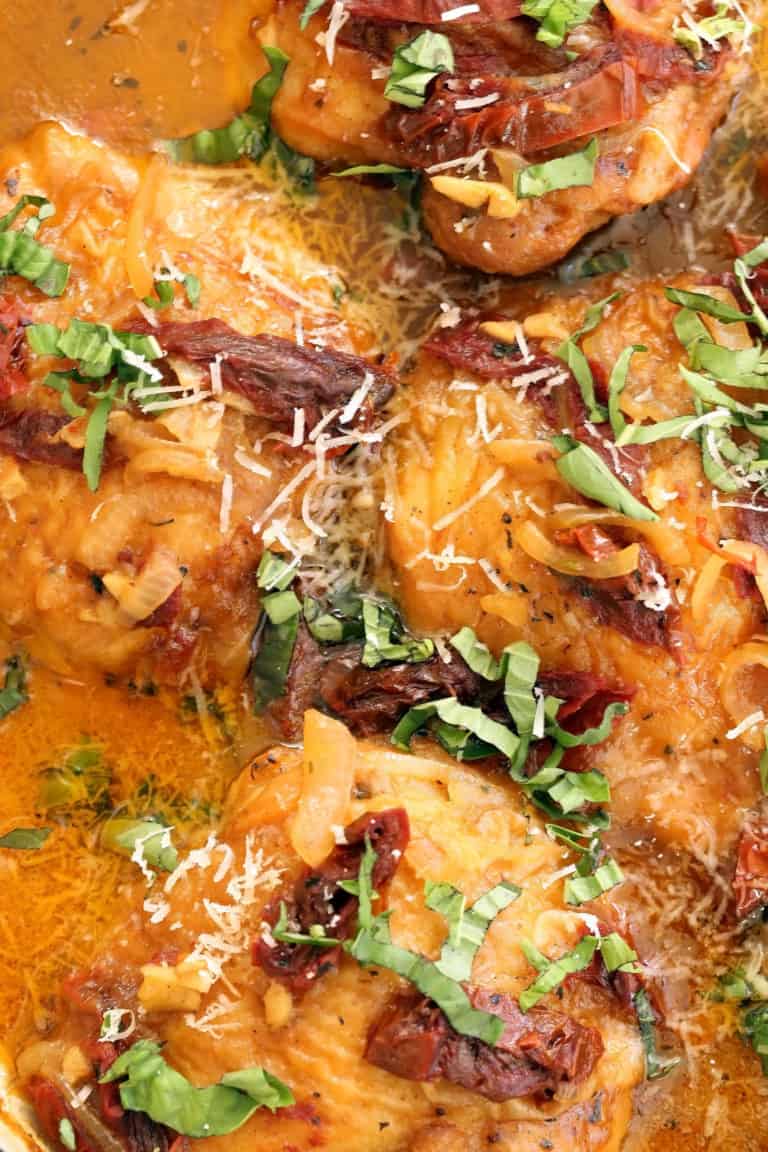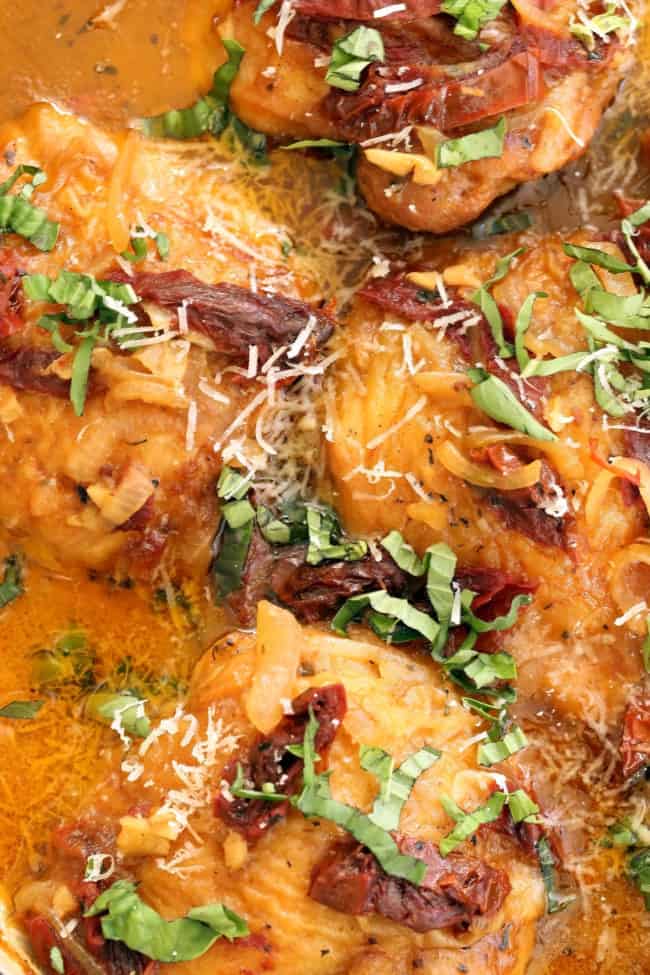 If you're vegan – in lieu of using chicken for this dish, just add some broccoli and cauliflower to the sauce and serve over quinoa or gluten-free noodles for a delicious meatless meal.This Chicken in Creamy Sun Dried Tomato Sauce is an easy 30 minute chicken recipe that you can make any night of the week. It's simple enough for busy weeknights, yet elegant enough to serve friends on the weekend.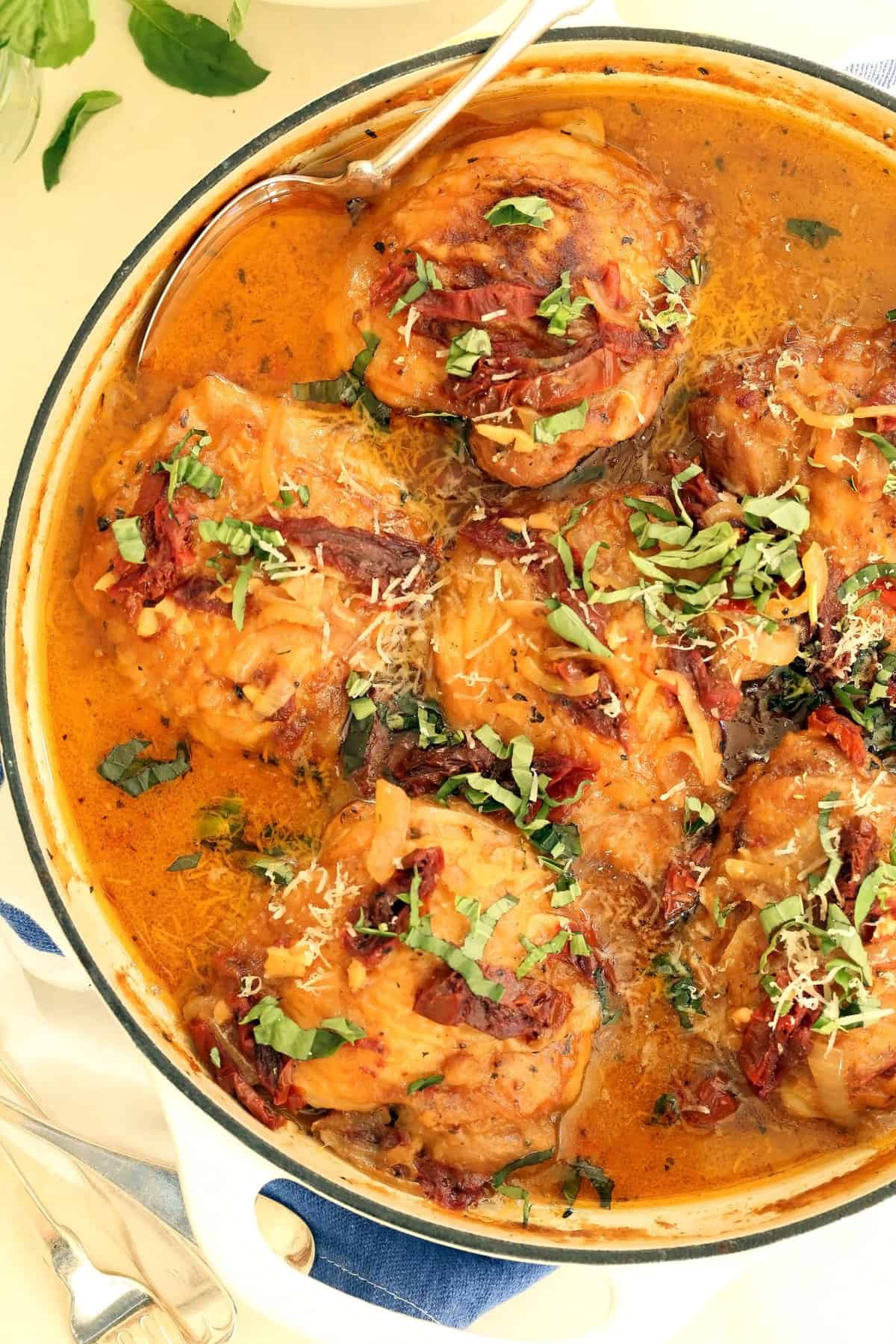 Yield: Serves 6 - 8
Chicken in Creamy Sun Dried Tomato Sauce
Ingredients
1 cup gluten-free flour
8 Chicken thighs (with bone and skin)
5 tablespoons extra-virgin olive oil, divided
1 medium yellow onion, peeled, cut in half and thinly sliced
2 large cloves garlic, minced
1/3 cup Marsala wine
1 teaspoon Italian seasoning
1/2 cup sun-dried tomatoes (packed in oil), thinly sliced
13.5 ounce can Coconut Milk
1 cup chicken broth
1 1-inch chunk of Parmesan cheese, plus more grated for garnish
Fresh basil leaves, sliced for garnish
Instructions
Mix together the gluten free flour, salt, and pepper in a medium size bowl.
Toss the chicken thighs in the mixture until lightly coated.
Heat 2 tablespoons of extra virgin olive oil in a large Dutch oven pan.
Add 4 chicken thighs to the pan and cook over medium low heat for 3 to 4 minutes on each side, or until lightly browned. Remove from pan and set aside.
Repeat with another 2 tablespoons of extra virgin olive oil and chicken thighs.
Add the remaining tablespoon of oil to the pan, if needed.
Add the sliced onion and saute for 2 minutes.
Add the garlic, marsala wine, sun-dried tomatoes, Italian Seasoning and saute for another minute.
Add the coconut milk and chicken broth and parmesan cheese to the pan and bring to a boil.
Stir to melt the cheese into the sauce.
Reduce to low heat and add the chicken to the sauce in a single layer.
Cover pan with a lid and simmer for 20 minutes or until the chicken is cooked through.
Garnish with extra parmesan cheese and sliced basil.