Berry Crostata
This post may contain affiliate links.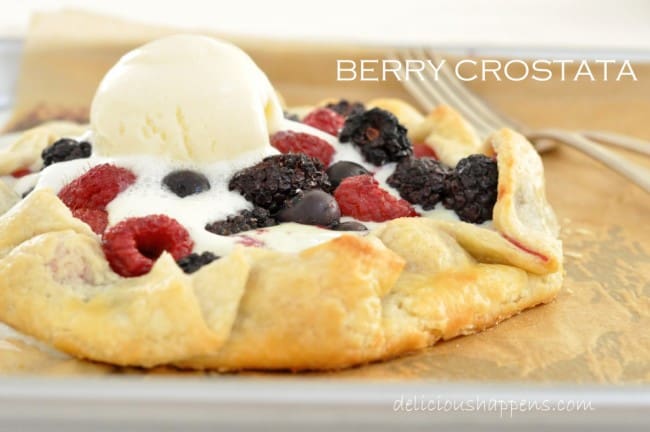 Well…..you had to know this was coming. After seeing the Berry Crostata on the cover of Sur la Table's catalogue, I had to make one. Actually I made two. I took one over to my mom and dad's with a carton of Haagen-Dazs frozen vanilla yogurt! My dad loves pie!!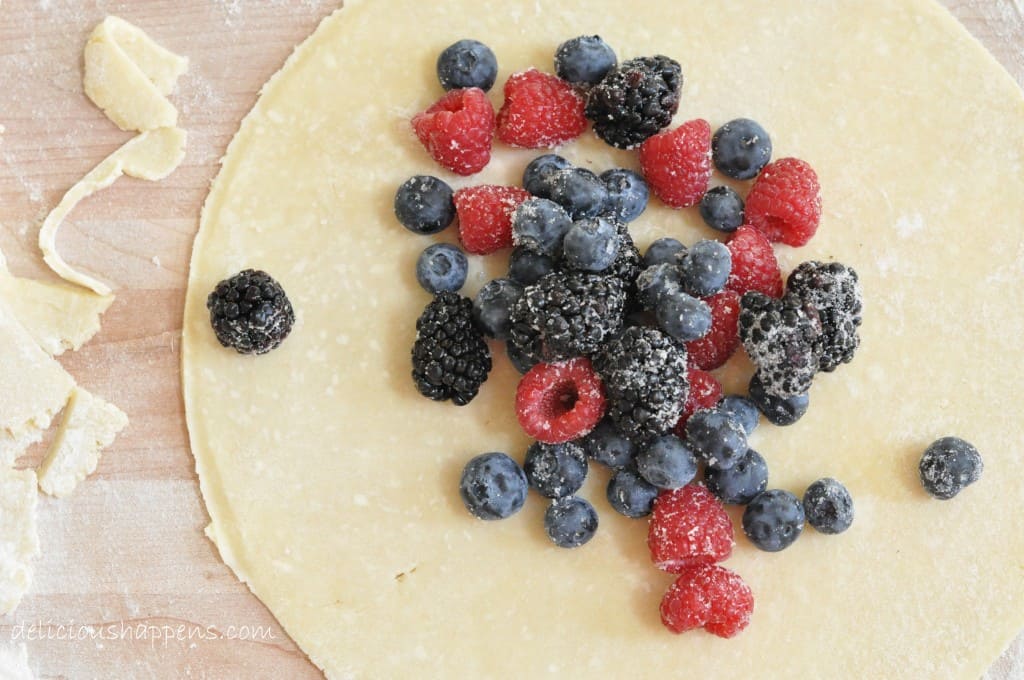 This is the best pie crust recipe ever and it's just slightly adapted from Huckleberry's/Zoe Nathan's recipe. It light, unbelievably delicious and incredibly flaky! It's the best crust you will ever make! A few things that I've learned about making really good crust is …you don't want to overwork the dough. Get it roughly shaped and then let it be. Don't fuss with it. You want to see little flecks of butter about the size of peas in the dough. (My flecks of butter turned out a little smaller than you want – but this crust turned out just as flaky). You also want to keep the dough very, very cold. I typically will lay my rolled out dough on the baking sheet and then I'll pop it back in the fridge for 15-30 minutes so it gets nice and cold again. The dough will also hold it's shape better in the oven if it's really cold when it goes in.
As I've mentioned before – crostatas are a favorite dessert of mine. Besides being completely delicious – I also love them because they're so simple to make. I like crostatas because they have a rustic look going for them…so there's no sweat in trying to make them look perfect.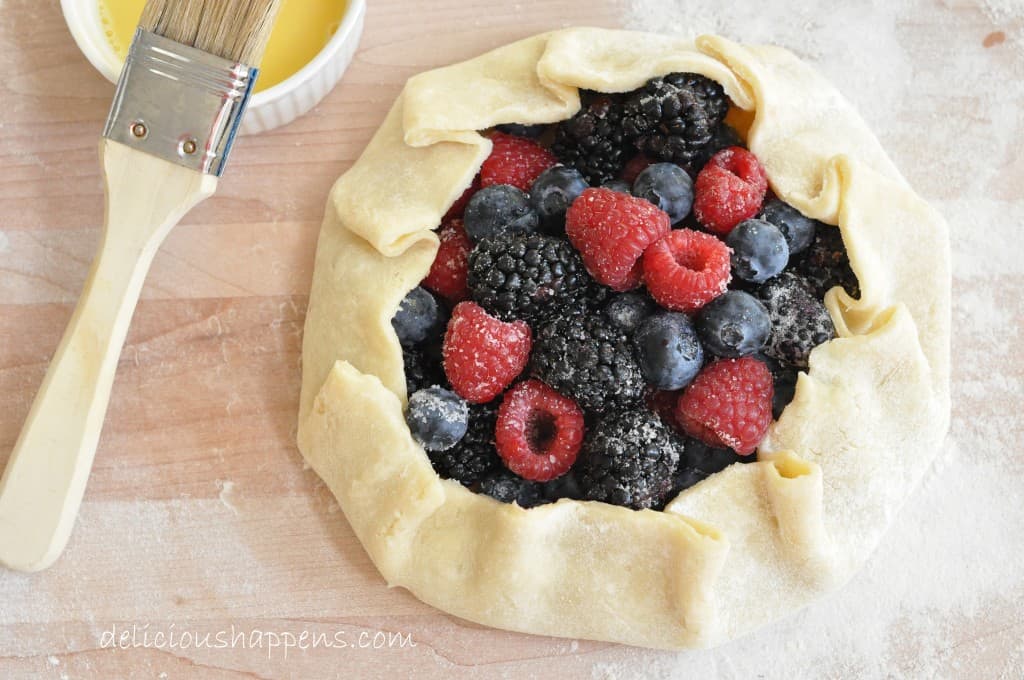 And…except for being tossed in a scant tablespoon of sugar – these fresh berries are perfect just as they are! Crust and fresh fruit. Easy summer desserts don't get much easier than that.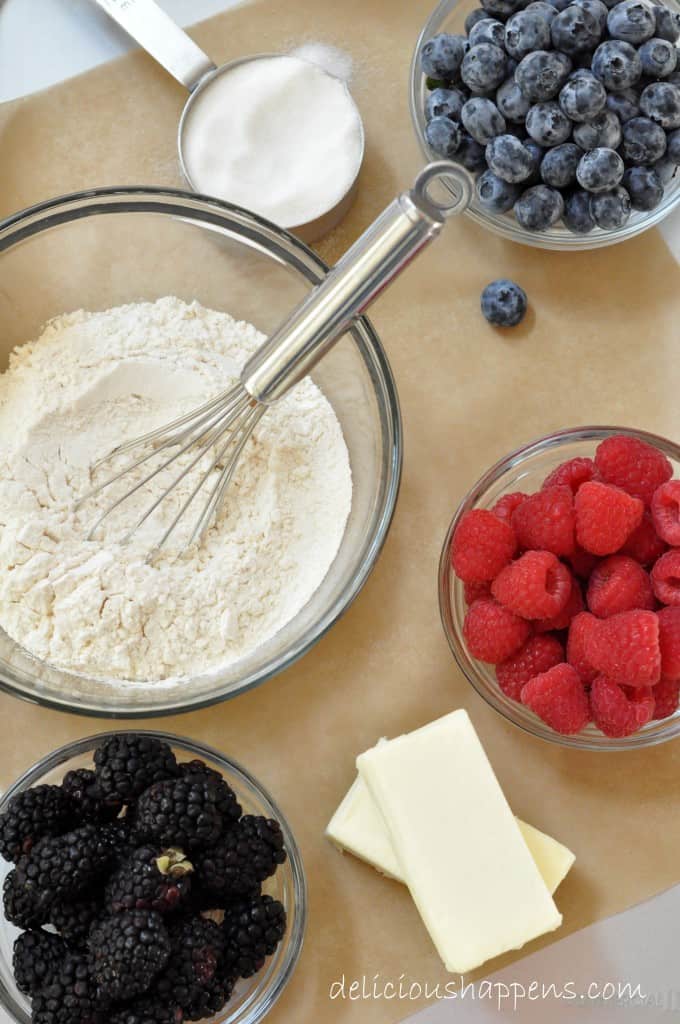 Of course a Berry Crostata is perfectly delicious on its own, but when you add a big heaping scoop of frozen vanilla yogurt on top – then you've got something really special!
EASY DESSERT RECIPES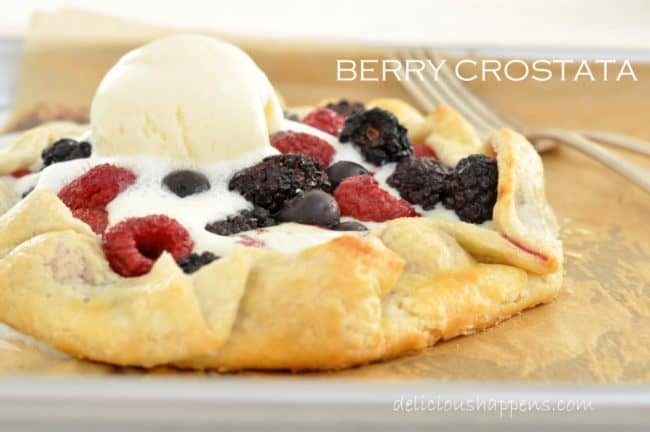 Yield: Serves 4
Berry Crostata
Total Time
2 hours
50 minutes
Ingredients
For the Crust
2 cups all-purpose flour
¼ cup granulated sugar
¾ teaspoon salt
8 oz unsalted butter, chilled and cut into approximately 16-20 cubes
6 tablespoons iced-cold water (yes - there should be ice in the water - but don't use the ice - only the water)
For the Filling
2 cups mixed berries (blackberries, raspberries and blueberries) - 1 cup for each crostata if you're making 2 crostatas
1 tablespoon granulated sugar
For the Egg Wash
Instructions
For the Crust
Preheat the oven to 350 degrees. Line a cookie sheet with parchment paper and set aside.
In a food processor, combine flour, sugar and salt.
Cut in butter until mixture resembles coarse crumbs.
Add the water and stir until mixture forms a ball.
Turn the dough out onto a lightly floured board and form into 2 disks.
Wrap in plastic and refrigerate for 1-2 hours (or overnight). Do not over work the dough. And remember, you want to be able to see flecks of the butter the size of peas.
Roll dough rounds out to an 11-inch diameter. Trim out 11" circle and discard leftover dough. Place dough on cookie sheet. Fan out 1 cup of berries to 9" diameter.
Brush egg wash on 2" remaining dough.
Fold exposed dough over berries. It should leave an open center to the crostata of about 6 to 7 inches. Egg wash the exterior dough.
Add a few small chunks of butter to center of crostata.
Bake at 350 degrees for approximately 20 minutes or until the crust is a flaky golden brown.
For the Filling
Add the berries and sugar to a large bow and gently toss.
For the Egg Wash
Whip 1 whole egg and 1 egg white together in a bowl
Notes
This recipe makes 2 small crostatas or 1 large. I prefer to make 2 small, as they are easier to transport.