Benefits of Broccoli
This post may contain affiliate links.
Love it or hate it….there's a lot of Benefits of Broccoli providing good reason to add more of it to your daily wellness plan!
Broccoli has potent anti-inflammatory, antioxidant, and detoxifying benefits that promote good health.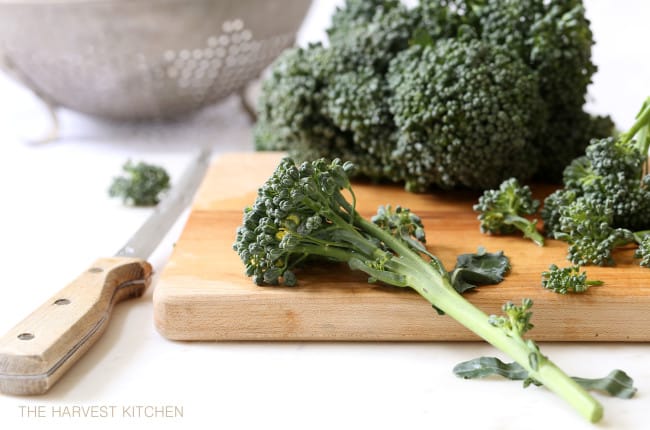 What Is Broccoli?
Broccoli is a member of the plant species known as Brassica oleracea. It's related to cauliflower, brussel sprouts, kale and cabbage. These plants are collectively known as "cruciferous vegetables"
How Many Calories In Broccoli?
One cup of raw broccoli contains approximately 30.9 calories. (1)
Broccoli Nutrition
Is broccoli good for you? Yep! One cup of raw broccoli provides the following nutrients: (2)
Carbs in broccoli: 6 grams
Protein in broccoli: 2.6 gram
Fiber in broccoli: 2.4 grams
Vitamins
Vitamin C: 135% of the RDI, Vitamin A: 11% of the RDI, Vitamin K: 116% of the RDI and Vitamin B9 (Folate): 14% of the RDI
Broccoli Benefits
There are so many benefits of eating broccoli! Broccoli is a nutrient rich vegetable that is known for promoting cardiovascular health, supporting immune function, reducing inflammation and promoting healthy brain and nervous system.
Improves Vitamin D Deficiency

Broccoli contains vitamins A and K, which help to maintain balance of the metabolism of vitamin D. Vitamin D promotes the body's absorption of calcium which promotes bone health (and growth in children).
High In Fiber

Broccoli is high in fiber, which helps to lower cholesterol through the digestive/elimination process. (11)

Promotes Eye Health

Broccoli is a good source of lutein, zeaxanthin and beta-carotene which promote good eye health. (12)

Cholesterol-Lowering

Broccoli provides powerful cholesterol-lowering benefits. The fiber components in broccoli work better to bind with bile acids in your digestive tract when the broccoli has been steamed. Raw broccoli has properties that help lower cholesterol, but just not as much as when its steamed. (13)

Allergies

Chronic inflammation in our bodies can sometimes be caused by overexposure to allergy-related substances. Broccoli is a rich source of kaempferol which has the ability to lessen the impact of these allergy-related substances, by lowering the immune system's production of IgE-antibodies.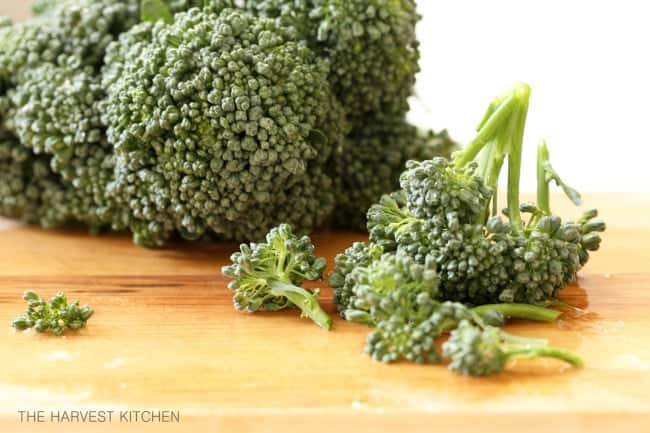 How Much Broccoli Should We Eat?
At a minimum, we should include broccoli and/or other cruciferous vegetables in our diets 2-3 times a week, and each serving size should be at least 1-1/2 cups. If you really want to increase the benefits of broccoli – consume broccoli and/or other cruciferous veggies 4-5 times a week, and increase the serving size to 2 cups.
Simple Ways To Add More Broccoli To Your Diet
Some ideas for you to to incorporate more broccoli to your diet so you can reap the benefits of eating broccoli:
Use fresh raw broccoli in salads.
Add it to homemade soups and stews.
Steam it and serve as a side for lunch and dinner.
Make raw broccoli a frequent snack, serving it with low-fat dressings and dips (crudités).
Easy Broccoli Recipes