Benefits of Broccoli
Love it or hate it….broccoli has a plethora of health benefits.  It has potent anti-inflammatory, anti-cancer and antioxidant benefits,  and it contains nutrients that offer detox-support along with many other important nutrients that promote good health.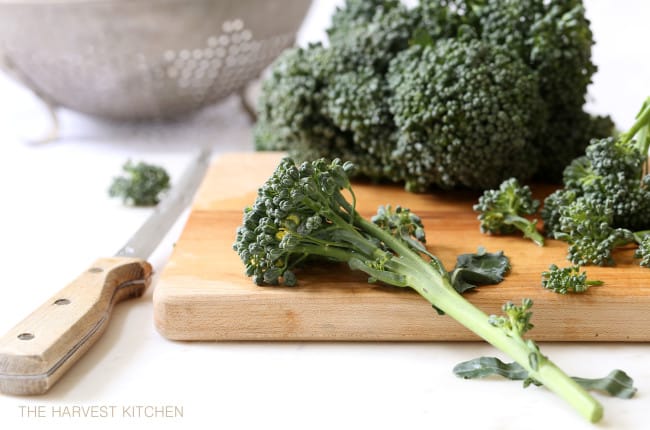 Cancer Fighting. Broccoli contains a number of natural phytochemicals.  One compound, called glucobrassicin, breaks down in your stomach into indole-3-carbinol, which then produces  diindolylmethane, or DIM.  According to Memorial Sloan-Kettering Cancer Center, DIM has strong anti-cancer properties that may make it protective against certain types of cancers, such as breast and prostate gland. Broccoli also contains another compound called glucosinolates which is converted in your stomach into sulfur-containing properties that activate enzymes which help to destroy carcinogens .
Cancer Prevention. The powerful combination of antioxidant, anti-inflammatory, and detoxification components in broccoli make it a powerful food in terms of cancer prevention.
Detoxification. Broccoli has a powerful impact on our body's detoxification process, because it contains a combination of three phytonutrients, glucoraphanin, gluconasturtiian, and glucobrassicin. These compounds help to support the body's detoxifying process, which includes neutralizing and eliminating harmful contaminants.
Anti-Inflammatory. Broccoli is a particularly rich source of a flavonoid called kaempferol, which helps the body to combat allergies and inflammation.  These anti-inflammatory properties also boost your immune system, helping you fight off bacteria and viruses.
Improves Vitamin D Deficiency. Broccoli contains vitamins A and K, which help to maintain balance of the metabolism of vitamin D. Vitamin D promotes the body's absorption of calcium which promotes bone health (and growth in children).
High In Fiber. Broccoli is high in fiber, which helps to lower cholesterol through the digestive/elimination process.
Promotes Eye Health. Broccoli is a good source of lutein, zeaxanthin and beta-carotene which promote good eye health.
Cholesterol-Lowering. If broccoli is steamed, it can provide you with some powerful cholesterol-lowering benefits. The fiber components in broccoli work better to bind with bile acids in your digestive tract when the broccoli has been steamed.  Raw broccoli has properties that help lower cholesterol, but just not as much as when it's  steamed.
Allergies. Chronic inflammation in our bodies can sometimes  be caused by overexposure to allergy-related substances.  Broccoli is a rich source of  kaempferol which has the ability to lessen the impact of these allergy-related substances, by lowering the immune system's production of IgE-antibodies.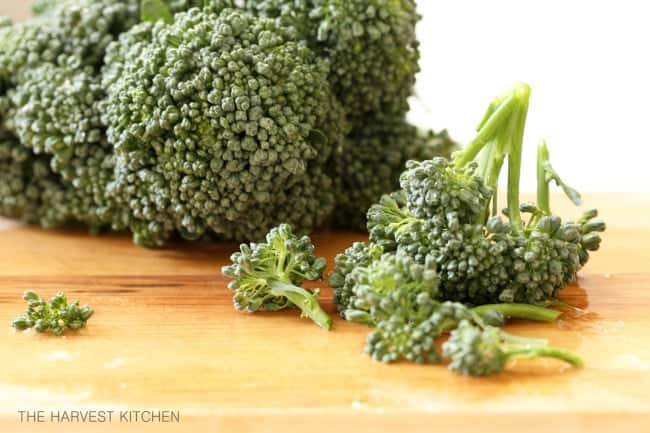 How Much Should We Eat. You'll want to include broccoli as one of the cruciferous vegetables you eat on a regular basis. At a minimum, we should include broccoli and/or other cruciferous vegetables in our diets  2-3 times a week, and each serving size should be at least 1-1/2 cups. If you really want to increase the benefits of broccoli – consume broccoli and/or other cruciferous veggies 4-5 times a week, and increase the serving size to 2 cups.
How to Incorporate More into Our Diet.  Use fresh, raw broccoli in salads.  Add it to homemade soups and stews. Steam it and serve as a side with other main dishes for lunch and dinner. Make raw broccoli a frequent snack, serving it with low-fat dressings and dips (crudités).
Source of information –  WH Foods
Here's 10 great ways to get more broccoli into your diet.
Immune-Boosting Broccoli Soup by yours truly
The No Recipe Curry by Green Kitchen Stories
Greek Salad with Broccoli and Sun-Dried Tomatoes by Cookie and Kate
Chicken and Broccoli Skillet Bake by Half Baked Harvest
Skinny Broccoli and Mixed Vegetable Stir-Fry by Averie Cooks
Lemon Pepper Steamed Broccoli by Cookin Canuck
Oven Roasted Broccoli by Alton Brown
Parmesan Roasted Broccoli by Ina Garten
Creamy Chicken Quinoa Broccoli Casserole by Pinch of Yum
Crustless Broccoli Quiches by Honest Cooking
Kinda makes you want to eat more broccoli, doesn't it!?
~ Deb
Leave a Comment