White Bean Soup with Kale
Yum
This White Bean Soup with Kale is rich and flavorful, loaded with veggies, and packs a big nutritional punch.  This soup is one of my family's favorites.  Served with basil pesto and some crusty bread…it's an incredible meal all it's own.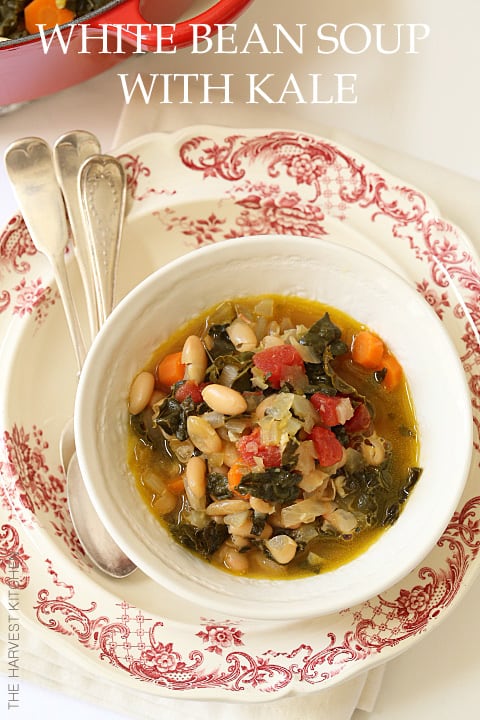 Did you know that next to cancer and heart disease, blindness is the biggest health fear that most people have?   And did you know that the leading cause of blindness at any age is glaucoma?  About 2.3 million Americans suffer from glaucoma, and it's guestimated  that an additional 2 million have the disease but don't know it.  But, the leading cause of blindness over the age of 55 is macular degeneration, affecting more than 10 million Americans (which is more than cataracts and glaucoma combined).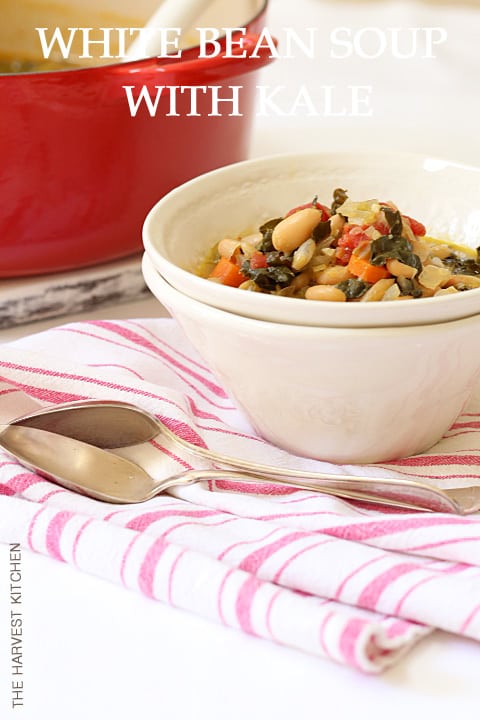 There is no cure for macular degeneration (or for glaucoma), yet there are some basic things you can do to help prevent developing macular degeneration, and to possibly slow the progression of it if you already have it. Good nutrition is key, so is getting some good cardio exercise in each week (in the way of brisk walks or jogs just a few times a week), if you smoke, quit, and if you are stressed – try to to manage or to eliminate it altogether,  and be sure to always protect your eyes from UV lights (wear your sunglasses!).  And be sure to get regular eye checkups.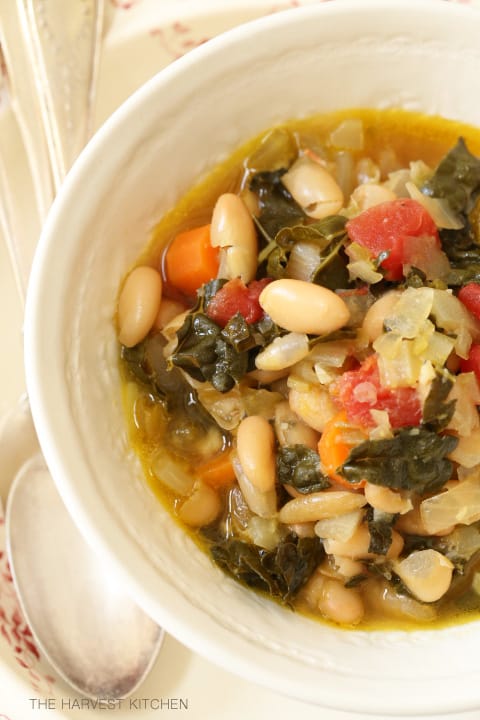 What's all this eye talk about anyway.  Well, May is healthy vision month, and I have been invited to help promote eye health , so I'm honored to share with you today this fabulous healthy recipe slightly adapted from this great cookbook called "Eat Right for Your Sight", by Jennifer Trainer Thompson and Johanna M. Seddon, C, ScM.  This cookbook has some really delicious looking, easy to make, and healthy recipes which offer a host of nutrients that are good for your eye health!  A few key nutrients vital for overall eye health are lutein and zeaxanthin, which can easily be incorporated into your diet from natural sources.  The best dietary sources of lutein and zeaxanthin are dark green leafy vegetables such as kale, lettuce and spinach, but red pepper, broccoli and peas are also good sources.
As for this delicious hearty White Bean Soup with Kale, it was an easy one to make.  It is so similar to our favorite white bean soup that I make often.   I switched the recipe up only slightly by adding some tomatoes, a wee bit of Parmesan cheese, and I went with canned beans (for convenience) rather than dried beans.
If you'd like to learn more about Macular Degeneration, be sure to check out the American Macular Degeneration Foundation's site here.
And here's a link  for you if you'd like to purchase the cookbook to get started on eating right for your sight.  You're never too young to eat right to save your sight later on in life. #EatRightforYourSight
Here's to your beautiful healthy eyes!!
~ Deb
Recipe from Eat Right For Your Sight: Simple Tasty Recipes That Help Reduce the Risk of Vision Loss from Macular Degeneration, By Jennifer Trainer Thompson and Johanna M. Seddon, copyright © American Macular Degeneration Foundation, 2014. Reprinted by permission of the publisher, The Experiment. Available wherever books are sold.
White Bean Soup with Kale
Yield: 4 ot 6 servings
Total Time: 1 hour
Ingredients:
3 tablespoons extra virgin olive oil
1-1/2 cup onions, chopped
1-1/2 cups carrots, chopped
1/2 cup celery, chopped
2 cloves garlic, minced
2 teaspoons fresh thyme, chopped
8 cups low or sodium chicken broth (or vegetable broth)
2 15-ounce cans cannellini beans, rinsed and drained
1 15-ounce can chopped tomatoes
1 1-inch piece of Parmesan cheese
4 cups laconito kale leaves, finely chopped
1 teaspoon freshly ground black pepper
Directions:
Heat the oil in a large stockpot over medium-high heat.
Saute the onion, carrot, and celery for 7 to 10 minutes, or until softened.
Add the garlic and cook until fragrant, 1 minute.
Add the thyme and cook for 30 seconds.
Add the broth, beans, tomatoes, Parmesan cheese, and pepper.
Bring to a boil.  Reduce heat, cover and simmer for 45 minutes.  Stir occasionally.
Using an immersion blender, puree about 1/3 to 1/2 of the soup.
Add the kale and cook for another 5 minutes, or until the kale is tender.
Leave a Comment