Vegetarian Tuscan White Bean Soup
Yum
This Vegetarian Tuscan White Bean Soup is rich and hearty and loaded with iron, fiber and  protein. Your family will love it!!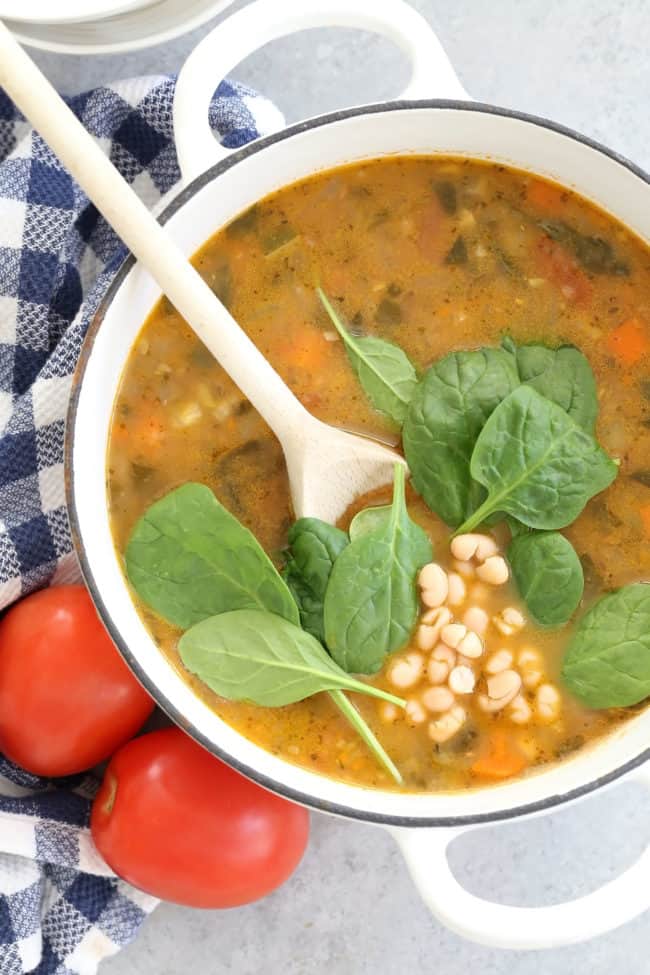 This Vegetarian Tuscan White Bean Soup is loaded with fresh vegetables, Italian seasoning, and good olive oil.  This is one of those soups that begs to be served with thick pieces of good crusty Italian bread.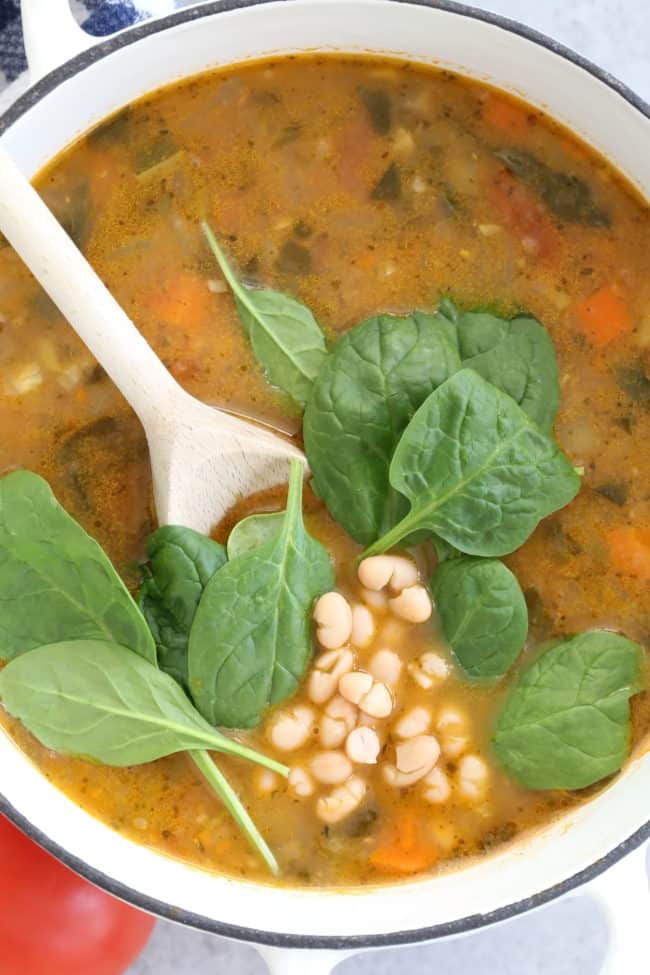 This Vegetarian Tuscan White Bean Soup is loaded with onion, carrots, tomatoes, zucchini, celery, white beans and spinach.  It's richly flavored with olive oil, oregano, thyme, fennel seed and parsley.  This soup is similar to the popular Italian ribollita soup, but we thicken this soup by blending a small amount of it rather than adding slices of bread to it.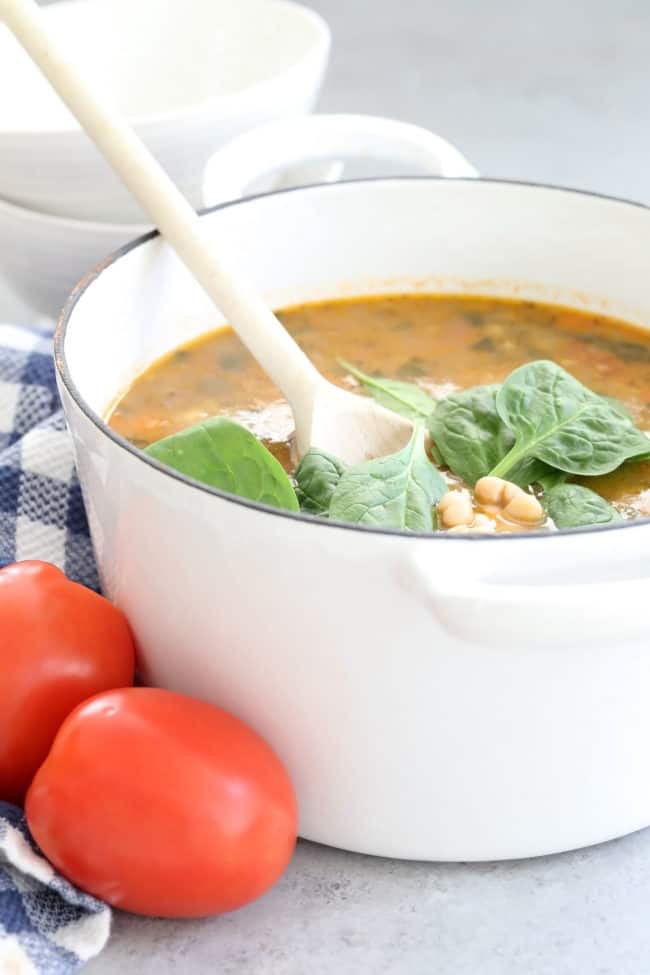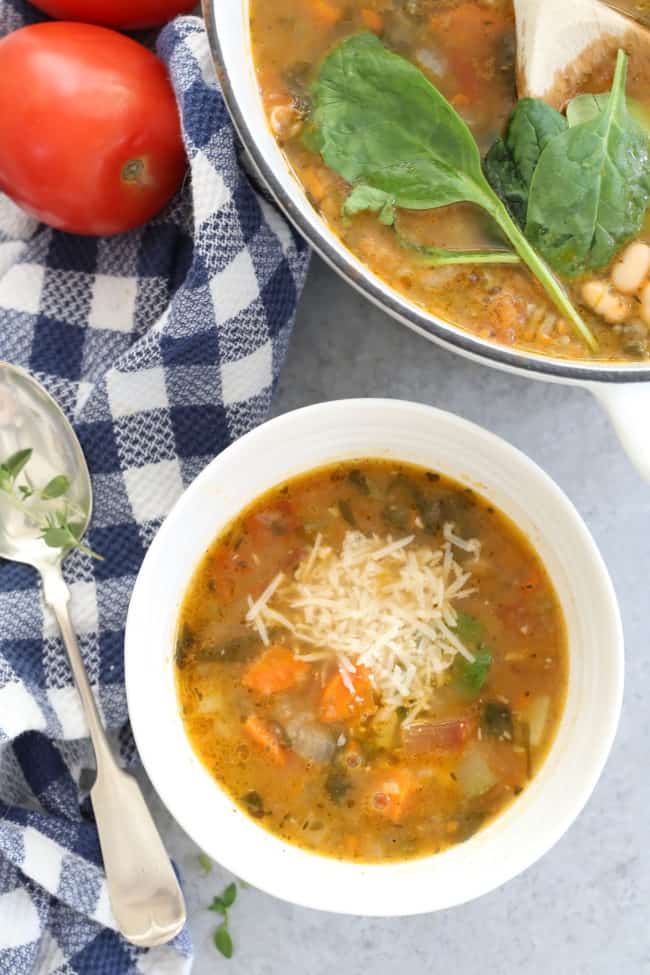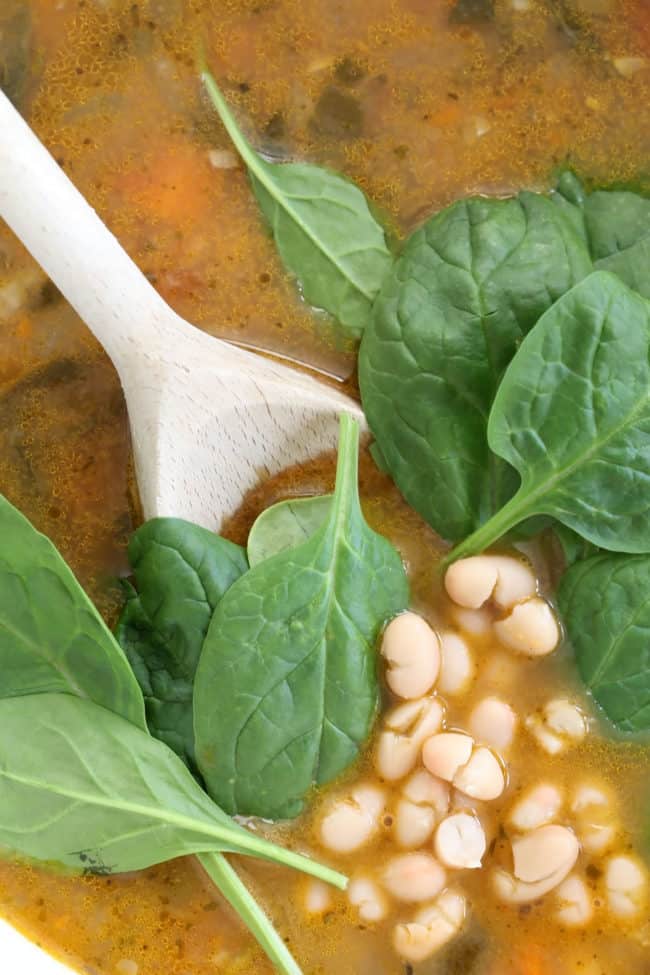 This Italian bean soup is super healthy and filling. It's high in protein and healthy fiber from the beans, and rich in iron from the spinach.  Serve it with a big green salad and make a meal out of it.
Guys, I'm so sorry I've been away from the blog lately.  Lots going on in life right now.  Some of it has really made me scratch my head, and some of it has really knocked me back.  I have a longtime friend of mine who has been in ICU for a little over a week now.  So I've been living on simple meals lately like this Tuscan Bean Soup recipe.  I'm hoping/praying she makes great strides in recovery in the coming weeks.
~ Deb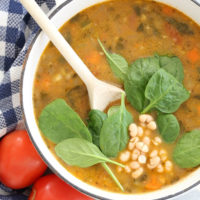 Vegetarian Tuscan White Bean Soup
Yield: 6 - 8 servings
Total Time: 1 hour
Ingredients:
3 tablespoons extra virgin olive oil
1 medium yellow onion, finely chopped
1 cup carrots, peeled and finely chopped
1 large celery stalk, finely chopped
2 cloves garlic, minced
1 teaspoon dried oregano
1 teaspoon dried parsley
½ teaspoon dried thyme
¼ teaspoon fennel seeds
2 15-ounce cans navy beans, drained and rinsed
4 cups low-sodium or unsalted vegetable stock
2-3 heaping tablespoons tomato paste
1 cup water
2 dried bay leaves
2 large Roma tomatoes, chopped
1 large zucchini, finely chopped
4 cups fresh baby spinach, chop 2 cups of it
freshly ground black pepper and sea salt to taste
1/4 cup Parmesan cheese, shredded (optional for garnish)
Directions:
Het the olive oil in a large Dutch oven.
Add the onion, carrots and celery and sauté for about 5 minutes until softened. Add the garlic and sauté for another minute or two.
Stir in the oregano, thyme, parsley and fennel seeds
 Add the beans, vegetable stock and water.  Bring to a boil and stir in the tomato paste until it dissolves.
Cover and simmer on low heat for about 30  minutes.
Discard bay leaves.
Using a stick blender, blend about 1/4 of the soup mixture until soup is slightly thickened.
Add tomatoes, zucchini, spinach and salt. Stir well until spinach just starts to wilt; then cover and cook an additional 20–25 minutes on low until the zucchini is tender.
Season with freshly ground black pepper and sea salt.
Serve with Parmesan cheese and drizzle with extra olive oil, if desired.
Leave a Comment