Vegetarian Quinoa Chili
Yum
You won't miss the meat in this Vegetarian Quinoa Chili.  It's protein and fiber packed with pinto beans, kidney beans and quinoa.  This meatless chili has a great combo of flavors and it's quick and easy to make for any night of the week!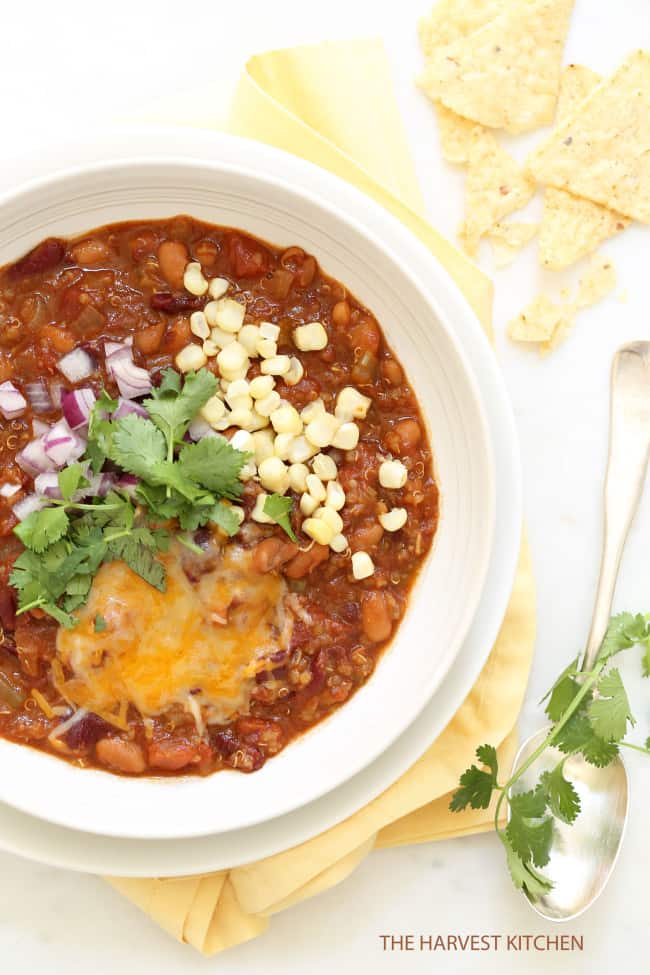 This Vegetarian Quinoa Chili is one of my favorite chili recipes.   It's big on flavor, but relatively tame in the heat department.  The thing when making spicy food…. you can't fix too hot.  But you can always start out tame and then build from there.  So, if you like things a little on the spicier side, feel free to add more jalapeño and chili powder to this recipe.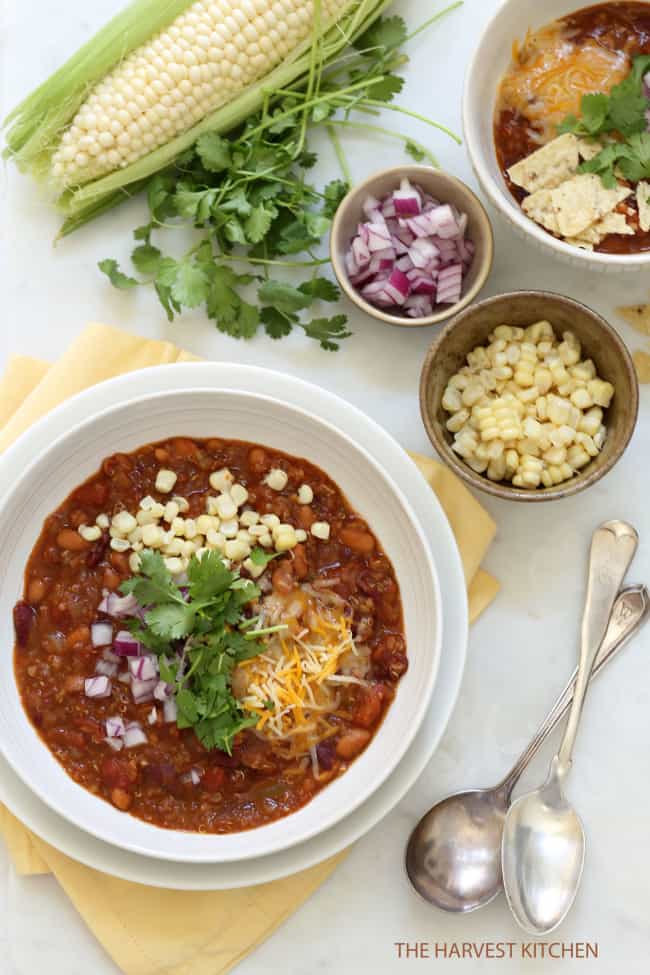 However….if you're somewhat of a wimp like I am, this Vegetarian Quinoa Chili has just the right amount of spicy to it.    Corn… a lot of vegetarian chili recipes out there add corn to the mix.  I have a thought on this.  I don't have anything against corn…. I just don't want it added to my chili.  I'm not quite sure why, but I just don't.   I am, however, all for garnishing my chili with freshly cooked, or better yet, grilled, corn!!  It adds a nice fresh touch.  But added to it.  Nope.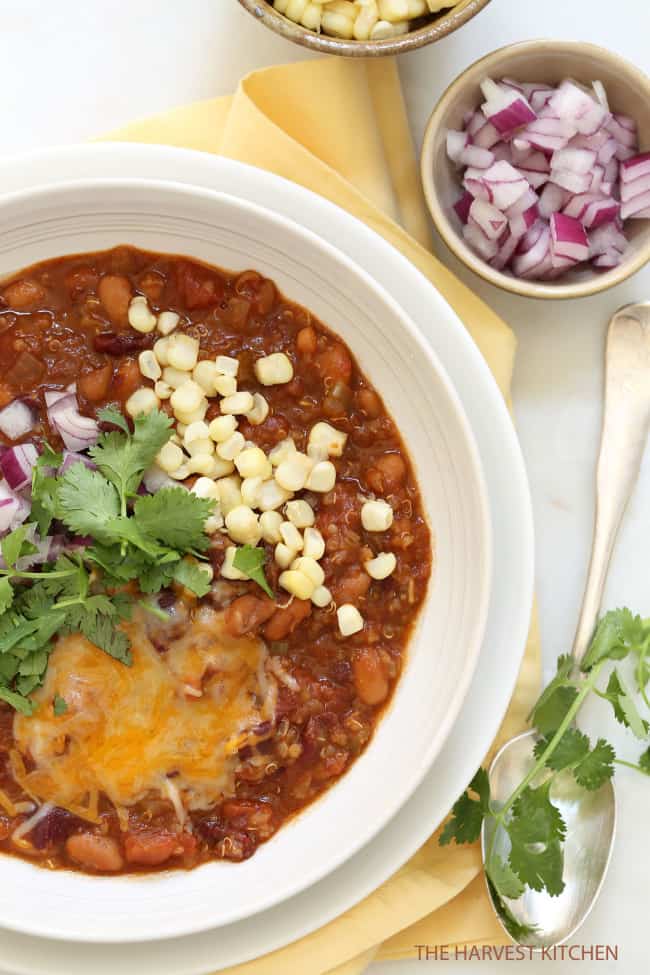 This super easy vegetarian chili comes together in a snap, but the longer it simmers on the stove, the richer the flavor is.  I make this in a Dutch oven, but you could easily sauté the onions, celery, garlic and jalapeño first, then toss the whole thing  (minus the quinoa) in a slow cooker and walk away.  You'll add the quinoa the last 10  – 15 minutes of cooking.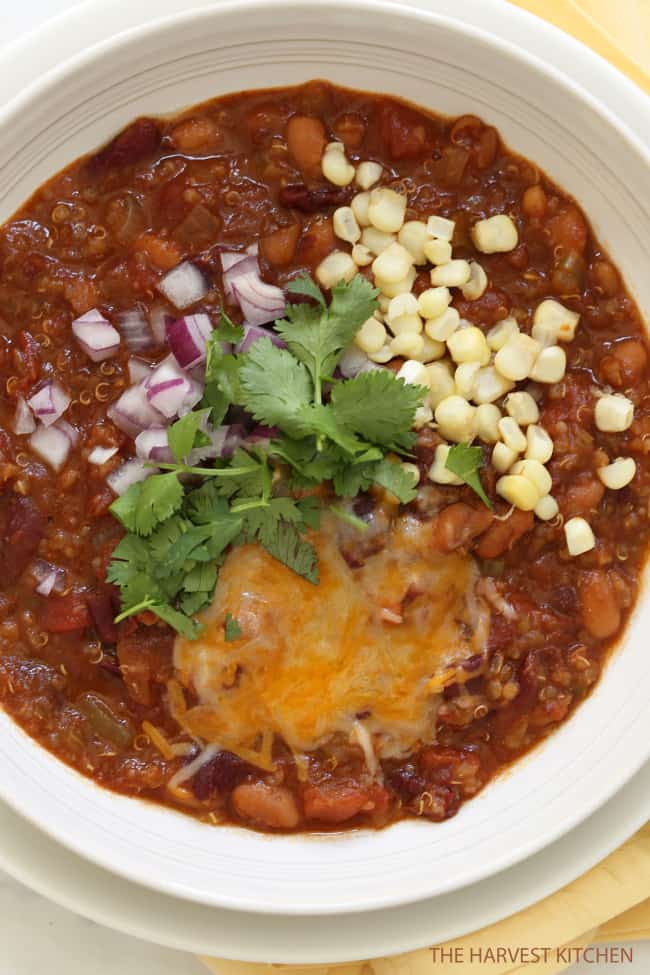 As for the beans in this recipe, I went with kidney and navy, but you can mix it up if you like.  No hard rules here.  Black beans and chickpeas will work nicely as well.  As for the nutritional value – this chili is loaded with perks.  The beans are high in fiber, protein, magnesium, iron, thiamin (Vitamin B1), and the quinoa, it's one of the most rich sources of protein we can eat.  It's also a rich source of  iron, fiber, antioxidants and it contains a plethora of other beneficial phytonutrients.  You can read more here about the Benefits of Quinoa.
~ Deb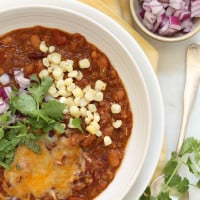 Quinoa Chili
Yield: 6 servings
Total Time: 1 hour
Ingredients:
2 tablespoons extra-virgin olive oil
1 brown onion, finely chopped
2 celery stalks, finely chopped
2 garlic cloves, finely minced
2 teaspoons fresh jalapeño, finely minced (seeds and stem discarded)
1 tablespoon chili powder (I use Gebharts)
1/2 teaspoon ground adobo powder
1 teaspoon onion powder
2 teaspoons cumin
1 teaspoon ground oregano
1 15-ounce can kidney beans, drained and rinsed
1 15-ounce can pinto beans, drained and rinsed
1  28-ounce can chopped tomatoes
3 cups vegetable broth
3/4 cup cooked quinoa
salt and freshly ground black pepper to taste
Directions:
Heat the oil in a Dutch oven over medium low heat.
Add the onions and celery and sauté for about 8 to 10 minutes or until the onions begin to turn golden.
Add the garlic and jalapeño and sauté for another minute or two.
Stir in the chili powder, adobo powder, onion powder, cumin and oregano
Add the kidney beans, pinto beans, chopped tomatoes and vegetable broth.
Stir to mix well.
Bring to a boil then reduce heat to a simmer and cook for 45 minutes. Stir occasionally.
Add the quinoa and cook for another 10-15 minutes. Stir occasionally.
Garnish with purple or green onion, cilantro, fresh corn, avocado, cheese, sour cream, chopped tomato, tortilla chips, etc.
2 Responses to "Vegetarian Quinoa Chili"
Leave a Comment