Vegetarian Borracho Beans
Yum
These Vegetarian Borracho Beans are chock full of flavor, have a wee bit of a kick to them,  and they make a really great side dish for any Mexican themed meal you may be planning.  Or you can serve them with brown rice for a simple healthy high-protein vegetarian meal.   Either way, you're going to want to make these beans!!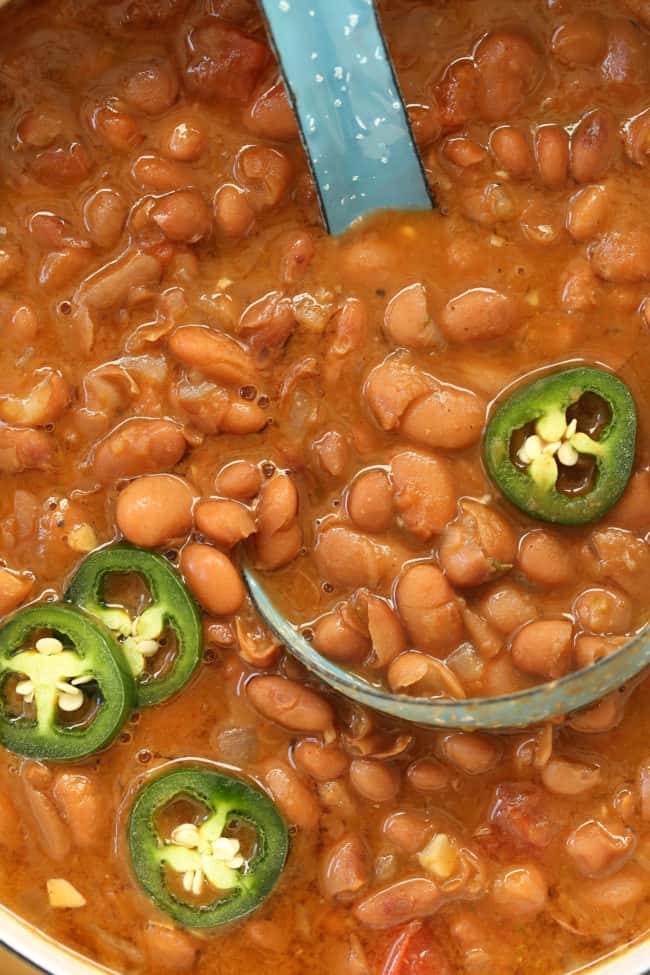 These Vegetarian Borracho Beans require very few ingredients and very little effort.  Even less effort if you toss everything in a slow cooker.  Serve these Vegetarian Borracho Beans with your next Mexican themed meal.  Your whole family will love it!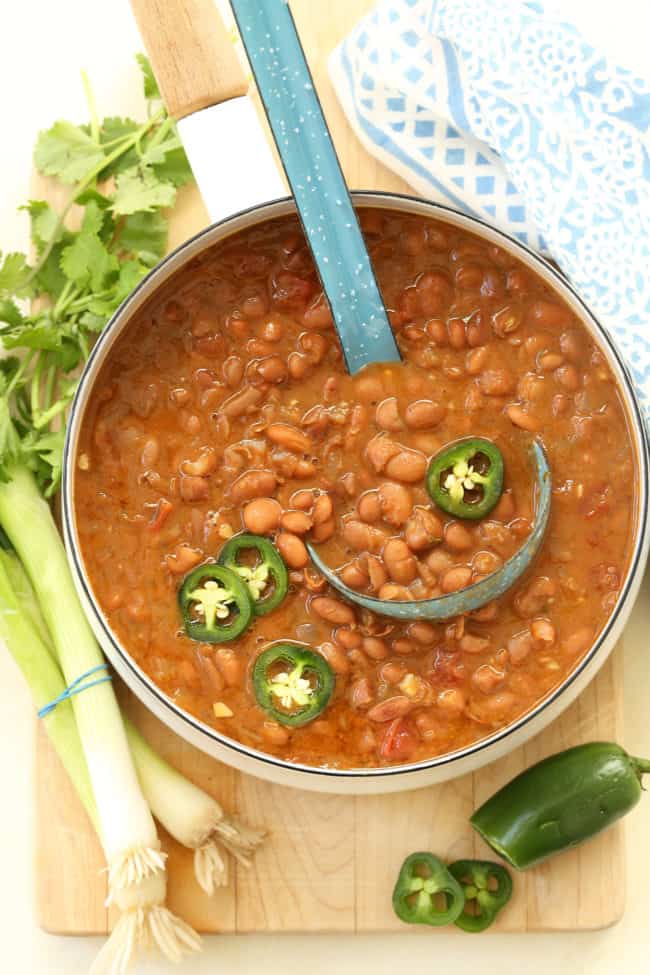 My cousin, John made a batch of borracho beans for a family event that we recently had.  I became completely obsessed, scooping them up with curly tortilla chips.  This Vegetarian Borracho Beans recipe is my riff and meatless version of John's recipe.   I added a little olive oil in lieu of animal fat for flavor, and these beans turned out just as tasty!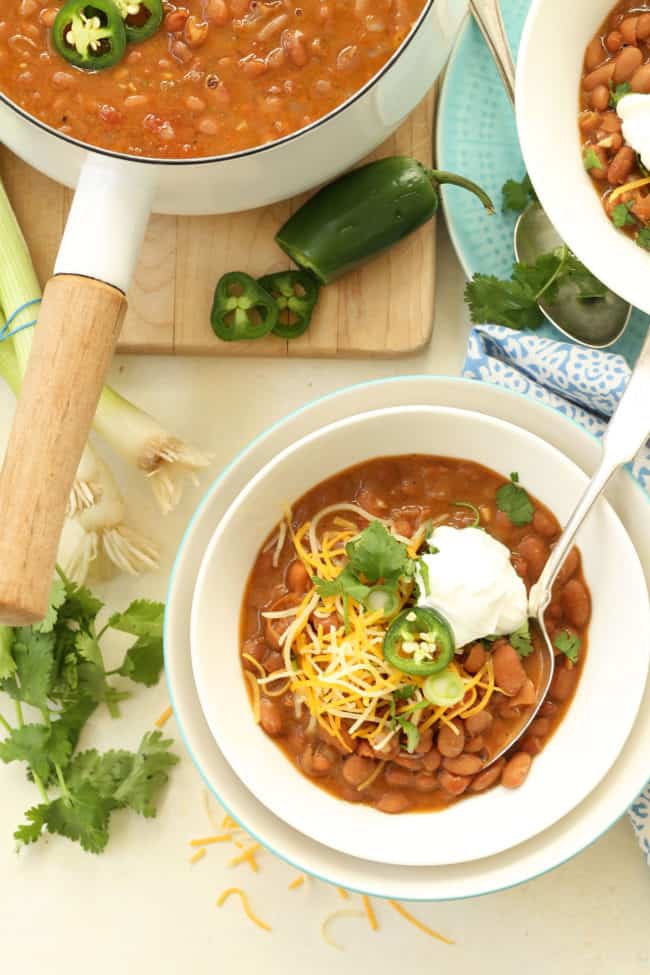 Simple pinto beans are a great source of cholesterol-lowering fiber.  They're also a good source of folate, protein, Vitamin B1, Vitamin B6, iron, magnesium and potassium.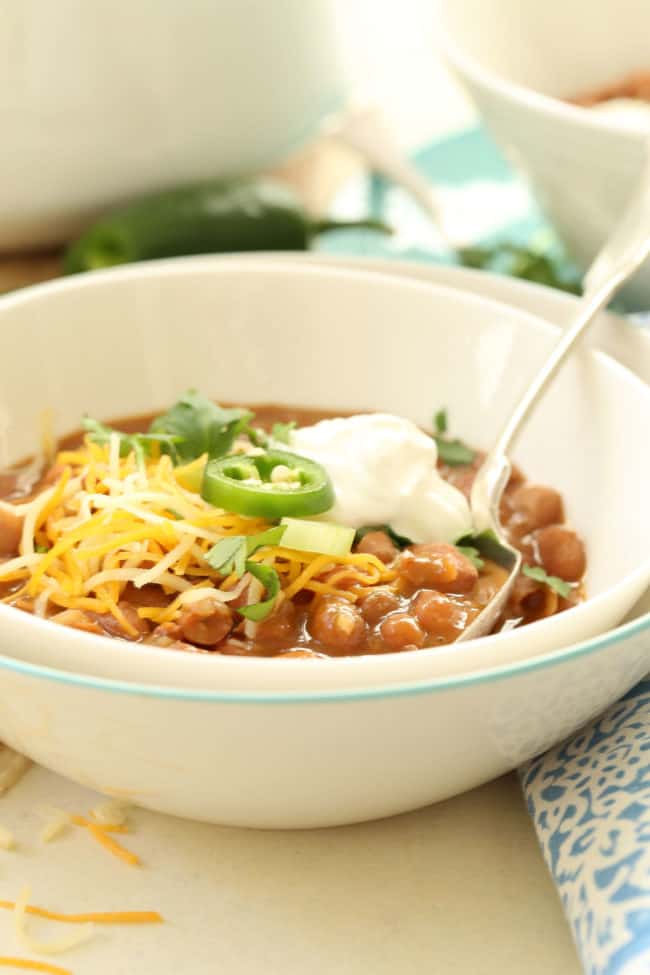 Folate is important because it helps lower levels of homocysteine.   Elevated blood levels of homocysteine can be a risk factor for heart attack, stroke, or peripheral vascular disease.
The magnesium found in pinto beans offer cardio benefits.  Magnesium lets the veins, arteries and heart of relax which can improve the flow of blood, oxygen and nutrients throughout the body
~ Deb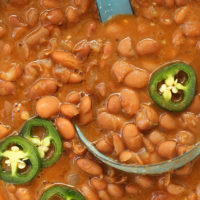 Vegetarian Borracho Beans
Yield: 8 - 10 servings
Total Time: 2 hours 30 minutes
Ingredients:
2 pounds dried  pinto beans, picked through and rinsed
6 cups low-sodium vegetable broth (or chicken broth)
2 cups distilled water
2 cups white onions, finely chopped
6 garlic cloves, minced
3 large organic roma tomatoes, chopped
2  organic jalapeños, stem and seeds removed and discarded
2 tablespoons fresh organic cilantro, chopped
1 tablespoon plus 1 teaspoon chili powder
2 teaspoons paprika
1 tablespoon black pepper
1 tablespoons kosher salt (add more to taste)
1 teaspoon cumin
1 teaspoon adobo chili powder
2 tablespoons extra virgin olive oil
Directions:
Soak your beans. (a must for tender beans)
Cover the beans with about 8 - 10 cups water and bring to a boil.
Turn off the heat and leave the lid on the pot.
Let the beans soak in the water for about an hour.  The beans will start to swell and plump.
Strain the beans.
Transfer the beans to a Dutch oven or crock pot.
Add the chicken broth and 2 cup s water to the Dutch oven and bring to a boil.
Add the onion, garlic, tomatoes, whole jalapeños, cilantro, seasoning and olive oil.
Reduce heat and simmer for about 2-1/2 hours.
Remove the jalapeño and finely mince about 1 teaspoon worth and return to pot.
Leave a Comment