Vegan Strawberry Cacao Nibs Smoothie
Yum
This Vegan Strawberry Cacao Nibs Smoothie is rich and creamy and tastes as decadent as dessert.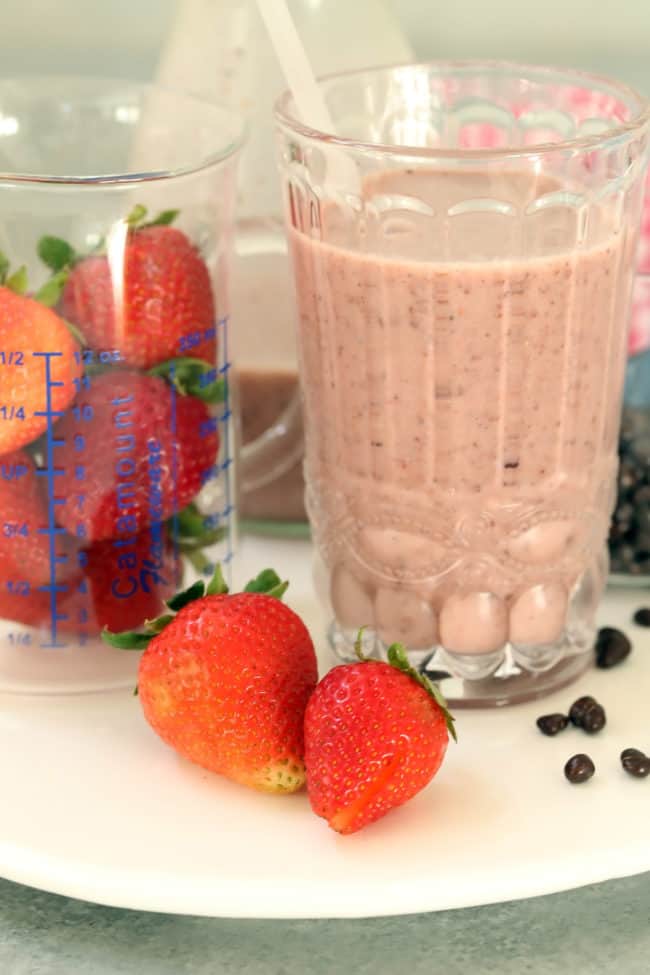 Who doesn't love a good strawberry smoothie?!  Well, this Vegan Strawberry Cacao Nibs Smoothie is made with frozen organic strawberries (so you don't have to worry about whether strawberries are in season or not) and your favorite nut or hemp seed milk.  The added antioxidant rich cacao nibs give this smoothie the taste of chocolate covered strawberries.  Win!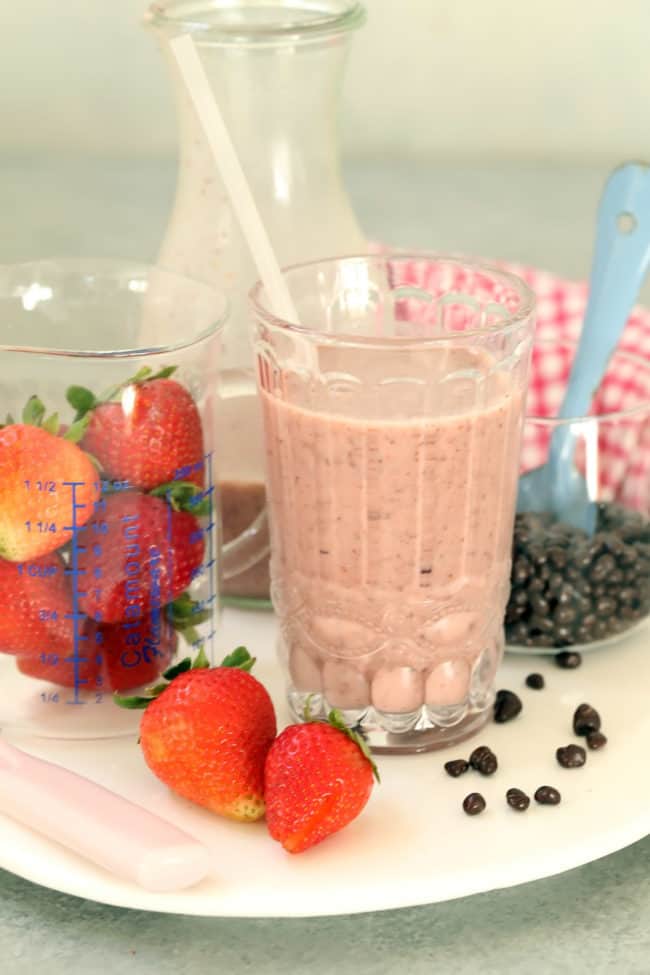 Strawberries are packed with antioxidants that nourish your body with vitality. Strawberries are low in calories and high in antioxidants.  I typically use either cashew milk, almond milk or hemp seed milk for this smoothie.  My preference is cashew or hemp.  The cashew is lighter tasting than almond milk, and I love how my skin feels when I drink hemp milk (super soft), but it is more fattening.  One cup of unsweetened almond milk contains 30 calories, 2.5 grams of fat, and 1 gram each of protein, carbohydrate and fiber. One cup of unsweetened cashew milk contains 25 calories, 2 grams of fat, 0 grams of fiber, and 1 gram each of protein and carbohydrate. Then there's hemp milk.  One cup of unsweetened hemp milk contains 70 calories, 5 grams of fat, and 3 grams of protein.  Hemp is loaded with vitamins minerals and essential fatty acids. It contains the perfect 1:3 balance of Omega-6 to Omega 3, which the body needs for good skin health, energy production, nervous system function, and immune system support. Studies have shown that Omega 3 is a good anti-inflammatory – it's also good for lowering blood pressure, bad cholesterol, and triglycerides. Hemp is also a rich source of easily digestible protein, and it contains all of the essential amino acids which are the building blocks of protein.   I used to always only use hemp milk for this strawberry hemp smoothie, but then I used cashew milk by default (because I was out of hemp) and loved the delicate flavor of cashew milk.  The  "China Study", by T. Colin Campbell and M.D. Thomas M. Campbell II, provides some dramatic information about how casein (milk protein) is a cancer promoter. I've never been big on dairy,  so switching to almond, cashew and hemp milks for my "milk" needs has been an easy one.  After having worked on a dairy farm for a short while, my grandpa never touched  a drop of cows milk (and encouraged us not to either).  He was a wise man and way ahead of his time!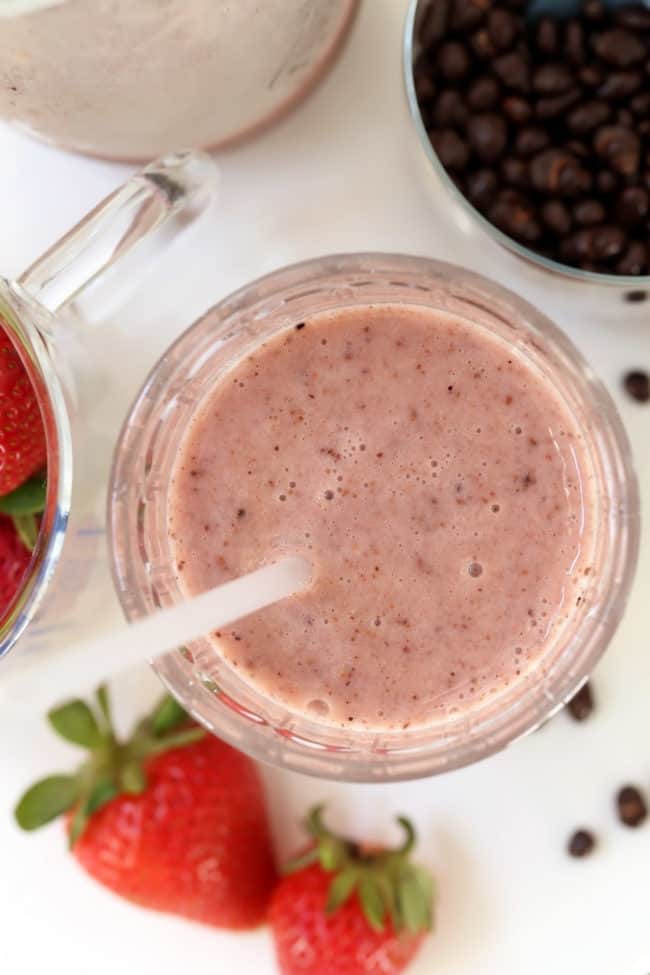 As for cacao – it's the purest form of chocolate you can consume.  Cacao is an excellent source of  antioxidants and magnesium.
I hope this dairy free smoothie recipe becomes one of your favorites!  It's definitely one of mine!
This post is an updated post from (with updated photos) an earlier post.
~ Deb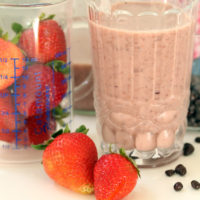 Vegan Strawberry Cacao Nibs Smoothie
Yield: 2 servings
Total Time: 5 minutes
This Vegan Strawberry Cacao Nibs Smoothie is rich and creamy and tastes as decadent as dessert.
Ingredients:
2 cups plain unsweetened nut milk or hemp milk (cashew milk, hemp milk, almond or oat milk)
1-1/2 cups organic frozen strawberries
2 tablespoons cacao nibs
2 teaspoons  clover honey
2 teaspoons pure vanilla extract
1 tablespoon shredded coconut or fresh coconut meat (optional)
Directions:
Place all of the ingredients in a blender or a Nutri Bullet and blend for just a minute or two until everything is well blended.
Leave a Comment