Turkey Taco Soup
Yum
This crowd-pleasing Turkey Taco Soup gets its flavor from an aromatic base of tomatoes, onion, garlic, chipolte chile, refried beans (yes refried beans), and seasoning (cumin, oregano and chili powder).   Quick and easy to make and perfect for taco night and game day!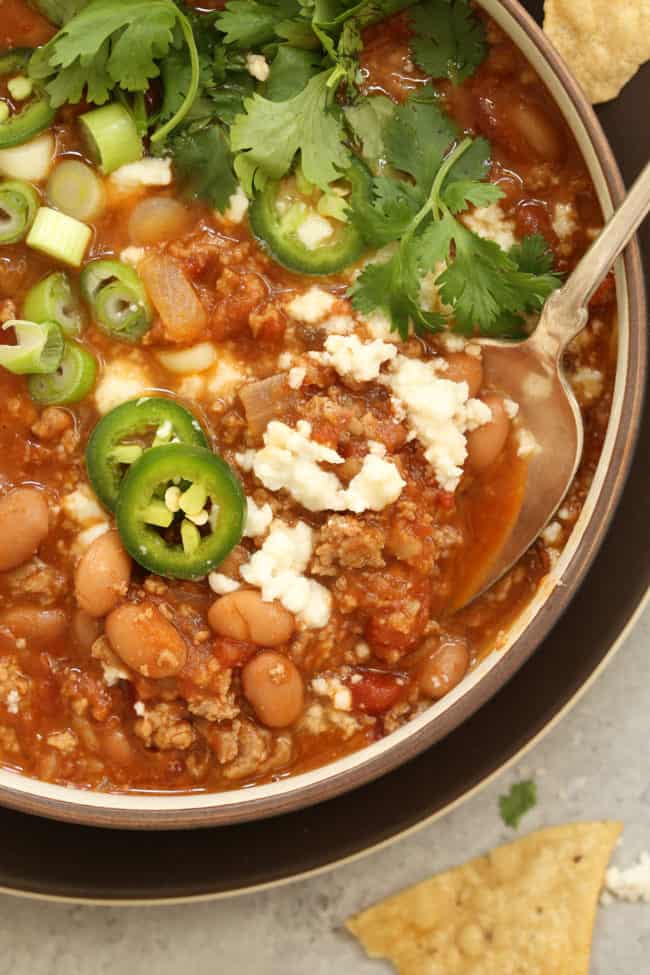 This Turkey Taco Soup combines  many of the ingredients you might find on a taco-Tuesday platter of food,  but in this case they re all 'souped-up. Ground turkey, refried beans, tomatoes, tortillas and of course chilies.  This soup is rich and flavorful and likely to become one of your favorites.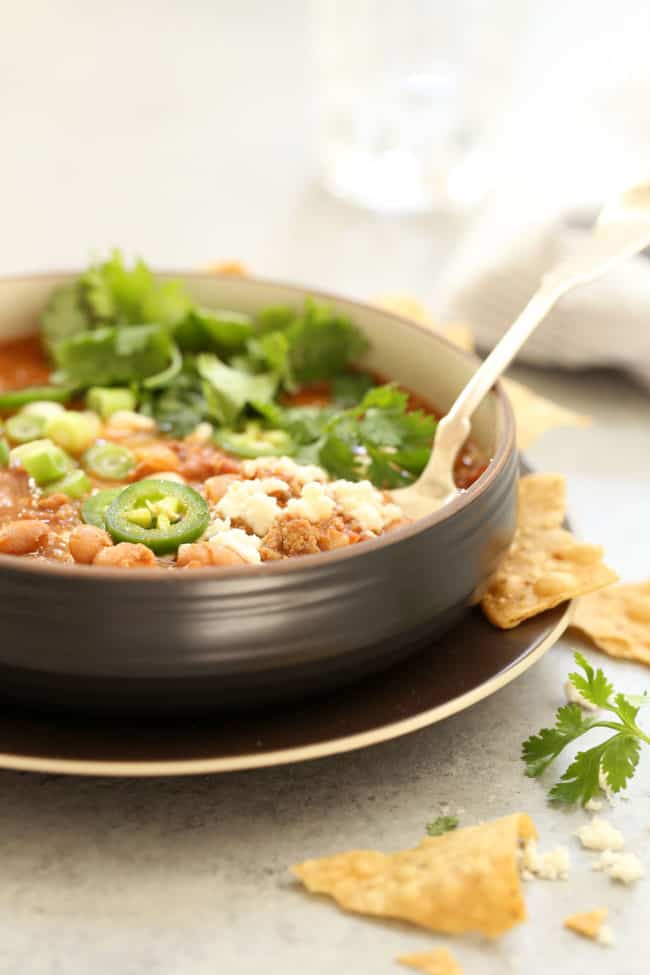 A can of organic refried beans is added to this soup, which makes the broth rich, creamy and incredibly flavorful.  I like to use Amy's beans, because they're organic, low in sodium and have a great flavor.  But you could easily use refried black beans if you prefer, since they're loaded with more nutritional goodness.  A single canned chipotle pepper and a few heaping tablespoons of the adobo sauce are added to this soup, giving it an incredible smoky and spicy kick.  I use Embasa chipotle peppers, but you could easily use a fresh jalapeño instead.  This soup is on the mild side, so if you prefer things a little more spicy, add more peppers or chilies to your liking.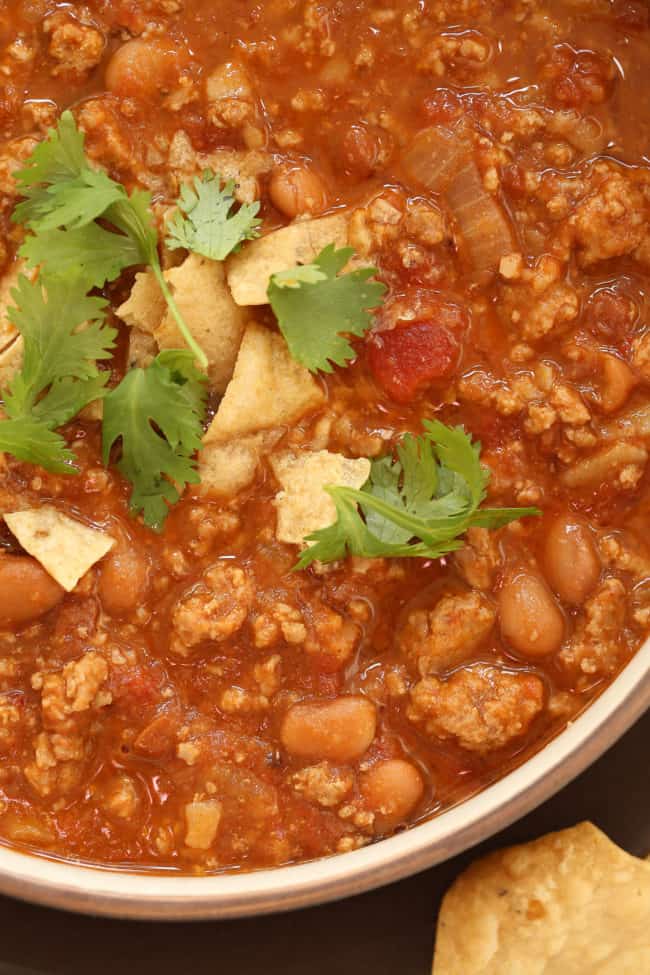 I also add a handful of crushed tortilla chips to this soup adding to it's incredible flavor. But you could add fresh sweetcorn kernels, sliced straight from the cob instead. This soup is awesome as-is straight from the pot, but you can also be generous with cheese, cilantro, avocado, sour cream and green onions for garnish. I'm sure no one would complain either way.
This Turkey Taco Soup is quick and easy to make, and it's popular with everyone it meets!  This soup will remind you of turkey chili, but the broth is a little thinner than chili.
~ Deb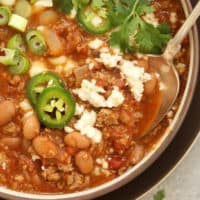 Turkey Taco Soup
Yield: 6 servings
Total Time: 30 minutes
Ingredients:
2 tablespoons extra-virgin olive oil
1-1/2 pounds ground turkey dark meat lean
1 large onion, chopped
2 cloves garlic, minced
16 ounce can fat free refried beans (I use Amy's)
1 chipotle chili, finely minced (Embasa brand)
2 tablespoons adobo sauce
1-1/2 teaspoons ground oregano
1-1/2 teaspoons ground cumin
1-1/2 teaspoons onion powder
1 tablespoon Gebgart chili powder
10 ounce can chopped tomatoes
15 ounce can low-salt or no-salt pinto beans, drained and rinsed
3 cups no-sodium chicken broth
6 - 8 corn tortilla chips, finely crushed (no big pieces of chips)
Directions:
Add the olive oil to a large Dutch oven.
Cook the ground turkey meat over medium heat, breaking up with a wooden spoon as it cooks.
When cooked through, add the onions and garlic and cook 2-3 minutes.
Add the refried beans, spices, tomatoes, pinto beans, chicken broth.
Bring to a boil and add the crushed tortilla chips.
Reduce heat, put the lid on the pot and simmer for 20 minutes.
Garnish with cilantro, tortilla chips, low-fat sour cream, jalapeños, low-fat cheese, chopped scallions and onions.
Serve with plenty of tortilla chips.
Leave a Comment