Summer Squash Soup
Yum
This nourishing Summer Squash Soup is chockfull of chunky pieces of zucchini, yellow squash, canellini beans, parmesan cheese and basil pesto, and it comes together in just 30 minutes.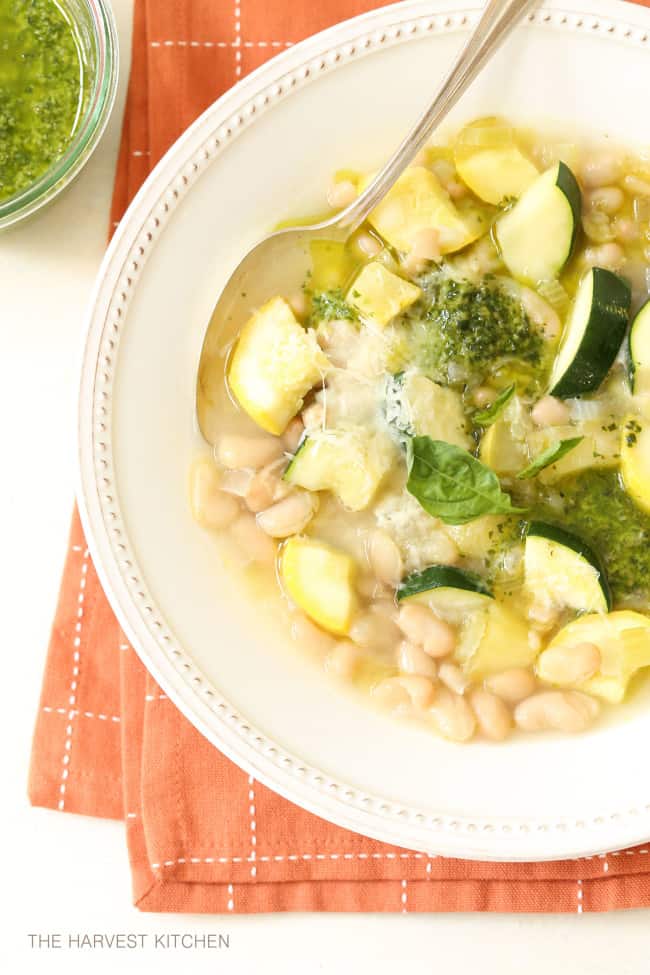 If you're like me, you can eat soup regardless of the temperature outside.  This is the sort of meal I like to make after a tiring day, whether from work or play.  It's simple, humble, comes together in about 30 minutes, and it requires very little clean up afterward.  This is a soup that you'd serve as a main course for lunch or dinner, not before.  It's thick and filling, and it's summery and refreshing, yet bold tasting from the basil pesto.  It might remind you a bit of Soupe au Pistou, a popular French soup that's loaded with mixed veggies and served with pistou (pesto).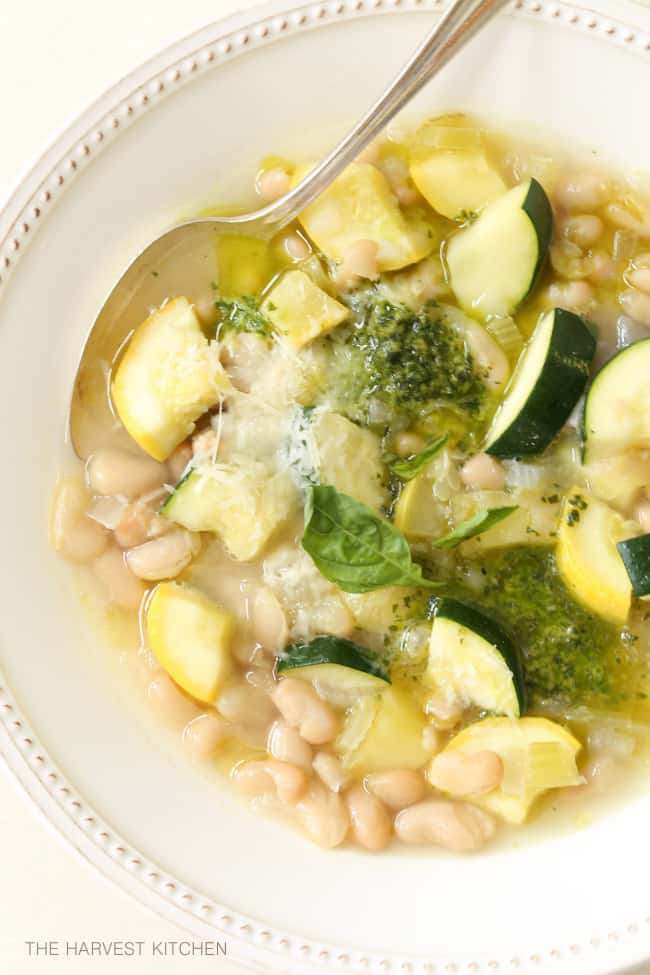 I absolutely love homemade pesto, whether it's made with basil, arugula or spinach.  Though I'd say it would be difficult to choose a favorite between basil and arugula.  I love the freshness of basil and the pepperiness of the arugula.  Both are excellent in soups, with eggs (green eggs), slathered on bread for a sandwich in lieu of mayo, and I've been known to dip crackers in it.  It makes everything it touches taste that much better.
Soup seems like a natural in the dead of winter when it's cold outside and the warmth from sipping on a bowl of soup helps take the chill off.  But soup for summer….the idea is a little harder to embrace.  But having a bowl of veggies simmering in broth makes for a light meal when the weather spikes and energy levels and appetites diminish.  This zucchini soup is also low cal, which is helpful when we're trying to fit into bathing suits and shorts during the summer months.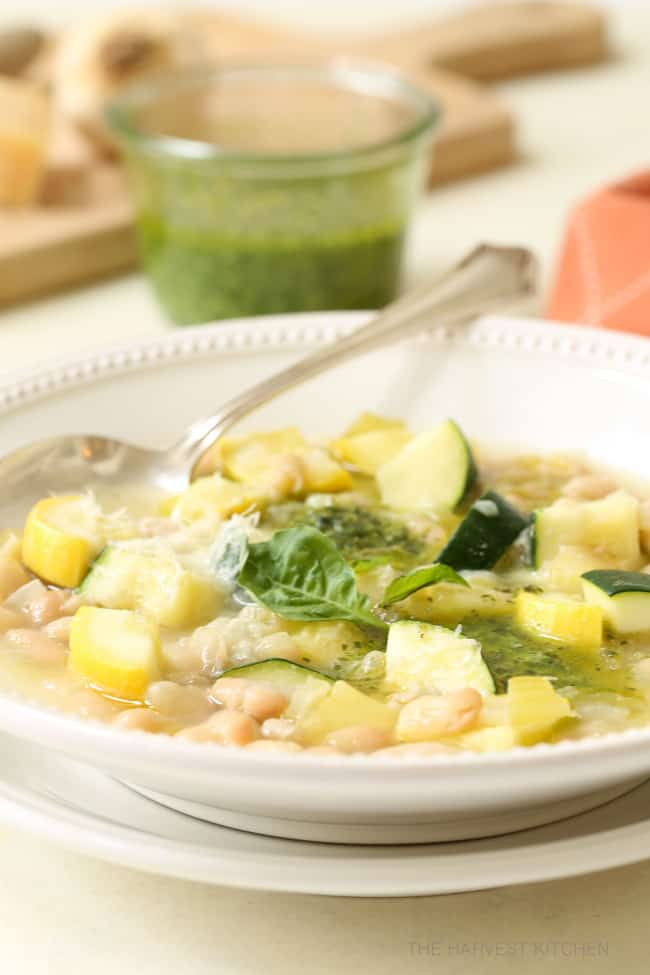 I should also mention that the secret ingredient to this soup is a small wedge of parmesan cheese is simmered right into the broth, giving this soup a rich and luscious flavor.
~ Deb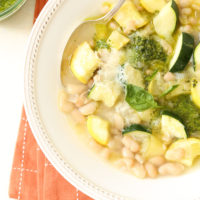 Summer Squash Soup
Yield: 4- 6 servings
Total Time: 30 minutes
Ingredients:
2 tablespoons extra-virgin olive oil
1 small onion, minced
2 large celery stalks, finely chopped
1-1/2 cups organic zucchini, cut into chunks
1-1/2 cups yellow squash, cut into chunks
2 15-ounce cans cannelliini beans, rinsed and drained
1 1-inch piece of Parmesan cheese
6 cups low-sodium free-range chicken broth
salt and freshly ground black pepper to taste
For the Pesto
2 cups packed fresh basil leaves 1/4 cup freshly grated Parmesan cheese 3 tablespoons toasted pine nuts 3 garlic cloves 1/2 cup extra-virgin olive oil
Directions:
Heat the oil In a large pot or Dutch oven.
Add the onion and celery and sauté over low heat until tender and starts to turn golden, about 15 to 18 minutes.
Add the broth and turn up the heat to bring to a boil, then reduce heat to a simmer.
Add the Parmesan wedge and cook for about 2 to 3 minutes.
Add the zucchini and cook for just 2 to 3 minutes, until the zucchini is just barely tender.
Add the beans and cook for another 2 to 3 minutes just until heated through.
For the Pesto
Combine the basil leaves, Parmesan cheese, nuts, and garlic in a food processor fitted with the metal blade and pulse until the leaves are minced finely.
Add the olive oil and pulse to blend, stopping to scrape down the sides of the bowl.
Transfer the pesto to an airtight container and cover with a thin layer of olive oil to keep it from browning.
Leave a Comment