Strawberry Coconut Milk Popsicles
Yum
Light, bright and bursting with fresh flavor, these Strawberry Coconut Milk Popsicles make the ultimate warm weather treat!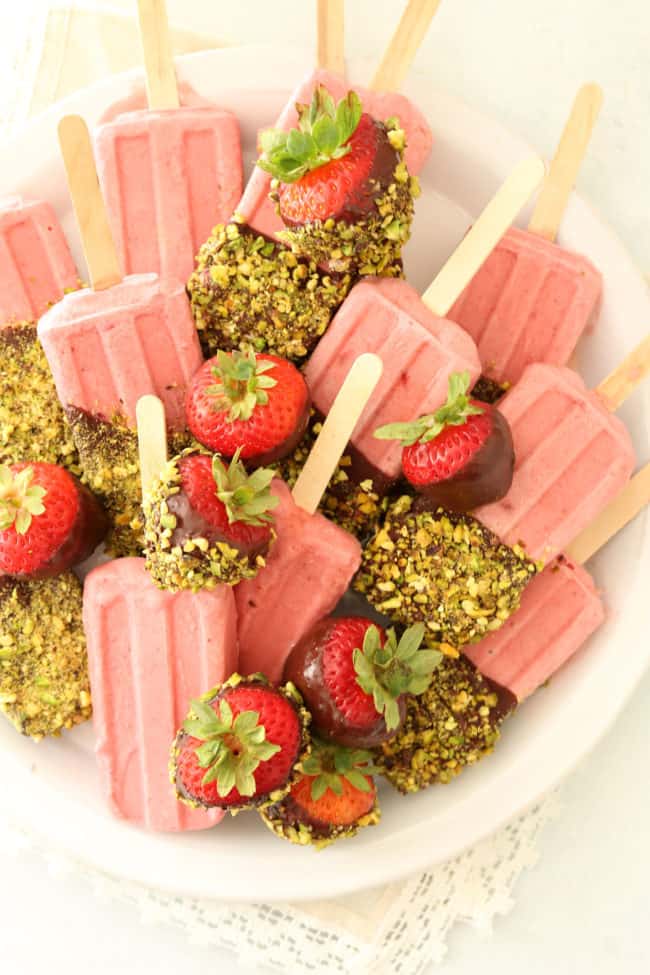 These Strawberry Coconut Milk Popsicles are cool, refreshing, and they're rich and decadent in an elegant sort of way.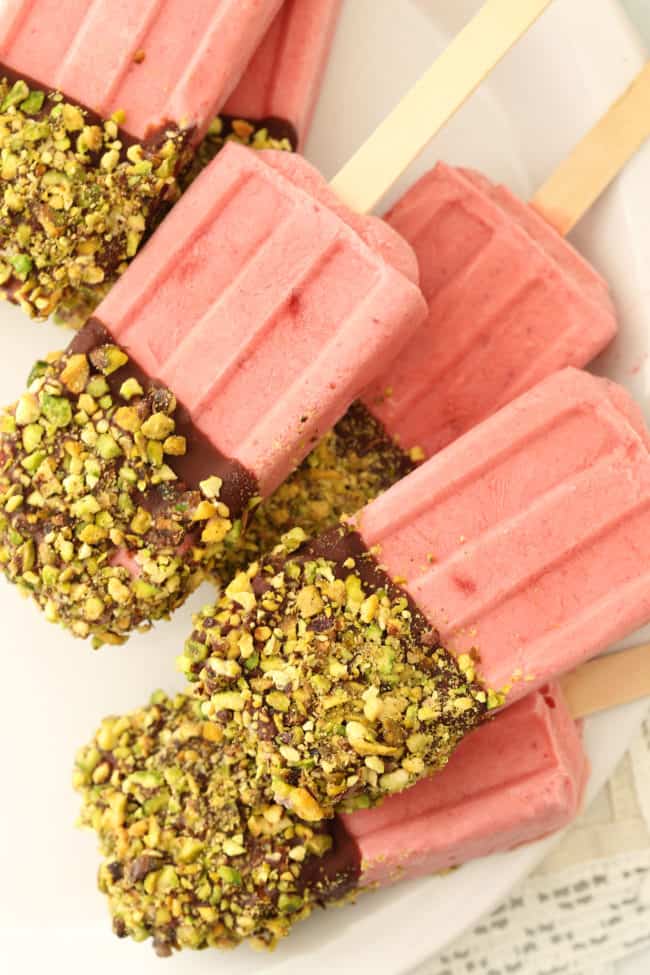 Made with coconut milk and frozen strawberries, these popsicles are then dipped in dark chocolate and rolled in toasted pistachio nuts.  If you're not a fan of pistachio nuts,  then feel free to sub in your favorite nut (hazelnuts, almonds, etc).  Or  forego the chocolate and nuts altogether and just enjoy the simple pop of flavor of an unadorned strawberry.  These strawberry popsicles are perfect on their own,  but when they are decorated, they will remind you of chocolate dipped strawberries.  And who doesn't love a plump and juicy chocolate dipped strawberry now and then!
If you love these Almond Milk Popsicles, you're going to really want to have these pretty pink popsicles in your life. They taste like summer on a stick. But,  because they're made with frozen strawberries and not fresh, we get to indulge ourselves all year long!  Summer is just too short!!
If you're wondering..these are the Progressive Freezer Pop Maker (molds) that I use for my popsicle recipes.  No popsicle maker, no problem.  Just use small paper cups and  wooden sticks, then peel away the paper and dip in chocolate and roll in nuts. It's all good – they taste the same either way!!
~ Deb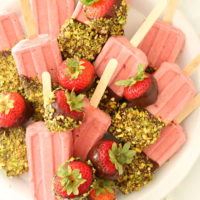 Strawberry Coconut Milk Popsicles
Yield: 12 - 14 servings
Prep Time: 5 minutes
Total Time: 4 hours 5 minutes
Ingredients:
For the Strawberry Coconut Milk Popsicles
2-1/2 cups frozen organic strawberries (I use Earthbound Farm frozen berries)
1 13-ounce can full fat organic coconut milk
2-3 tablespoons brown rice syrup, (honey or maple syrup will work also), optional
1/4 cup plain Greek yogurt (coconut yogurt works also)
1 cup toasted pistachios (finely ground in a food processor) for rolling in after popsicles are dipped in chocolate
For the Chocolate Sauce
12 ounces dark chocolate (use a good dark chocolate)
2 tablespoons coconut oil
Directions:
For the Strawberry Coconut Milk Popsicles
Mix all ingredients in a blender and carefully pour into popsicle molds.
To remove the popsicles from the molds, run the plastic part of the mold under hot water for a few seconds.
For the Chocolate Sauce
Combine the chocolate and coconut oil in a saucepan over medium-low heat. Stir frequently to keep from scorching. When the chocolate has completely melted, remove from heat and set asid.
Cool the chocolate completely before using.
Dip each popsicle in the melted chocolate then dip in the ground nuts. Place in a freezer bag and return to the freezer.
Leave a Comment