Spanish Chicken and Rice Soup
Yum
Happy New Year everyone!!!  Yay for 2014!!!
I took a short break from the blog at the end of last year.  First I came down with a bad cold that lasted me 2 weeks.  Then the father of a lifetime friend passed away… which made me really sad.  Then just as I was getting over my cold…I got food poisoning (dinner at a cousin's almost took the whole family out).   So I decided to take a step-back for just a minute to just rest and get myself back to feeling good again.
I hope you had a wonderful Christmas and New Year!!
Soup seems to be the dish I like make when I'm in the mood to nest….to lay low and spend time enjoying my home.  The aroma of soup simmering on the stove is good for my soul!  This Spanish Chicken and Rice Soup is simple to make (unbelievably so) and rich with flavor.  For those of you experiencing the winter storms hitting parts of the country….this soup promises to warm you to your toes!  It's made with boxed Spanish rice and seasonings.  I use Lundberg (found at health food store) which uses brown rice and no MSG.
Add a squeeze of lime juice, some cheese, tortilla chips and avocado to your bowl and you're  in for a real cozy treat!!  I hope you enjoy this Spanish Chicken and Rice Soup!!!
Here's to you and to 2014 being a healthy year rich with many blessings!
~ Deb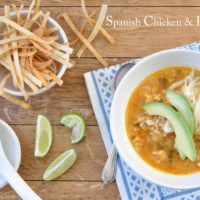 Spanish Chicken and Rice Soup
Yield: 4 - 6 servings
Total Time: 1 hour
Ingredients:
1 tablespoon extra-virgin olive oil
1 tablespoon unsalted butter
3/4 cup yellow or brown onion, chopped
1-1/2 tablespoons fresh jalapeno, finely minced
2 cups Roma tomatoes, seeded and chopped
1/3 cup fresh cilantro, chopped
2 teaspoons fresh garlic, finely minced
6 cups chicken broth
1 bay leaf
1 box Spanish Rice mix (such as Lundberg, Uncle Ben's, etc)
1 cup roast chicken, chopped
Serve with fresh tortilla strips, grated cheese, avocado slices, lemon wedges and fresh cilantro
Directions:
Add the olive oil and butter to a large pot. Sauté the onion, jalapeno, tomatoes, cilantro and garlic for 3 - 4 minutes or until soft.
Add the chicken broth and bay leaf and bring to a boil.
Lower heat and add the boxed rice and seasonings.
Simmer on low for about 30 minutes or until the rice is tender.
Add the chicken and simmer for another 10 minutes.
Add additional chicken broth if the soup is too thick.
Leave a Comment