Soupe au Pistou
Yum
Soupe au pistou is a French vegetable soup similar to the Italian version of minestrone.  This is a crowd-pleasing  hearty vegetable soup loaded with summer vegetables like zucchini, yellow squash and tomatoes, potatoes, beans, herbs and a rich chicken stock.  A heaping dollop of pesto (or pistou) is stirred in at the end.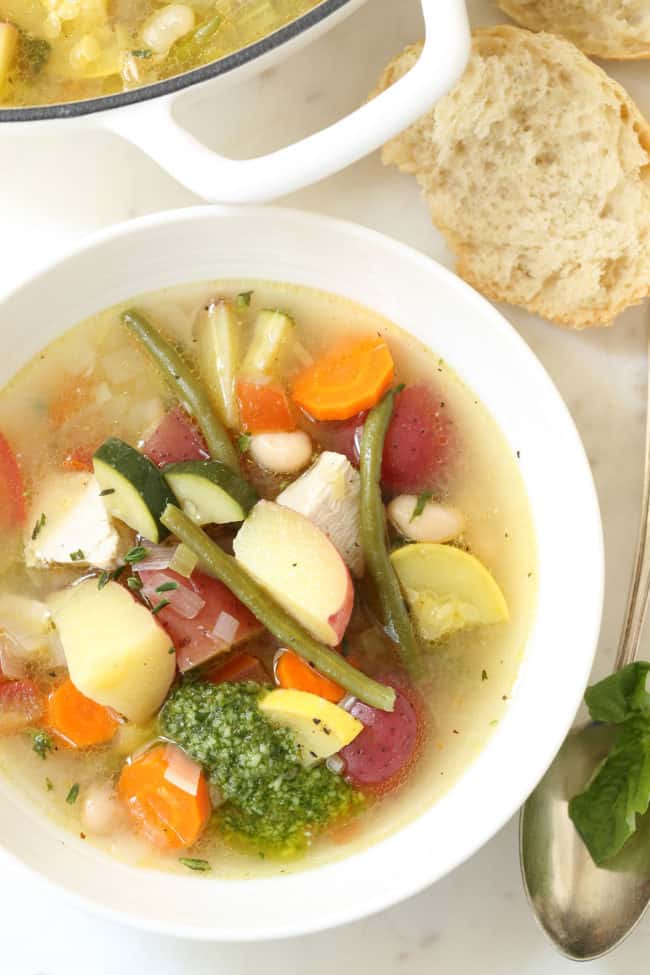 Ah….Soupe au Pistou – where do I begin to tell you how much I love this soup.  Soupe au Pistou is hands-down my family's favorite soup.  I make it often.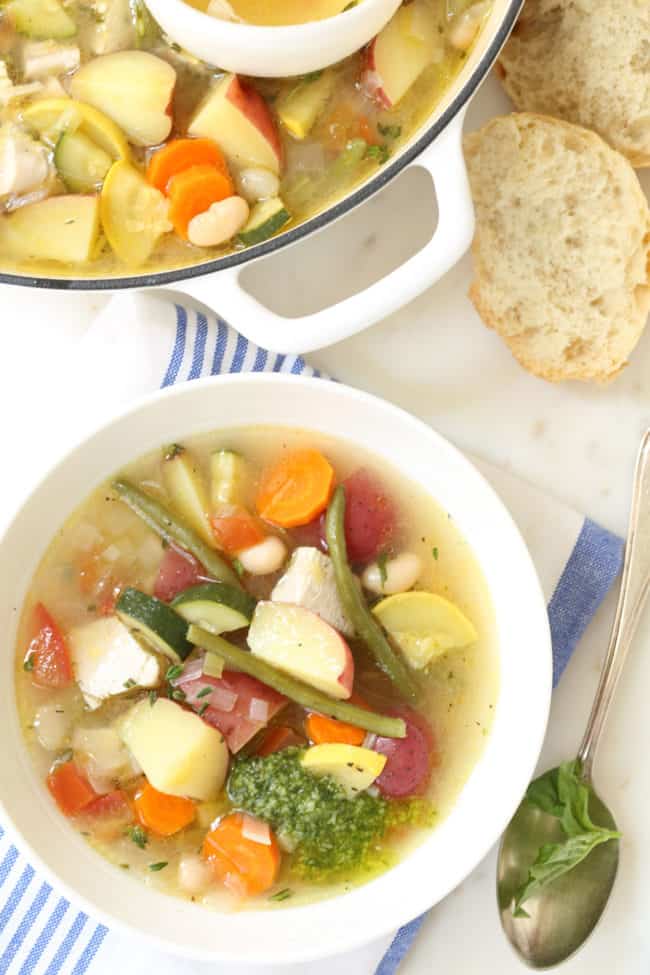 I originally published it in 2014, but wanted to give it an update with new photos and slight tweaks.  I make this soup nowadays mostly vegetarian, but I've added a small amount of chicken here.  Less though than was called for in my original recipe.  I've omitted the noodles, making it gluten-free and I've switched out the beans from chickpeas to cannellini.  This soup is my casual take on a classic French vegetable soup.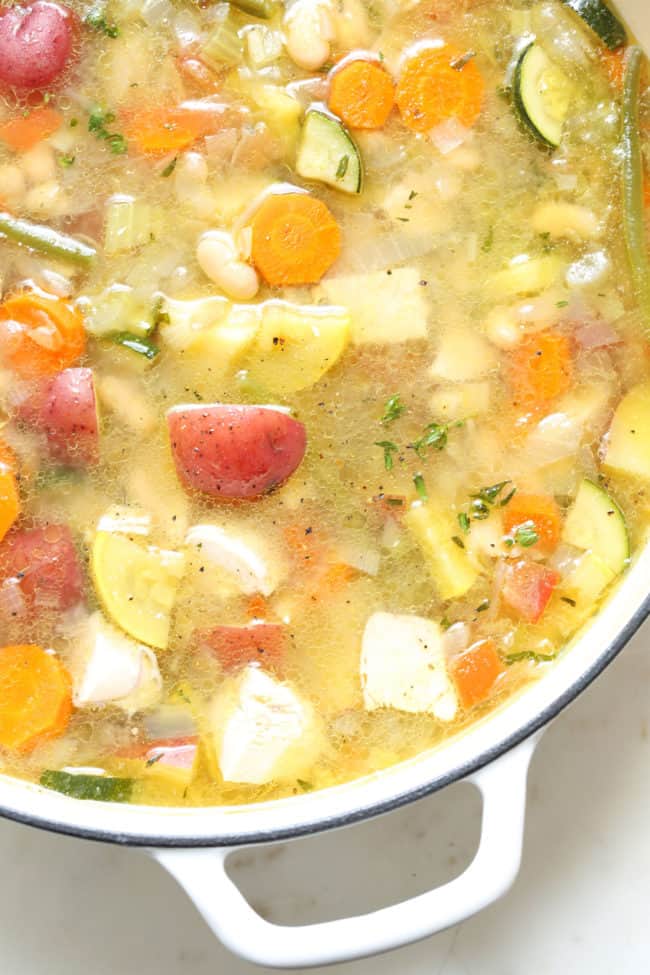 It's impossible to have a hurried bowl of this Provencal Vegetable Soup ….. no…this is a soup to savor with plenty of crusty bread and healthy dollops of pistou.  I love to crowd this soup with plenty of fresh vegetables from the farmers market.  I'll also add a little zucchini and yellow squash.  Adding the pistou (with its ensemble of flavors) to this soup is what makes this soup gloriously scrumptious….and it's what makes this soup… our favorite.
I hope you enjoy this hearty Soupe au Pistou as much as we do!
~  Deb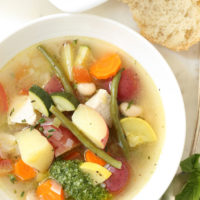 Soupe au Pistou
Yield: 6 servings
Total Time: 45 minutes
Ingredients:
1 chicken breast (optional)
6 cups chicken stock
1 cup water
3 sprigs flat leaf parsley
2 sprigs thyme
3 tablespoons light olive oil
1 large onion, finely chopped
2 cloves garlic, split, germ removed and minced
2 leeks, minced (white parts only)
1 cup carrots, chopped
1 cup celery, chopped
3 tablespoons white wine (or sherry)
6-8 baby red potatoes, quartered
3/4 cup green beans (haricots verts)
1 cup canned cannellini beans, drained and rinsed
3 Roma Tomatoes, seeded and cut into small cubes
Freshly ground black pepper to taste
Pistou
1 cup loosely packed fresh basil leaves
2 cloves garlic
1/4 cup grated Parmesan cheese
1/2 cup olive oil
Directions:
For the Soup
Add the chicken and chicken broth , distilled water, parsley and thyme sprigs to a stock pot, and cook until the chicken starts to fall off the bone. Remove the chicken and sprigs from the broth and set aside to cool.
After it has cooled, chop the chicken and discard the skin and bones and sprigs. Strain the broth to remove any fat.
In a large pan, heat oil over medium heat. Saute the onion, leeks, garlic and celery until translucent (about 10 minutes). Add the wine and let simmer for a minute more.
Add the chopped chicken, onion, leeks, garlic, carrots, celery, potatoes, haricots verts (green beans),  and tomatoes to the broth. Let simmer for 10-15 minutes or until the vegetables are just fork tender.
Add the cannel ini beans and heat through for  3 - 5 minutes.
Pistou
Combine the basil, garlic, cheese in a food processor or blender and process.
While the motor is running, and the olive oil in a slow, thin stream. Continue to process until the pistou until you reach your desired consistency.
To keep the pistou from turning brown on top...place a tablespoon of olive oil on the top of the pistou then seal tightly.
2 Responses to "Soupe au Pistou"
Leave a Comment