Seared Salmon with Summer Succotash
Yum
This simple Seared Salmon with Summer Succotash is a quick and easy dinner to make any night of the week.  It's served with a delicious lemon sauce and garnished with a sweet summer vegetable medley.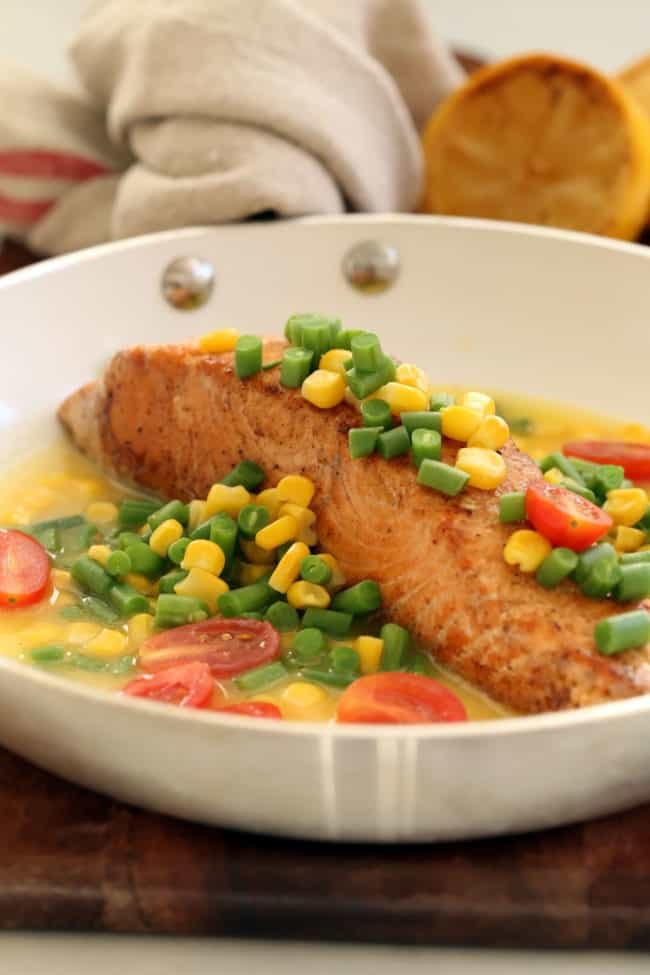 This Seared Salmon with Summer Succotash has a delicious light crispness to the salmon's outside and flaky tender on the inside. It's served with a delicious light lemon sauce and garnished with a sweet Summer Succotash made of crisp green beans cut into wee bits, fresh corn and sweet cherry tomatoes.  This is a perfect light summer dish to make!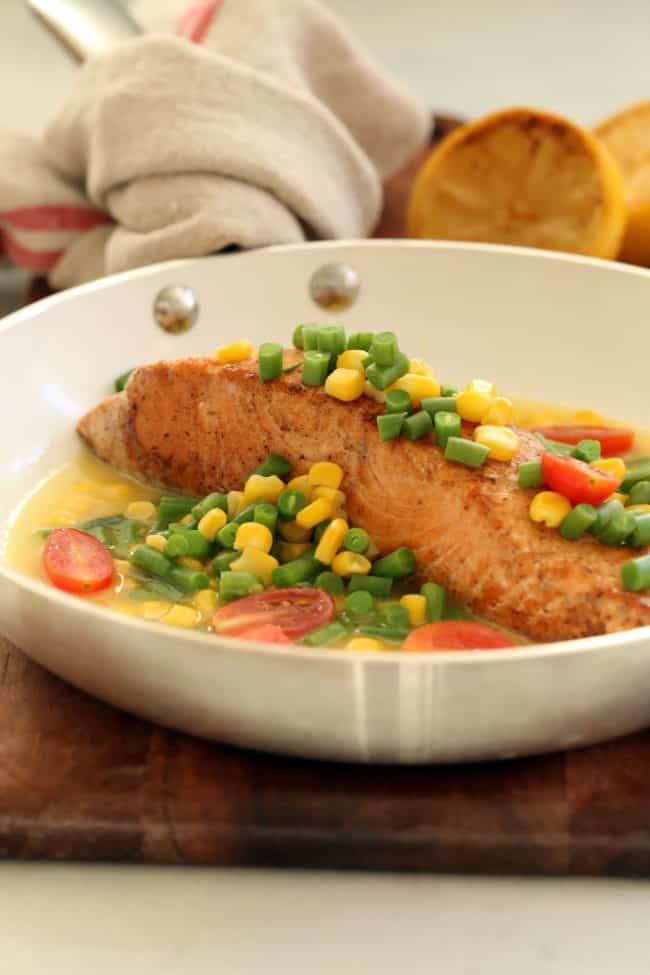 The key to making a good fish dish, is the butter and oil must first be heated in the pan.  You want the pan good and hot so the fish sizzles the second it his the pan, that way it will brown before it overcooks.  If you start off with a cold pan right from the cabinet, your fish will taste dull and dry.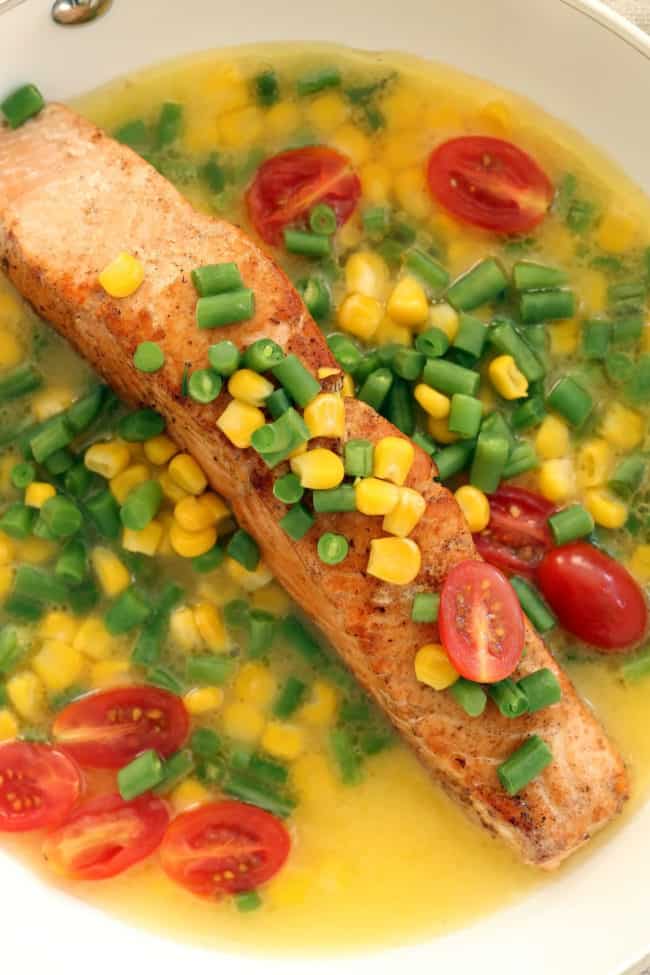 The sauce for this dish is completely luscious, and you might be tempted to drink it.  If you do bread, you might want to serve this dish with a gorgeous crusty loaf so you have something to mop of this sauce with.  The garnish for this dish is a simple one.  Fresh haricot certs (French green beans) or regular thin green beans are cut into small wee bits of pieces, similar in size to corn kernels.  The vegetables are plunged into boiling water for a quick minute then plunged in an ice bath to keep them from overcooking. The succotash is light and crisp and left unseasoned so you can taste the fresh sweetness of the vegetables themselves.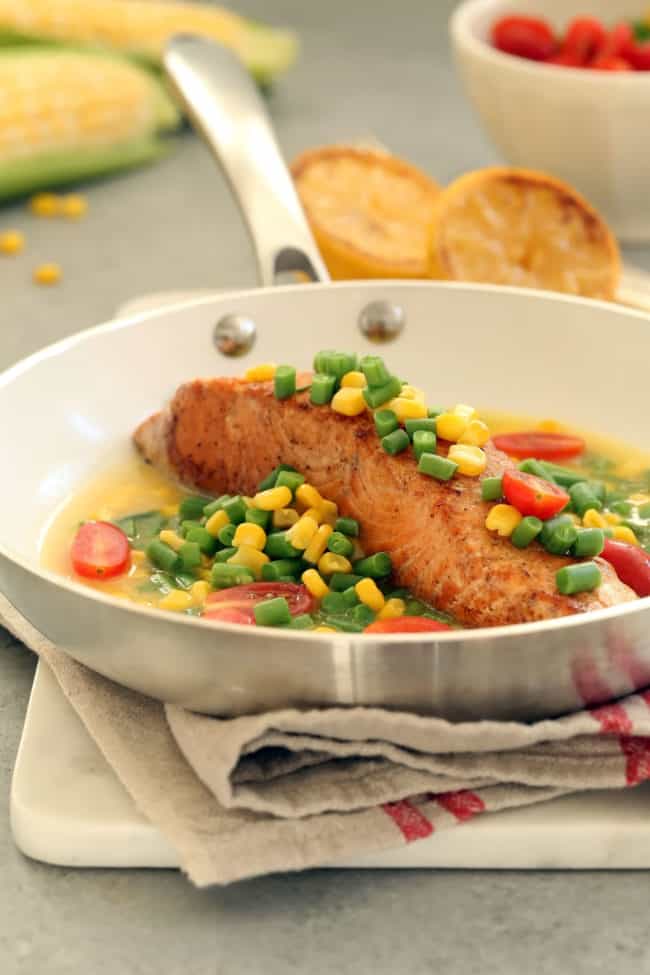 I think this dish might make a salmon fan out of one who might turn their nose up at fish.  There are so many good reasons to incorporate salmon into your diet.  It's loaded with heart-healthy Omega-3 fat that iis associated with a decreased risk of cardiovascular problems, such as heart attacks, strokes, heart arrhythmias, high blood pressure, and high triglycerides circulating in the blood. These benefits are best obtained when omega 3 rich fish is consumed 2 – 3 times a week. Omega 3s are also know to improve cognitive function, improve mood, offer joint protection, promote eye health, and a decreased risk in certain types of cancer.
This easy salmon recipe is my riff on the salmon dish they serve at Rusty Pelican in Newport. I'm completely in love with it, and order it every time I eat there.
~ Deb
Leave a Comment