Raw Brownie Bites
Yum
These Raw Brownie Bites are made with dates, walnuts, almonds and cacao.  They're a perfect healthy snack to for you to indulge on without an ounce of guilt!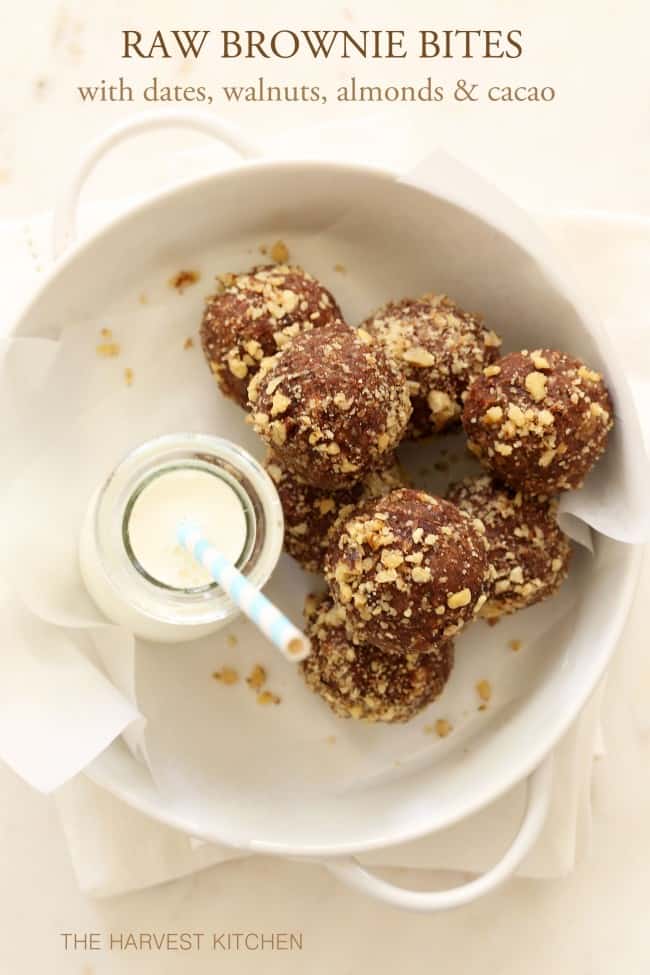 These Raw Brownie Bites are a healthy snack for that mid-afternoon pick-me-up.  They'll also fix any chocolate hankerings you might be having.  They're made with all natural ingredients!  No refined flour or sugar.  So you can eat all you want!!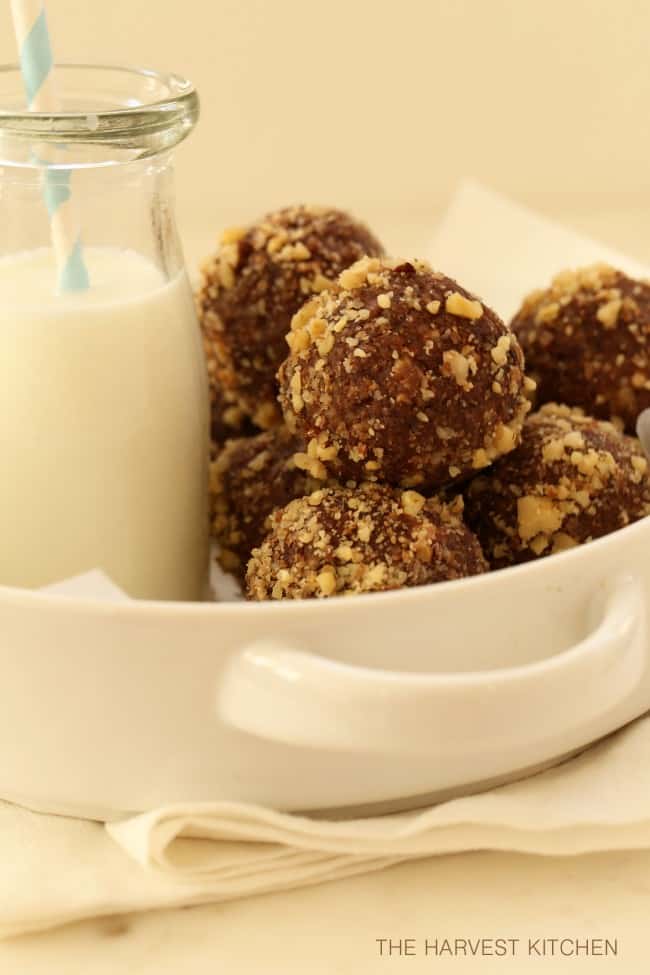 Can you believe we're just a few days away from Christmas? This past week was a crazy busy one for me….with ….work (which was unbelievably busy – and it was an interesting week), Christmas parties, celebrating Christmas early with friends, and Kyle moved (his new place is really nice!!). So needless to say, very little time was spent in the kitchen and I snacked on these gluten free brownie bites…..a lot!  If you're like me, short on time and baking is out of the question for Christmas….just whip up a batch of these chocolate energy bites. These simple energy bites are so popular and you would never guess that they're actually healthy. They're completely gluten-free – made only with nuts, dates and cacao powder, and …you won't even have to turn on your oven!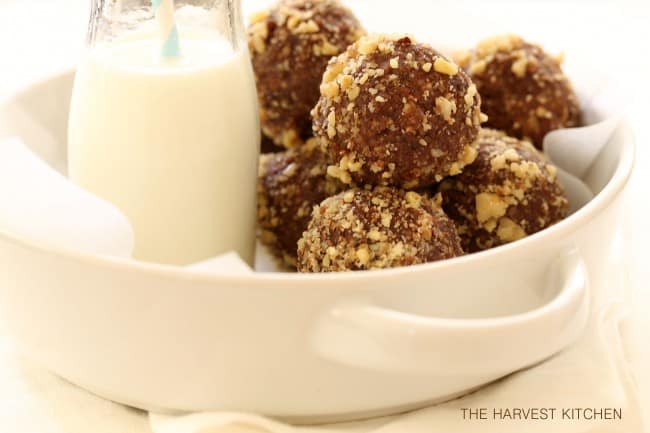 I'll throw a few of these bites into a baggie to carry in my purse so I have something to snack on while I'm on the run.  And they're great with a cup of tea as an afternoon snack while I'm sitting at my desk at work.  They're perfect to have on hand when you're in need of a chocolate fix!!
BE SURE TO CHECK OUT THESE OTHER ENERGY BITES AND BAR RECIPES AS WELL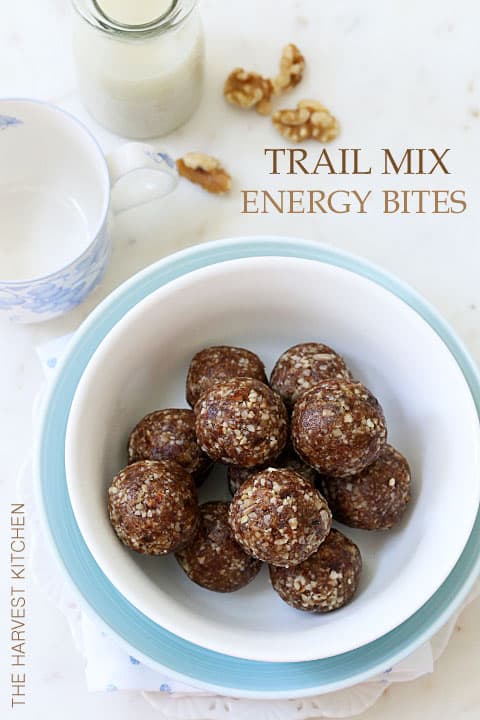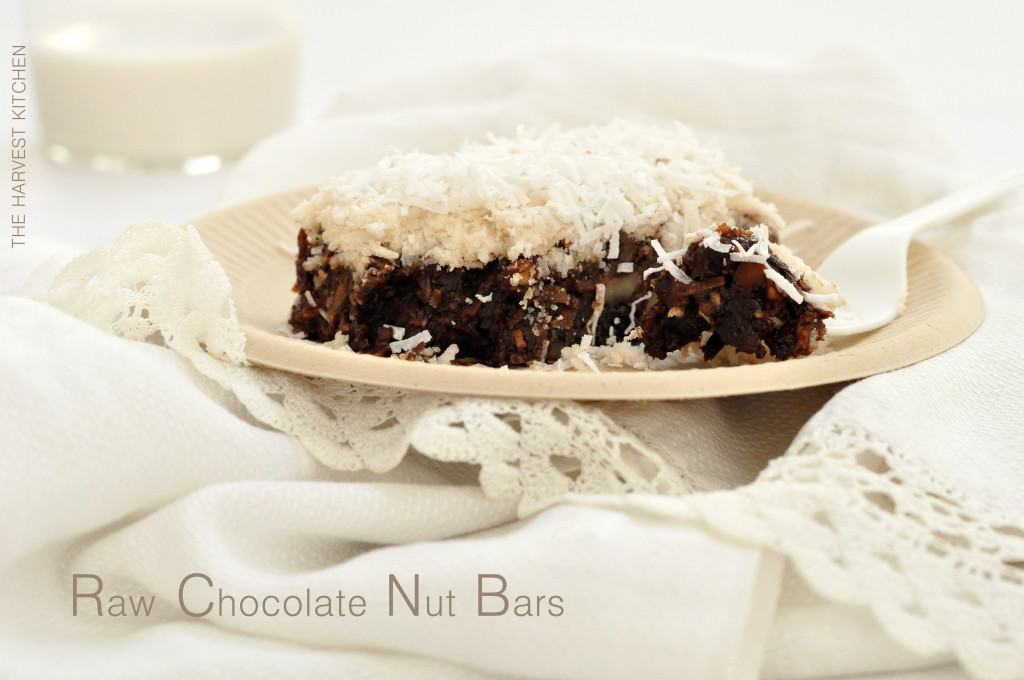 ~ Deb
Raw Brownie Bites
Yield: 12-15 servings
Total Time: 15 minutes
Ingredients:
2 ½ cups medjool dates, seeds removed
1-1/2 teaspoons pure vanilla extract
1/3 cup cacao powder
1/4 teaspoon sea salt
2 cups whole walnuts  (plus 1/3 cup finely chopped walnuts to roll the bites in as a finishing touch)
1 cup raw unsalted almonds, roughly chopped
Directions:
Add the dates to a food-processor and blend until they become paste-like.
Add the cacao, salt and vanilla extract.
Add the almonds in food processor and blend on high until the nuts are finely ground.
Add the walnuts to the food processor and pulse until the nuts are finely ground.
Dump the mixture in a large bowl.  Using an ice cream scoop - scoop the mixture and form into balls in your hands.
Roll the brownie bites into chopped walnuts for a finished look.  Optional
Leave a Comment