Mulled Apple Cider
This Mulled Apple Cider is made with fresh apple juice and has delicate hints of orange, cinnamon, cloves and ginger.  It is warm and cozy and will make your house smell incredible as it simmers on your stovetop.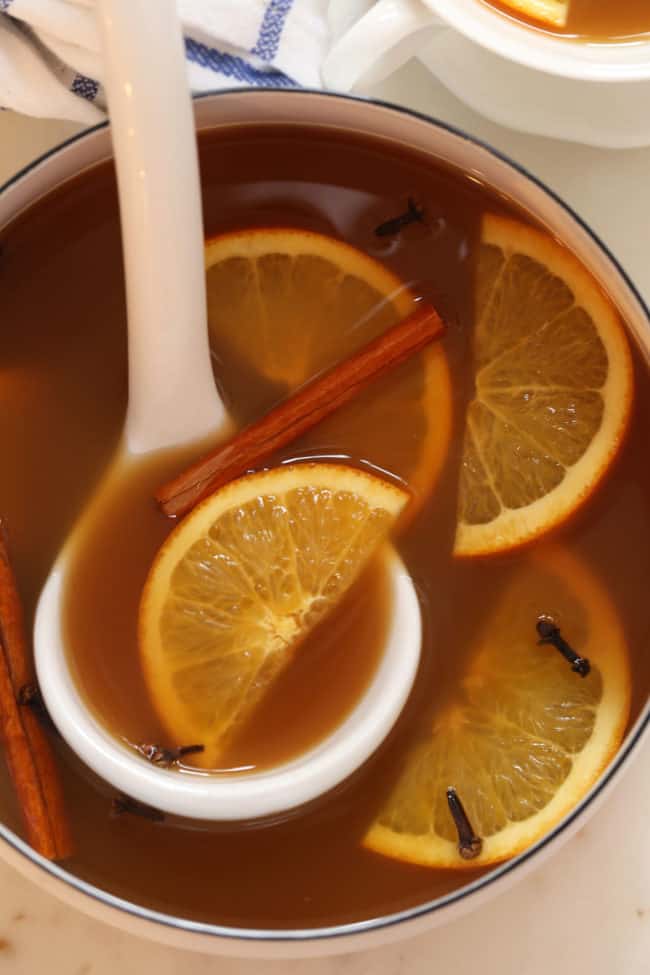 [1]
Next to hot cocoa, hot apple cider is a popular cold weather drinks, and everyone has their favorite.  This Mulled Apple Cider is a quick and easy recipe to make.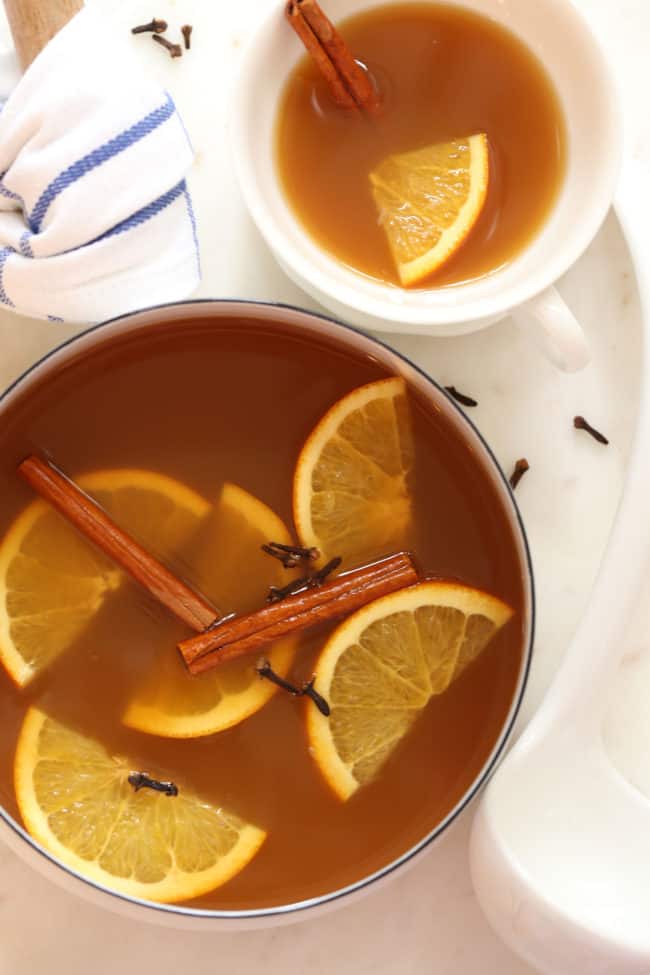 [1]
This mulled apple cider is clean and simple with a hint of warmth fresh ginger root.  Fresh ginger root blends quite nicely with the simmering apple juice, slices of oranges, sticks of cinnamon and whole cloves.  I am a huge fan of fresh ginger root.   I love the taste…and I feel good about drinking it because it's so good for you.  There's a woman at work…she's going strong at 80.  She looks great…has tons of energy (does pilates every Saturday)…..she still works every day as a corporate secretary.  She also, drinks warm water with freshly grated ginger root almost every day.  I don't know if it's the ginger or her genes….but to hedge my bets…I frequently boil some water then add some freshly grated ginger root, with a little honey and a squeeze of lemon….and that simple concoction is my all-time year-round favorite hot drink.  I just love the flavor of ginger, and I especially love adding it to this Mulled Apple Cider.  I think it gives it a slightly elegant and distinguished taste.  It's perfect to serve your guests over the holiday season!
[1]
Apples contain potent antioxidant power.  The antioxidant power contained in apples is the second highest level of any other fruit in the U.S.  Cranberries takes first place.  Apples contain quercetin, a potent flavonoid, and pectin which is a valuable source of fiber (which can lower bad LDL cholesterol).  Apples contain a dietary source of boron which is a mineral that helps build strong bones.  As for ginger, it contains very potent anti-inflammatory and antioxidant compounds called gingerols.  It boosts the immune system and has a effective antimicrobial and antiviral agent.  Ginger soothes an upset stomach and helps digestion.  It battles morning sickness.  It improves circulation and it has a blood thinning-effect.
Note….this is a repost of a much earlier post of mine with updated pics.
~Deb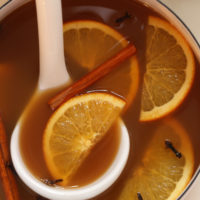 Mulled Apple Cider
Yield: 4 - servings
Total Time: 20 minutes
Ingredients:
1 quart fresh squeezed apple juice
8 whole cloves
2 cinnamon sticks
1/2 orange, sliced and quartered (yes keep the outer peel on the slices)
1-inch fresh ginger, peeled and cut into 6 slices
Directions:
Combine the ingredients in a large saucepan and simmer on low heat for 15-20 minutes.
Strain and serve with a quarter slice of the orange and a cinnamon stick (and your favorite cookie!)