Mixed Berry & Hibiscus Sun Tea
Yum
This Mixed Berry Hibiscus Sun Tea combines a mix of berries, dried hibiscus, water and sunshine to create a thirst-quenching summer drink.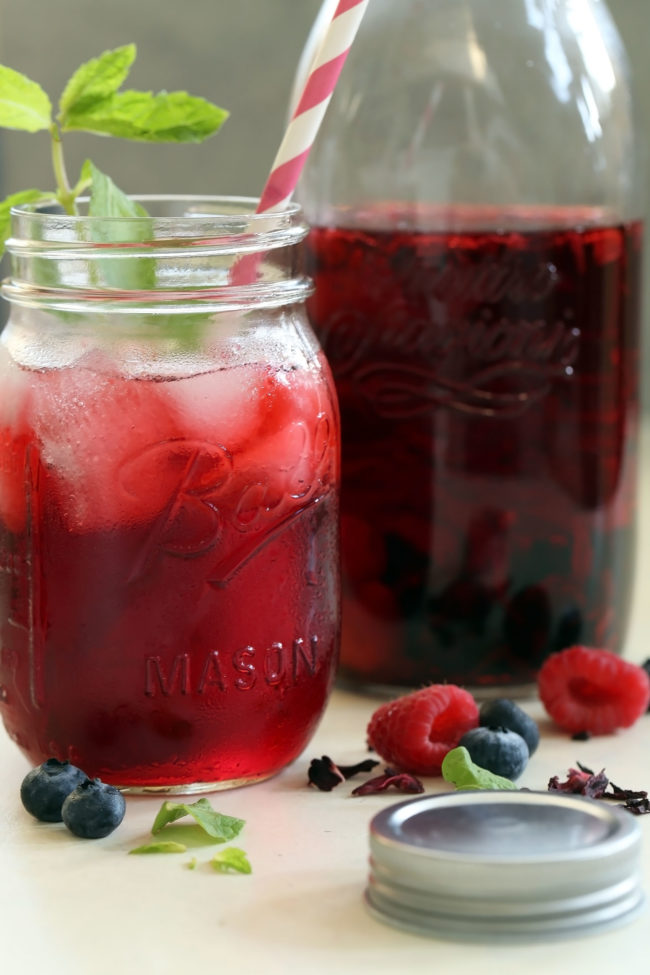 This Mixed Berry Hibiscus Sun Tea is a natural and refreshing summertime drink.
What would summer be without sipping on a tall glass of ice cold berry sun tea!?  This sun tea is simple to make.  And it's loaded with fruity flavor and immune boosting antioxidants.
If you've never made sun brewed tea before – it's super simple.  All of the ingredients are put in a glass container, then set outside in the direct sunlight for a few hours.  You can use any of your favorite combo of fruits and loose leaf tea (or herbs).
This Hibiscus tea is made as an infusion from a blend of berries and rich crimson colored Hibiscus flower.  The flavor is a little tart and cranberry like.  This mix of berries and Hibiscus flavors is a great combo of infused flavors.    Just sweeten with a little drizzle of raw honey for a little added sweetness to tame the tart flavor.
The health benefits of Hibiscus tea include lowering blood pressure and cholesterol, it's rich in vitamin C and other antioxidants giving a good boost to your immune system.  It also has anti-inflammatory properties and acts as a natural diuretic.
You can find the dried hibiscus is most health food stores.  The price tag can be a little steep, but we're only using a couple of tablespoons – so it will not be expensive to make.
This easy sun tea recipe captures the essence of summer with bright fruity flavors.
Enjoy!  And stay hydrated friends!!
~ Deb
Hibiscus Sun Tea
Ingredients:
2 liters of water (distilled or mountain spring)
2 cups fresh berries (mix of raspberry, blueberry and blackberry)
2 tablespoons dried hibiscus
mint leaves for garnish, if desired
sweeten with honey, if desired
Directions:
Combine the water, berries and dried hibiscus in a lidded jar.
Place in the sun for 1–3 hours.
Shake vigorously every 30 minutes or so.
Strain into a pitcher.  Sweeten with raw honey (if desired).
Garnish with mint leaves.
Serve over ice.
Keep refrigerated.
Leave a Comment