Mexican Quinoa PIlaf
Yum
This one-pot Mexican Quinoa Pilaf  has a delicious combo of Mexican infused flavors,  it's super easy to make and it turns out perfect every time!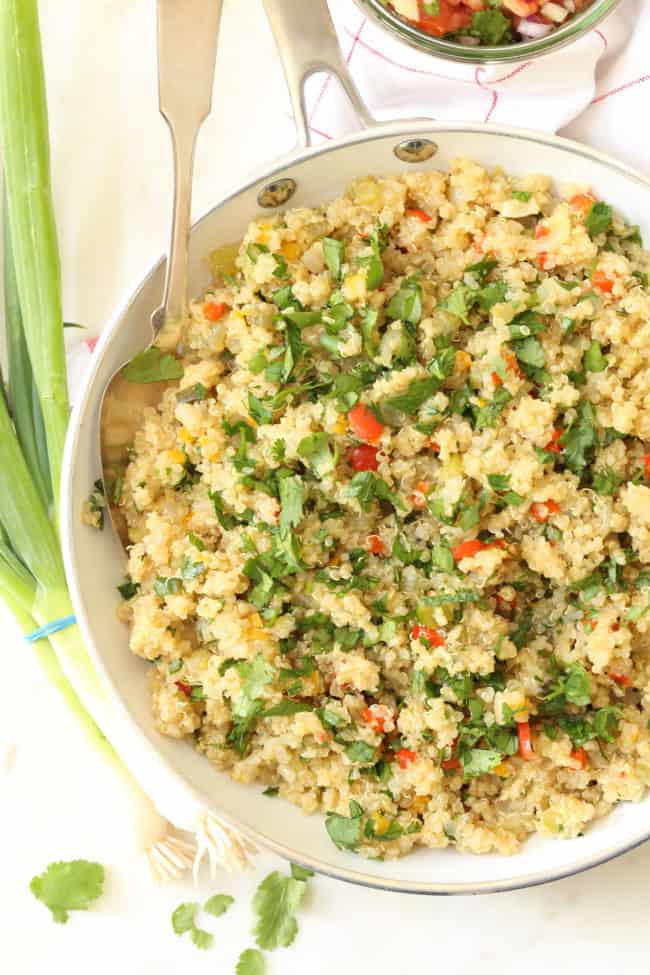 This Mexican Quinoa Pilaf is loaded with onion, garlic, red bell pepper, celery, some jalapeño, cilantro and parsley. It's so flavorful and so easy to make.  Eat it alone with some pico de gallo or serve it as a side dish with chicken, fish, or any Mexican style meal you might be serving.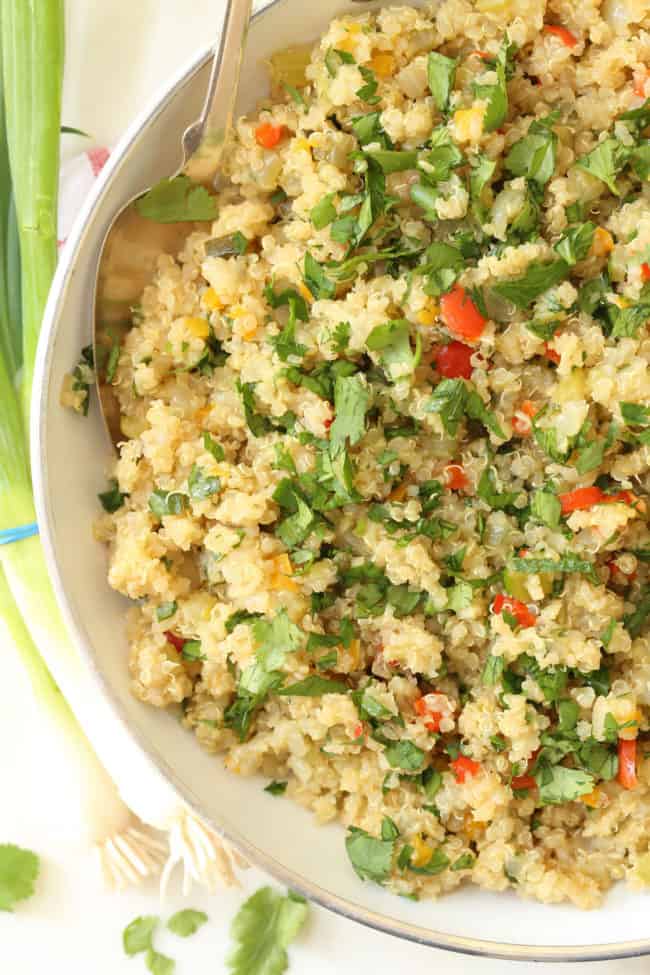 Quinoa is loaded with plant based protein and rich with nutritional benefits. I know some people aren't fond of it – but if you flavor it up nicely, it just might become your favorite go-to side dish to make.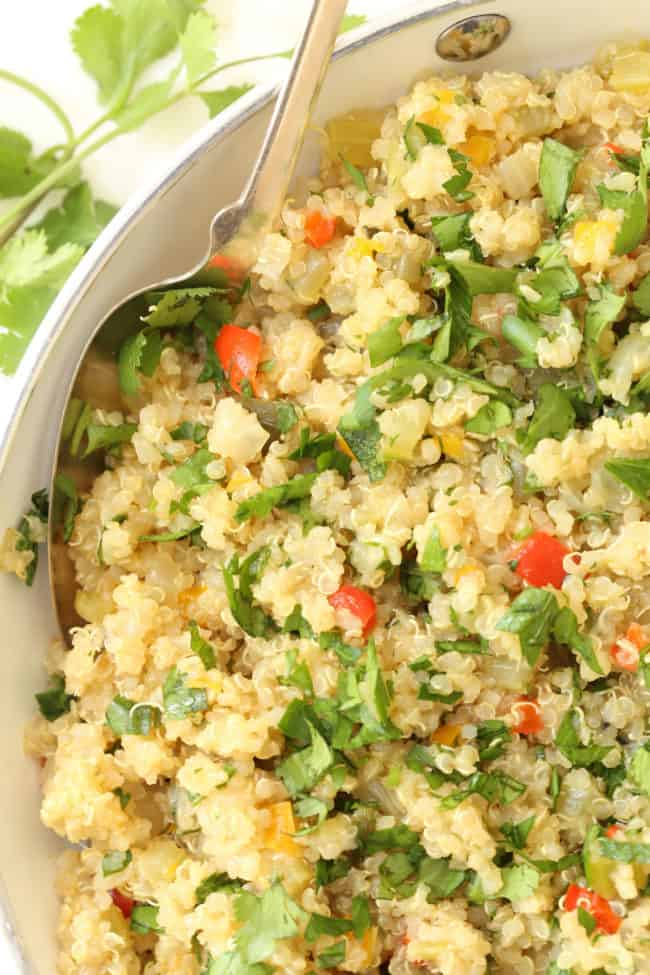 I love a good Spanish rice and I used to make this Homemade Spanish Rice recipe all the time.  Then when I started making quinoa,  I quickly became obsessed with making this Spanish Quinoa.   I make it at least once a week.  And loving cilantro lime rice like I do, this Cilantro Lime Quinoa  quickly became another favorite quinoa recipe of mine.   Then I added this Mexican Quinoa Pilaf to my repertoire, and it has become yet another favorite.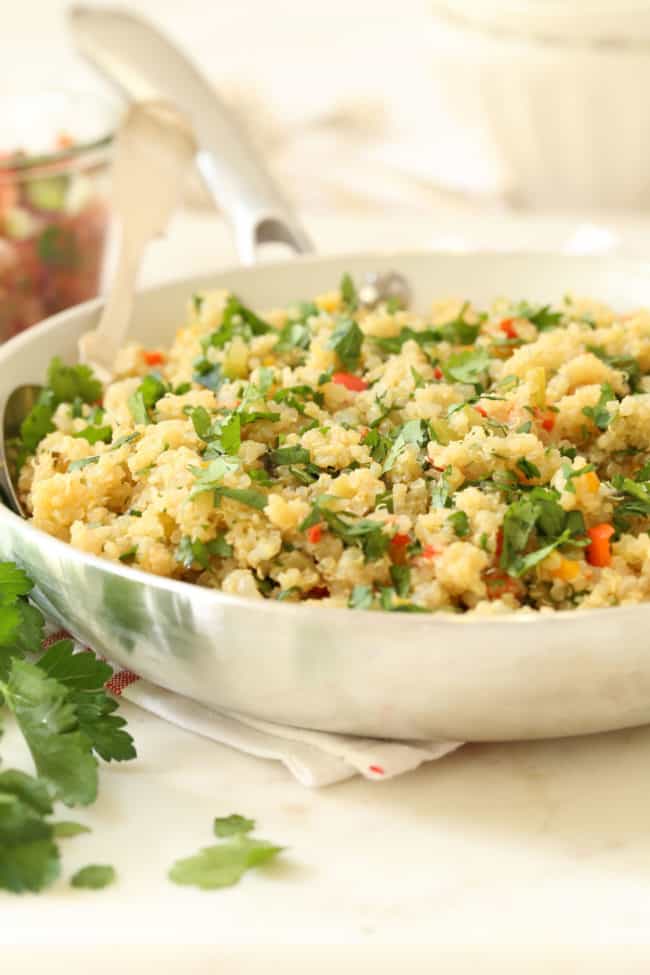 This healthy quinoa recipe is a versatile one. Sometimes I'll add some finely chopped tomato and toasted pepitas to the mix. I love serving it with chicken and a big salad.
I hope you love the rich combo of flavors in this rich Mexican Style Quinoa Pilaf as much as my family does!!
~ Deb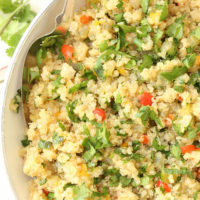 Mexican Quinoa Pilaf
Yield: 4 - 6 Servings
Total Time: 40 minutes
Ingredients:
2 tablespoons extra-virgin olive oil
3 ribs celery, finely chopped
1 medium white or yellow onion, finely chopped
1 red bell pepper, seeded and vein removed, finely chopped
1 poblano chili, roasted, stemmed and seeded and finely chopped (optional)
2 cloves garlic, minced
1/2 jalapeño, stemmed and seeded and finely chopped
1/2 teaspoon ground cumin
1 bay leaf
salt and freshly ground black pepper to taste
1 cup quinoa
2 cups vegetable broth (or chicken broth)
1/4 cup fresh cilantro, finely chopped
1/4 cup fresh flat leaf parsley, finely chopped
Directions:
Heat the olive oil in a Dutch oven over medium-high heat.
Add the celery, onions, and bell pepper and cook, stirring occasionally, until soft, about 10 minutes.
Add the garlic, chiles, jalapeño and cook for another minute.
Add the cumin, pepper, and bay leaf, stirring occasionally, until soft and fragrant, about 3–4 minutes.
Add the quinoa and broth, and bring to a boil.
Season with salt and freshly ground black pepper.
Reduce heat to low, cover, and simmer until the quinoa is cooked, about 20 minutes.
Remove pot from heat and let sit, covered, for 10 minutes.
Add cilantro and parsley and fluff quinoa with a fork before serving.
Leave a Comment