Mexican Meatloaf Meatballs
Yum
The idea for these Mexican Meatloaf Meatballs  was born while talking to my friend Cathe about these Best Ever Barbecue Meatloaf Meatballs.  She had made them for her family (they loved them) and we both agreed that we love meatloaf meatballs better than making a plain meatloaf.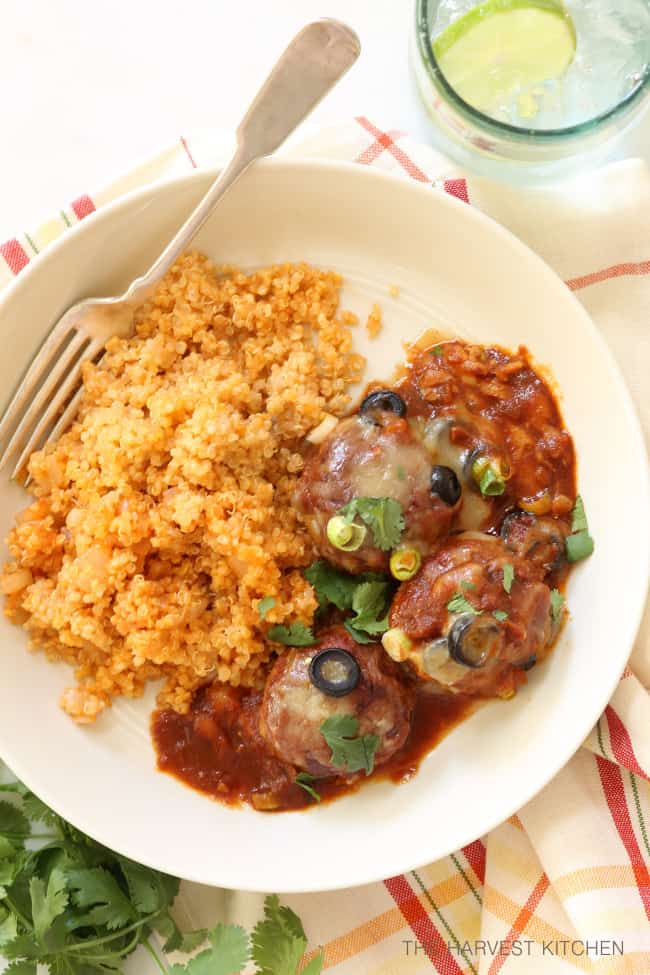 These Mexican Meatballs are similar to my Best Ever Meatloaf Meatballs, with just a few tweaks to the  ingredients.  I've used ground corn tortillas in lieu of bread crumbs or ground rice crackers which adds to their authentic Mexican flavor.  And in lieu of red peppers, I've added some Ortega chilies.  If you want a little kick to these meatballs, you could add a little minced jalapeño to the mix.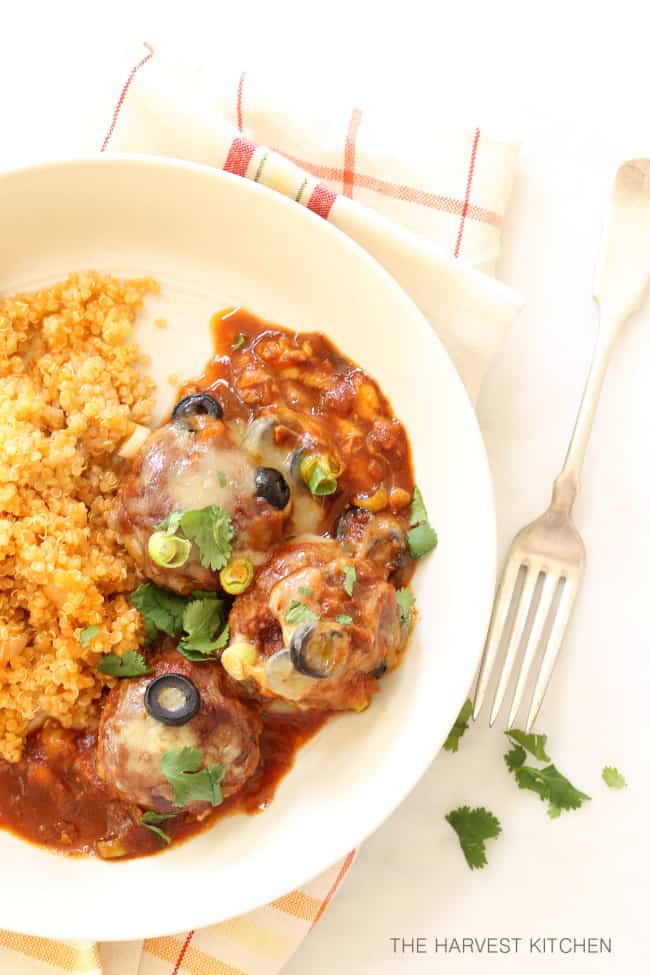 And in lieu of brushing the meatballs with a barbecue sauce then baking them in the oven, these meatballs are baked in this easy Enchilada Sauce.   This whole concoction could easily be made in a skillet on the stovetop or tossed in a crock pot if you don't want to turn your oven on when the weather turns warm.
These Mexican Meatloaf Meatballs have a really great flavor (my mom gave them a two-thumbs-up) and they're super fun to make!  They'd be great for serving a crowd, and they'd also make a fun (maybe slightly messy) appetizer!  And, they go really well with my Spanish Quinoa!!
My weekend was spent mostly in the kitchen playing with recipes where I had a few fails and a big mess.  On Saturday I decided to cut my losses, threw in the kitchen towel for the day, and went shopping with my mom for a little retail therapy.  On Sunday I went back at it with these enchilada meatballs for a win!
I hope you all had a fun weekend and have a great Monday!!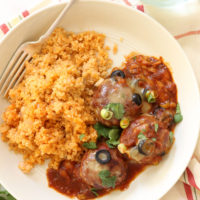 Mexican Meatloaf Meatballs
Yield: 18 meatballs
Total Time: 45 minutes
Ingredients:
For the Enchilada Sauce
4 tablespoons olive oil
1 cup chopped yellow onion
3 cloves garlic, minced
1 jalapeno pepper, seeded and minced (optional)
3 Tablespoons chili powder
2 teaspoons ground cumin
1/2 teaspoon ground oregano
1 15-oz can tomato sauce
1 cup chicken broth
For the Meatballs
2 pounds turkey ground meat
2 cups enchilada sauce, divided
2 large free-range eggs
1/2 cup onion, chopped
3 tablespoons chopped Orgeta chilies
1 garlic clove, finely minced
2 tablespoons flat leaf cilantro, finely chopped
1/3 cup finely ground corn tortillas
1/4 teaspoon sea salt
1/2 teaspoon freshly ground black pepper
3/4 cups grated Jack cheese
1/4 cup black olives for garnish
2 green onions, sliced for garnish
chopped cilantro for garnish
Directions:
For the Enchilada Sauce
Heat 2 tablespoons of the olive oil in a medium skillet.
Over medium high heat cook the onion, jalapeno and garlic for about 8 to 10 minutes or until soft and cooked evenly.
Stir in the chili powder, cumin, oregano and sugar.
Add the tomato sauce, chicken broth and chopped tomatoes.
Blend well and bring the sauce to a simmer. Lower the heat and cook for about 5 to 7 minutes or until the sauce has slightly thickened.
Strain the sauce transferring the onions to a large bowl and set
For the Meatballs
Preheat oven to 350 degrees
Line a large cookie sheet with aluminum foil and set aside
In a large bowl, gently fold together the meat, 1/3 cup of the enchilada sauce, eggs, onion, Oretega chilies, garlic, cilantro, ground corn tortillas, salt and black pepper. Don't over mix or you'll end up with tough meatballs.
Using an ice cream scoop, scoop the meat mixture and shape into balls. Place on the cookie sheet.
Bake for 25 minutes then remove from oven.
Drain the excess juices from the cookie sheet.
Transfer the meatballs to a baking dish.
Spoon the remainder of the enchilada sauce over the meatballs.
Top with cheese and bake for 20 minutes, then add the green onions and black olives and bake for another 7 - 10 minutes until the cheese is completely melted and the sauce is bubbling.
Leave a Comment