Mashed Sweet Potatoes with Roasted Garlic and Parsley Butter
Yum
White sweet potatoes have a milder and less sweet flavor than their orange cousins.  These Mashed Sweet Potatoes with Roasted Garlic and Parsley Butter are pure comfort food in an elegant sort of way.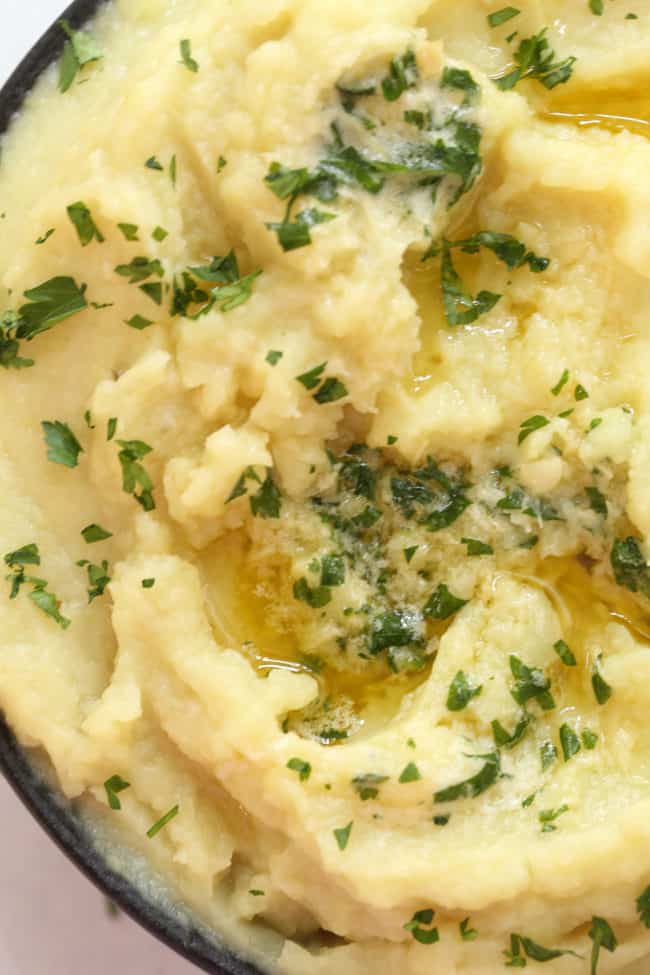 Traditional orange colored sweet potatoes are often sweetened up with sugar or maple syrup and served as a side for a holiday feast.  But these Mashed Sweet Potatoes are made with white sweet potatoes, which are less sweet than their orange cousin,  and dotted with dabs of roasted garlic and parsley butter.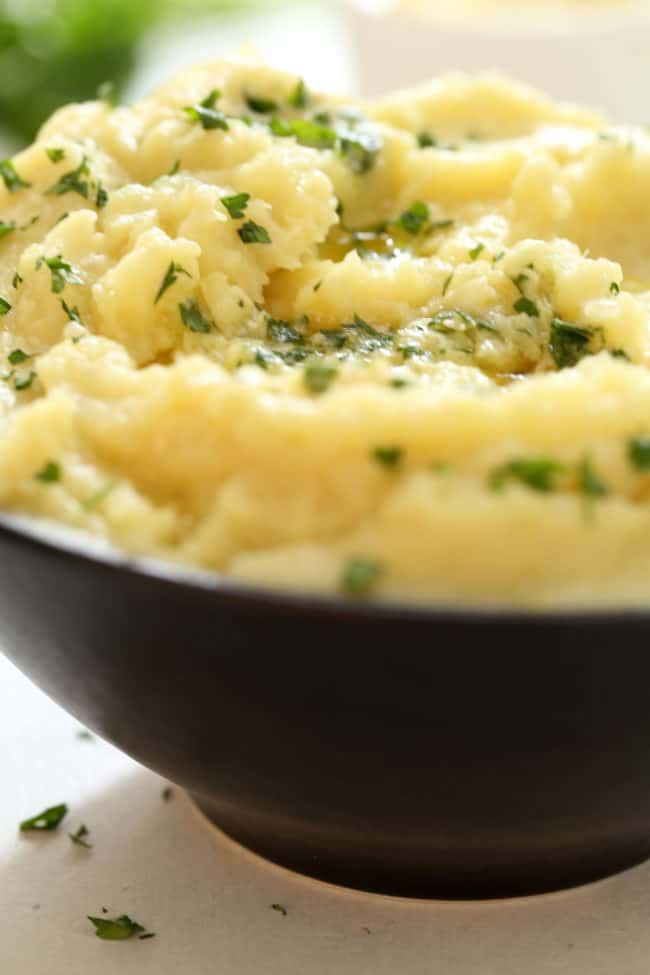 These Mashed Sweet Potatoes are made with just 2 ingredients. Sweet potatoes and a dab or two of butter.  And yes, you could use the orange version of sweet potatoes for this recipe.  Rather than using milk or cream to mash these potatoes with, we use just a wee bit of the water that the potatoes were boiled in.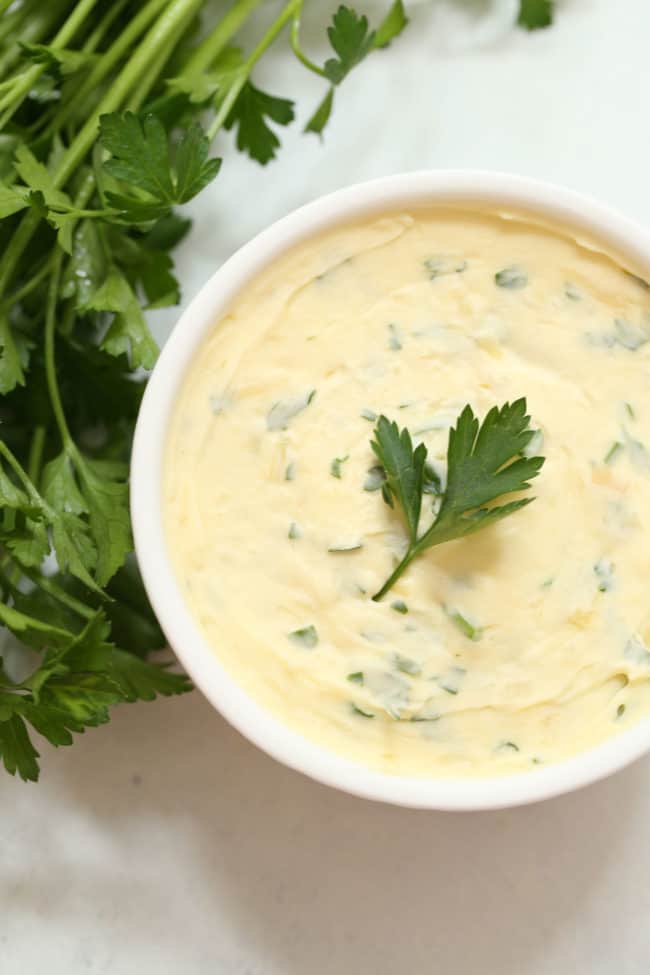 As for the butter that is served with these potatoes, one whole head of garlic is roasted, then mashed with some fresh parsley into the butter.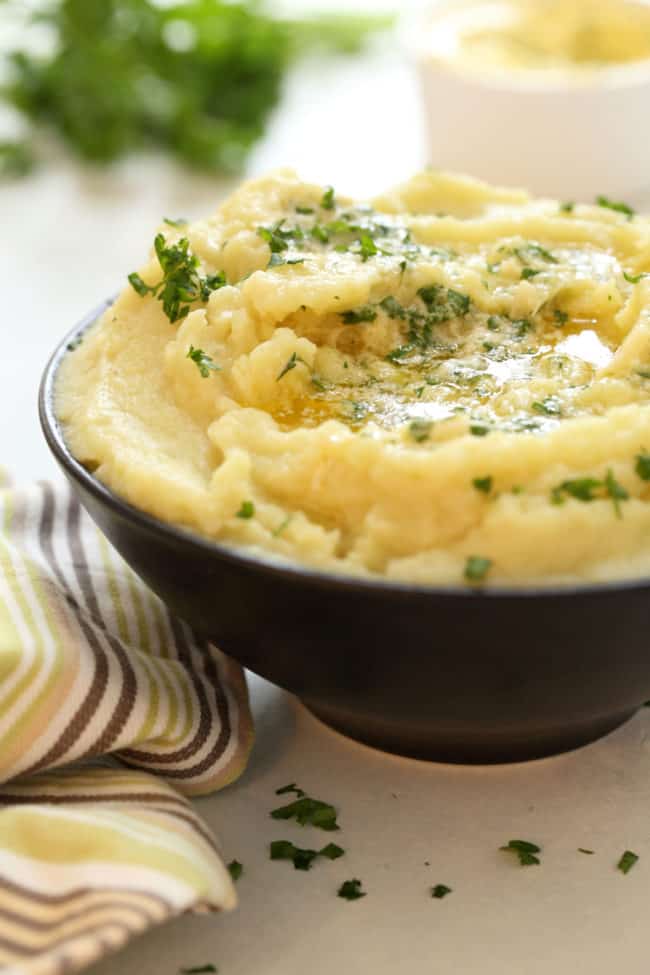 Okay friends…I always try to keep my posts short and sweet and about food and nutrition. Everyone has their own problems, so I try to keep things light and not bogged down with my own problems. But I thought I'd share with you why I've been away from the blog lately (besides just getting over the flu). Earlier in the year, my dad passed away. I'm an only child and I was extremely close to my dad. We are a lot a like. Same interests – same sense of humor. His passing has hit hard. I'm still somewhat in a state of disbelief.  On top of that…. I have a 33 year old cousin with Stage IV breast cancer. Kathy was diagnosed Stage IV a year ago (after having already gone through a double mastectomy and chemo when she was first diagnosed Stage I). Last week she had her ovaries removed (we're waiting for the pathology results).  Kathy is a school teacher.  She is married to a guy that she's known since grade school, and they have two adorable kids… Ava – 6 and Leo – 4. Then this week, my 60 year old uncle is being evaluated for hospice. He has Stage IV lung cancer (yes he smoked). To say that this has been a difficult season is an understatement.
As we approach Thanksgiving….I reflect on the positive.   Kathy is being cared for by the best doctors one could have at UCLA and her cancer is stable.  My uncle will be kept comfortable and I had the opportunity to let him know that I love him and what he means to me.   And I feel so unbelievably grateful for being blessed with the dad that I was given.  I'm not kidding….I scored in the dad department big time!!  I'm so thankful I had as much time with him as I had.  Obviously I wish I had more, but I am so grateful for the years I had.  I'm thankful for his wit and humor and all that he taught me.  The man was my "Google" for information before there ever was "Google".  He was so smart – so well read – you could ask him anything and he would have the answer.  Whoever and whatever my dad loved, he loved with grand enthusiasm.  My dad had the gift of making people feel special and loved and he gave them the ability to believe in themselves.  And my dad had a big heart for animals, especially his dog Buddy.  He was a great man, and I'd think so even if I weren't partial!
To all of you who are also making your way through a difficult season, my prayers for peace, healing, and miracles from heaven go out to you.
~ Deb
Mashed Sweet Potatoes
Yield: Serves 4 - 6
Total Time: 20 minutes
Ingredients:
Mashed Sweet Potatoes
6 sweet potatoes, peeled
2 tablespoons unsalted butter
3 tablespoons Roasted Garlic and Parsley Butter
Roasted Garlic and Parsley Butter
1/2 cup unsalted organic butter (1 stick)
1 large head garlic
1 tablespoon extra-virgin olive oil
2 tablespoons flat leaf parsley, finely chopped
pinch of sea salt
Directions:
Sweet Mashed Potatoes
Cut the sweet potatoes into even chunks.
Bring a large pot of water to a boil and add the potato chunks.
Cook the potatoes for about 15-20 minutes, or until fork tender.
Drain the potatoes well, reserving 1/4 cup of the water.
Add 2 tablespoons butter to the potatoes and mix with a hand mixer until fluffy.  Add the reserved water by the drops if liquid is needed while mixing.
Roasted Garlic and Parsley Butter
Preheat oven to 400 degrees
Cut the very top of the garlic head off.
Place the garlic head in a ramekin and drizzle the top of the exposed garlic cloves with the olive oil.
Loosely cover with aluminum foil.
Bake for 30 - 35 minutes or until cloves are caramel in color and feel soft when pressed.
Place the butter in a small bowl and set aside to room temperature while the garlic roasts.
Remove the garlic cloves from the head and add to the butter.
Using a hand mixer, blend the butter and roasted garlic until smooth and well blended.
Fold in the parsley and sprinkle with a pinch of salt.
Spread the butter into a ramekin and refrigerate before serving.
Leave a Comment