Macaroni Salad with Ham and Cheese
Yum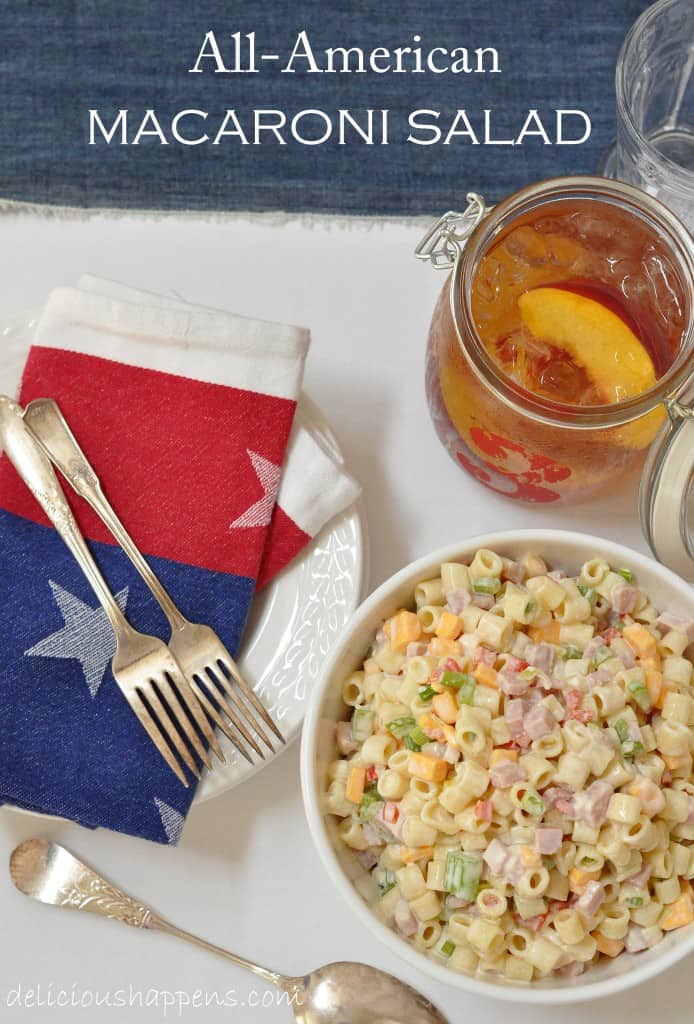 There used to be a sandwich place within walking distance to my dad's office that made really good sandwiches piled high with meat.  They also made really good side salads.  My favorite was their macaroni salad with ham and cheese.
For a short time I worked for my dad while I was going to night school for my paralegal certificate …and while I was going through my divorce.  Some days, I'd walk over and pick up a sandwich and bring it back to the office where I'd sit at my desk and study while I ate.
And some days, I had wished I bought a second helping of the mac salad.
Because some days deserve more carbs than others.
The best part about working with my dad was hearing the sound of his laughter, especially whenever Dave (his friend and co-worker) would call.  Dave could really get my dad laughing.  I'd be sitting in the front office and I'd hear my dad's laughter build up and go on – to the point that I'd start laughing too….only I had no idea what the heck we were laughing at.
My dad has the best laugh ever!
It's highly contagious!
So, this is my favorite macaroni salad – not only because it's really good, but because it reminds me of my dad and his laughter, and the special time in my life when I got to work with him!
I hope you love this Macaroni Salad with Ham and Cheese!!
What's summer without a great macaroni salad?
Have a safe and wonderful Fourth of July!
~ Deb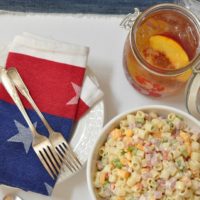 Macaroni Salad with Ham and Cheese
Yield: 8 - 10 servings
Total Time: 30 minutes
Ingredients:
4 cups cooked macaroni
1/2 pound cooked deli ham, cut into small pieces (I like black forest ham the best)
1/2 pound cheddar cheese, cut into small pieces
1/2 cup roasted red pepper, seeded and cut into small pieces
1/2 cup celery, minced
3 green onions, sliced (white and light green parts only)
4 to 6 whole pepperoncini, seeded and minced (start out with 4 and add more for desired spice)
3/4 cup real mayonnaise (I like Best Foods)
1/2 cup milk
1-1/2 teaspoons white pepper (I typically add 2 teaspoons, but would rather you start with a little less, then add more as you prefer)
1-1/2 teaspoons onion powder
pinch of salt
Directions:
In a small bowl, mix the mayonnaise, milk, white pepper, and onion powder.
In a large bowl, add all of the ingredients and toss well.
Pour the mayonnaise mixture over the ingredients and fold in to incorporate well.
Add a tablespoon or two more of mayo and milk for desired consistency
Chill before serving
.
Leave a Comment