Lighter Curried Chicken Salad with Mango
Yum
This Lighter Curried Chicken Salad with Mango is loaded with tender bites of chicken, juicy mango, roasted cashews and a light and creamy curried spiced dressing. It just might become your new go-to curried chicken salad recipe.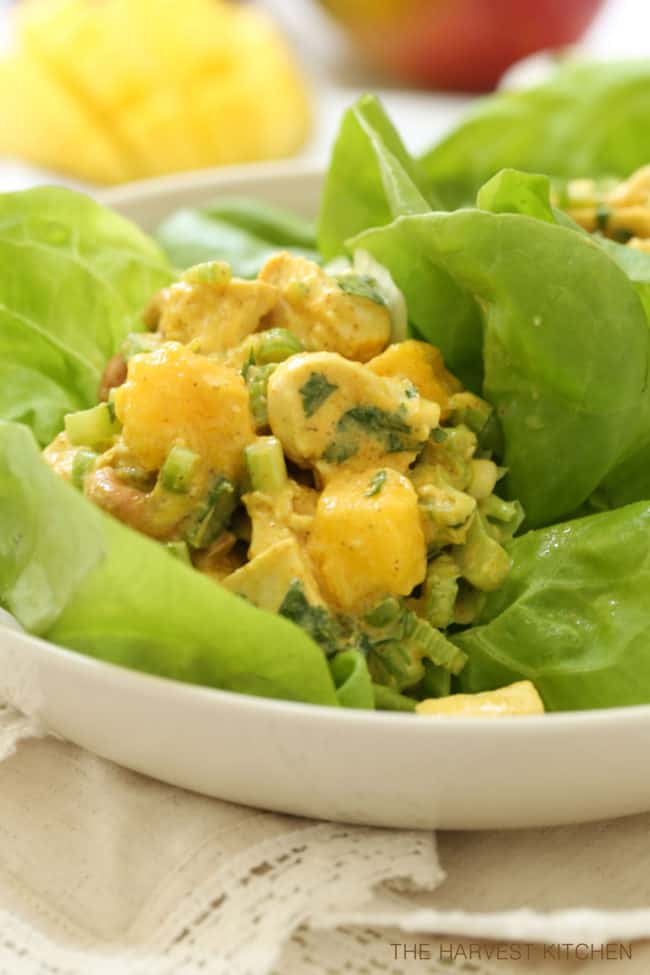 This Lighter Curried Chicken Salad with Mango is a little flashier and a little more interesting than the usual chicken salad.  Where most curried chicken salad recipes are heavy-handed with mayo, this skinny curried chicken salad has a mere 1-1/2 tablespoons of mayo that's mixed with lime juice and a hint of honey.  Rather than weighing down, this dressing lightly coats.  The combo of ingredients in this brightly flavored salad is deliciously tropical tasting.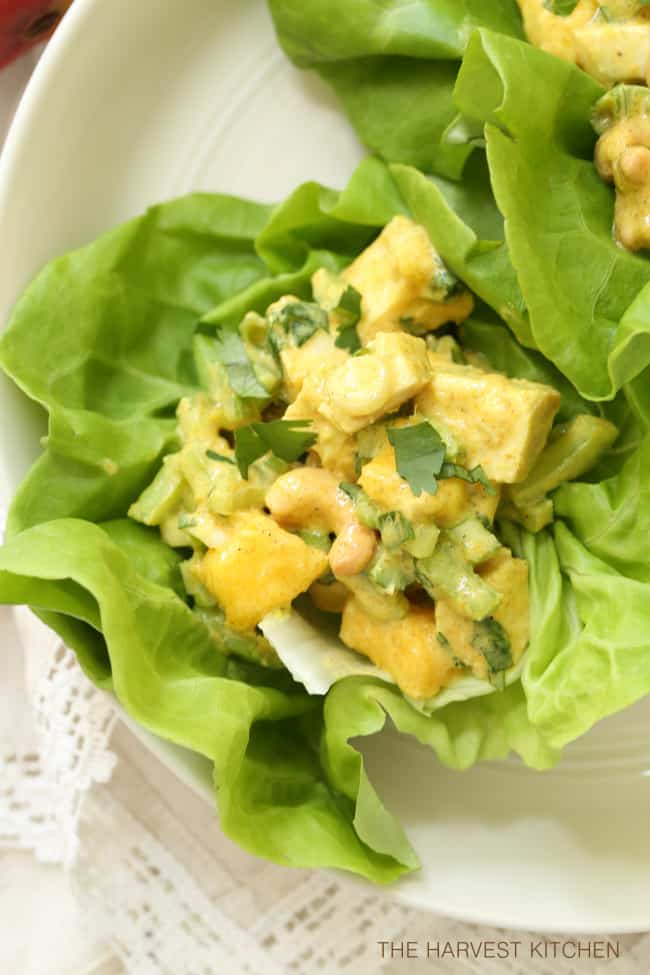 As we head into warmer months (yay for summer and lazy days), this mango curried chicken salad is a recipe that I will turn to often.  Sometimes I'll even cheat and use rotisserie chicken that I pick up at the market. Regardless, this is a pretty quick recipe to toss together, even if you do cook the chicken from scratch.
One of the great things about this salad is the mango.  Mangoes are loaded with antioxidant compounds.  They're rich with Vitamin C, Vitamin A, and Vitamin B6.  Many of these antioxidants found in mangoes may potentially help prevent cancer, lower cholesterol, improve eye health, alkalize the entire body, aid in digestion, and give a boost to the immune system.
One of the best ways to enjoy a mango is…quite honestly,  just by itself.  You can also incorporate this vitamin dense fruit into your diet daily by adding it to your smoothies and salads.  You can also make a delicious fresh salsa with papaya, mango, red pepper, jalapeño and cilantro with some lime juice.  Want to learn how to easily cut a mango, you can watch this helpful  How to Cut a Mango video.'
~ Deb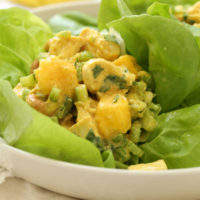 Light Curried Chicken Salad with Mango and Cashews
Yield: Serves 4
Total Time: 20 minutes
Ingredients:
1-1/2 tablespoons olive oil mayonnaise
1-1/2 to 2 tablespoons lime juice
1-1/2 teaspoons curry powder
1/2 teaspoon ginger powder
2 cups cooked free-range chicken, cubed
1 mango, pitted, peeled and chopped
1/2 cup celery, diced
1/4 cup green onions, sliced
3 tablespoons fresh cilantro, coarsely chopped
1/2 cup unsalted roasted cashews, chopped
Directions:
Place the chicken breast in a Dutch oven and add the broth or water to cover the breasts and bring the liquid to a boil. Cook for about 10-15 minutes or until no longer pink.
Remove and discard the chicken skin and bones. (Save the chicken broth for another use).
Chop the chicken breast meat into cubes.
In a small bowl, combine mayonnaise, lime juice, curry powder and ginger powder.
To mixture, add chicken, 
mango, celery, onions and cilantro; 
toss to combine. Stir in cashews just before serving.
Season with salt and freshly ground black pepper.
One Response to "Lighter Curried Chicken Salad with Mango"
Leave a Comment