Huevos Rancheros Breakfast Enchiladas
Yum
These Huevos Rancheros Breakfast Enchiladas make a fun breakfast or brunch to serve and an easy make-ahead dish to prepare. 
These Huevos Rancheros Breakfast Enchiladas are simply thin egg crepes stuffed with a healthy mix of black beans, quinoa, onion and cheese.  
You can get creative and add whatever you choose for the stuffing. Add roasted sweet potatoes, red pepper, or go with brown rice in lieu of the quinoa.  For the salsa, either use homemade or your favorite store-bought jarred salsa.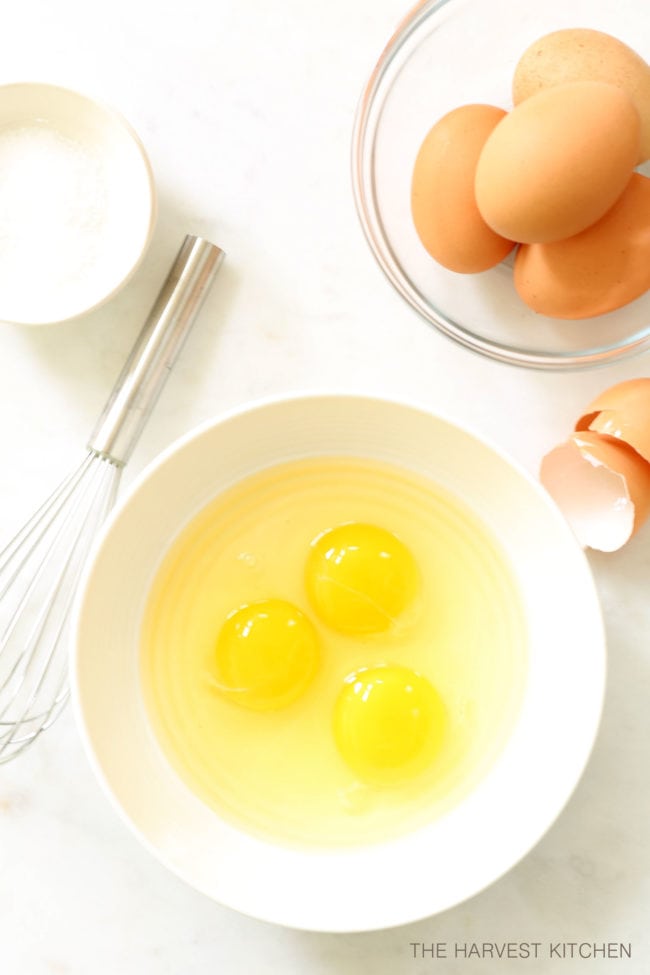 If you've been reading this site for any amount of time, I'm sure you've noticed that I have a thing for Mexican food. And cilantro. I love cilantro. Not a lot, but I love the flavor cilantro adds to Mexican dishes. And I love to garnish with cilantro. I love the delicate wispy leaves of cilantro and the pop of color they add to a plate.
I make Mexican food at home at least once a week. In some form or fashion.  This Spanish Quinoa makes a regular weekly appearance.  I especially love it with eggs.  And I've used this Spanish Quinoa for these Huevos Rancheros Breakfast Enchiladas, but feel free to use whatever cooked quinoa suits your fancy.
I've added pan roasted cherry tomatoes to this dish, but they're totally optional.  They're easy to make – just drizzle a little olive oil in a pan.  Sprinkle in some minced garlic then toss in cherry tomatoes that have been cut in half.  Cook them over medium-low heat for 2 – 3 minutes minute or until they glisten and start to soften a bit.  Completely delicious with cheese melted over the top!
~ Deb
Huevos Rancheros Breakfast Enchiladas
Yield: 6 - 8 servings
Total Time: 40 minutes
Ingredients:
4 tablespoons extra-virgin olive oil (add a little more if needed)
10 free-range eggs
6 tablespoons water
1/2 cup brown onion, chopped
1-1/4 cups black beans, rinsed and drained (pinto beans will work also)
1 teaspoon ground cumin
2 small cloves garlic, minced
1 cup vegetable or chicken broth
1 cup cooked quinoa
1/2 cup salsa
1-1/2 cups Jack cheese (or use a mix of Jack and cheddar)
8 cherry tomatoes, cut in half
Directions:
Lightly grease a large baking dish and set aside.
Preheat oven to 350 degrees
Whisk eggs and water in medium size bowl.  Season with salt and pepper.
Heat 8-inch non-stick skillet over medium-low heat.
Add a drizzle of oil to the pan.
Pour 1/4 cup egg into the skillet and swirl so the bottom of the pan is completely coated in egg.
Cook 2 to 3 minutes or until egg is firm and completely cooked in the center.
Slide the crepe onto paper towel.
Repeat with remaining egg mixture until you have at least 8 thin crepes.
In a separate skillet heat 2 tablespoons olive oil.
Add the onion and cumin and sauté for about 3 minutes or until the onions are soft.
Add the beans, garlic and broth.  Bring to a boil then reduce to a simmer.  Cover with lid and cook for about 5 minutes.  Mash some of the beans to make a thicker sauce.
Add the quinoa and salsa to the beans.
Cook for another 5 minutes until the sauce is mostly gone.
Place 1/4 cup of bean mixture into center of each crepe.
Sprinkle a little cheese over the mix and roll the crepe into an enchilada.
Place the enchiladas in the prepared baking dish.
Pour 1 cup salsa over the enchiladas.
Sprinkle the top with 1/2 cup cheese.
Bake for 15 minutes or until the enchiladas are heated through and the cheese has melted.
Leave a Comment