Heart Healthy Overnight Oats
Yum
These Heart Healthy Overnight Oats are the quintessential healthy breakfast.   Oats are a  power food that's rich in fiber, vitamins and minerals, offering a host of benefits for our overall health.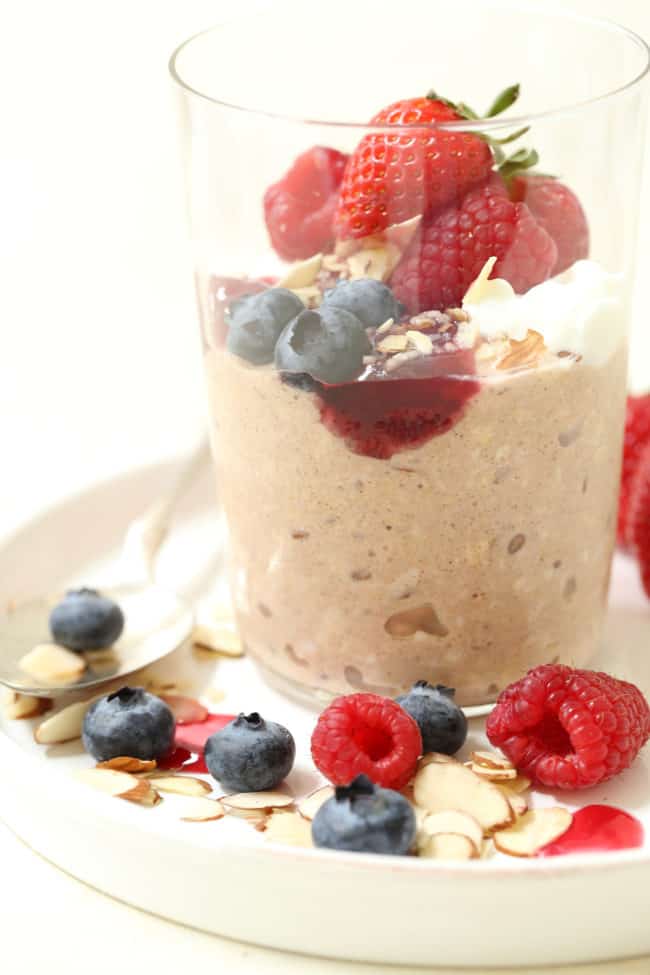 These Heart Healthy Overnight Oats are a healthy and satisfying combination of rolled oats, sliced almonds, flaxseeds, shredded coconut and almond milk.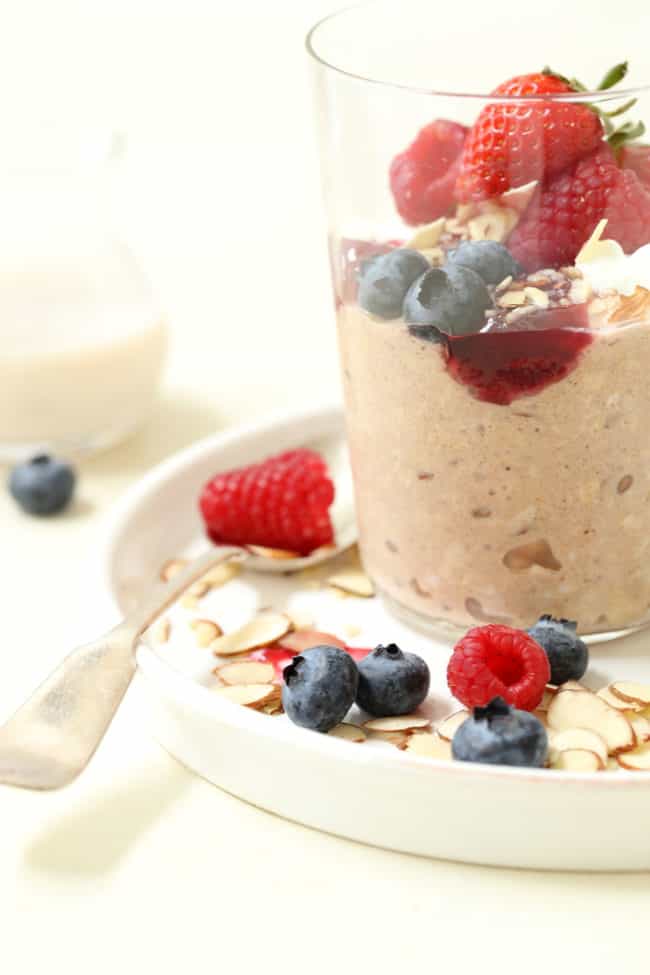 I typically garnish these easy overnight oats with mixed berries and a dollop of Greek yogurt (Fage yogurt).   But you can get creative and add in whatever will  satisfy your tastebuds and your tummy.   Cacao nibs, additional flax or chia seeds, honey, pure maple syrup, banana slices, pomegranate, mango, or swirl in peanut butter and pieces of dark chocolate all make nice additions to this breakfast. Get creative and have fun with it.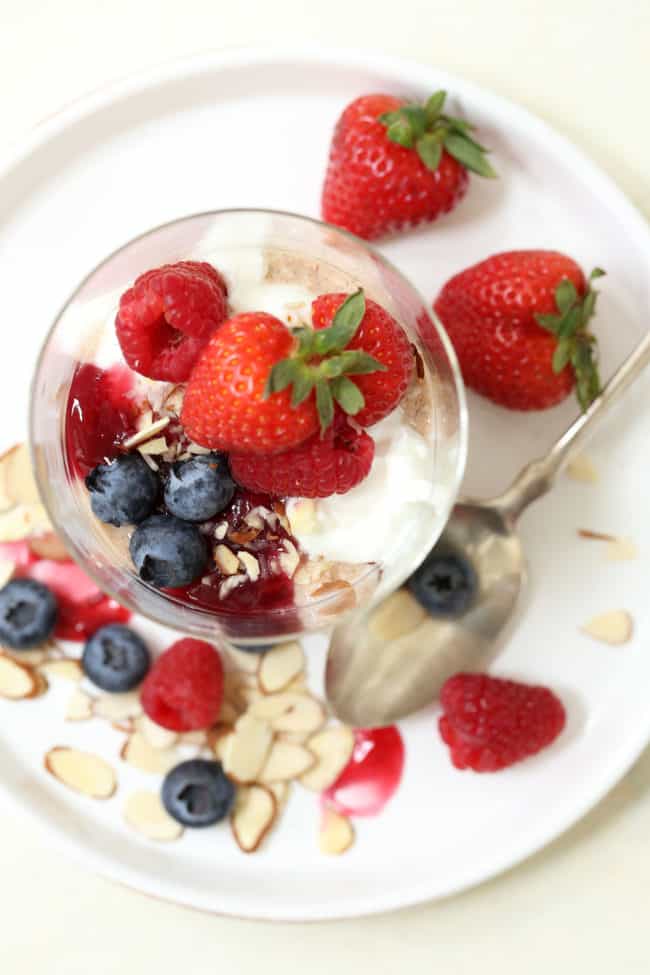 Oats are among the healthiest grains on the planet. They're high insoluble fiber that can help to reduce cholesterol and blood sugar levels,  and it also helps to promote healthy gut bacteria.  Add-in Greek yogurt to further promote healthy gut bacteria.   Years ago, my dad was diagnosed with slightly elevated cholesterol levels. His doctor put him on Lipitor, which gave him terrible side effects. The doctor had told my dad that he'd never be able to get his cholesterol levels down with diet, but my dad was like….."watch me".  My dad had always had a relatively healthy diet, but he decided to incorporate more oatmeal into the mix.  He literally ate it every day and sometimes twice a day.  He got his LDL (bad cholesterol) down to a very low level. It stayed hat way for the rest of his life.
To make your life easier, you can soak these overnight oats in mason jars for you to grab on the run as you race out the door in the morning.
~ Deb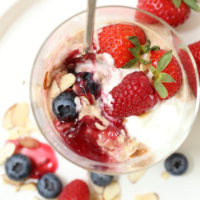 Heart Healthy Overnight Oats
Yield: 1 individual serving
Prep Time: 5 minutes
Total Time: Soak overnight
Ingredients:
1/4 cup organic oats
1/2 teaspoon cinnamon
1/2 teaspoon pure vanilla extract
1 tablespoon flax seeds (or hemp seeds or chia seeds)
1 tablespoon unsweetened shredded coconut
1 tablespoon of sliced almonds
1/3 cup almond milk (plain or vanilla - if using vanilla almond milk, then omit the pure vanilla extract)
1/4 cup Greek yogurt
Garnish with fresh berries, banana slices, plain Fage Greek Yogurt and a dollop of the fruit from the yogurt container (I love the cherry)
Directions:
In a medium size bowl, mix the oats, yogurt, cinnamon, flax seeds, coconut and almonds.
Pour in the almond milk and add the yogurt.  Blend well.
Seal the bowl with a lid or plastic wrap, or make individual mason jars filled for breakfast on the go.
Refrigerate (soak) overnight.
Garnish with fresh berries and Fage Greek Yogurt and a dollop of the fruit from the yogurt container.
Leave a Comment