Healthy Blueberry Lemonade
Yum
This Healthy Blueberry Lemonade is a perfect way to beat the summer heat!  It's refreshing and delicious, lightly sweetened with honey and loaded with antioxidant properties.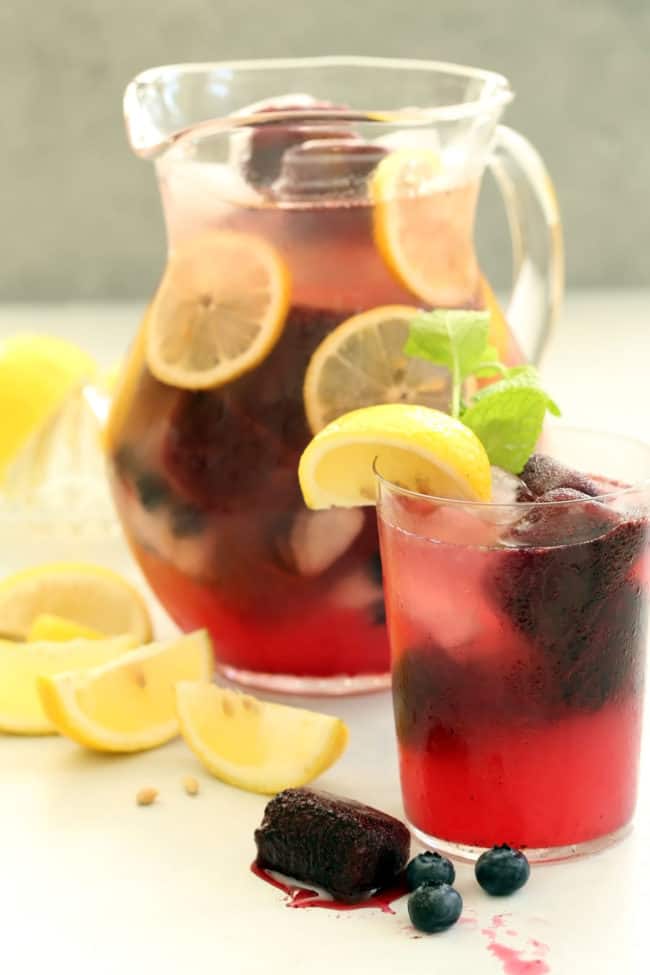 Cool down this summer with a glass of this Healthy Blueberry Lemonade! It's a blend of freshly squeezed lemon juice, raw honey and water that's poured over a glass of blueberry ice cubes. This is a drink to enjoy all summer long!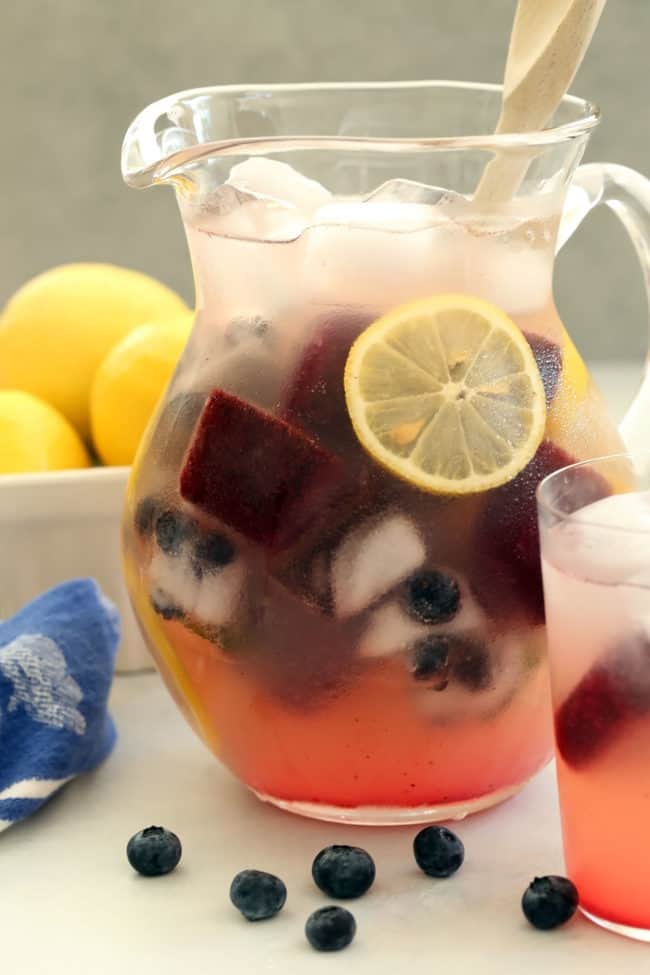 I make fresh lemonade a lot during the summer months. I used to make it even more often when I had my Meyer Lemon tree.  I miss that tree!  I especially love lemonade when it's made with Meyer lemons. They're a cross between a lemon and a mandarin orange and they taste a little more sweet – a little less tart.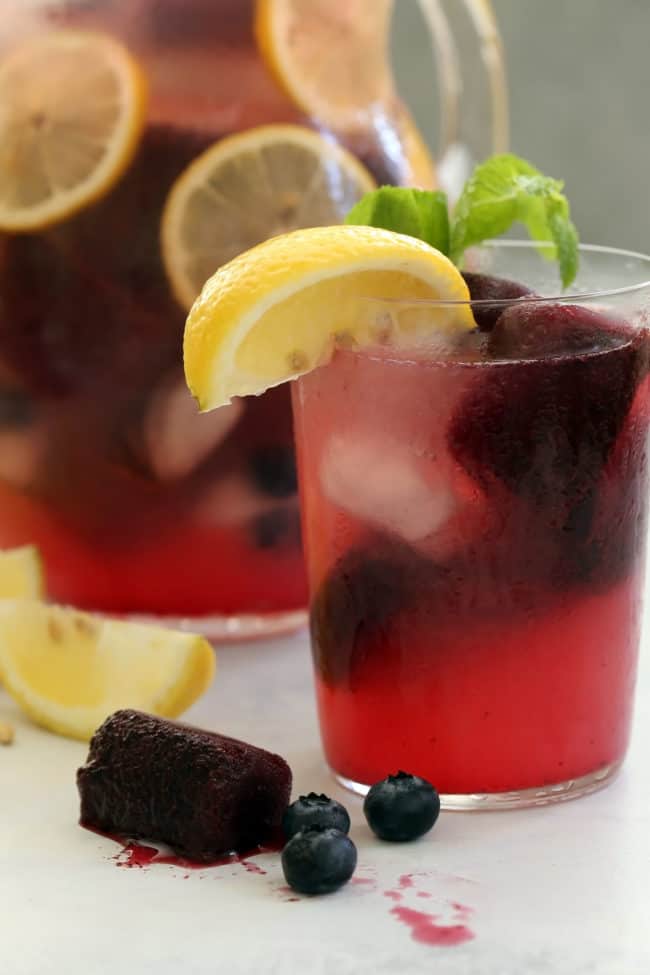 This lemonade is sweetened with raw honey. Raw honey contains polyphenols, which are powerful antioxidants that have been shown to give a boost to the immune system and reduce the risk of heart disease and cancer. It's also a sleep promoter and wound and ulcer healer. But these benefits are lost when honey is heated. So here we're just going to stir the raw honey in with the lemon juice until it dissolves. Then we add the water, mix well, and pour over a glass that's filled with these delicious Antioxidant Rich Blueberry Ice Cubes.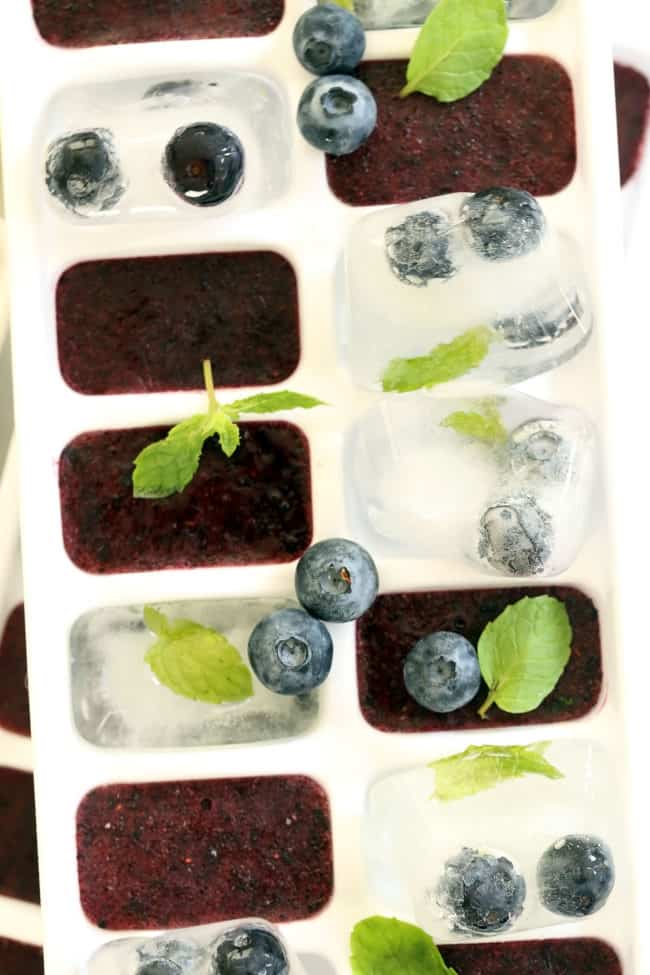 Blueberries are a powerhouse superfood containing antioxidant and anti-inflammatory compounds that help to ward off major disease like Alzheimer's, diabetes, heart disease, and some types of cancer. As for lemons, they're an excellent source of Vitamin C, and they contain flavonoid compounds that have antioxidant and anti-cancer properties. 
This honey lemonade is a really delicious drink to help you stay hydrated during the warm summer months.
~ Deb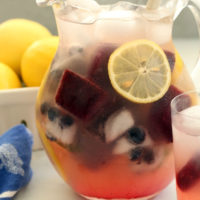 Healthy Blueberry Lemonade
Yield: 4 servings
Total Time: 5 minutes plus time to freeze the blueberry ice cubes
Ingredients:
Honey Lemonade
4 cups water
1/2 cup fresh lemon juice
1/2 cup pure clover honey
blueberry ice cubes
fresh mint for serving
Blueberry Ice Cubes
1-1/2 cups blueberries (fresh or frozen)
1/2 cup water
juice of 1 lemon
2 tablespoons pure clover honey
Directions:
Honey Lemonade
Combine the water and lemon juice in a large pitcher.
Add the honey and mix well.
Chill overnight
Blueberry Ice Cubes
Blend all of the ingredients in a blender.
Pour into ice cube trays.
Freeze until solid.
---
Leave a Comment