Healthy Berry Oatmeal Crumb Bars
Yum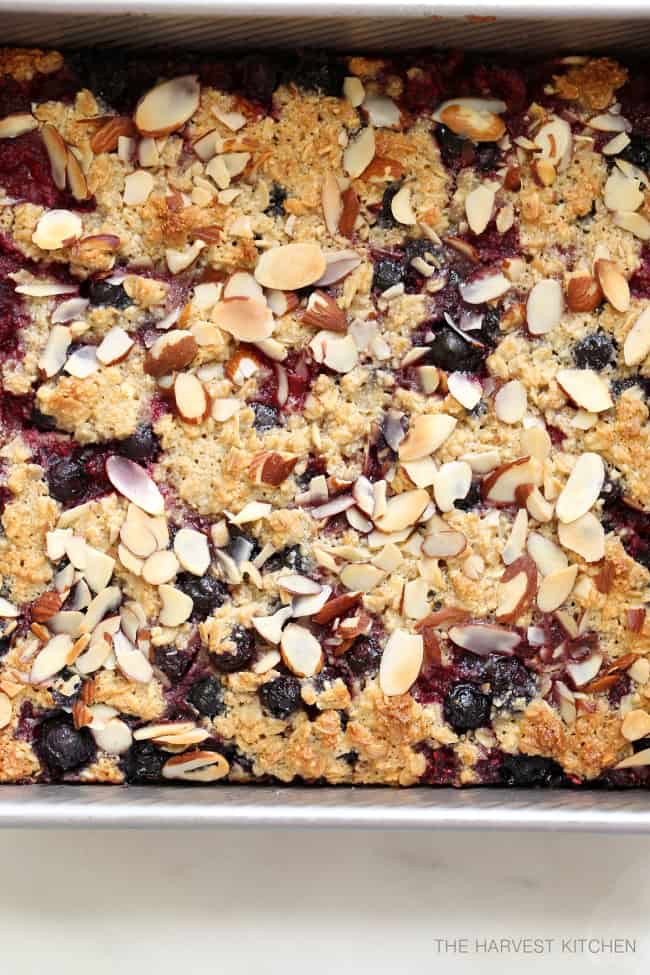 I know I should be embarrassed to admit that I ate the better part of this batch of Healthy Berry Oatmeal Crumb Bars all by myself.  But… for what it's worth….it was over a 24 hour period. Although 6 of those hours were spent sleeping.  I think the problem was that I cut the bars up into small squares, so I had a bite here and then a bite there, and then before I knew it, they were pretty much gone (save the few pieces I sent home with my mom).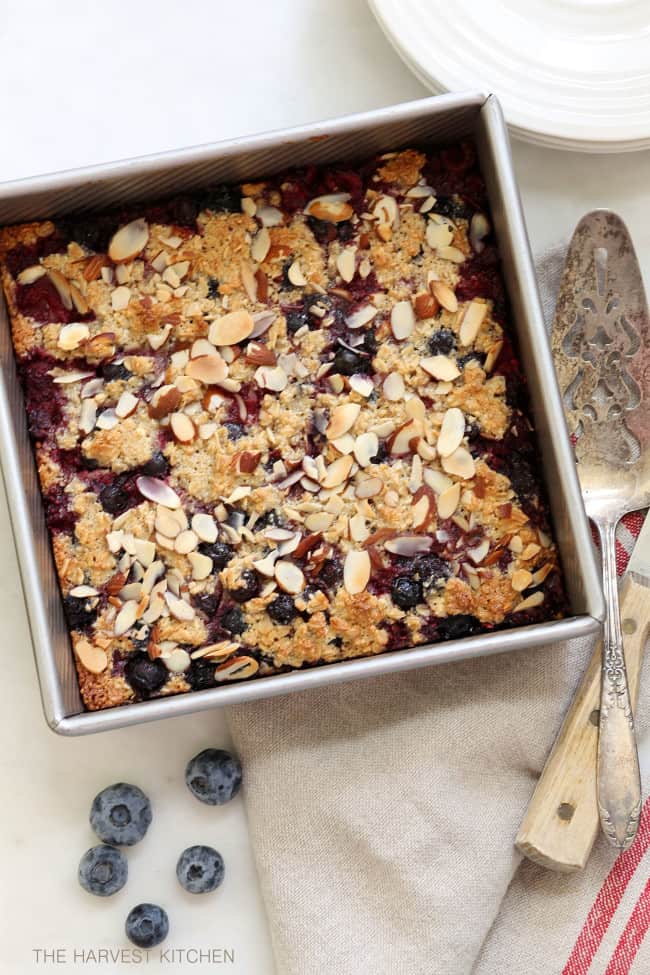 For these healthy crumb bars I used a mix of frozen raspberries and blueberries, though you can use fresh berries if you prefer.  You can also add in black berries and strawberries if you really want to mix it up.  This duo is a clean simple mix that gives you a really great combo of flavor in every bite!!  As for the delicious crumb part of these bars, they're made with oats, almond flour, some coconut oil and they're gently sweetened with pure maple syrup.  The crumb topping is delicately crispy and so completely addicting – I especially love the crispy sliced almonds!!  Hands-down these are my favorite crumb bars!!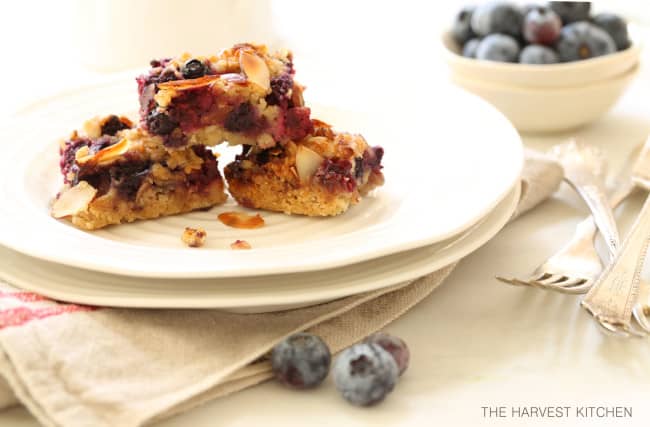 These healthy berry oatmeal crumb bars make a great snack, but they also work as a handy grab-and-go breakfast for those mornings when you're hurrying out the door!  And these crumb bars are loaded with nutritional perks!!  The heart healthy oats can help to lower cholesterol levels, stabilize blood sugar, they give the immune system a boost, and oats are a great source of fiber.  As for the blueberries, they're a powerhouse superfood containing antioxidant and anti-inflammatory compounds that help to ward off major disease like Alzheimer's, diabetes, heart disease, and some types of cancer.  You can read more here about the Benefits of Blueberries.
For the oats….. I used Bob's Red Mill Gluten-Free Organic Old Fashioned Rolled Oats
~ Deb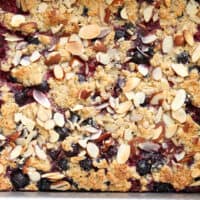 Healthy Berry Oatmeal Crumb Bars
Yield: Serves 6 - 8
Prep Time: 10 minutes
Cook Time: 25 - 30 minutes
Total Time: 40 minutes
Ingredients:
1 cup blueberries
1-1/4 cups raspberries
2 tablespoons pure maple syrup
2 teaspoons arrowroot
3/4 cup organic old fashioned rolled oats
3/4 cup organic almond flour/meal
1/2 teaspoon baking powder
Pinch of salt
1 free-range egg, beaten
1/4 cup plus 1 tablespoon pure maple syrup
2 teaspoons pure vanilla extract

1/2 cup coconut oil, melted

1/4 cup sliced almonds
Directions:
Preheat oven to 350 degrees
Lightly coat an 8x8 baking dish with coconut oil
In a small bowl, combine berries, maple syrup and arrowroot.  Set aside.
In a large bowl, combine oats, almond flour/meal, baking powder and salt.
Add the beat egg, pure maple syrup, vanilla and coconut oil.  Using a wooden spoon mix the ingredients well.
Spread 2/3 of the batter into the prepared baking dish. Spread berry mixture evenly over the crumb layer.
Sprinkle and spread the top of the berries with remaining 1/3 of the batter.
Sprinkle the top of the crumb batter with the sliced almonds.
Bake for about 25-30 minutes or until lightly browned.
Cool completely before cutting into bars.
4 Responses to "Healthy Berry Oatmeal Crumb Bars"
Leave a Comment