Greek Turkey Burgers
Yum
These Greek Turkey Burgers are deliciously seasoned with oregano, dill, fresh mint, a wee bit of garlic and sun-dried tomatoes.  They're served on a bed of Greek salad and topped with a generous dollop tzatziki sauce.   
These Greek Turkey Burgers, with a Greek salad, make for a nice healthy and light dinner after a long day at work. You won't miss the buns with these burgers since the salad stands-in quite nicely.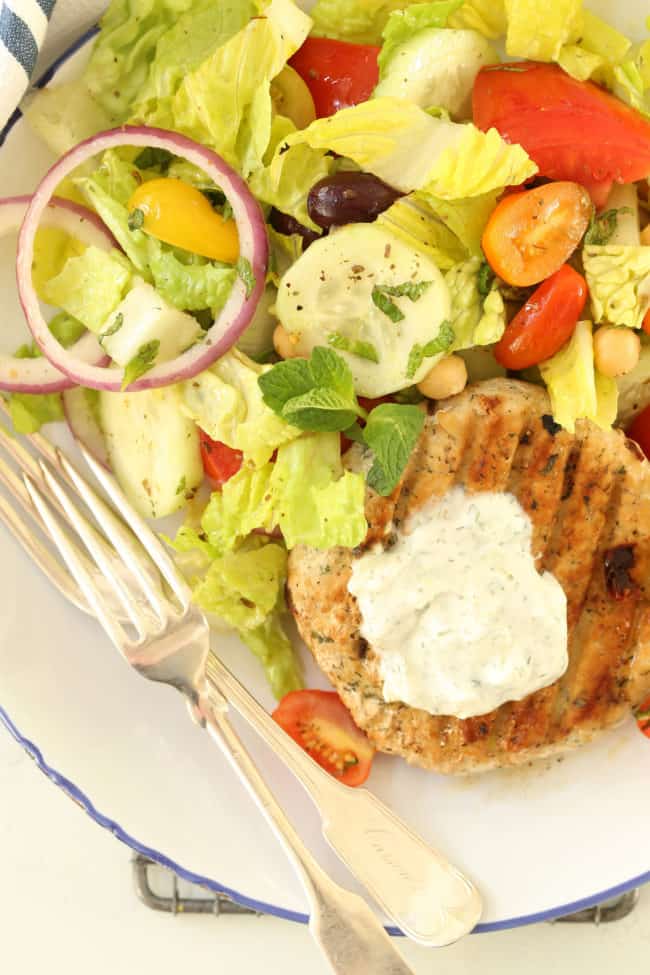 I love Greek food, and this recipe adds some nice Greek0inspired flavors.  But..I completely forgot to add the Feta cheese to this salad before photographing it. And I made a special trip to the market for it (because I forgot it during the first trip to the market). By the time I had realized the error of my ways, it was too late, The burger had been devoured and the daylight had faded to dusk, so I lost the lighting for photographing this dish. If you're not a fan of feta or you don't do cheese, forget I ever mentioned it! This salad is scrumptious with or without the cheese.
These Greek Turkey Burgers are perfect for those nights when you're short on time but you want something good and something healthy. The one thing about when I'm busy – I still always try to eat a decent meal. And this one pulls together quickly enough with very little mess.  Even less of a mess if you use an outdoor grill.
Enjoy!
~ Deb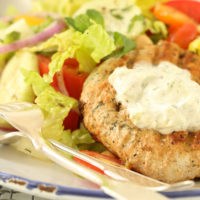 Greek Turkey Burgers
Yield: 4 servings
Total Time: 30 minutes
Ingredients:
For the Turkey Burgers
1 tablespoon extra-virgin olive oil
1-1/2 pounds lean ground turkey
1 teaspoon dried dill
1 teaspoon dried oregano
1 teaspoon fresh mint, finely chopped
2 sun-dried tomatoes packed in oil, finely chopped
1 teaspoon garlic, finely minced
½ teaspoon kosher salt
½ teaspoon freshly ground black pepper
For the Tzatziki Sauce
¾ cup Greek yogurt
½ English cucumber, peeled, seeded and finely chopped
2 teaspoons freshly squeezed lemon juice
1 tablespoon extra-virgin olive oil
1 small clove garlic, finely minced
1 teaspoon dried dill (or 2 teaspoons fresh – I prefer fresh dill)
1 teaspoon dried oregano
For the Greek Vinaigrette
¼ cup extra-virgin olive oil
2 tablespoons apple cider vinegar
1 organic lemon, juiced
1 clove garlic, smashed with side of your knife then peeled*
1 teaspoon dried oregano leaves
1/4 teaspoon dried dill
sea salt and freshly ground black pepper to taste
For the Greek Salad
5 fistfuls (5 cups) Romaine lettuce, chopped
1 small red onion, thinly sliced
1 English cucumber, peeled and thinly sliced
1/2 cup heirloom cherry tomatoes, halved
1/2 cup garbanzo beans, drained and rinsed
1/3 cup sliced Kalamata olives
1/4 cup crumbled goat cheese
2 tablespoons fresh mint, sliced into ribbons
Directions:
For the Turkey Patties
Add the meat to a large mixing bowl.
Gently fold in the olive oil, seasoning, garlic and the sun-dried tomatoes. Don't over mix or your patties won't be as tender. Form into 4 meat patties.
Refrigerate or freeze for 10 minutes so the patties stay firm and hold their shape
Brush extra virgin olive oil on the grill.
Grill the meat patties over medium-high heat on an outdoor grill or a stove-top grill for about 3 to 4 minutes on each side, or until completely cooked through.
Transfer to a platter.
For the Tzatziki Sauce
Combine all of the ingredients in a medium size bowl.
For the Greek Vinaigrette
Add the ingredients to a mason jar. Twist on the lid tightly and shake well until the ingredients are combined.
Store in the refrigerator.
Stir well before serving.
For the Greek Salad
Add the ingredients to a large mixing bowl.
Drizzle the dressing along the outer rims of the ingredients and fold into the ingredients.  Gently toss so all ingredients are lightly coated.
Garnish with mint leaves
Leave a Comment