Gluten Free Pumpkin Bread
Yum
This Gluten Free Pumpkin Bread is made with almond flour, sweetened with maple syrup, has a delicious nutty streusel, and totally screams of fall!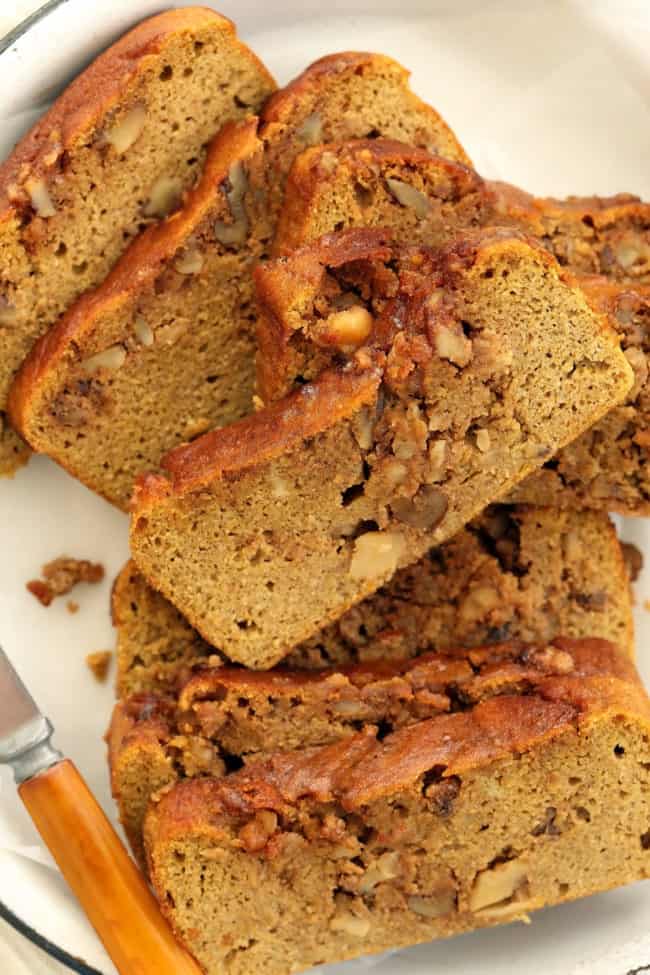 This Gluten Free Pumpkin Bread is hands-down the BEST pumpkin bread I've ever had. It's super moist, dense but delicate, and it has a wonderful cozy fall flavor. 
This Gluten Free Pumpkin Bread made with almond flour has a delicious walnut and cinnamon swirl is the best part of this bread (though the swirl in this loaf doesn't look much like a swirl).   It's slightly sweet and deliciously nutty.  If you don't like nuts (or are allergic), then I'd say to still add the cinnamon and maple syrup "swirl" to the mix.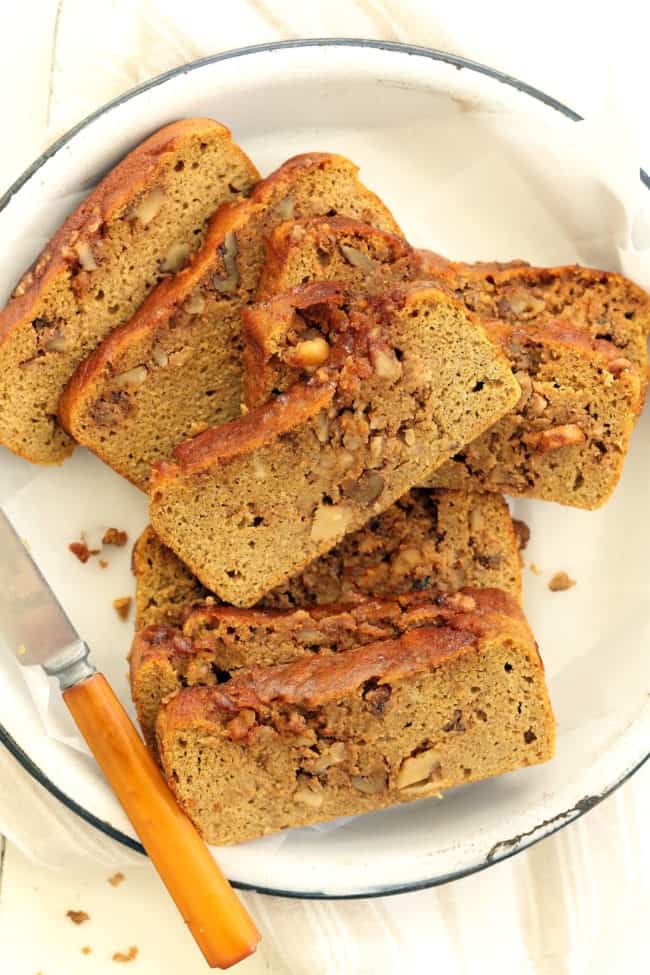 It might remind you a wee bit of Sock-it-to-me cake (which is one of my favorite coffee-cakes).  The walnut cinnamon swirl is made of chopped walnuts (lightly toasted), cinnamon, pure maple syrup and a wee bit of coconut sugar. If you're a nut lover like I am, you'll enjoy picking the nuts out of this bread!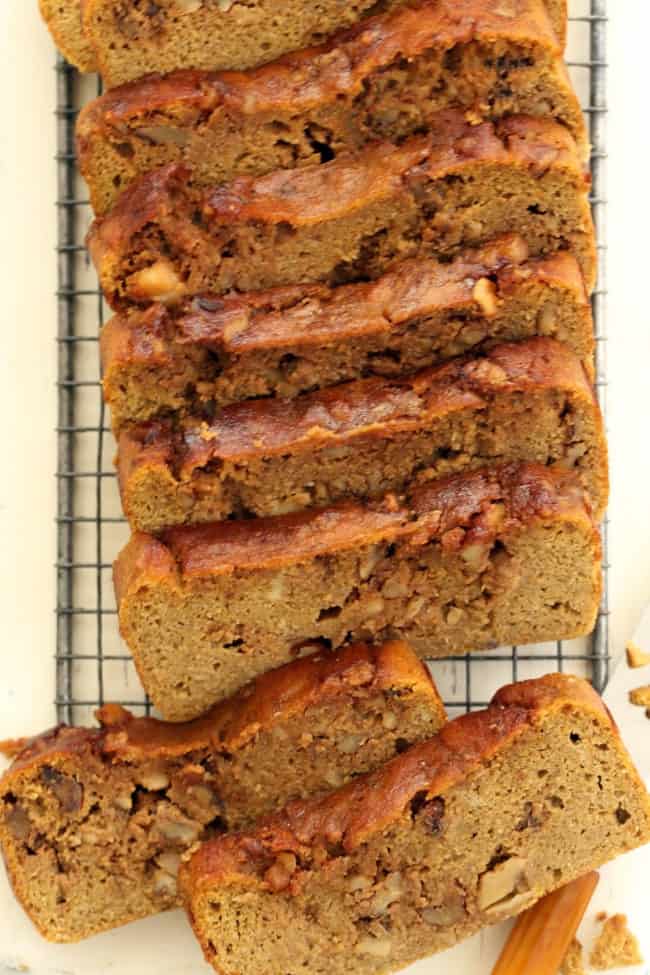 Guys, I'm so sorry for the long stretch between recipes!!!  My computer crashed, and when I was able to get her up and running again, I had to upload all of the apps that I lost, which included Photoshop/Lightroom, etc.  So….we're back…..thankfully!!
I originally shared this recipe on September 27, 2015 (my dad's birthday).  Ive updated it here with new photos and a slightly tweaked recipe.  My family is seriously addicted to this healthy pumpkin bread.  If you give this recipe a try, please let me know.  I hope you love it as much as my family does!
~ Deb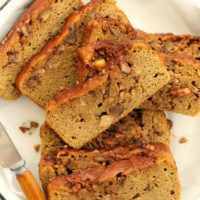 Gluten Free Pumpkin Bread
Ingredients:
FOR THE BREAD
1-1/4 cups almond flour
1/4 cup coconut flour
1/2 teaspoon sea salt
1/2 teaspoon baking soda
1/2 teaspoon alluminum-free baking powder
1 teaspoon cinnamon
1 teaspoon pumpkin pie spice
3/4 cup pumpkin
1/4 cup maple syrup
1/4 cup coconut oil
4 free-range brown eggs
2 tablespoons almond milk
2 teaspoons pure vanilla extract
FOR THE STREUSEL
1 cup lightly toasted walnuts, chopped
2 tablespoons pure maple syrup
2 tablespoons coconut sugar
1/4 teaspoon sea salt
Directions:
FOR THE BREAD
Preheat oven to 350 degrees.
Lightly grease a loaf pan with coconut oil.
Combine all of the dry ingredients in a bowl
Combine all of the wet ingredients in a bowl.
Using a rubber spatula, fold the flour mixture into the wet mixture until combined.
Spread half of the batter over the bottom of the prepared loaf pan.
Layer the walnut-cinnamon mixture evenly over the batter. Top the streusel with the remaining batter.
Using a small rubber spatula or butter knife, zigzag back and forth through the batter.
Place the loaf pan in the oven and bake for 40 to 50 minutes or until a toothpick inserted in the center comes out clean.
Remove from oven and cool on a wire each for about 5 minutes before removing from the loaf pan.
FOR THE STREUSEL
Mix all of the ingredients in a small bowl.
Leave a Comment