Gluten Free Pancakes
Yum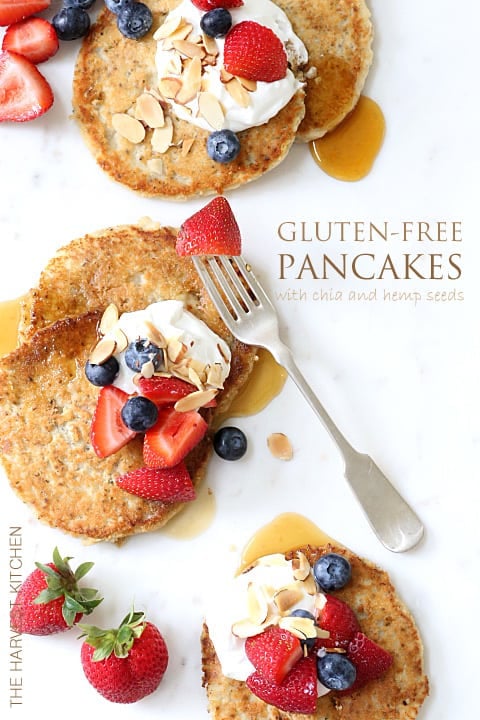 My friend Malcolm (who is a national champion cyclist and complete fitness and nutrition enthusiast) has a favorite restaurant that he likes to eat at in Westlake Village called "Joi Cafe".  He says they make the best pancakes ever!  One of the owners of Joi Cafe is Rich Roll.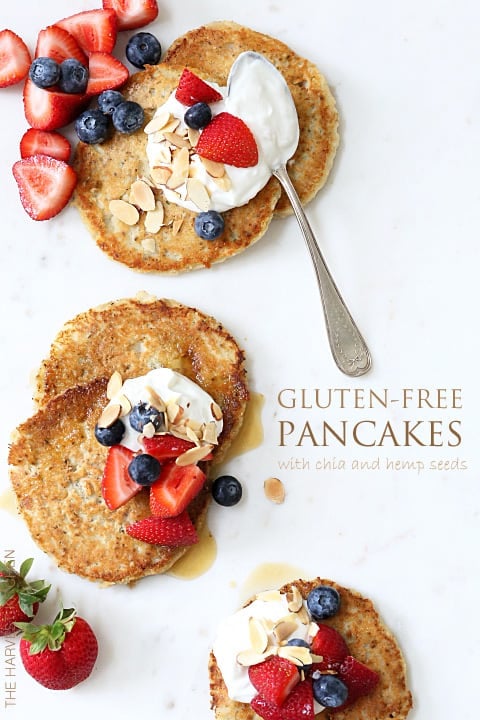 Rich has written a couple of books – Finding Ultra, and his latest The Plantpower Way: Whole Food-Plant Based Recipes and Guidance for the Whole Family. I slightly adapted this recipe from the Supersoulfood Pancake recipe provided in his latest book.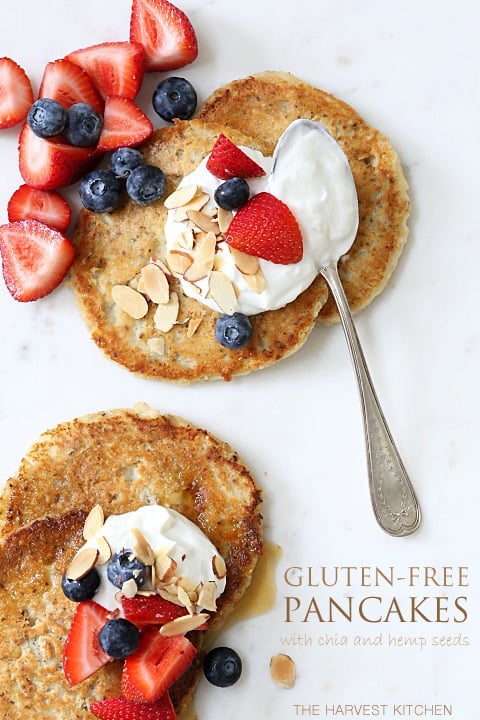 The batter for these pancakes is a little thicker than most, but they cook up nicely and they have a deliciously light lemon flavor.  I also love the little flecks of seeds in these pancakes.  I serve these healthy pancakes with whipped plain Greek yogurt, a little maple syrup, some mixed berries and a sprinkling of toasted almonds.  They're a new favorite of mine!  They're soooo good!!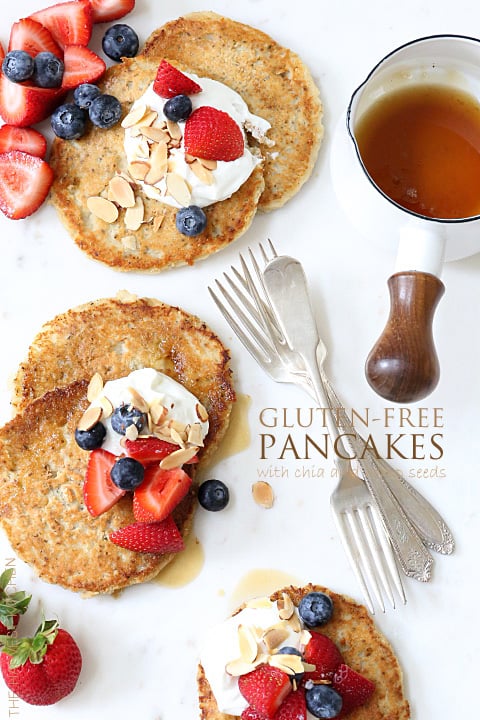 Enjoy!
~ Deb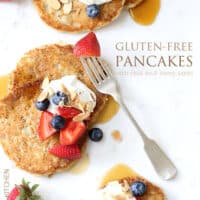 Gluten Free Pancakes
Yield: 6 - 8 pancakes
Total Time: 40 minutes
Ingredients:
3 tablespoons ground flaxseeds
6 tablespoons plus 3-1/4 cups filtered water (plus more if needed)
1 cup garbanzo flour
1-1/2 cups brown rice flour
1/2 cup coconut flour
2-1/2 tablespoons potato starch
2 tablespoons chia seeds
2 tablespoons hemp seeds
2 tablespoons brown sugar
1-1/2 tablespoons baking powder
1-1/2 teaspoons vanilla extract
zest of 1 lemon
3 tablespoons coconut oil, plus more for the pan
Pure maple syrup
Fresh berries
Whipped plain Greek yogurt
Toasted Almonds
Directions:
In a small bowl, whisk together the flax seeds with 6 tablespoons of water until the mixture is "egg like".  Set aside.
In a large mixing bowl, sift together the garbanzo flour, brown rice flour, coconut flour, potato starch, sugar and baking powder.  Add the chia seeds and hemp seeds and blend.
In a medium bowl, add the vanilla and coconut oil to the water and whisk.
Make a well in the dry mixture and pour the water mixture into the dry mixture.
Add the flaxseed mixture.
Fold the flour mixture into the wet mixture and blend well.
Add more water if batter is too thick.
Heat a cast iron skillet over medium low heat.  Add coconut oil to coat the pan.
Pour 1/4 cup portions of the batter into the pan.  When the batter bubbles, turn over and cook on the other side for 2 to 3 minutes or until golden brown on the bottom and the pancakes are cooked through.
Leave a Comment