Garlic Parmesan Roasted Cauliflower
Yum
This easy Garlic Parmesan Roasted Cauliflower is a healthy side dish for any night of the week.  It's nicely seasoned with garlic, thyme and Parmesan.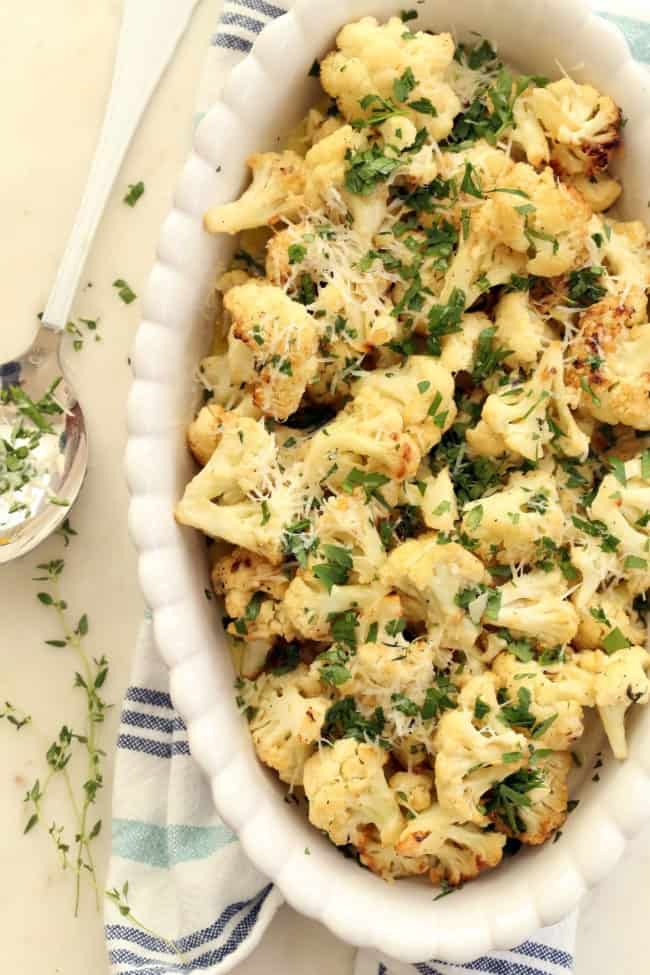 This Garlic Parmesan Roasted Cauliflower is a super easy side dish to make.  The cauliflower florets roast in the oven with fresh garlic and thyme, then it's tossed in finely grated parmesan cheese.  So easy and so delicious!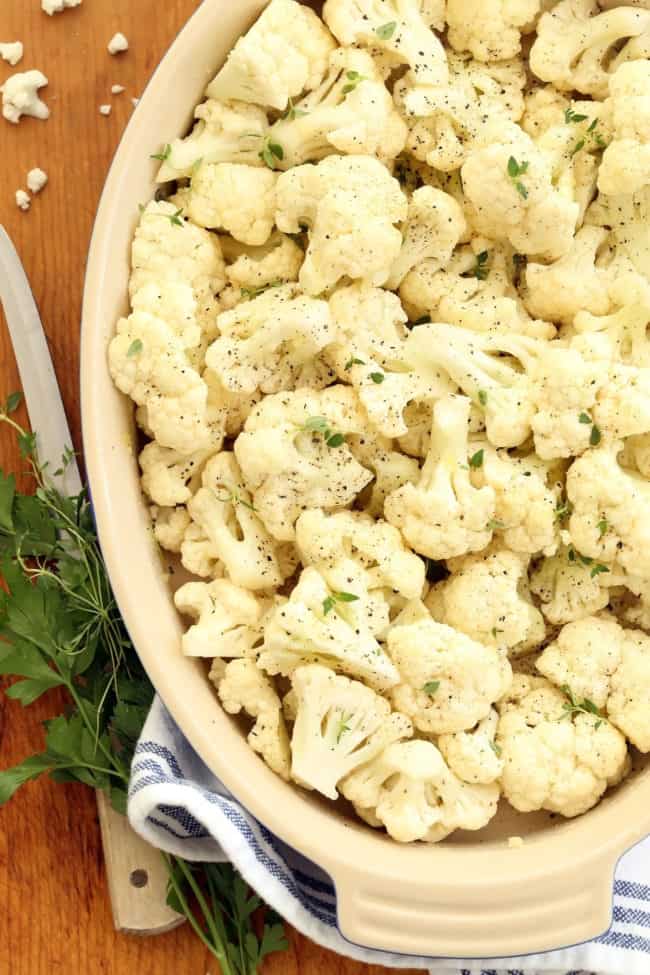 If you're not a fan of cauliflower – this recipe may change your mind about things.  Roasting brings out the best in the cauliflower, especially when it's roasted with some garlic then tossed in some finely grated parmesan cheese.  What's not to love!?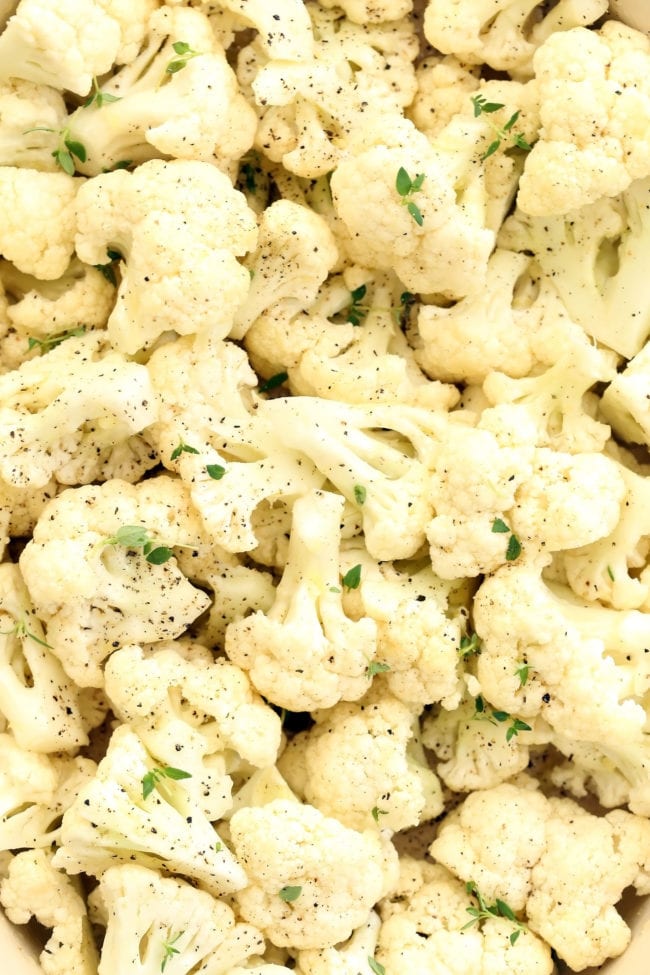 I was at Whole Foods Market one day at their salad counter and a woman bought 2 large containers of the Garlic Parmesan Roasted Cauliflower… to the tune of about $35.  So naturally I was curious and ordered a small container.  $2 for two florets.  This recipe is just as good as their roasted cauliflower only it doesn't break the bank.  I always have Parmesan cheese in my fridge, so this is an easy recipe for me to pull together in a pinch.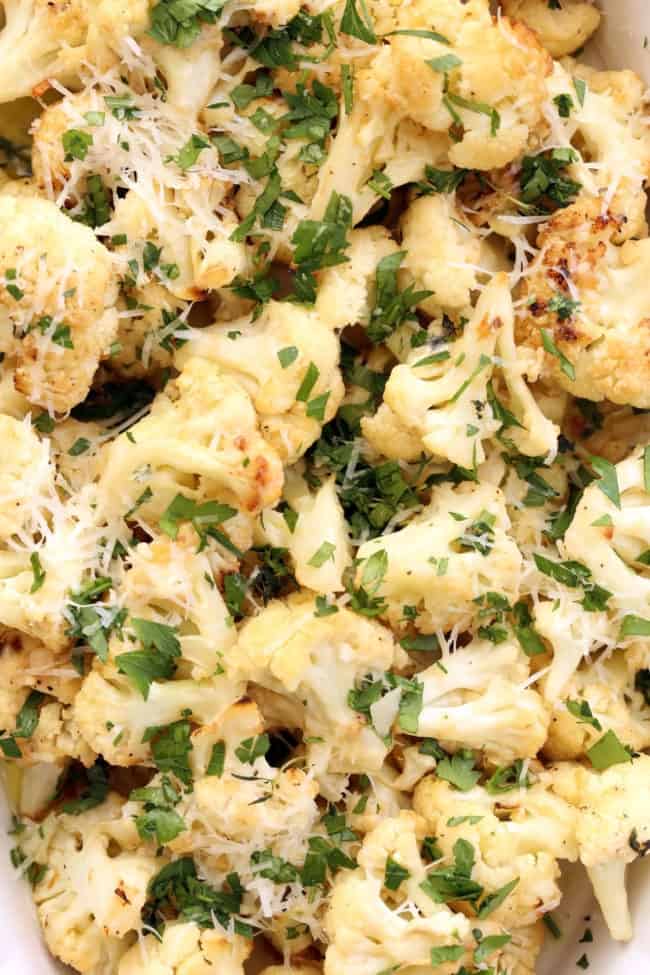 Cauliflower is a member of the cruciferous vegetable family, along with broccoli, cabbage, kale, and brussel sprouts,   It's considered one of the healthiest foods on the planet.  Cauliflower is loaded with  phytochemicals and anti-inflammatory compounds which help to ward off cancer and heart disease.  Cauliflower also contains certain compounds (sulforaphane, glucobrassicin, glucoraphanin, and gluconasturtiian) which supports liver health and is beneficial for digestion and triggers the liver to produce detoxifying enzymes that block free-radical damage.
I hope this easy roasted cauliflower makes a cauliflower fan out of you!
~ Deb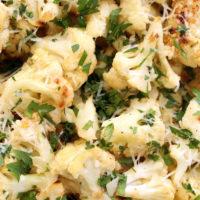 Garlic Parmesan Roasted Cauliflower
Yield: 4 servings
Total Time: 30 minutes
Ingredients:
2 tablespoons minced garlic
3-4 tablespoons extra-virgin olive oil
1 large head cauliflower, cut into florets
1 tablespoon fresh thyme leaves
1/2 teaspoon paprika (optional)
1/3  cup parmesan cheese, finely grated (plus about 1/4 cup more for garnish - optional)
2 tablespoons flat-leaf parsley, chopped
salt and freshly ground black pepper to taste
Directions:
Preheat the oven to 450 degrees
Rub the inside of a large casserole dish with extra-virgin olive
Place the cauliflower floutes olive oil and garlic in the baking dish. Drizzle the olive oil over the cauliflower and toss to coast evenly.
Season with thyme, salt and pepper and paprika if using.
Bake for 25 minutes, stirring halfway through.  If the cauliflower is getting dried out - drizzle another tablespoon over it.
Sprinkle with Parmesan cheese and broil for 3 to 5 minutes, until golden brown.
Garnish with extra Parmesan cheese and chopped parsley.
Leave a Comment