Easy Chicken Fajita Bake
Yum
The chicken in this Easy Chicken Fajita Bake is moist and tender, it's smothered with onions and peppers and simmered in a deliciously seasoned sauce.  This is one of those easy baked chicken recipes that you can make any night of the week.
This Easy Chicken Fajita Bake is one of those easy chicken dinner recipes that you'll want to add to your repertoire.  It's quick and easy to pull together and it's pretty much foolproof.
The star of this recipe is the sauce. It's made with fresh tomatoes, onion, garlic, cilantro, a wee bit of chicken broth and some seasoning. It's especially delicious if you add a touch of adobo sauce and a chopped chili for a slightly smokey flavor, or you can add a little jalapeño if you want to turn up the heat a bit.  The sauce is a versatile one, so feel free to play with the seasoning and adjust to your personal preference.
This ingredients for this simple sauce are blended together in a food processor, then the mixture is fried in a little olive oil for about 10 minutes until it's reduced and fragrant.
After the sauce is reduced, then the chicken breasts are added to the pan.  I let the chicken simmer in the sauce for about 5 minutes on the stovetop to get a head start in cooking.  Then we add the onions and peppers to the top and then the whole ensemble is placed in the oven to bake for about 15 minutes so the onions and peppers can brown a bit.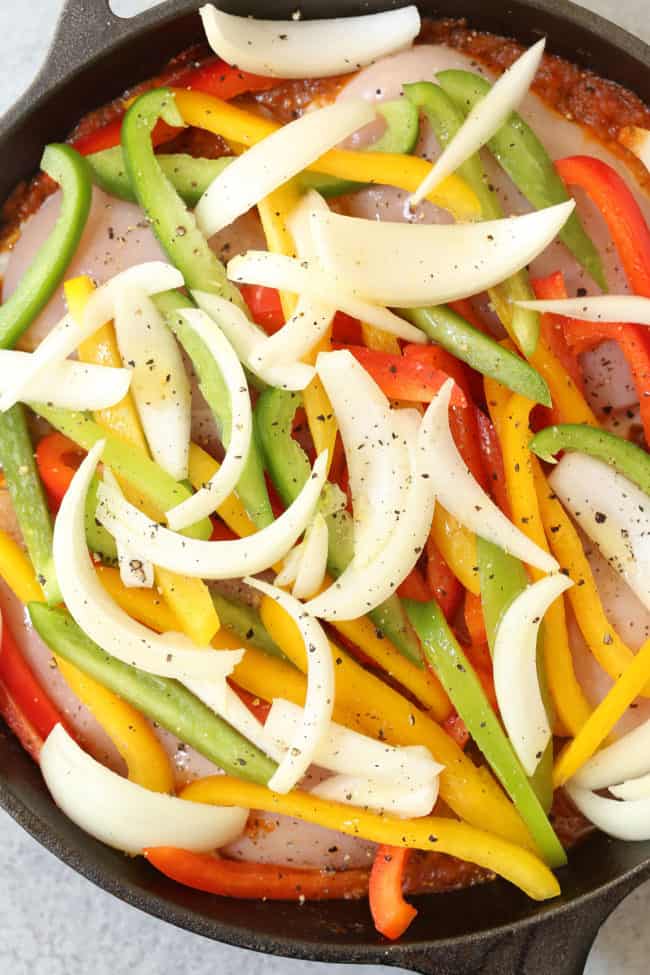 Then we take the pan out of the oven to sprinkle a bit of cheese over the top.  If you want to keep this on the low-fat side, you can easily omit the cheese at this step and just let the chicken continue to cook for the last 10 minutes or so in the oven.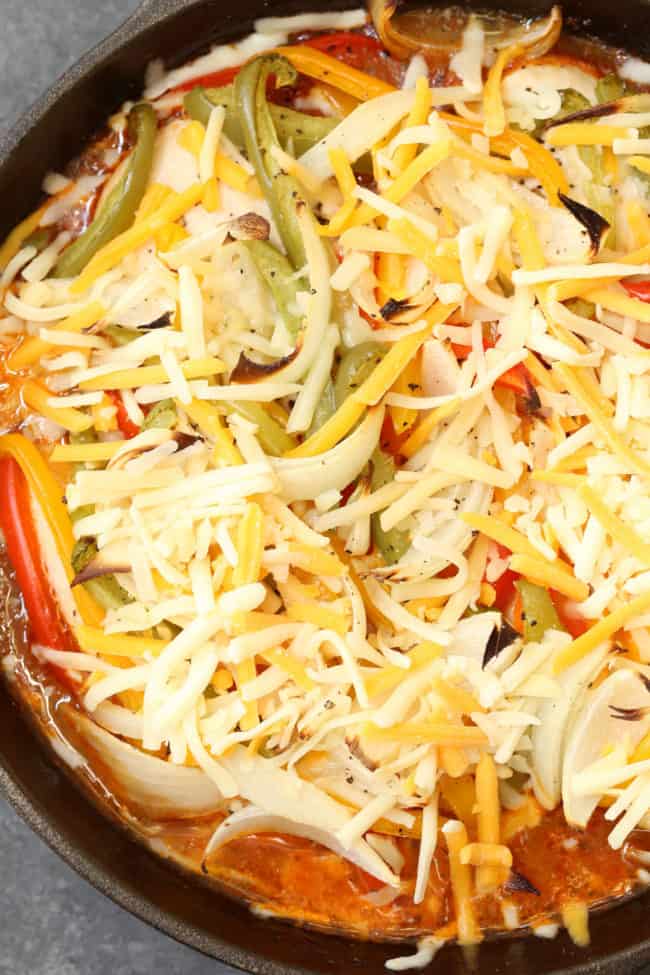 When the cheese melts, it looks like a lot – but we only add about 1/2 cup of cheese here.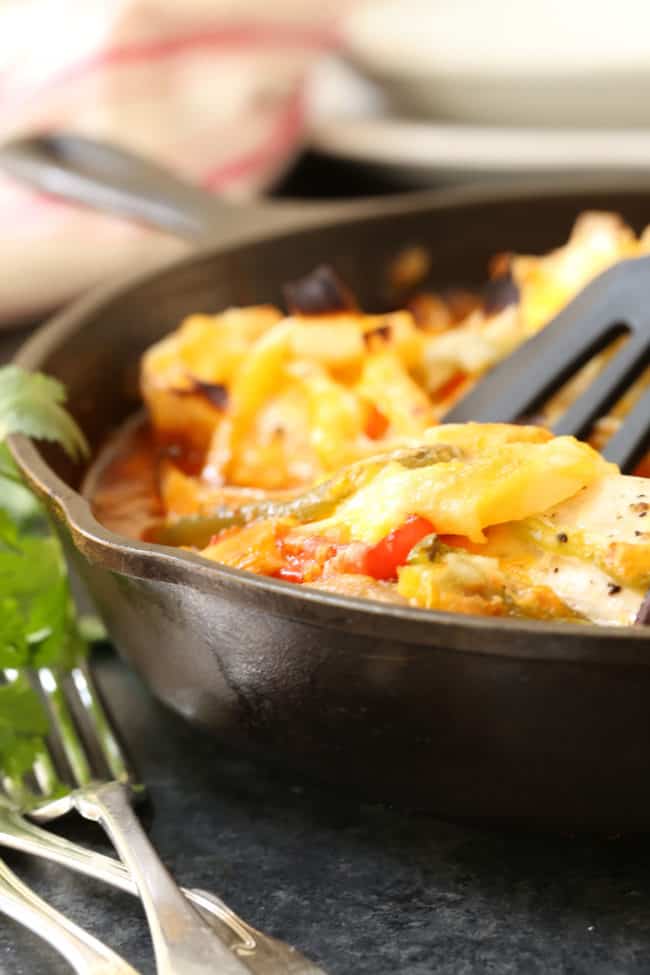 This healthy chicken fajita casserole is an easy way to make oven baked fajitas.  It's low-maintenance enough to make for a weeknight  and it's also an easy prep ahead recipe to serve a crowd.  And we only dirty up one pan.
I hope you love this Easy Chicken Fajita Bake as much as my family does!
~ Deb
Easy Chicken Fajita Bake
Yield: 4 servings
Total Time: 1 Hour
Ingredients:
For the Sauce
2 tablespoons extra-virgin olive oil
3 cups of tomatoes, cut into wedges (about 3 large tomatoes)
1 large yellow onion, peeled and cut into wedges
4 cloves garlic, peeled and chopped
1/3 cup fresh cilantro, chopped (about a fistful)
1/2 ancho chili in adobo saucei, chopped (optional)
1 teaspoon adobo sauce (optional)
1-1/2 teaspoons cumin
1-1/2 teaspoons onion powder
1/2 teaspoon garlic powder
salt and freshly ground black pepper to taste
For the Chicken
4 Boneless skinless chicken breasts
3 bell pepper (red, yellow and green), deseeded and thinly sliced
1 yellow onion, peeled and cut into thin wedges
2 tablespoons extra-virgin olive oil
1/2 cup shredded Mexican cheese blend (cheddar and Jack)
2 cups sauce (recipe above)
Directions:
For the Sauce
Add the tomatoes, onion, peppers garlic, cilantro, adobo chili and adobo sauce to a food processor and process until well blended.
Heat the olive oil in a large pan or Dutch oven.
Add the tomato mixture to the heated olive oil and cook over low heat.
Add the chicken broth.
Add the cumin, onion powder, garlic powder, salt and pepper and cook for about ten minutes until reduced.  Stir frequently.
For the Chicken
Preheat oven to 350 degrees
Add the chicken to the sauce already cooked in the pan.
Distribute the onions and peppers evenly on top of the chicken.
Drizzle the olive oil over the peppers and onions.
Bake in the oven for about 15 minutes.
Remove from oven and sprinkle the grated cheese over the top of the onions and peppers.
Return the pan to the oven and continue to bake for another 30-40 minutes or until the chicken is cooked through and no longer pink inside.
One Response to "Easy Chicken Fajita Bake"
Leave a Comment