Dairy Free Creamy Onion Soup
Yum
This Dairy Free Creamy Onion Soup is made with sweet onions, fresh ginger, vegetable broth, some olive oil and thyme, and a splash of marsala wine.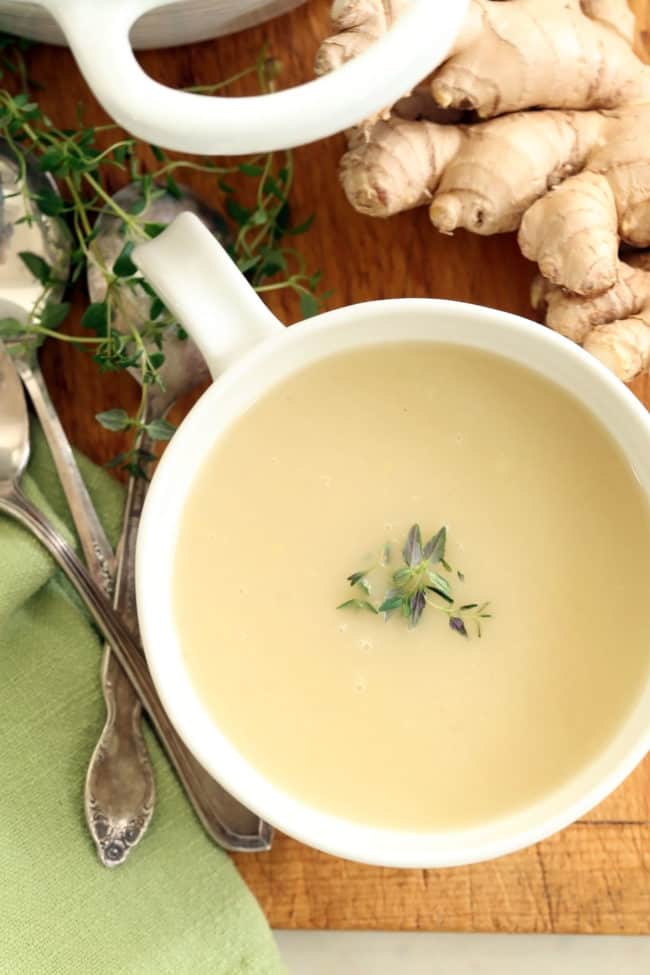 Give your immune system a good boost with this mellow and soothing Dairy Free Creamy Onion Soup.  It's loaded with antioxidant, anti-inflammatory, antiviral and detoxifying properties.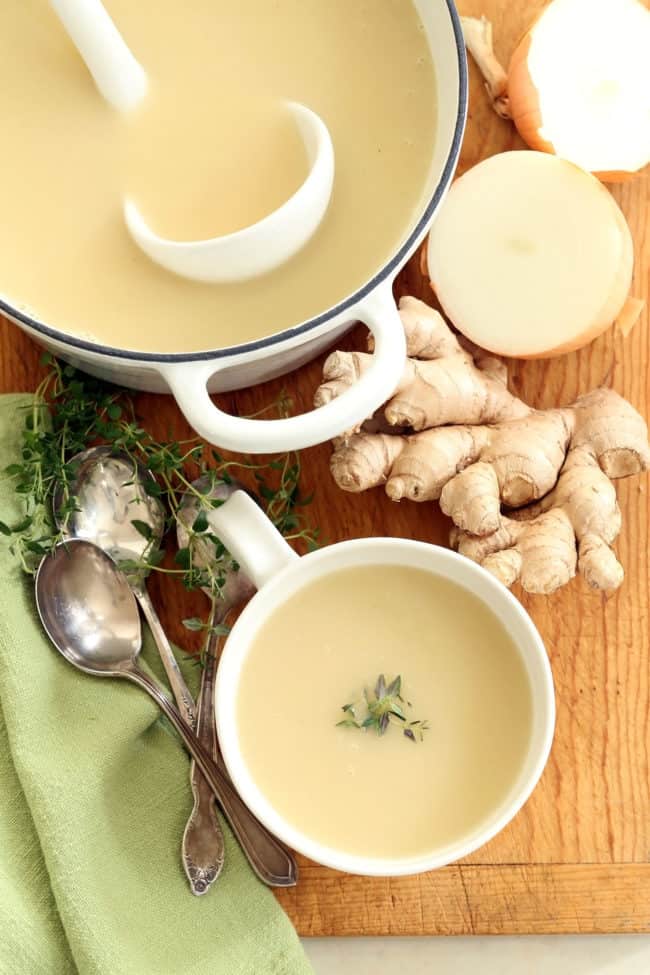 Onions are part of the allium family of vegetables which include garlic, scallions and leeks. The benefits of onions are many.  They are particularly high in flavonoids which help to simulate the production of glutathione, which is a powerful antioxidant for your liver which aids in the elimination of toxins from our bodies.  Onions are also rich in  sulfur and quercetin, which help to neutralize free radicals in the body.  Click here if you'd like to read more about the health benefits of eating onions.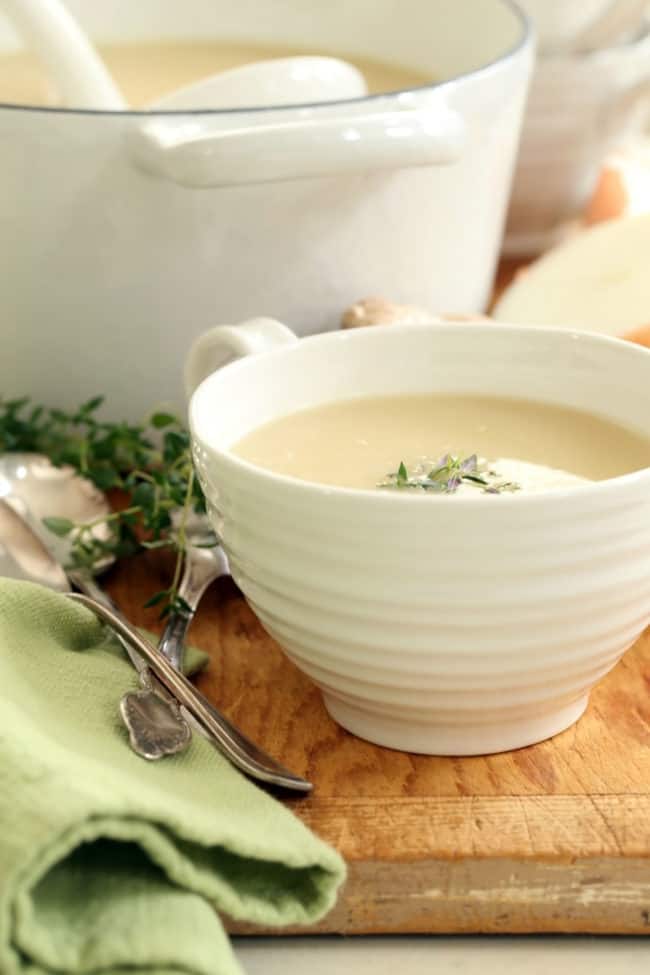 This Dairy Free Creamy Onion Soup makes a great starter to a meal, yet it's also great to sip on daily to  strengthen your immune system, especially during cold and flu season.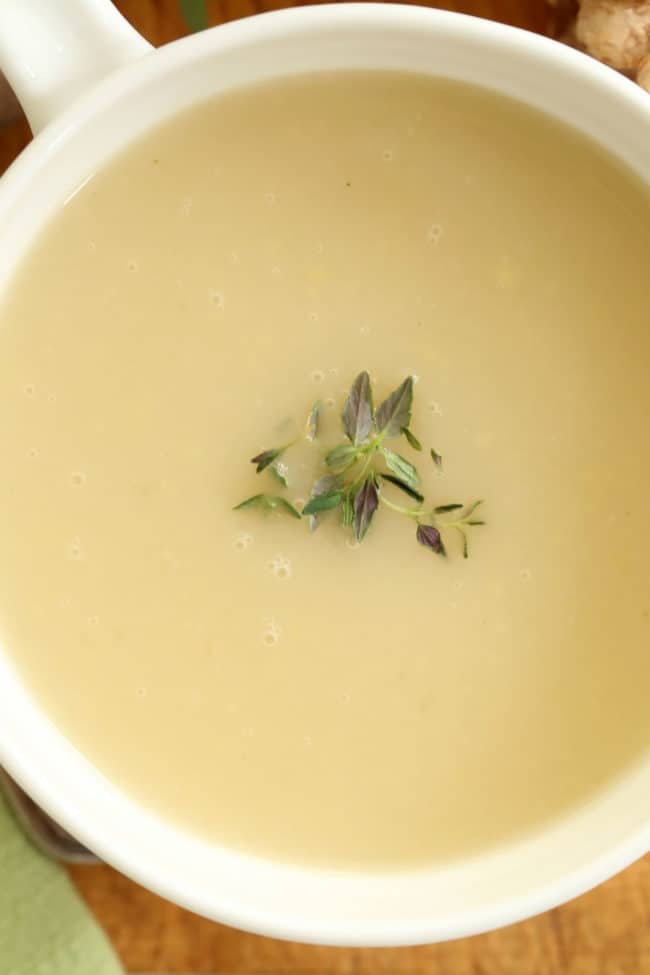 This healthy onion soup is a simple one to make.  Sweet onions are sautéed for about 20 minutes until they're just translucent, not caramelized (like French onion soup), then slowly simmered for about an hour in some vegetable broth (or chicken broth) with some fresh ginger and thyme and a splash of marsala wine.  After simmering, the soup is then pureed until smooth.  At this point you can add about 1/2 cup of coconut milk if you want things creamier, but I typically omit the milk altogether.  The flavors in this soothing soup are delicious and mellow yet a little exotic thanks to the ginger.

~ Deb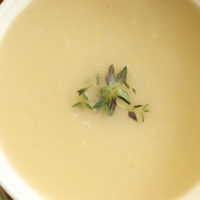 Dairy Free Creamy Onion Soup
Yield: 8-10 servings
Total Time: 1-1/2 hours
Ingredients:
6 tablespoons extra-virgin olive oil
8 large sweet onions, peeled and sliced very thin
1/4 cup fresh ginger, peeled and sliced thinly
8 cups vegetable broth (or chicken broth)
1/4 cup Marsala wine
6 sprigs of fresh thyme
1/4 - 1/2 cup coconut milk (optional)
1/2 teaspoon sea salt
1/2 teaspoon freshly ground black pepper
Directions:
Heat the olive oil in a large Dutch oven or stock pot.  Add the onion and ginger and simmer over medium-low heat, stirring often for about 20 minutes until the onions are translucent.
Add the vegetable broth (or soup broth if you prefer) , the Marsala wine, fresh thyme and bring to a boil.
Reduce heat and add the lid to the pot.  Simmer for about 1 hour until the onions are soft.
Remove the thyme sprigs and discard.  Using an immersion blender (or blend in batches in stand blender) puree the soup until smooth.  Add coconut milk if desired and salt and pepper to taste.
Leave a Comment