Colorful Beet Salad
Yum
This Colorful Beet Salad is a welcome reminder that salads don't need to be difficult or complicated.  This simple salad is made with baby beets, arugula, feta cheese, walnuts, all tossed in a richly flavored shallot vinaigrette.  It's also loaded with anti-inflammatory and antioxidant benefits!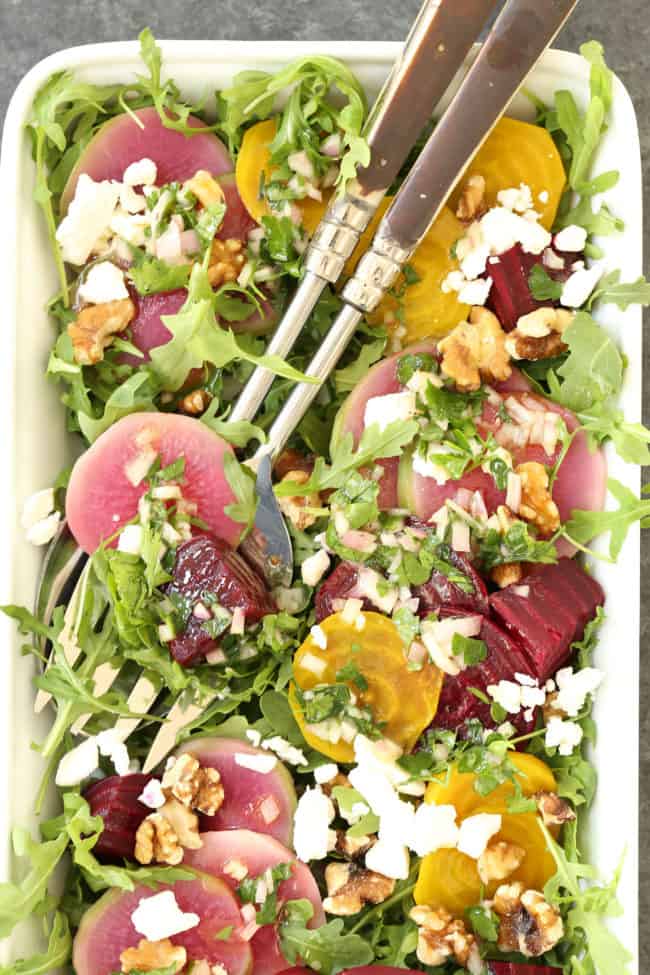 This Colorful Beet Salad with  arugula, feta and walnuts make a delicious combination of flavors!  It also makes a perfect spring salad to compliment grilled salmon or chicken.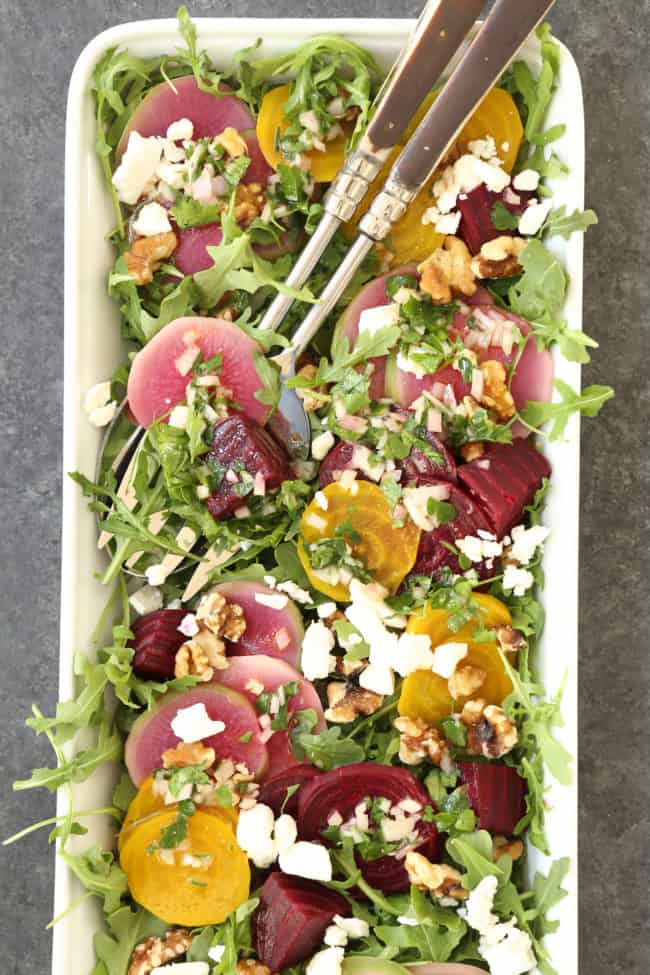 My dad always loved beets.  They were a treat to him.  A treat that I never seemed to understand or appreciate when I was growing up. Growing up, I had only tried roasted beets a couple of times in my life, and they were either canned or at a salad-bar (which I assume were canned as well), and I turned my nose up at both their appearance and dirt-like taste.  All of that changed when my friend Malcolm sent me an article about how nutritious beets are, and  he told me that he makes them all the time.  Fresh beets roasted in foil in the oven.  Fast forward a few years, and today I'm a huge fan of beets. I'm either roasting them, steaming them, marinating them or juicing them.
This right here…this Beet Ginger Detox Juice …is basically the love of my life!   As far as juice goes!  Kyle introduced me to this juice blend, and I make a batch at least once a week, and I buy it at the juice bar at Mother's Market whenever I shop there.   Love love love the flavor of this drink!!  It's so refreshing and completely addicting!!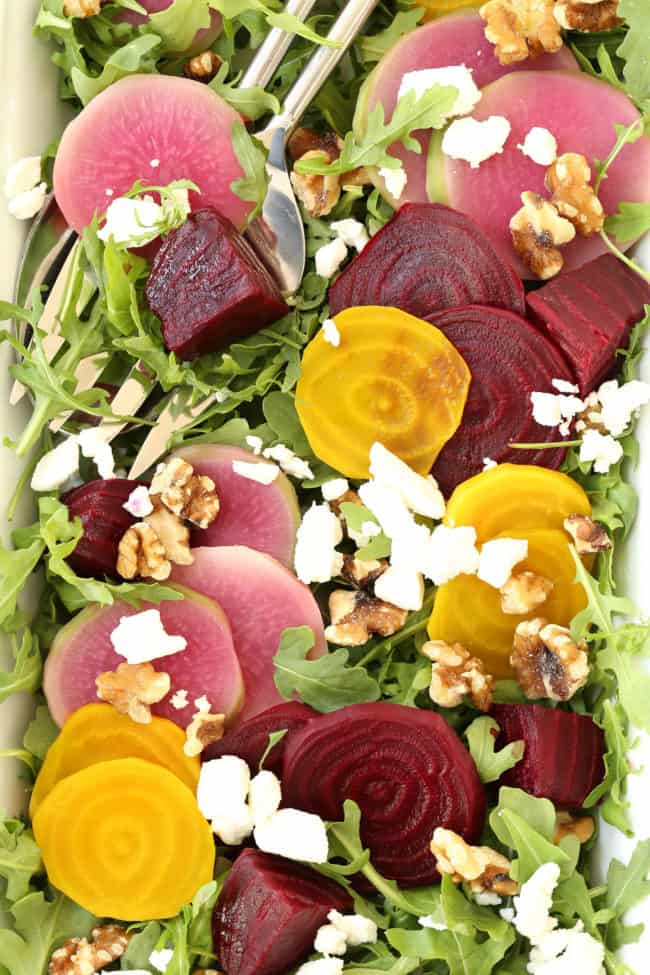 Okay, so beets can be a little messy to clean and prep, but well worth the effort. It's amazing that something so unattractive on the outside can be transformed into something so gorgeous with a little heat.  It produces the prettiest vibrant hot-pink juice, and a smooth-tender texture that tastes so flavorful in a sophisticated healthy sort of way.  Most recipes advise roasting beets whole, then peeling them after cooking. To cut down on cooking time, and less mess, I slice the beets and cut them into quarters before roasting.  Beets can stain clothes, so be warned – you may want to wear an old apron.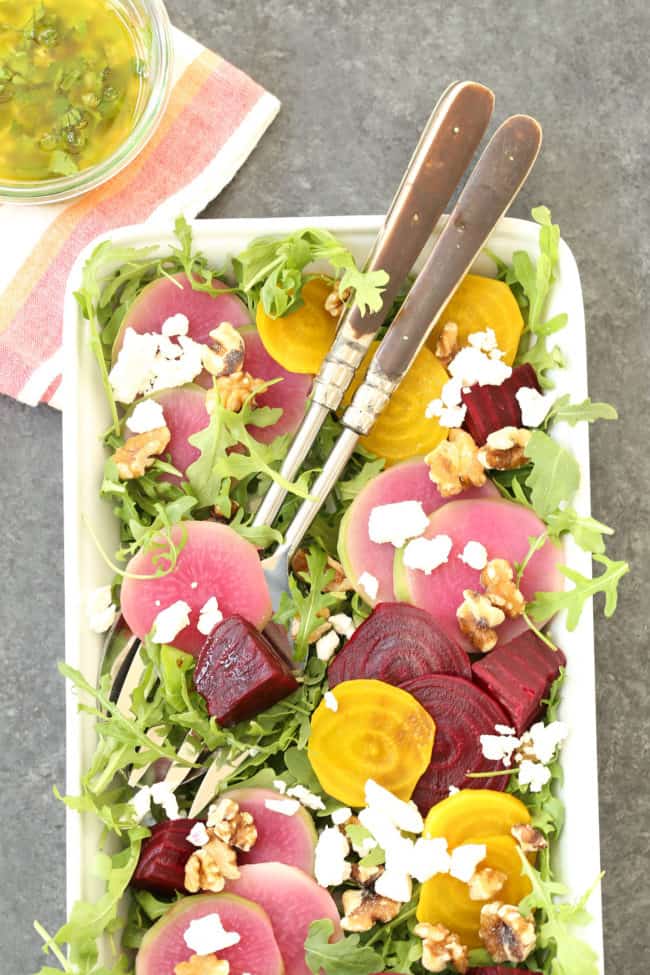 The shallot vinaigrette, which is loaded with more shallots and parsley than oil and vinegar, compliments the earthy flavor of freshly roasted beets.  This is one of my favorite salads.  Do I say that about everyone of my salads?  Hmmmm
Beets are loaded with nutritional goodness.  They've been shown to provide antioxidant and anti-inflammatory benefits. They contain compounds that help protect against heart disease and certain cancers, and they contain lutein and zeaxanthin which provide health support with respect to eye health.  You can read more about the benefits of beets here.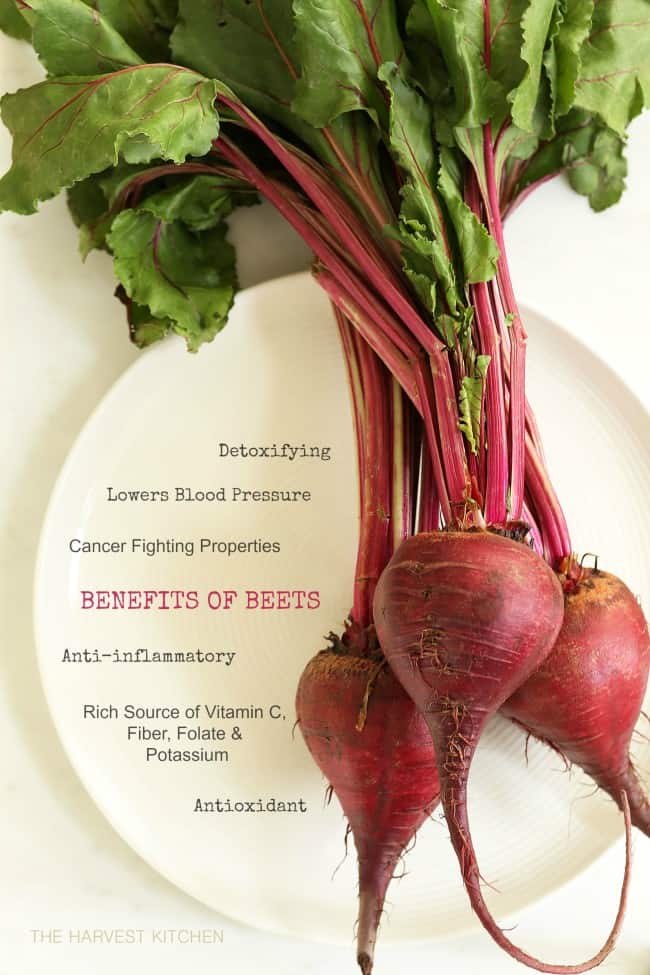 ~ Deb
Colorful Beet Salad
Yield: Serves 4 - 6
Cook Time: 20 minutes
Total Time: 1 hour
Ingredients:
For the Salad
6 baby beets trimmed, peeled and sliced thin
2 cups baby arugula
1/4 cup Low-fat Feta Cheese
1/4 cup Raw walnuts or pecans
For the Shallot Vinaigrette
1/4 cup shallots, minced
4 tablespoons flat leaf parsley, chopped
1/4 cup extra-virgin olive oil
2 tablespoons balsamic vinegar
2 tablespoons red wine vinegar
1/2 teaspoon Dijon mustard
Salt and freshly ground black pepper to taste
Directions:
For the Vinaigrette
Place all ingredients in a bowl and whisk until well blended, or place all ingredients in a mason jar with the lid on and shake until well blended.
For  the Salad
Preheat the oven to 350 degrees.
Loosely wrap the sliced and quartered beets in aluminum foil and roast in the oven for 12 - 15 minutes or until just fork tender.
Remove the beets from the oven and either serve warm or chill in the refrigerator before serving.
Place the  beets on a bed of baby arugula and garnish with walnuts or pecans and feta cheese.
Drizzle the vinaigrette over the salad and toss.
Leave a Comment