Coconut Curry Butternut Squash Soup
Yum
This Coconut Curry Butternut Squash Soup is smooth, silky and soothing, it has an incredible combo of flavors, a pretty pumpkin color, it's wonderfully fragrant, and it makes you feel warm and cozy right down to your toes… in an elegant sort of way.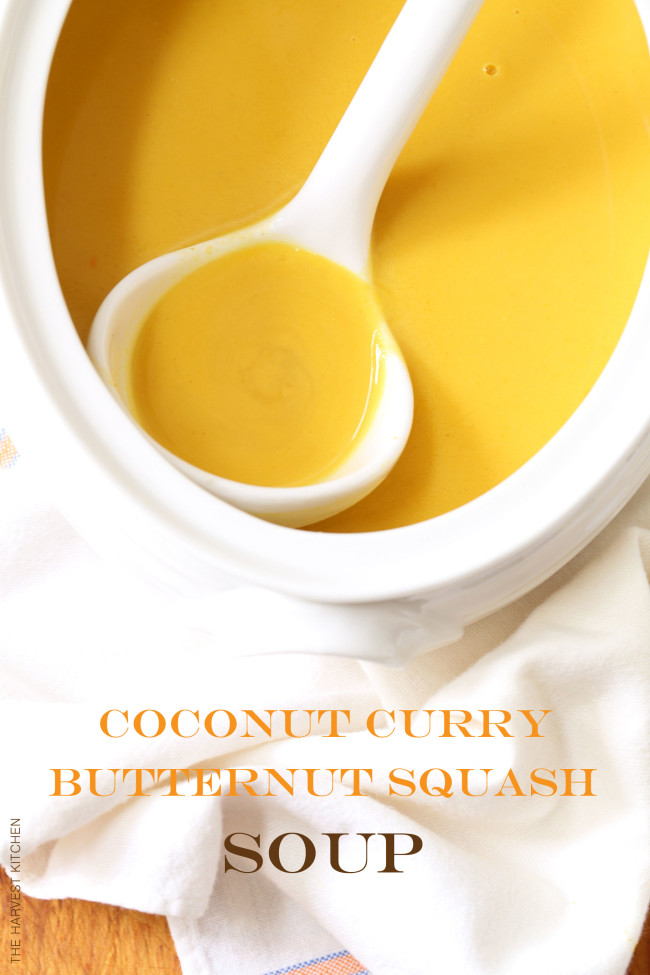 I have never been a huge fan of butternut squash soup…..that is, until now.  And I have made many variations of butternut squash soup over the years, but I've always come away with the same turned-up nose. That is…until now. This Coconut Curry Butternut Squash Soup is intoxicating with its luscious combo of exotic flavors.   And it so easy to make!!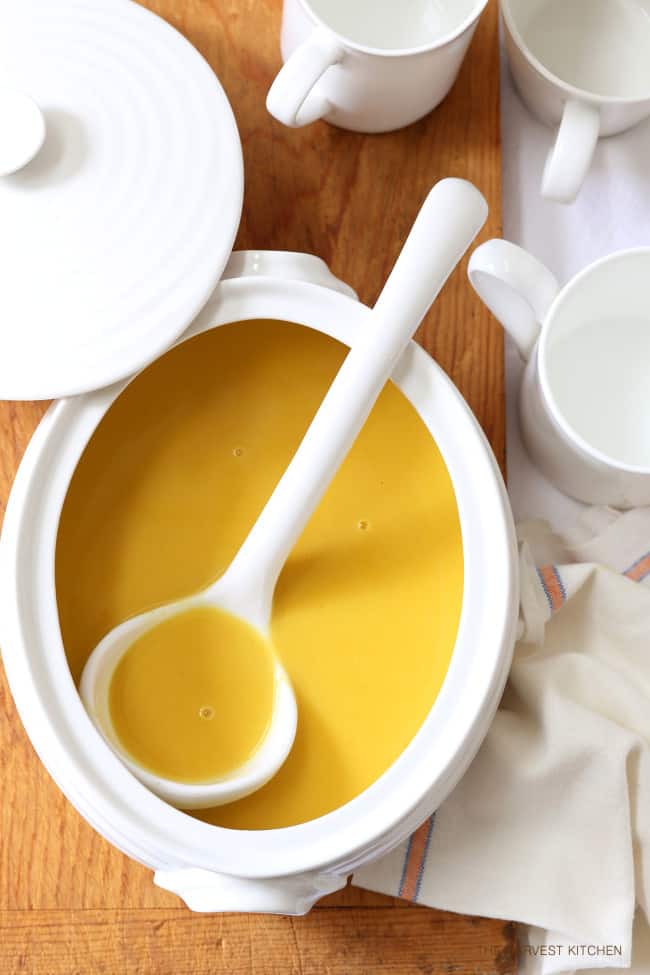 You can garnish this simple butternut squash bisque with chopped cilantro (which is really tasty), but it seems like I garnish a lot of recipes with cilantro, so I didn't go there this time. But it is a really good direction to take it in!  You can also swirl a little extra coconut milk in each bowl of soup for the added luxe.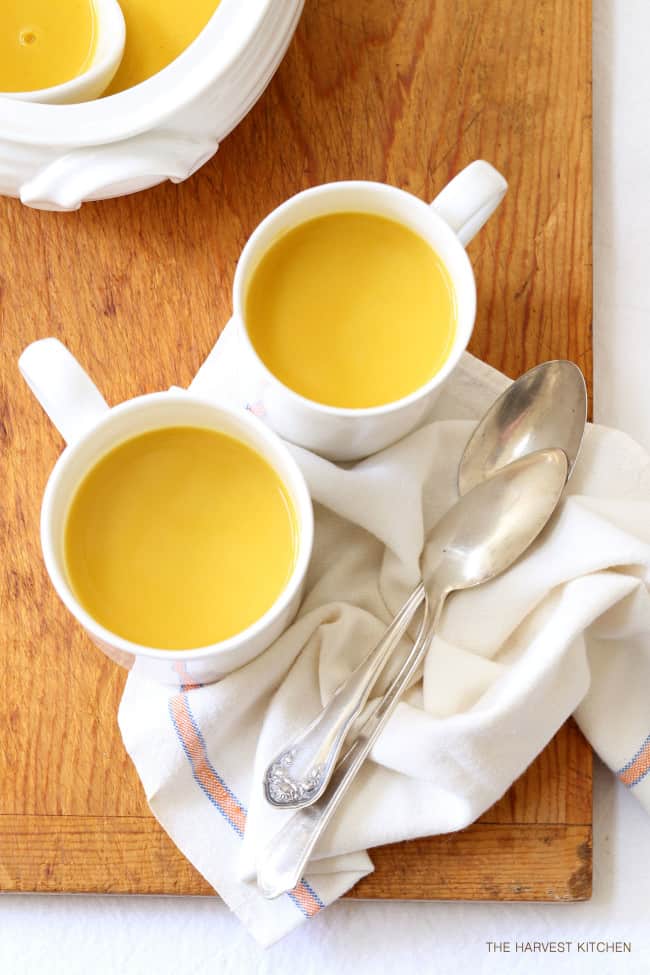 And you can garnish this soup with flecks of toasted fresh or unsweetened coconut as well.  Garnish or no garnish, this soup is a winner and will make a beautiful addition to your holiday dinner parties (just in case you're already planning meals for the holiday season).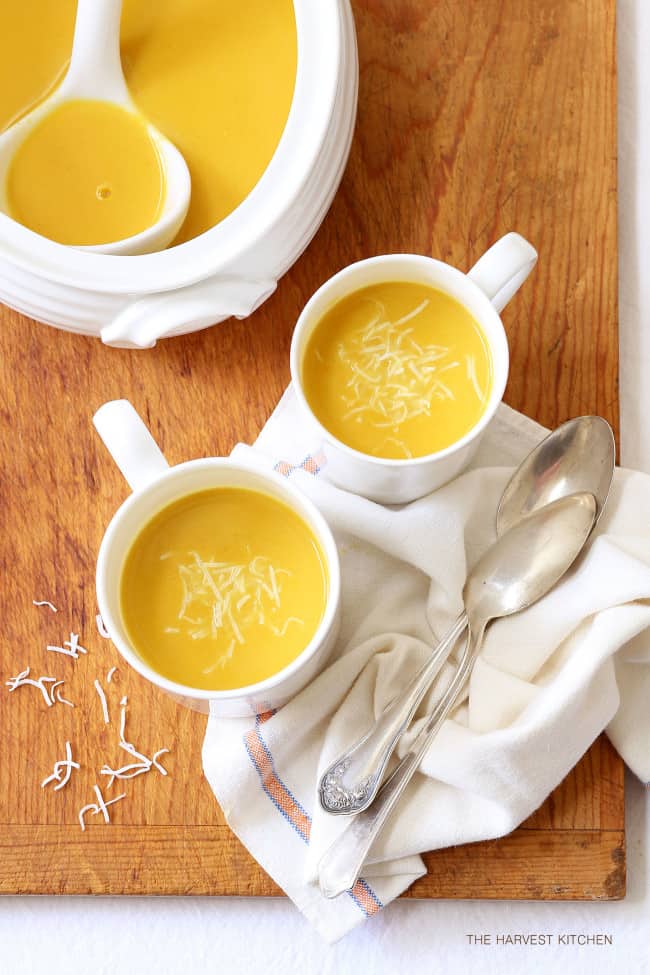 If you're sitting on the fence about butternut squash soup (like I was), give this easy Coconut Curry Butternut Squash Soup recipe a try.  I'm sure you'll enjoy it.  Like most soups, it's best piping hot!
~ Deb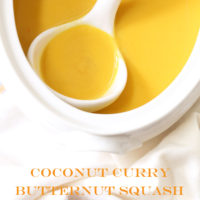 Coconut Curry Butternut Squash Soup
Yield: 6 - 8 servings
Total Time: 40 minutes
Ingredients:
1 large butternut squash soup (about 3 cups), peeled, seeded and cut into cubes
4 tablespoons coconut oil
1 tablespoon extra-virgin olive oil
1 large onion, finely chopped
2 large leeks, white and tender green parts only, sliced
2 cloves garlic, peeled, smashed and minced
2 tablespoons fresh ginger, minced
1 stalk lemon grass, cut in half and smashed
1-1/2 teaspoon curry powder
1/2 teaspoon turmeric
6 cups vegetable broth
1 cup unsweetened full fat coconut milk
salt and freshly ground pepper to taste
Directions:
Preheat oven to 350 degrees
Place the squash on a baking sheet and toss in the olive oil.
Roast in the oven for about 20 minutes or until the squash if fork tender.
Heat the coconut oil in a large pot or Dutch oven.
Add the onion and leeks and cook until tender.
Add the garlic, ginger, ginger and lemon grass, curry and turmeric and cook for another 2 - 3 minutes.
Add the squash and vegetable broth and bring to a simmer.
Simmer on medium-low heat for about 15 minutes.
Add the coconut milk and cook for another 5 minutes.  Discard the lemongrass.
Using an immersion blender, puree the soup until it's silky smooth.  Or working in batches, blend the soup in a blender.
Add salt and freshly ground pepper to taste.
Leave a Comment