Chili Cheese Potato Wedges
Yum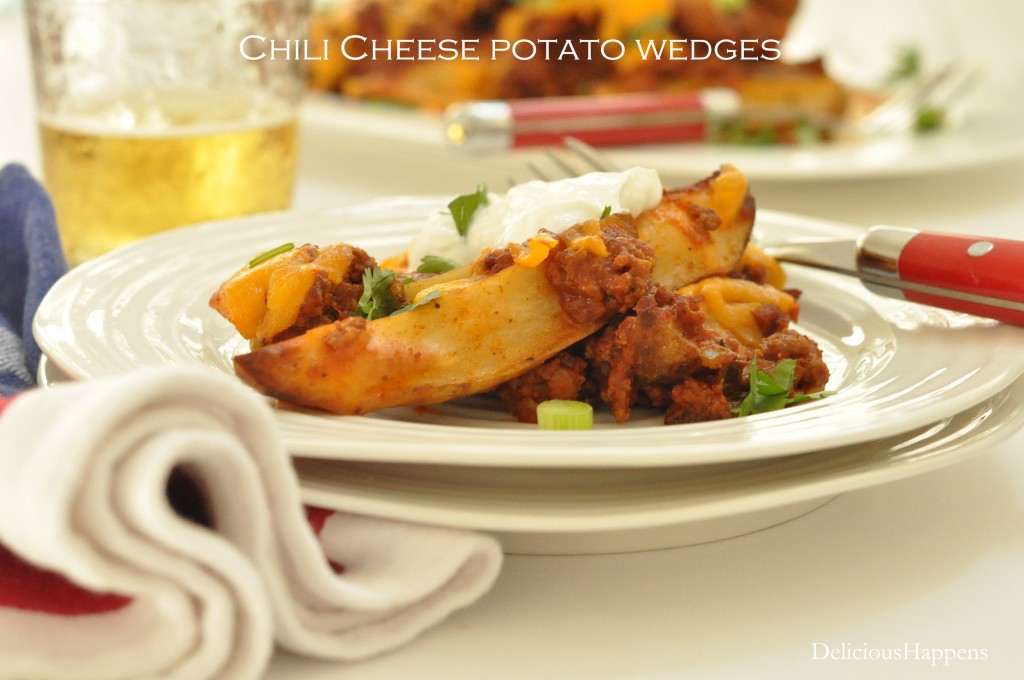 Chili Cheese Fries – everyone has their favorite place to go when they need a fix.  There's a burger place over by where my mom and dad used to live – and they make awesome chili cheese fries.   And as hard as I try to only have a few bites – I find myself eating an entire order by myself.  Time and time again.
No willpower!
These Chili Cheese Potato Wedges are a tad on the healthier side since the potatoes are tossed in olive oil then baked.  I don't feel quite as guilty for eating these.   This is a great snack to serve on game day in lieu of nachos….and also if you're serving burgers for the Fourth – this is a great change of pace in lieu of potato salad.
I'm sure no one will complain.
~ xo Deb
Chili Cheese Potato Wedges
Ingredients:
For the Chili
1 pound ground turkey
1/2 onion, finely chopped
1 clove garlic, finely minced
4 ounces of your favorite jar mild salsa
4 tablespoons chili seasoning mix
1-1/2 cups tomato sauce
1/4 cup water
1 cup cheddar cheese, grated
For the Potato Wedges
3 russet potatoes, cut lenghthwise into 8 wedges
1-1/2 tablespoons extra-virgin olive oil
1-1/2 teaspoon kosher salt
1 teaspoon paprika
1/4 teaspoon garlic powder
1/4 teaspoon onion powder
Directions:
For the Chili
In a large saucepan over medium heat, cook the meat, onion, and garlic for about 8-10 minutes until the meat is broned and the onion is soft. Drain and discard fat.
Add the salsa, chili seasoning, tomato sauce, water, freshly ground black pepper. MIx well, and reduce the heat to low and simmer for about 45 minutes. If it's too thick - add a little water to thin.
For the Potato Wedges
Heat the oven to 350 degrees.
Line a cookie sheet with a silpat or parchment paper.
In a small bowl, mix the salt, paprika, garlic powder and onion powder.
In a large bowl toss the potatoes with the olive oil and season the with spice blend.
Place the potatoes in a single layer on the cookie sheet and bake for about 20 minutes or until golden and fork tender.
Transfer the potato wedges to an oven-proof platter and spoon the chili over the potato wedges.
Sprinkle the top with cheese and bake in the oven at 350 for about 10 to 15 minutes or until the cheese is melted.
Serve with sour cream, green onions, cilantro.
Garnish with sour cream, cilantro, green onions, and whatever else sounds good to you.
One Response to "Chili Cheese Potato Wedges"
Leave a Comment