Chicken Chermoula
Yum
This Chicken Chermoula has a rich intoxicating combo of flavors and it's quick and easy to make.  It's pure comfort food with a touch of flair.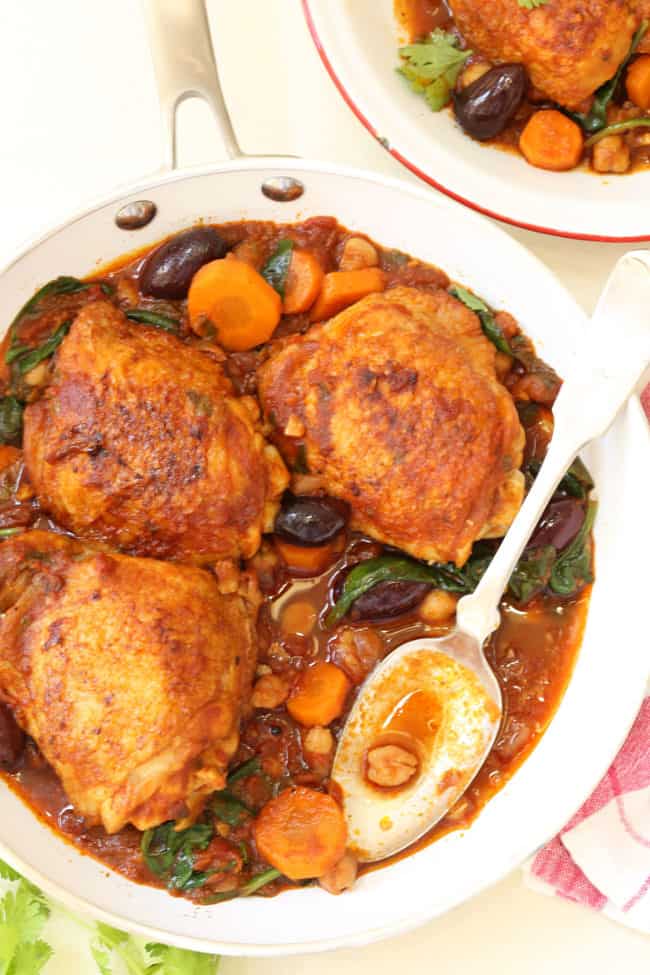 Chermoula is a simple Moroccan sauce made of  cumin, paprika, coriander, lemon juice, garlic, fresh parsley and fresh cilantro.  It's often resembles a pesto or chimichurri-like sauce. 
Rather than making a true chermoula sauce, I've just added the same spices to give this stew-like dish it's exotic and intoxicating flavors.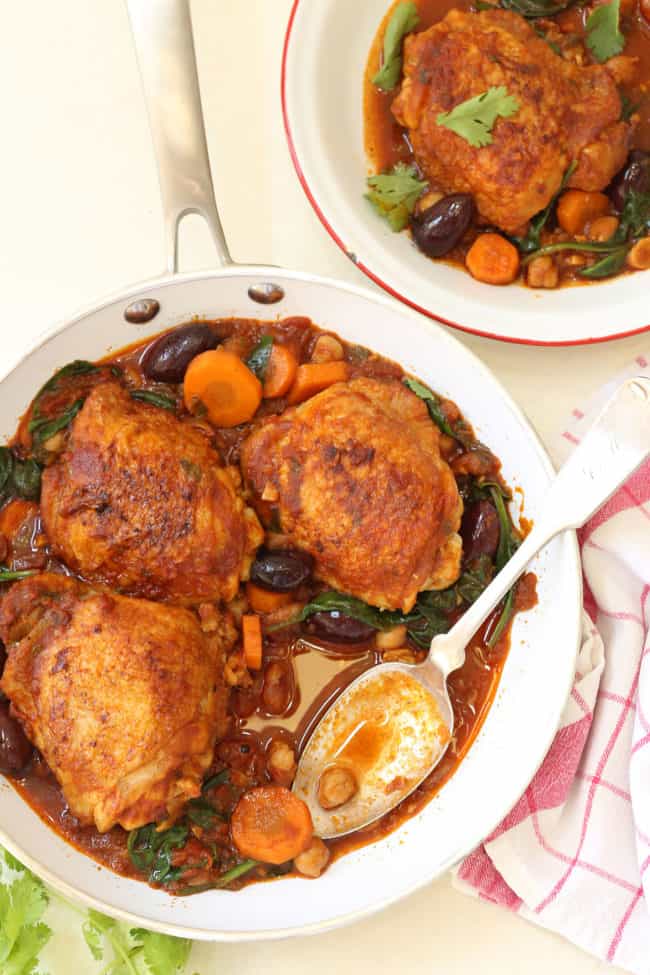 I used chicken thigh cutlets with the bone-in and skin-on for this dish, but use whatever cut you prefer. I find thighs brown nicer and they always turn out juicier than breasts. An important step to making this dish is to sear the meat in some oil …and a little butter. You could skip the butter and go with just oil, but I find the butter keeps the skins from sticking to the pan and it adds a little flavor.  The chicken then simmers in a completely intoxicating sauce that you'll want to scoop up with every bite. 

I had lunch last week at Andrew Weil's True Food Kitchen and ordered the Moroccon Half Chicken. It was love at first bite, and I knew I had to recreate the dish at home.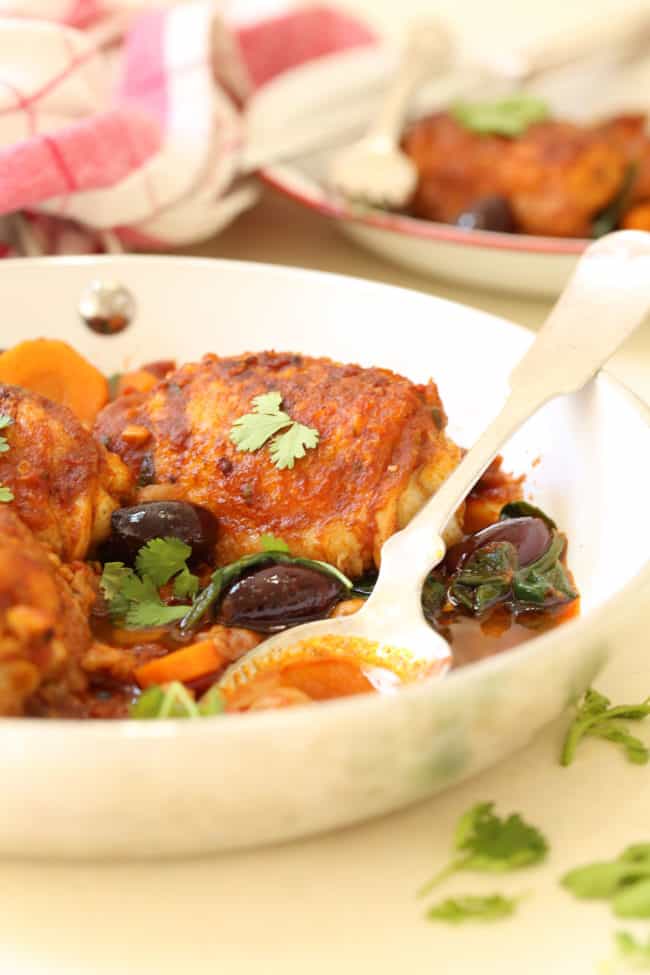 This recipe is my riff on things.  This dish is a little more rustic than what is served at True Food Kitchen, but the flavors are reminiscent and close enough to quell my cravings.  I've also added more chickpeas, carrots and spinach here making this a rich satisfying stew.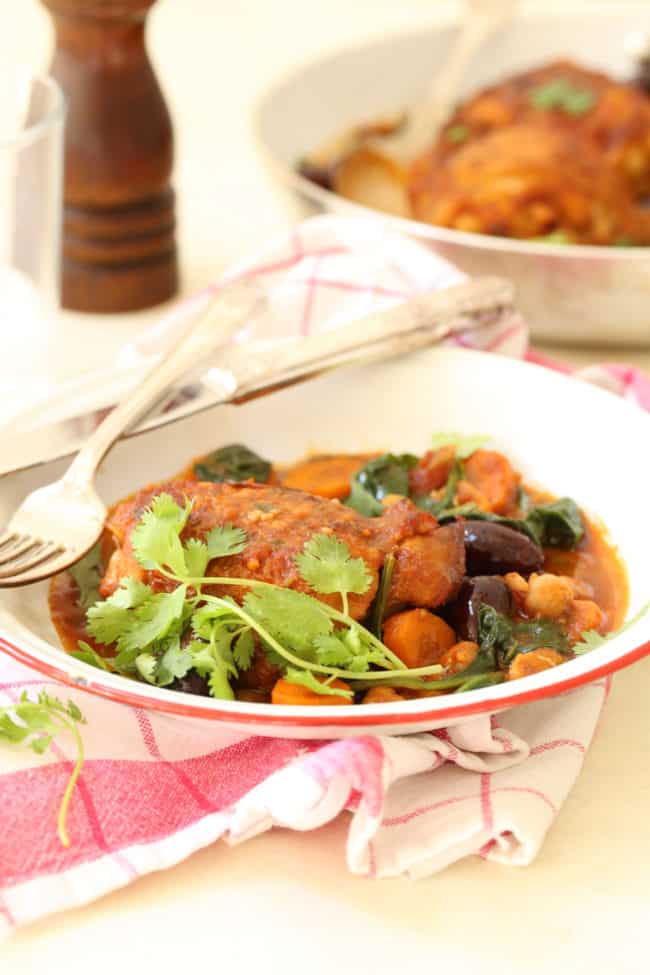 Serve with couscous, quinoa or mashed potatoes.  Enjoy!
~ Deb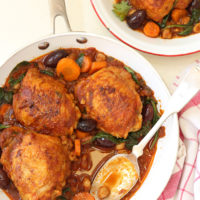 Chicken Chermoula
Yield: Serves 4 - 6
Total Time: 30 minutes
Ingredients:
4 - 6 large free-range chicken thigh fillets, skin on and bone in
4  tablespoons olive oil, divided
2 tablespoons free-range butter
4 cloves garlic, minced
1 tablespoon ground cumin
1 tablespoon sweet paprika
2 teaspoons smoked paprika
1/2 teaspoon ground coriander
1 teaspoon sea salt
1 teaspoon lemon zest
1/4 teaspoon saffron threads
3/4 cup crushed tomatoes
1-1/2 cups low-sodium free-range chicken broth
juice of 1 small lemon
2 tablespoons organic flat-leaf parsley, finely chopped 2 tablespoons organic cilantro, finely chopped
1 cup organic baby spinach
3/4 cup organic carrots, sliced (about 2 medium sized carrots)
1 cup chickpeas, rinsed and drained
10 kalammata olives
garnish with chopped cilantro
Directions:
Season the chicken on both sides with salt and pepper.
Heat 1 tablespoon olive oil and the butter in a large skillet (I use a cast iron skillet) over high heat.
Add chicken and cook for about 5 minutes each side or until nicely golden browned on each side.
Remove chicken from skillet.  Pour off excess fat.
Add 3 tablespoons olive oil to skillet.  Sauté the garlic in the oil for just a minute or two.  Add the cumin and sauté another few seconds until it becomes aromatic.  Add the sweet and smoked paprika, sea salt and saffron threads.
Add the tomatoes, chicken broth, parsley and cilantro and bring to a boil then reduce heat to low.
Add the chicken and carrots.  Cook for 10 - 15 minutes until the chicken is cooked through and the carrots are fork tender.
Add the spinach and kalamata olives to the skillet then turn off the heat and place lid on skillet to allow the spinach to wilt.
Place stew like mixture and chicken on plates.  Garnish with freshly chopped cilantro.
Leave a Comment